Chicken Fajitas in Crock Pot
Making Chicken Fajitas in the Crock Pot are the perfect Taco Tuesday dish to serve up. Sliced chicken, peppers, onions all mixed with a homemade fajita seasoning that will blow your mind.
Like any crock pot recipe, this is a set and forget type of meal. Head out and carry on with your day and let your slow cooker do all the work so when dinner time rolls around you have chicken fajitas to finish up, pair with warm tortillas and all your favorite toppings.
Why I Love This Recipe….
This fajita seasoning offers a stand out flavor
A dump and go chicken recipe that is so simple
Minimal prep required
A dinner the whole family can enjoy
Ingredients Needed
Boneless skinless chicken breasts
Petite diced tomatoes with green chilies
Bell peppers
Yellow onion
Minced garlic
Chili powder
Ground cumin
Paprika
Coriander (optional if you are not a coriander lover you could add basil or parsley instead or just leave it out)
Salt
Pepper
Lime juice
Honey
Tortillas
Toppings of choice
How to Make
Start by adding in your tomatoes and spread them out making an even layer as the base.
Top with peppers, onions, and garlic.
Next spread on your chicken breast in an even layer.
In a bowl whip up the homemade spice blend for fajitas.
Sprinkle half on top of the chicken. Flip chicken and sprinkle with the remaining seasoning.
Top with canned tomatoes.
Top off with the rest of the diced peppers and onions.
Cover and cook on HIGH heat about 2 – 3 hours or low heat 4 – 6 hours, until chicken has cooked through and veggies are tender to your liking.
Remove the chicken and place on a cutting board. Slice into strips, and then ladle out a cup of the broth. I like to use the broth over the fajitas again once in the tortilla or save it for some tacos another day.
In a bowl mix the honey and lime juice together.
Then add to the crockpot along with chicken and mix.
Serve up on tortillas, with avocado, sour cream, and more toppings of choice.
Expert Tips and Variations
You can use any cut of boneless chicken.
Slice or shred the chicken.
I used a variety of bell peppers for color but also layers of flavor. You can do all the same color if you want.
If you do not want to make a homemade fajita seasoning, reach for your favorite packet at the store.
The lime and honey adds some tang and sweetness to the fajitas to balance all the flavors.
If you want a lower carb recipe, skip the honey and serve over a bed of cauliflower rice, and skip the tortilla.
More Crock Pot Recipes To Try
Recipe FAQs
How to know when chicken is done?
Grab a meat thermometer and make sure the internal temperature of the chicken reads 165 degrees. If it is at that degree, the chicken is fully cooked and safe to eat. The other things to look for is that the juice runs clear, no pink color to the meat. But, using a meat thermometer is a must to ensure the chicken is fully cooked.
How to warm up tortillas for fajitas?
Take your tortillas and wrap them in aluminum foil or use a warmer like this one on Amazon. Turn the oven on to 325 degrees and toss the fully wrapped flour tortillas in the oven. Heat for 10-15 minutes, then carefully remove. The tortillas will be nice and warm and perfect for serving up with your mix.
If you decide to purchase from the link to Amazon Southern Plate may receive a very small commission to help keep all the recipes and information free for y'all.
How long can I store leftovers?
Store the leftover fajitas in an airtight container for 3-4 days in the refrigerator. Anything after you need to use your best judgement. When in doubt, toss out any leftovers that look bad.
Are chicken fajitas healthy?
Chicken fajitas are a healthy option, but you will find the flour tortillas can be higher in carbs and calories. For a healthier alternative reach for a lower carb tortilla.
What goes with chicken fajitas?
You can serve any of your favorite sides with your fajitas. I love a pico de gallo salad next to it, but feel free to do any sides. Our Chipotle Copycat Guacamole, mexican rice, refried beans, are great options as well.
What can I use instead of cilantro?
Some folks just can't stand the taste of cilantro. I read there is a gene that makes some people more susceptible to not being able to stand its flavor. If that's you, then you could substitute the cilantro with basil or even parsley depending on what you like.
I hope you love this recipe for Chicken Fajitas in a crock pot as much as I do! It's an easy recipe bursting with flavor.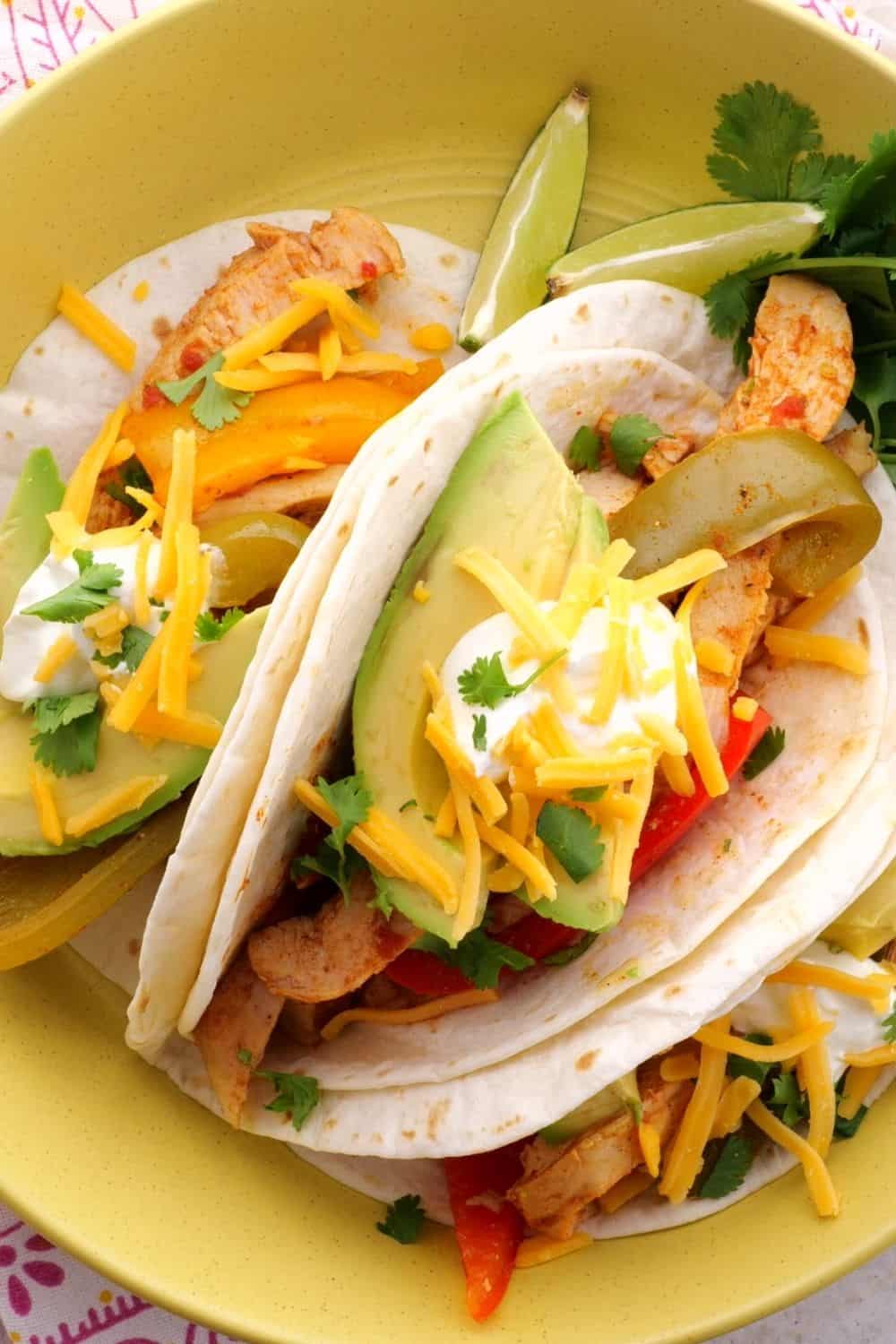 Ingredients
2

lbs

boneless skinless chicken breasts

1

14.5 oz can petite diced tomatoes with green chilies

3

bell peppers

preferably 1 red, 1 yellow and 1 green cored and sliced

1

large yellow onion

halved and sliced

2

tsp

minced garlic

2 1/2

tsp

chili powder

2

tsp

ground cumin

1

tsp

paprika

3/4

tsp

finely chopped coriander

optional if you are not a coriander lover you could add basil or parsley instead or just leave it out

1

tsp

salt

3/4

tsp

pepper

2

Tbsp

fresh lime juice

1

Tbsp

honey

12 6-

inch

flour or corn tortillas

Cilantro

sour cream, salsa, guacamole (link to our guacamole recipe) or sliced avocados, shredded Mexican cheese (optional)
Instructions
Pour half of the canned tomatoes into the bottom of a slow cooker and spread into an even layer. Top with half of the peppers and half of the onions.

Spread garlic in. Top with chicken breasts.

In a bowl whisk together chili powder, cumin, paprika, coriander (or substitutes see notes), salt and pepper.

Evenly sprinkle half of the seasoning over chicken breasts then flip chicken and sprinkle in remainder.

Top with remaining half of the tomatoes, then layer in remaining peppers and onions.

Cover and cook on HIGH heat about 2 – 3 hours or low heat 4 – 6 hours, until chicken has cooked through and veggies are tender.

Remove chicken, and cut into strips, or shred. Ladle out 1 cup of the broth in slow cooker (mostly tomato liquid) and discard.

In a small bowl whisk together lime juice and honey and add to slow cooker along with chicken and season with additional salt to taste if desired (I sometimes like to add 1/4cup chopped cilantro too here but this is optional).

Gently toss. Serve warm in warmed tortillas optional toppings.
Notes
Notes: if you are not a coriander lover you could add basil or parsley instead or just leave it out Use gluten free corn tortillas if you want gluten free See our video on how to shred meat here
Nutrition
Serving:
6
g
|
Calories:
207
kcal
|
Carbohydrates:
7
g
|
Protein:
33
g
|
Fat:
4
g
|
Saturated Fat:
1
g
|
Polyunsaturated Fat:
1
g
|
Monounsaturated Fat:
1
g
|
Trans Fat:
1
g
|
Cholesterol:
97
mg
|
Sodium:
580
mg
|
Potassium:
720
mg
|
Fiber:
2
g
|
Sugar:
5
g
|
Vitamin A:
2191
IU
|
Vitamin C:
79
mg
|
Calcium:
22
mg
|
Iron:
1
mg