This recipe for Five Cup Fruit Salad was shared by a sweet Southern Plate reader, Cindy Burton, and published in my third cookbook, Sweetness. Cindy shared the story behind the recipe in Sweetness and I'm sharing it here with you, today.
From Cindy Burton: "My mother in law was hands down the sweetest of sweet little old ladies. When I first met her in 1987, she came waddling through the hallway with the prettiest dimpled gun on her face. I knew right then that we would be good friends.
Her name was Ruby Helen Reece Burton and she was the mother of seven children, with my husband being her 'baby boy'. We used to joke about how both she and Oliver, my father in law, were the babies of their families, and Eldon (my husband) and I were the babies of our families. We would always say we are doing pretty good for a bunch of babies!
Ruby was the queen of making do. She and Oliver were poor throughout their entire fifty six years together, but you wouldn't be able to tell it by anything Ruby said or did. She never let on like they didn't have money for anything she wanted; she always found. suitable alternative to whatever it was.
Often, you would see Ruby crocheting hand towels or working on some type of sewing project to make a little extra money. Oh, how she loved to craft and bring smiles to people's faces!
I could go on and on about how special this woman was to me and my family, but with tears rolling down my face while thinking about her, I will end with this special recipe that she was known for, Five Cup Fruit Salad. Now folks, this is just a basic little fruit salad that I am sure many of you have tasted in some variation, but to our family, it is five layers of love, happiness, joy, family, and faith.
Ruby passed away a few years ago and our family hasn't been the same since. I still miss her so much and would love to walk into her home and hear that sweet voice say, 'Howdy Doody Momma Mo!'."
You'll need: mini marshmallows*, mandarin oranges, whipped topping, pineapple chunks, and fruit cocktail. You'll drain all of your fruit for this recipe and you're just using one cup of each thing pictured so I usually just double it and then use the whole can of each thing and two cups of both marshmallows and whipped topping.
*For the marshmallows, I use kosher or vegan marshmallows so they don't have pork gelatin in them. Use whatever you prefer.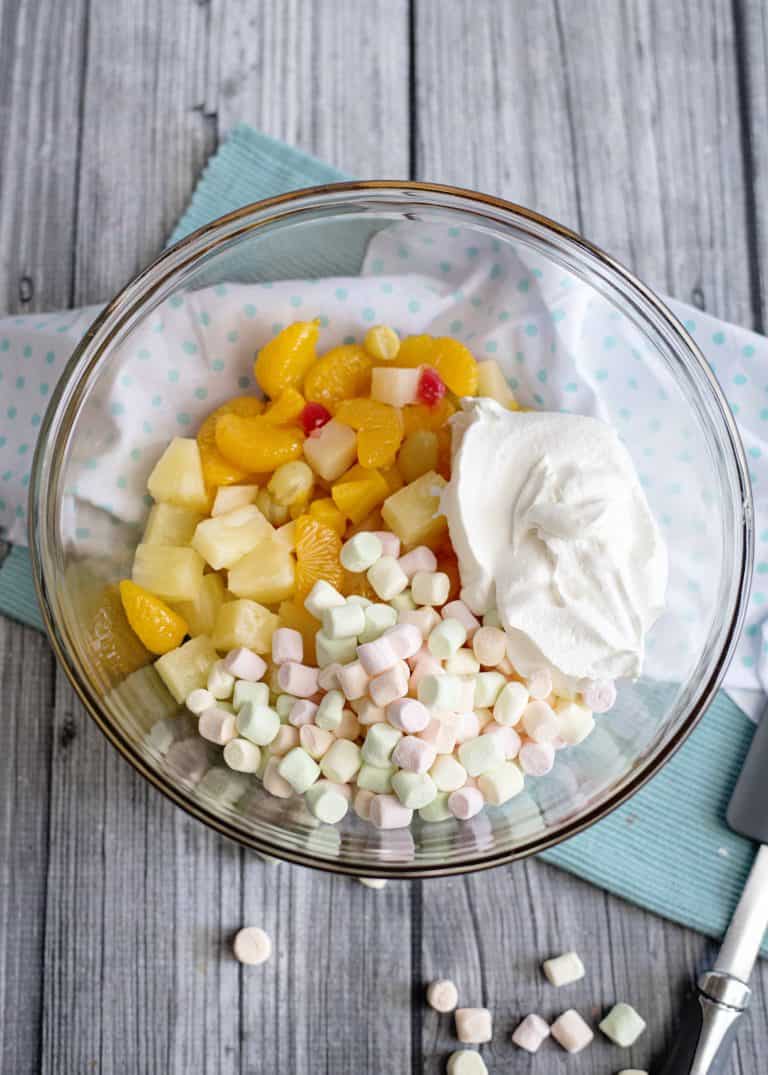 Ready for the instructions?
Dump everything into a bowl.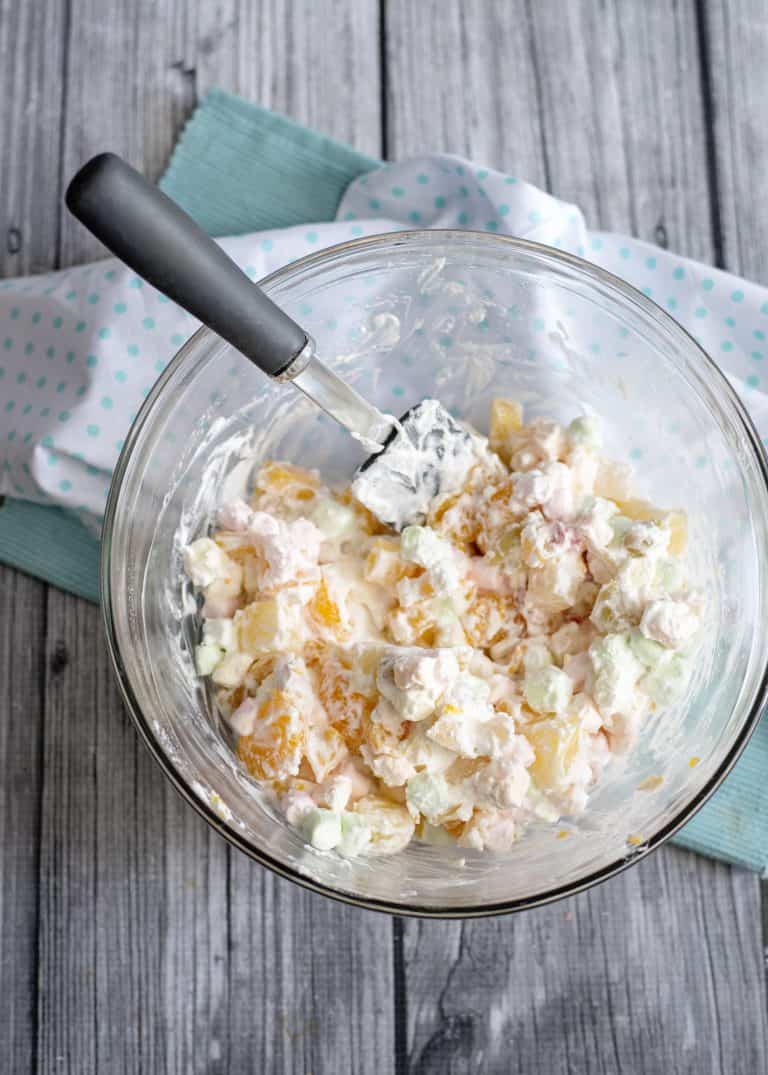 Stir.
Done! Look how pretty this is! You can store this in the fridge for up to a week!
It is a fun, fruity, easy as can be treat. I hope you get to try it soon. You can switch out the fruits with other canned fruits or even fresh if you like and some people like to add nuts or coconut as well to make more of an ambrosia type fruit salad. You are limited only by your imagination!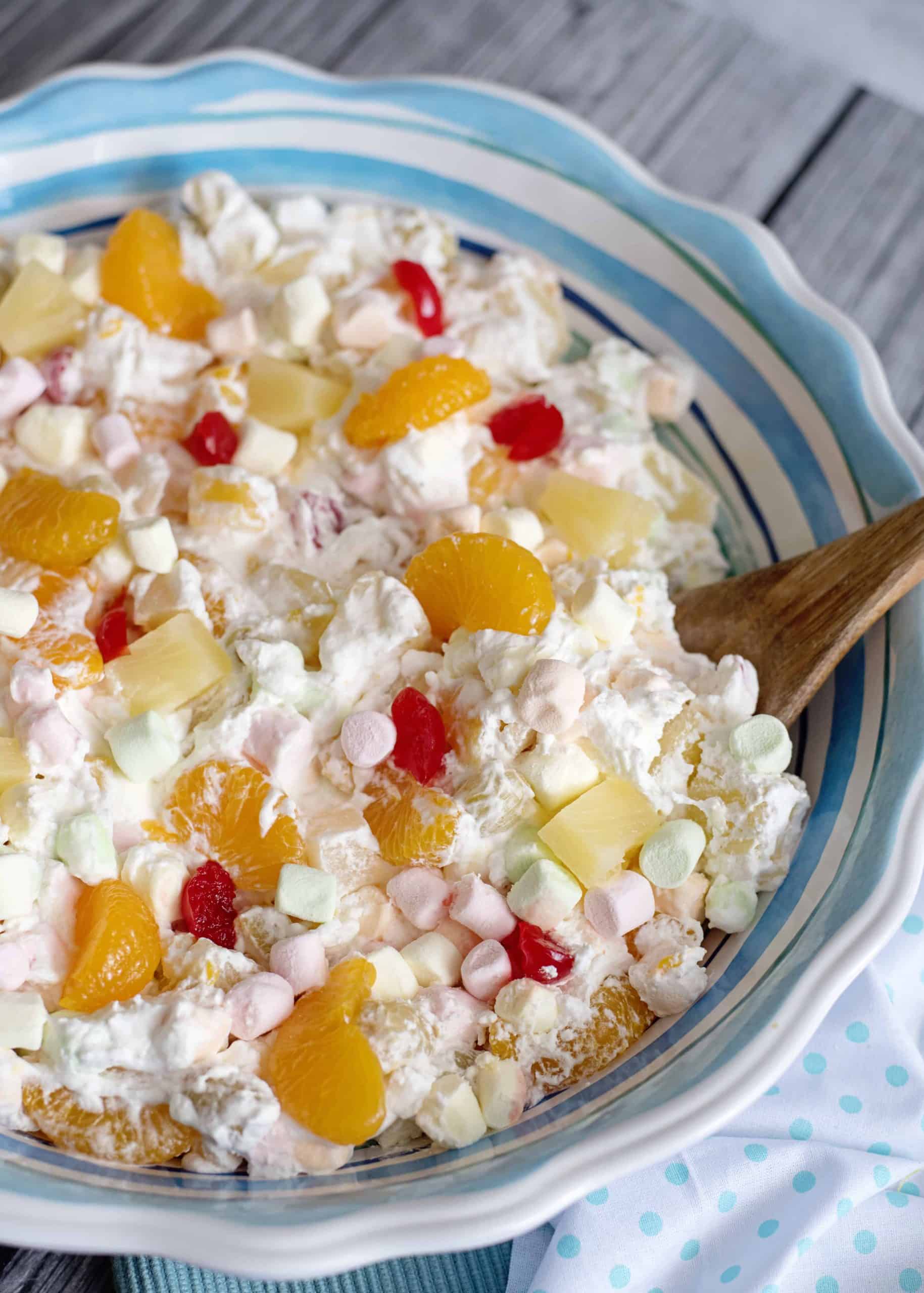 Ingredients
1

cup

mini marshmallows

fruit flavored or plain (I use kosher)

1

cup

mandarin oranges, drained

1

cup

whipped topping

1

cup

pineapple chunks, drained

1

cup

fruit cocktail, drained
Instructions
Mix together all ingredients in a large mixing bowl. Refrigerate until ready to serve.
Nutrition
Do you follow me on Instagram? I post lots of fun quote pictures like the one below. You can click here to follow me over there. If you'd like to see all of my quote pictures on one page, you can click here to view every one I've made so far on SouthernPlate, there are well over 100! Feel free to download them and share them on your social media, text to friends, or just enjoy yourself. If you do decide to follow me on instagram, just type "follow me" in the comments on any of my posts and I'll follow you back!
Have a great day!