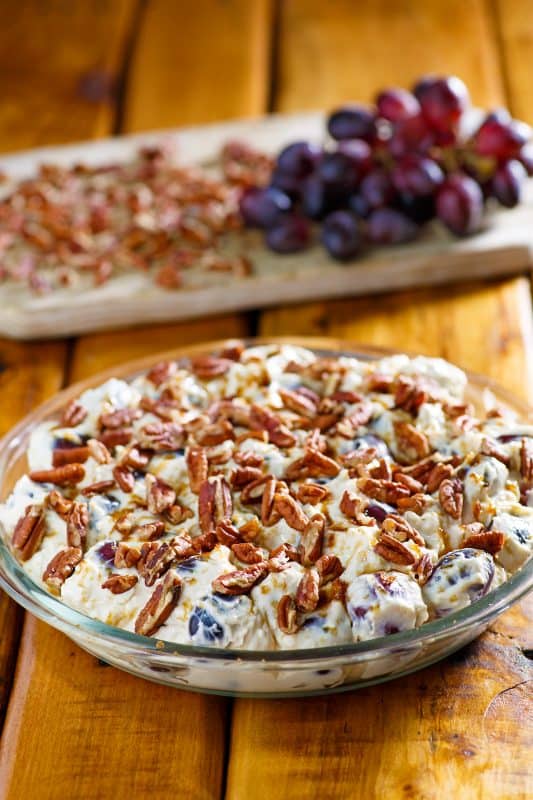 Aunt Cathie's Grape Salad is simply delicious! I can't wait for you to make it!!
You know, some families just have a wealth of really good cooks in them. I was blessed to grow up in such a family. My great grandmother, Lela, could take scraps of this and that and turn out one of the most delicious feasts you ever tasted. Grandmama (her daughter) loved to make desserts of all shapes and forms. I had 13 living grandparents when I was born and all the grandmother's were just as gifted in the kitchen. Of course, each day of my childhood, my own mother set our supper table with the traditional Southern style of a "meat and three" along with hot cornbread, iced tea, and dessert.
This was always the norm to me. Then, as I got older and started spending time at friend's houses, I came to realize just how special and rare these wonderful suppers were. Out of just about all of my friends, I can only recall one whose family ate like we did. If you were ever at their house around supper time, the Mama would call you to the kitchen and we'd all sit down to fresh vegetables, a platter of some wonderful meat, hot cornbread, and iced tea. Just like my home, which happened to be right down the road.
Do I do this for my family? In a modified way, yes. We are a generation or two removed from working in the cotton fields and my husband and I both work on a computer all day so that much food just doesn't make sense for our lives. I generally use the rule of three for my suppers: Three things on a plate. Either a meat and two veggies or a meat, a veggie, and a bread. Dessert is once or twice a week. It works for us, doesn't waste food, and gives us plenty for variety. I'd love to hear about what suppers were like for your family growing up and how you manage them now in the comments below, if you have a few minutes to visit after you finish reading this. 
Today, I'm sharing a recipe for Aunt Cathie's Grape Salad with you from another one of those "Good cooking families". I first met Shannon when she attended one of my cooking classes and me and my Mama just fell in love with her joyful spirit. Shannon is an encourager – and a generous one at that! She painted me a beautiful picture, which hangs in front of my desk so I see it throughout the day. She also shared one of her family cookbooks with me and offered free reign to share some of those delicious recipes with you. Today I am sharing the best grape salad I have ever had IN MY LIFE. Seriously folks, this recipe must have been blessed and prayed over at countless church suppers because that is the only logical explanation for how one dish can taste so good.
Aunt Cathie's Grape Salad is perfect for a springtime brunch, bridal or baby shower, a treat for yourself or anyone else you love enough to serve this earthly manna to. Make sure you save this recipe, print it off, share it to your Facebook wall, or pin it to your Pinterest boards. And if you enjoy Southern Plate, I would consider it a personal favor if you would tell your friends to come join us here. There is always room at my table. Let's get in the kitchen… 
To make Aunt Cathie's Grape Salad you'll need: Cream Cheese, Pecans (optional), Sour Cream, Vanilla, Seedless Grapes (I prefer red for color), White Sugar, and a little bit of brown sugar to top it all off. 
These ingredients are so simple, so staple, so normal – and when combined they become something so wonderful!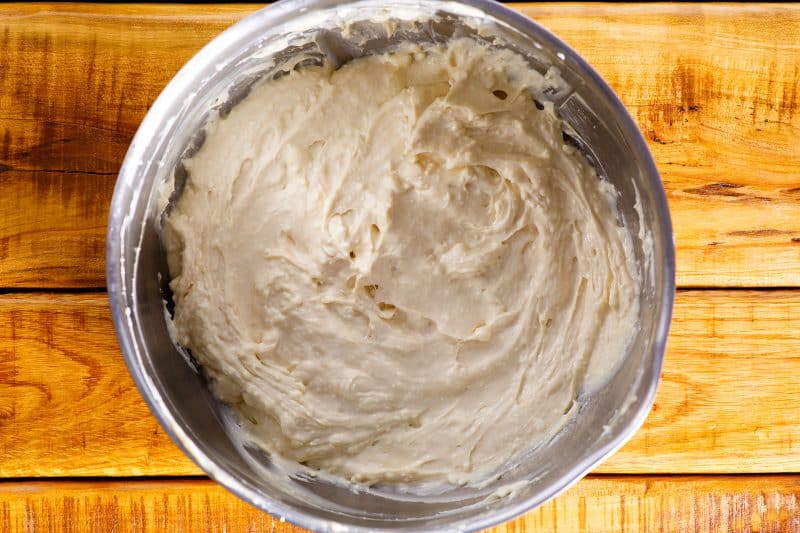 Take your softened cream cheese and put it in a mixing bowl along with the white sugar, sour cream, and vanilla.
Beat that with an electric mixer until it accepts its fate of becoming the wondrous dressing for this salad. Sometimes bad situations transform us into better things, as has just happened to that cream cheese here. #creamcheeselifelessons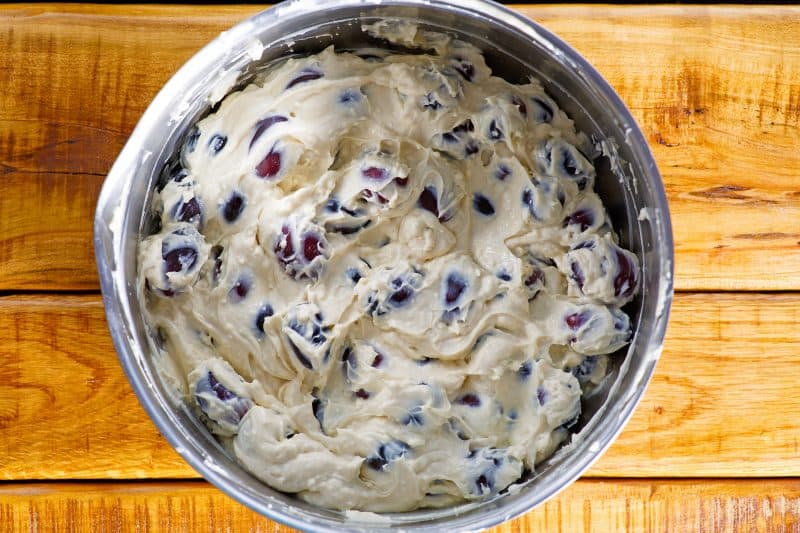 Take a large spoon and stir in your whole grapes. Hopefully you remembered to wash them. If not, consider this a boon to your immunity!
To anyone freaking out after reading that last sentence: Hey there, friend! It's gonna be okay. We used to eat dirt as kids. It's all good. For reals. Exhale.
When you're done, sprinkle the top with a little brown sugar and some chopped pecans, if you'd like.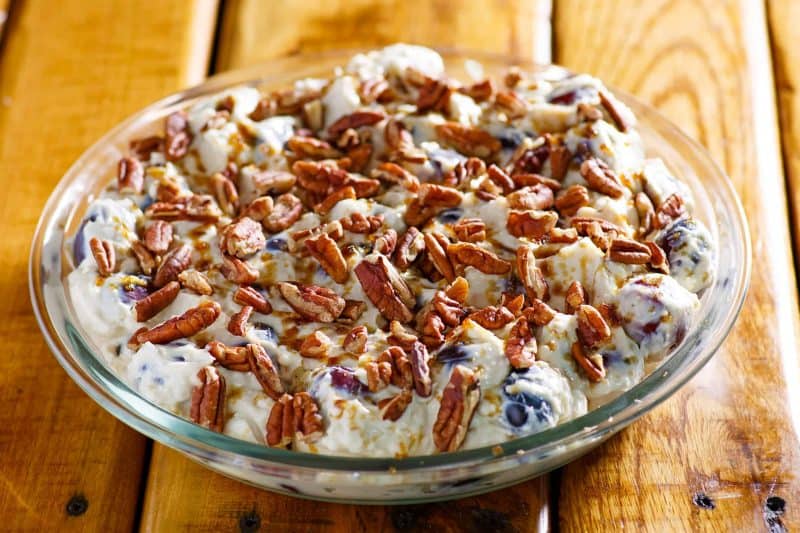 Now step back, look at it, and smile.
Awww! Such a pretty dish. 
Okay, admiring time is over. ENJOY Aunt Cathie's Grape Salad today!
Ingredients
2

pounds

seedless grapes

8

ounces

sour cream

16

ounces

cream cheese

2 - 8 ounce boxes

1

teaspoon

vanilla

½

cup

white sugar

2

tablespoons

brown sugar

Chopped pecans
Instructions
Allow cream cheese to come to room temp by leaving on counter overnight. In large mixing bowl, combine cream cheese, sour cream, vanilla, and sugar. Beat until well blended and smooth.

Stir in grapes to coat.

Move to serving dish and sprinkle top with brown sugar and pecans.
Wherever there is a human being, there is an opportunity for kindness. 
~Lucius Annaeus Seneca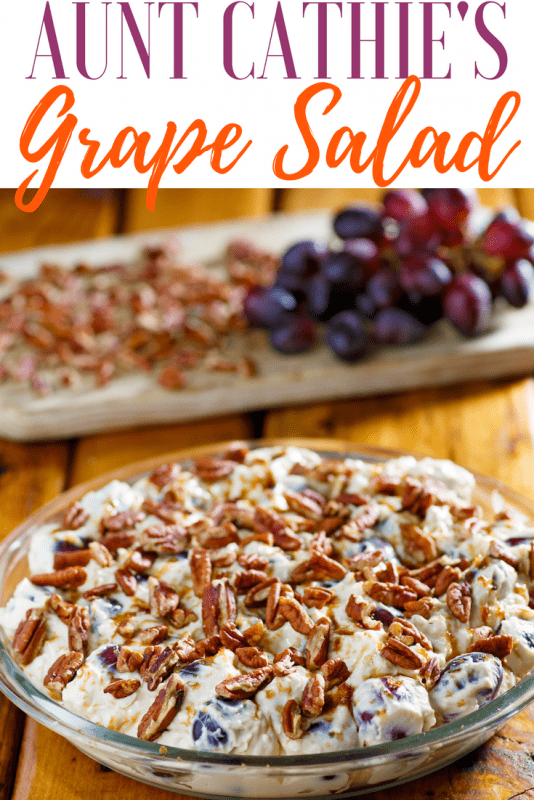 You might also enjoy this recipe! Busy Week Cake Mix Cookies
Yum