This quick and easy Southern grape salad recipe includes pecans and grapes covered in a sweet yet creamy dressing. The combination of sweet and savory flavor and texture make this the best grape salad I've had… EVER!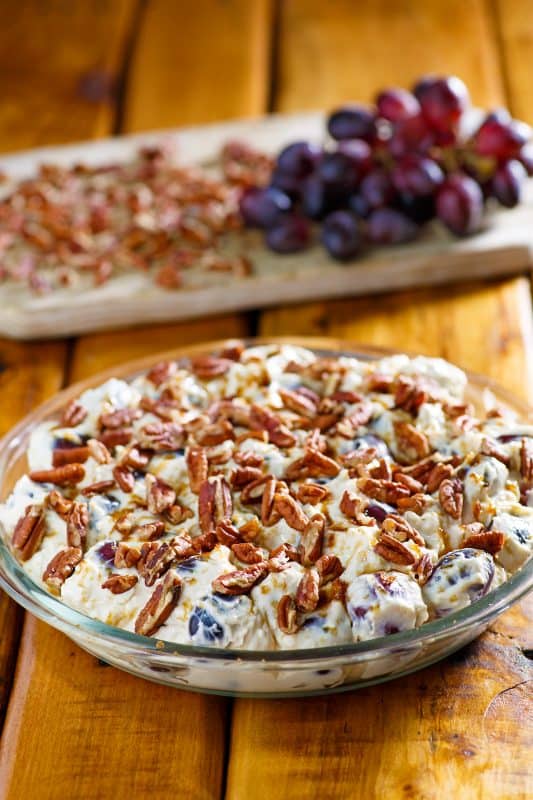 Today, I'm sharing a recipe for Aunt Cathie's Southern grape salad from our friend Shannon. I'm gonna tell you now, this is the best grape salad I have ever had IN MY LIFE. Seriously, folks, this grape salad recipe must have been blessed and prayed over at countless church suppers because that is the only logical explanation for how one dish can taste so good.
Aunt Cathie's Southern grape salad is perfect for a springtime brunch, bridal or baby shower, or just simply as a treat for yourself or anyone else you love enough to serve this earthly manna to. Make sure you save this recipe, print it off, share it on your Facebook wall, or pin it to your Pinterest boards.
Now, this is a deliciously creamy grape salad. We coat our grapes and pecans in both cream cheese and sour cream. Then we add a little sweetness with vanilla, white sugar, and brown sugar. These ingredients are so simple, so staple, and so normal. But when combined, they become something so wonderful! It's a little sweet, a little savory, and a lot creamy. The pecans also add a lovely texture. Is it obvious yet that I can't get enough of this grape salad's flavor? Did I also mention it takes 10 minutes to whip it up? Yep, the best grape salad ever!
Recipe Ingredients
Cream cheese (check out my easy homemade cream cheese recipe)
Pecans (optional)
Sour cream
Vanilla
Seedless grapes (I prefer red grapes for color)
White sugar
Brown sugar
How to Make Southern Grape Salad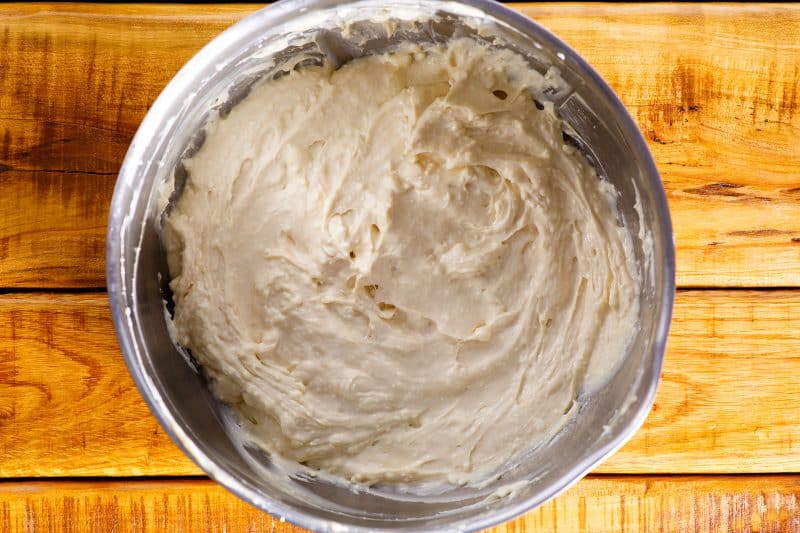 Take your softened cream cheese and put it in a mixing bowl along with the white sugar, sour cream, and vanilla extract.
Beat that with an electric mixer until it accepts its fate of becoming the wondrous dressing for this salad.
Sometimes bad situations transform us into better things, as has just happened to that cream cheese here. #creamcheeselifelessons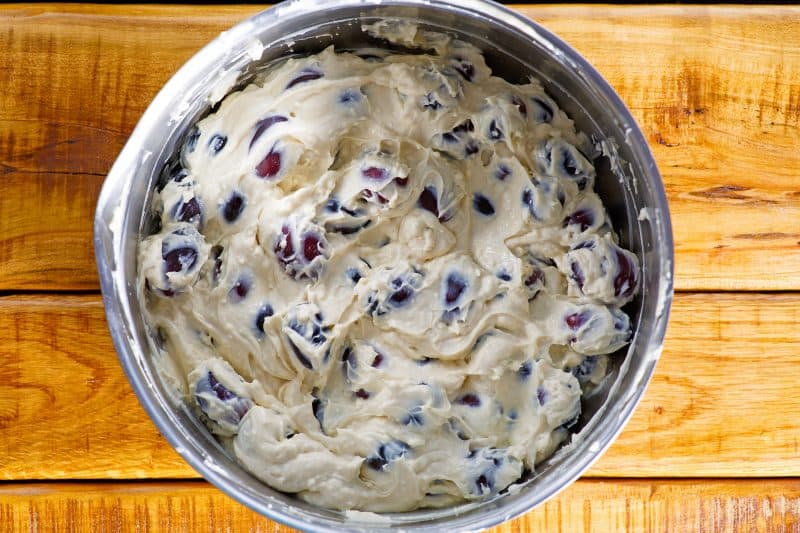 Take a large spoon and stir in your whole grapes.
Hopefully, you remembered to wash them. If not, consider this a boon to your immunity!
To anyone freaking out after reading that last sentence: Hey there, friend! It's gonna be okay. We used to eat dirt as kids. It's all good. For reals. Exhale.
When you're done, sprinkle the top with a little brown sugar and some chopped pecans if you'd like.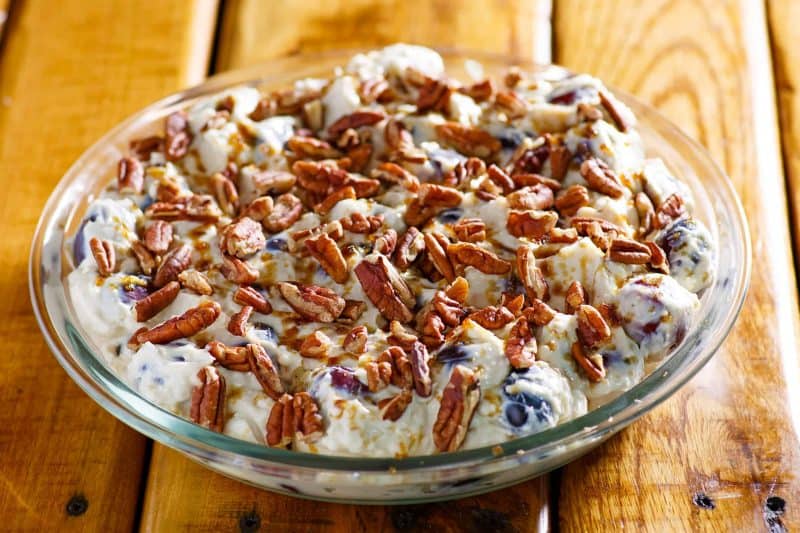 Now step back, look at it, and smile.
Awww! Such a pretty dish.
Okay, admiring time is over. ENJOY this Southern grape salad today!
Storage
Store leftover salad in an airtight container in the fridge for up to 4 days. I don't recommend freezing it.
Recipe Notes
If you like, use a combination of red grapes and green grapes.
For extra crunch, add a cup of chopped celery and/or diced apples.
Substitute the chopped pecans for chopped walnuts or omit them completely. Toast the nuts briefly in the oven for extra flavor.
You can also sprinkle coconut flakes on top for a different kind of taste and texture.
If you don't like sour cream, substitute it for Greek yogurt.
Substitute the vanilla extract for almond extract if you like.
Recipe FAQs
Can I make my grape salad in advance?
Absolutely! In fact, I think it tastes even better when chilled overnight, so you can definitely make it up to 24 hours in advance.
What do you serve with grape salad?
Grape salad is a popular appetizer to take to a potluck, barbecue, or holiday party. But you can also serve it as a side dish with your favorite main meal. This might be fried chicken, grilled chicken tenders, or Southern fried catfish.
You might also enjoy these fantastic fruit salad recipes:
Ideas For Fruit Salad – Festive Holiday Fruit Salad
Fresh Fruit Salad with Lemon Honey Dressing
Ingredients
2

pounds

seedless grapes

8

ounces

sour cream

16

ounces

cream cheese

1

teaspoon

vanilla extract

½

cup

white sugar

2

tablespoons

brown sugar

chopped pecans, optional
Instructions
Allow the cream cheese to come to room temp by leaving it on the counter overnight. In a large bowl, combine the softened cream cheese, sour cream, vanilla, and granulated sugar. Beat until well blended and smooth.

8 ounces sour cream,

16 ounces cream cheese,

1 teaspoon vanilla extract,

½ cup white sugar

Stir in grapes to coat.

Move to a serving dish and sprinkle the top of your salad with brown sugar and pecans.

2 tablespoons brown sugar,

chopped pecans, optional
Nutrition
Wherever there is a human being, there is an opportunity for kindness.
~Lucius Annaeus Seneca