This recipe for Super Fruit Salad is absolutely delicious and Mama and I have been enjoying it for over twenty years. A friend on a diet passed on the recipe back in the day and she called it "Super Fruit", so that's what we've always called it. We make ours with no added sugar and it ends up counting as a fruit in most diets, but with a lot more flavor and variety than eating a single banana or an apple.
Super Fruit Salad is just so stinking good, so stinking easy, and if you choose your ingredients right you can reduce the sugar from normal fruit salads!
Enjoy 🙂
Recipe Ingredients:
A small box of instant sugar free vanilla pudding
Two cans of no sugar added fruit cocktail (any kind)
1 can (or two small) of some other type of no sugar added fruit.
I'm using mandarin oranges but you can use peaches or pineapple if you like. The main thing is that you need the juice from the can and if you want to make this no sugar added it needs to say that on the label.
You don't HAVE to make this sugar free though, if you don't want.
What Other Fruit Should I Add?
Beyond this, you can also add a few pieces of fresh fruit if you like, such as a chopped apple, sliced banana, etc. Just keep in mind that the fruit you add will most likely lessen the amount of time this stays good in the fridge. If adding bananas, you want to eat the Sugar Free SuperFruit Salad within a day or two. As it is now, this will be good for several days (if it lasts that long).
Drain all of the juice from your cans into the bowl.
Like this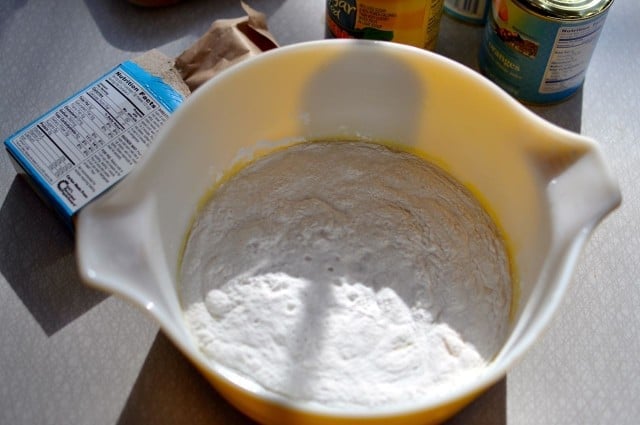 Pour your dry pudding mix over the top of it.
Stir that up really good with a wire whisk
You can also just shake all of this up in a quart sized mason jar or even mix it up with an electric mixer if you want. This recipe can be prepared according to your mood.
If you end up with a few lumps, don't worry about them. Once this has set for a while, you can stir the fruit up again and the lumps will go away easily.
They also taste pretty good if you get a hold of one on your spoon.
Dump in your fruit.
Stir that up good.
Cover and refrigerate several hours.
This is a Pyrex casserole in the sunflower pattern. I love how sunshiney and pretty it is, especially the lid. It is a Cinderella Casserole which means that if you look you'll notice that it has two handles on it and one is a little larger than the other. The handles have grooves in them which help them to also be spouts for pouring. All of the Cinderella bowls are like this, too. Oh how I miss the old Pyrex! The current stuff lacks the charm and durability of it's predecessors but fortunately we can still dig up old pieces from time to time! Plus this Sugar Free SuperFruit Salad looks amazing in it 🙂
DEVOUR! If you've never had Super Fruit Salad with no sugar added before, you're gonna be surprised at how good it is!
Ingredients
10

ounce

no sugar added can fruit cocktail

Can use sugar added kind if you like

12

ounces

no sugar added mandarine oranges

or peaches, etc, your preference

1.0

ounce

sugar free vanilla pudding

the kind with 4 - 1/2 cup servings
Instructions
Drain juice from all cans into medium bowl. Pour pudding over the top and stir with wire whisk until smooth (see this step in the post for tips in case there are lumps).

Dump in fruit and stir until well combined.

Cover and refrigerate several hours before serving.

Enjoy!
Nutrition
Calories:
50
kcal
|
Carbohydrates:
50
g
|
Fiber:
5
g
|
Sugar:
45
g
A few years back I did a post with more diet friendly and lower recipes called the Lighter Side Of Southern. Click here to visit that post.
Dolly Parton on responding to critics and people who gave her a hard time:
"I didn't listen to any of those people. I never do.

I simply chose to toss their negativity onto the express train that ran

in one ear and out the other."

~Dolly Parton