Today, my mama (Janice) shares a simple recipe for Watergate Salad. This is a must for us around the holiday! Our version is lower in sugar but still every bit as rich.  Take it away, Mama! ~Christy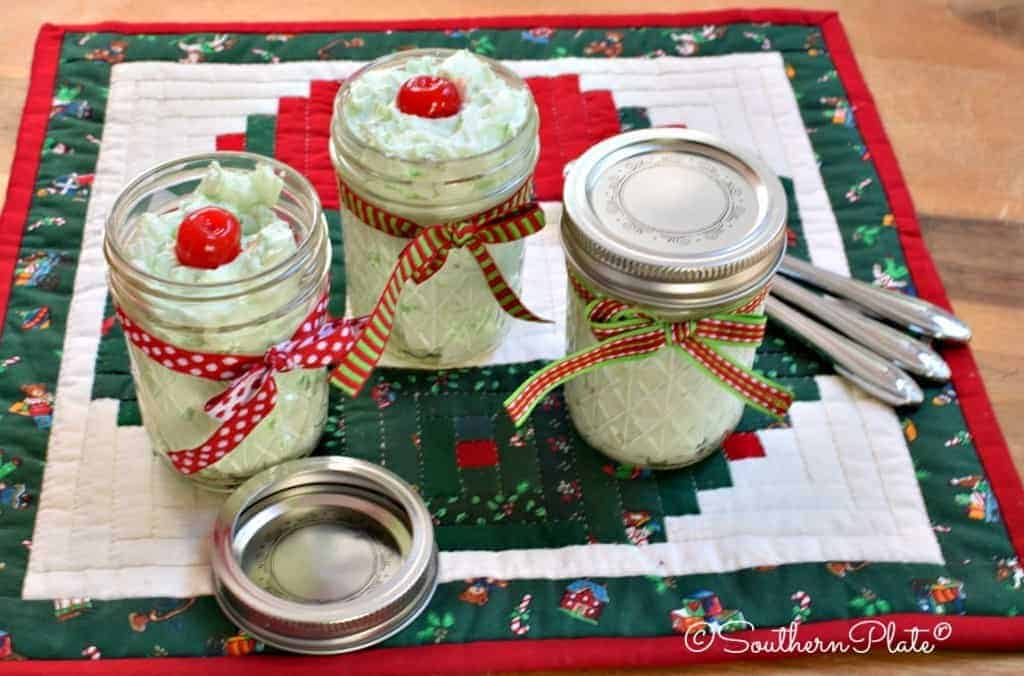 Boy, I can't believe that Thanksgiving is just around the corner and Christmas will be here before you know it.
I didn't realize how far ahead Christy has to bake holiday foods so that she has time to post them for you to have for your family.  At first I thought it would be nice to have all my baking done ahead.  I could just bake everything and freeze and then all I'd have to do is reheat it.  What I didn't count on is that we have three teenage grandsons living here eating it all as soon as I get it finished.  So it looks like I'll be baking twice this year!  It sure is a good thing that I love to cook.
Today I made two recipes while taking care of a two month old.  I wouldn't recommend trying to multitask like I did.  I can't even count how many pictures I had to delete and retake because I forgot something. I started out making Watergate Salad.  Four ingredients, sounds simple enough, right?  Well, to start with, there should be five ingredients.  I thought that I had made Watergate Salad so much that I wouldn't even need to get out the recipe.  Mistake number one!  After I took all the pictures, I realized that I had left out the pecans. Mistake number two! I called Christy in a panic and she  said to just tell everyone that I forgot and you would understand. I think it went downhill from there.
I took a picture of all the ingredients and got out my bowl to dump everything in.  When I opened my can of crushed pineapple, I realized that it was chunk instead.  Mistake number three.  It wouldn't have been so bad except I had already taken the ingredients picture.  I had to line up all the ingredients again and hope that I had a can of crushed pineapple in the pantry.  Well, someone upstairs was looking out for me.  One can, right size was sitting up front just waiting on me.  After retaking the ingredient's picture, I dumped everything in the bowl and stirred it up. I prefer it with pecans but that isn't going to prevent me from eating it!
I mixed up the Watergate Salad and went to the pantry for the perfect little bowl.  Since I was going through the kitchen I may as well take the spatula I was using to mix it with to the sink.  I decided to lick it clean on the way.  Mistake number four! A big glob fell off onto my shirt and then landed on the floor.  Of course, it had to land on a crack in the hardwood floor.  Have you ever had to dig Watergate Salad out of cracks in the floor?  Not as easy as it sounds.  Got the bowl, scooped the Watergate Salad into it, decided that it would look good with a cherry on top.  Oh wait, the jar of cherries is downstairs in the frig!  We took them down there to make cherry ice cream.  Went downstairs, got the cherries, ate several on the way up while picking out the best one for a photo. And just like that, things started looking up again!
Enjoy the Watergate Salad.
This is our line up for today's cast of characters: Mini marshmallows, Cool Whip, crushed pineapple and instant pistachio pudding mix. Pecans were supposed to make the line up as an optional ingredients but someone forgot to put them in!
*I use sugar free. You can use whichever you prefer, just get the small box.
Dump all ingredients into a mixing bowl.  Add pineapple, juice and all.
Stir everything together until no dry pudding remains and everything is mixed well.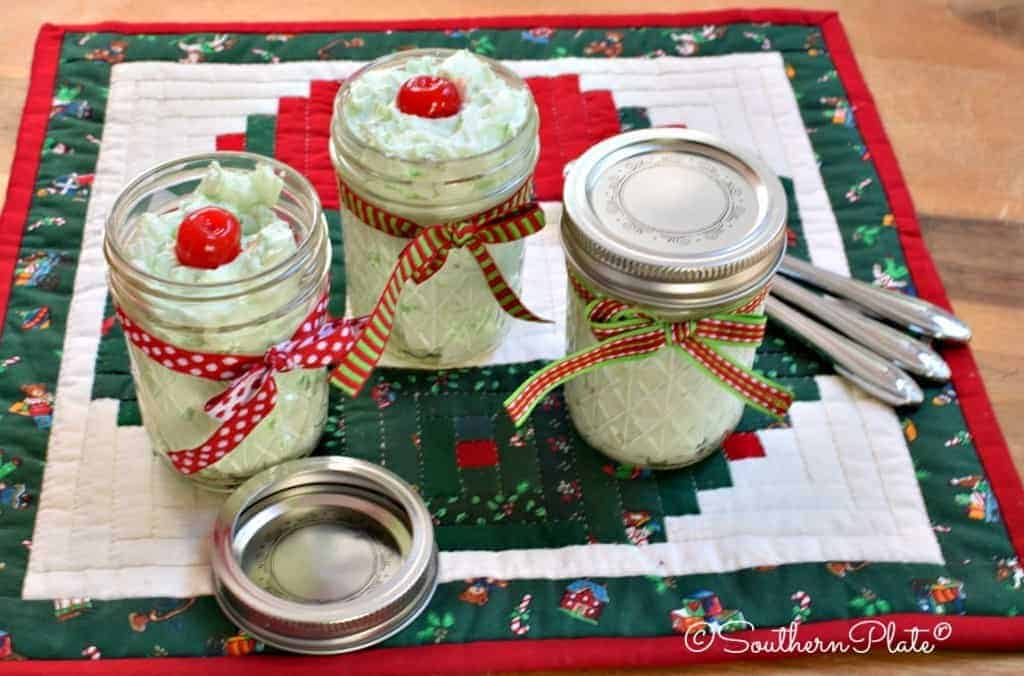 This recipe makes four one cup servings.  I wonder who ate one?? Well, don't you think I should try it first to make sure it tasted good?  I did and it passed the test.  Just another thing I do for you, the Southern Plate family.  You are most welcome!
Ingredients
4

serving size box of instant pistachio pudding mix

I use sugar free

8

oz.

carton Cool Whip

8

oz.

can crushed pineapple

undrained

1

cup

miniature marshmallows

1

cup

chopped pecans

optional
Instructions
Dump all ingredients in mixing bowl. Stir until well blended and there is no dry pudding visible.

Cover and let chill before serving. If salad is a little thick, you can stir in a couple tablespoons of milk before serving.
Makes approximately 4 one cup servings.
Nutrition
 "Worry gives small things a big shadow." 
~Proverb
You may also enjoy this recipe! Pineapple Poke Cake