Make this low carb (ketogenic) by substituting Shirataki noodles for the rice. Click here to see my post on Shirataki noodles.
Two weeks ago I shared my Beef and Broccoli recipe with y'all. It used to be one of our favorite takeout meals until I started making it at home, and then it quickly became one of our favorite homemade meals.
Well this one is at the top of my personal list of "Things I really like to eat". I usually make a double recipe for supper (the recipe serves 4) so I can put some in lunch sized servings and enjoy it throughout the week. In fact, I had some for breakfast this morning – which is going to completely gross my friend, Jyl, out. She can't bear the thought of non-breakfast food for breakfast so I generally drive her crazy a few times a week. When I get on here writing about these meals in the wee hours of the morning, it gets me to wanting them and next thing you know I am enjoying a breakfast of iced tea and Chicken Teriyaki!
I'd be interested to hear if y'all are more in line with "Breakfast foods only" or "Leftovers are great with me!" in the comments on this post.
This is a Fast and Fresh meal that comes together in no time at all, just wait until you see the recipe! You can use whatever veggies you have on hand or prefer in place of the ones I have chosen. Sometimes I add squash, mushrooms, zucchini, and even tomatoes, but the fallback for me is always broccoli and carrots.
To make this, you'll need: Broccoli*, Matchstick cut carrots*, boneless skinless chicken cut into bite size pieces, vegetable oil (just a scant amount), garlic powder, teriyaki sauce, salt**, and brown rice.
*A word about veggies: Feel free to use whatever vegetables you want in this. I'd shoot for adding about four cups but you can add more or less if you like. So if you don't like broccoli or carrots, just make this your own and put whatever in their place.
**About the salt, I put that in the water with the rice, just a smidge. It probably shouldn't be in this photograph as it is purely optional. Feel free to ignore it.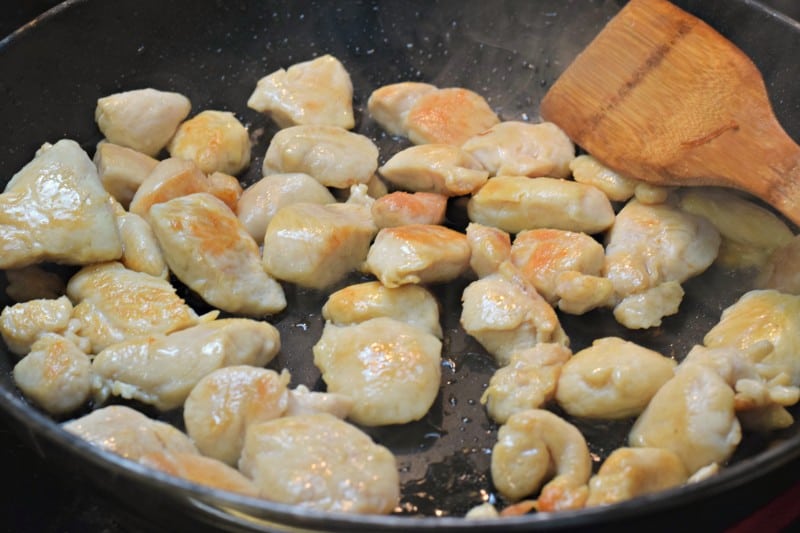 Place oil in large skillet over medium high heat. Add chicken and cook, stirring often, until lightly browned and no longer pink in the center, about 5-7 minutes.
Stir in all veggies, garlic powder, and…
…sauce. Reduce heat to medium and continue cooking, stirring frequently, until veggies are tender, about ten minutes.

Serve over hot cooked rice, topped with additional sauce if desired.
 Now I want to hear from you! Do you just HAVE to have breakfast food for breakfast, or are leftovers from supper just fine? There is no right or wrong answer, of course, it is just interesting to see all of the different thought trains on this. 🙂

Fresh & Fast Chicken Teriyaki with Brown Rice
Author:
Christy Jordan, SouthernPlate.com
Ingredients
• 2 cups (uncooked) Brown rice, cooked according to package directions
• 1 tablespoon vegetable oil
• 1 pound boneless, skinless chicken breasts, cut into bite sized pieces
• 2 cups broccoli or veggie of choice
• 2 cups matchstick carrots, or veggie of choice
• ½ teaspoon garlic powder
• ⅓ cup teriyaki sauce
Instructions
Place oil in large skillet and heat over medium high heat. Add chicken and cook, stirring frequently, until chicken is lightly browned and no longer pink in the center, 5-7 minutes.
Add vegetables, garlic powder, and teriyaki sauce to skillet. Reduce heat to medium and cook, stirring often, until vegetables are tender, about ten minutes.
Serve over hot cooked rice.
*If feeding a larger or hungrier crowd, double the amount of rice and load up on veggies. If you double the veggies, double the sauce and garlic powder as well.
"The greatest weapon against stress is our ability to choose one thought over another." 
~William James
~~~~~~~~~~~~~~~~~~~~~~~
Free Printable Recipe Cards
If you don't subscribe to my FREE recipe newsletter yet, subscribe today (click here) and you'll receive a set of 33 Printable Recipe Cards containing the recipes that I make the most for my family in your confirmation email. Each month I'll be sending you a few more cards to add to your collection as well.
If you are already an email subscriber, you will receive this month's bonus recipe cards to add to your collection in today's email. *Due to the size of my email list (over 100,000 subscribers), these cards will only be sent one time. I'm afraid that I cannot individually resend the cards I sent today but I did make sure that they were successfully sent to all subscribers. If you don't see them, you might want to check your spam and junk folders. If you accidentally deleted the email, make sure you keep a close look out for next month's cards! The original collection of cards were emailed to all subscribers on January 3 and January 6 so everyone had two chances to receive them. If you deleted the emails, you can go into any email I sent and unsubscribe at the bottom, then come back here and subscribe again to receive them in your welcome email.
Yum