Frozen Banana Pudding Cups
These frozen banana pudding cups are the perfect treat to enjoy on a hot summer's day in the South.
Oh, frozen banana pudding. The recipe that has sustained many a Southerner through long journeys away from home just by the sheer memory of the taste. The recipe that has had songs written about it, poems penned in honor of it. Ok, that may not be 100% true, but what is true is this is one of the recipes that launched Southern Plate!
There are many things to love about these frozen banana pudding cups, as they're no-bake, easy to make, and great for serving a crowd. Plus, they have an unrivaled and addictive flavor and texture combination, thanks to the sweet pudding layer, sliced bananas, soft Nilla wafers, and whipped topping. Basically, this is comfort food at its best and you might not be able to stop at one serving!
Anyway, I liken these frozen banana pudding cups to frozen treats for grown-ups. Yep, while the kids have water popsicles and ice cream cones, the adults can indulge in one of these. Fortunately, homemade banana pudding freezes wonderfully in these individual serving sizes, so you can enjoy this perfectly portioned and decadent Southern classic anytime you want. They're great to keep on hand for last-minute guests, a summer get-together, or the afternoon unwind. This recipe makes about 18, but you can also just make half of them and use the other half to make a small warm banana pudding for two.
If you're also looking for more banana pudding recipe variations, check out my easy homemade banana pudding with meringue topping and my banana bread pudding sundae.
Recipe Ingredients
Vanilla wafers
Sugar
Milk
Eggs
Flour
Vanilla extract
Pinch of salt
Bananas
Cupcake papers
Whipped topping
Place all of your ingredients in a medium-size saucepot. As always, the actual recipe is at the bottom of this post.
Mix the pudding mixture up a bit with a whisk.
Cook your pudding over medium heat, whisking or stirring constantly until it is thickened, about 15 minutes.
I know this takes commitment but hang in there because these frozen banana pudding cups are worth the wait.
I let mine cook all the way through and remove it once it's just thick. You can cook yours longer to get it thicker if you like but I like a thinner pudding to soak down into my wafers really good. It also continues to thicken after you remove it from the heat.
Once it's done cooking, stir in your vanilla.
Pour the banana pudding mixture into a bowl or batter bowl (which is a bowl with a spout and a handle to make pouring easier) and place it in the refrigerator until slightly cooled.
Line a muffin tin with muffin papers and place a few slices of banana in each cup. I do about four slices each.
Note: This will make about 18, but I'm only making 12 here.
Pour a little bit of pudding into each cup.
If you don't have a batter bowl, you can also use a piping bag or make your own by simply cutting the corner off a Ziploc bag.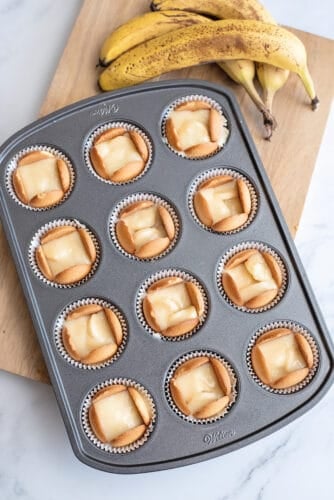 Place four Nilla Wafers in each one around the sides, so that the sliced banana help hold them in place.
Add a dollop of Cool Whip on top of each one and spread it to touch the nilla wafers.
This is an important step because the top of the banana pudding crystalizes a bit as it freezes so this will help them stay all prettified.
Freeze banana pudding cups in the muffin tin.
Once frozen, stick a butter knife down between the muffin paper and the tin and it should pop right out. Place all frozen puddings into a zipper seal freezer bag or an airtight container and return to the freezer until you get a hankering for one.
Enjoy – the sooner, the better! However, they'll last in the freezer for up to three months.
Recipe Notes
Let these frozen banana pudding cups chill for at least two hours in the muffin tins. But if you have time, I recommend chilling them overnight before serving.
This also means this is a great dessert to prep ahead of time. Assemble the cups up to a day before serving and then just serve them straight from the freezer when ready.
You can keep these cups simple or have fun decorating them! I sometimes add another banana slice to the top, but other recommendations include a drizzle of caramel sauce or crushed vanilla wafers sprinkled on top. YUM!
For a different flavor combination, substitute the Nilla wafers for mini Chessman cookies.
Recipe FAQs
Can I use store-bought pudding instead of making it from scratch?
While I think homemade banana pudding tastes so much better, if you're short on time you can definitely use store-bought vanilla pudding instead.
How do I keep my bananas from turning brown?
The best way to keep bananas from turning brown is to cut them right before you assemble your banana pudding cups. The pudding and whipped cream layers should then protect them from the air. It's also best to use just ripe bananas that aren't too ripe.
Here are even more banana recipes:
Caramel Banana Pie (a.k.a Easy Banoffee Pie)
Banana Brownies (with Quick Peanut Butter Honey Icing)
Ingredients
1/2

cup

sugar

or Splenda

1/3

cup

flour

3

eggs

2

cups

milk

1

box

Nilla Wafers

5

bananas

1/2

teaspoon

vanilla

dash salt

muffin papers

8

ounces

Cool Whip

thawed
Instructions
In a medium saucepot (or double boiler) on medium-low heat, place sugar, flour, eggs, and milk. Normally we separate our eggs but since we're not making a meringue we're going to just use the entire egg here. Stir well with a wire whisk.

1/2 cup sugar,

1/3 cup flour,

3 eggs,

2 cups milk,

dash salt

Allow to cook, stirring constantly to prevent scorching, until thickened - about 15 minutes.

Add vanilla to the pudding mix and stir.

Pour the pudding mix into a heatproof batter bowl or mixing bowl and cover with plastic wrap. Place in the fridge just until cooled, or about 30 minutes.

Place 18 cupcake papers into two 12-cup muffin tins. Place about four slices of banana in each cup.

Pour a small amount of the pudding mix over the bananas in each cup, just enough to fill it 1/2 to 3/4 full.

Place four Nilla wafers down into the pudding cups on the sides, keeping the banana slices in the center to help hold them up.

Add a dollop of whipped cream to the center of each one and spread until it touches the wafers.

Place muffin tins into the freezer for a few hours, until completely frozen. Insert a knife into the muffin tin between the tin and the paper to pop it loose.

Put frozen puddings in a freezer bag or airtight container and return to the freezer until ready to serve.
You must not lose faith in humanity.
Humanity is an ocean;
if a few drops of the ocean are dirty, the ocean does not become dirty.
~Ghandi