Stretch your food budget further with this bumper post filled with 20+ ground beef recipes for dinner. From crockpot dishes to quick skillet recipes and casseroles, I cover all bases.
Below are over 20 ground beef recipes for dinner that my family loves. There are easy slow cooker recipes, quick casseroles, and family favorites like lasagne and shepherd's pie. I'm sure you'll find something delicious to cook for dinner tonight.
I hope these recipes help you to stretch your family's food dollars as well as keep the supper table lively and delicious. Be sure to check out my post on how to get 8 meals out of 4 pounds of ground beef by clicking here. Can you imagine? That's almost two weeks' worth of meals from one package of beef!
I also have this post, where I share how I process large quantities of ground beef. The post is pretty old but it still shows it just as well. I prefer to buy large quantities of ground beef and cook it all at once. I then freeze it to have cooked ground beef on hand anytime I need to whip up a quick meal. This is my #1 timesaver!
Alright, keep scrolling and discover your next ground beef dinner recipe!
Ground Beef Recipes for Dinner

I love the zesty Southwestern flavor of this warm and filling casserole! It includes ground beef with taco seasoning and a fluffy cornbread topping. If you like this, check out my tamale pie recipe next, which is very similar but has melted cheese and fried onions on top. YUM.
Made with egg noodles, this is so good, I made it for myself for my birthday! For something different, I also have a Tex Mex lasagna recipe you should definitely check out 😉. Or how about crockpot lasagna? Take your pick, folks!
Now, this is technically more of a cottage pie recipe as it uses ground beef instead of lamb. However, down South, we call it a shepherd's pie. Either way, it's a super easy one-dish meal and comfort food dish with melted cheese and mashed potato topping. I also may have another freezer-friendly shepherd's pie recipe on the blog.
This is an easy ground beef dinner recipe to alter based on what you have. Zucchini would be an excellent substitute for squash and if you only have one bell pepper or tomato that will work, too.
Growing up, we always loved Mama's hamburger steaks. There was nothing like coming home and smelling the fried onions bubbling in there with the generous hamburger steak patties and knowing we were in for a hearty and delicious supper. This is one of the most popular ground beef recipes on Southern Plate and it's easy to see why, as it's ready to serve in under 30 minutes.
Similar to hamburger steaks, I highly recommend trying my scrumptious Salisbury steak recipe too. Or how about Salisbury steak meatballs with frozen ground beef meatballs and egg noodles?
If you want the flavors of pizza (think Italian seasoning, lots of cheese, and pizza sauce) in a casserole format, you need this deep dish pizza casserole recipe in your life. You may also enjoy Jen's pizza casserole.
I love stuffed bell peppers, I love ketchup, and I love ground beef. This combines them all into a one-dish meal made in the slow cooker, which I also love.
All you need is 5 ingredients to make this easy beef tater tot casserole recipe. Thanks to the cream of mushroom soup and milk, it's creamy, rich, and full of flavor in every bite. You may also want to check out my taco tater tot casserole.
What makes baked beans even better? Ground beef and crispy bacon strips, of course!

Hearty, filling, easy, economical, and bursting with flavor! That's what's waiting for you when you try my ground beef stew recipe. Filled with vegetables and a juicy tomato base, I can't wait for you to discover the secret ingredient.
If you like Taco Bell's Mexican Pizza, you're going to love my homemade taco pizza recipe. It combines tacos and pizzas in the most delicious way, as all of your favorite taco flavorings and toppings are layered on top of a pizza crust.
ARRRR! This is another ground beef casserole recipe that uses tater tots and tender carrots to make an easy family favorite.
Ever feel like your family expects you to be a short-order cook in the kitchen? You'll love this recipe, then! Hobo packets are a snap to put together and easily customizable to suit everyone!
This has become a favorite with countless families! My crunchy ground beef casserole includes pasta, a creamy mushroom-based sauce, and melted cheese and fried onions on top.
This was a favorite at our house when we were teens and is a favorite at my house any day! All you need is bread rolls, ground beef, marinara sauce, and lots of mozzarella cheese. The kids will love 'em.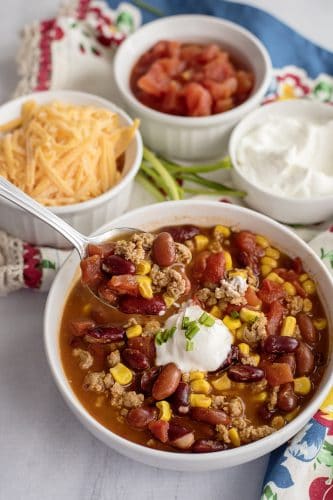 Gotta love a recipe where you throw everything in a pot and come back to supper 15 minutes later! My taco soup recipe is like a cross between chili and tacos. You can even serve it with your favorite taco toppings.
This is our family's favorite hot dog chili. We usually make a gallon at a time and freeze the leftovers.
If you're looking for a gluten-free and easy ground beef recipe, you need to try these stuffed peppers. Each bell pepper is stuffed with a scrumptious meat mixture.
Can you even have a post on ground beef recipes for dinner without including chili? I think not! Here's my slow cooker chili recipe, but I also have a one-skillet chili bake recipe too.

So spoiler: for this particular blog post I made my dirty rice with turkey sausage. But substitute it for ground beef and it tastes just as good!
What's that? Another taco ground beef casserole recipe? I have a favorite, don't I?
Can anyone say no to a ground beef recipe with quick and easy in the heading? How about creamy seasoned ground beef on a bed of pasta? I didn't think so!

This sloppy joes casserole is just one of many sloppy joe recipes on Southern Plate. But they're such a good (not to mention easy) meal to make with ground beef. Check out my easy sloppy joes and slow cooker sloppy joes too.
Meatloaf is another great recipe to make with ground beef and I once again have a few to choose from. This is my low-carb meatloaf, but then we also have Italian meatloaf, meatloaf burgers, and meatloaf casserole, which you can make with leftover meatloaf!
Homemade spaghetti sauce in the slow cooker is SO good, y'all. But the best part is when you have leftovers to make my spaghetti lovers soup recipe.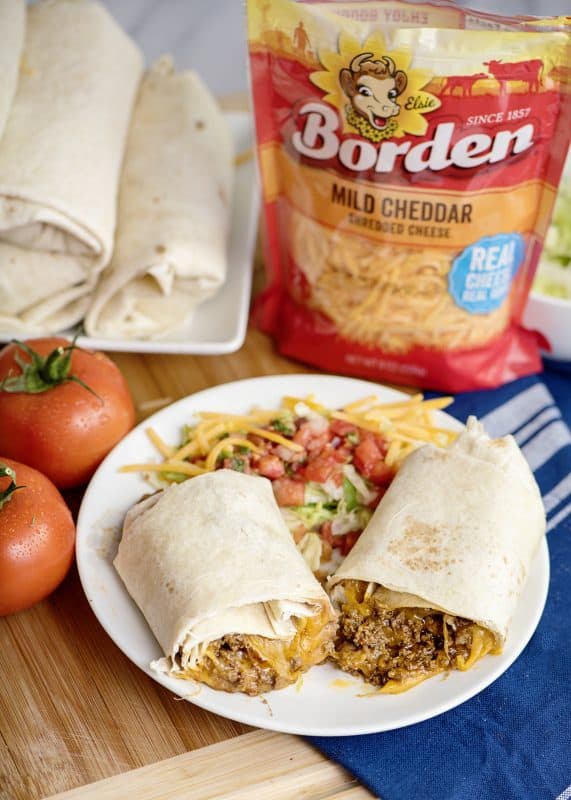 Loaded with taco-seasoned ground beef, refried beans, and lots of melted cheddar cheese, this cheesy beef and bean burritos recipe is the perfect freezer-friendly main dish for those busy weeknights.
"Only boring people get bored"
~Irene Chavez
To submit a quote or see others, please click here.