Homemade Banana Pudding with Meringue Topping
There's homemade banana pudding and then there's banana pudding with meringue topping. The sweet meringue combines with the Nilla wafers, fresh banana, and vanilla pudding to take this delicious Southern dessert to the next level.
Now, it's no secret that I love banana pudding. It's an old-fashioned favorite that I've been enjoying since childhood. I've featured a few different versions here in the past, including my homemade banana pudding from scratch and my frozen banana pudding cups. But this version of Southern banana pudding with meringue topping is positively delectable!
It features Nilla wafers and fresh banana slices in a rich and creamy homemade vanilla pudding, which is then topped with fluffy and light meringue. After baking quickly in the oven, the meringue becomes beautifully toasted and even more flavorful. This Southern banana pudding with meringue is equal parts sweet and creamy, and I know your whole family will enjoy this Southern dessert.
Now, the trickiest part is the meringue, but I promise it won't take long for you to become an expert meringue maker! Once you get the hang of it, enjoy these other meringue recipes: ghost meringue cookies, orange meringue pie, chocolate chip meringue cookies, and coconut meringue pie.
Recipe Ingredients
Nilla
Bananas
Sugar
Flour
Eggs (separate the yolks from the whites)
Vanilla extract
How to Make Homemade Banana Pudding with Meringue Topping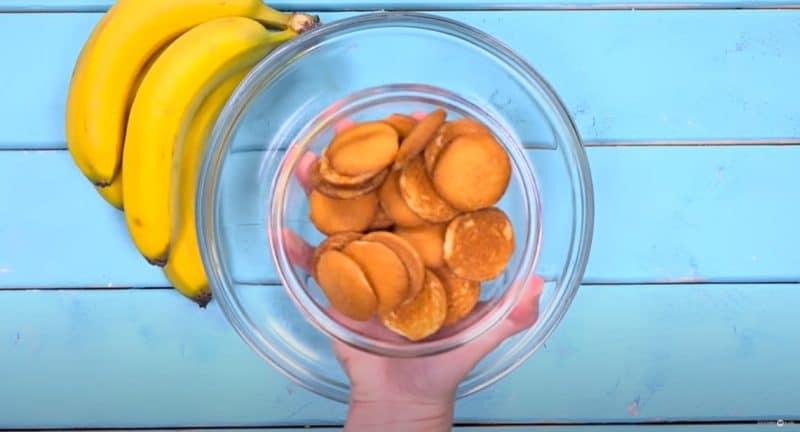 Take the Nilla vanilla wafers and put them in the bottom of a medium-sized bowl.
Cover with sliced banana.
Repeat this process twice, so you have a Nilla wafer layer, then a banana slice layer, then another layer of wafers, and more bananas.
Top her off with a last layer of the wafers to look like the above picture. Set aside.
How to Make the Homemade Pudding
In a medium-sized saucepot or double broiler, add sugar, egg yolks, milk, and flour and whisk on low heat. Stir constantly until thickened, which will take about 15 minutes.
Take off heat and add in the vanilla extract.
Stir it in and then immediately pour the pudding mixture over the banana and wafers.
Tips For Making the Meringue Topping
Meringue is a simple thing to make, as easy as turning on a mixer. But there are two things you need to know about.
Make sure no yellow from your egg gets in with your white. None. At. All. You want only whites so be careful when separating

them from the

.
Make sure everything that is going to come into contact with your egg whites is clean and clear of any greasy residue. Fresh from the dishwasher should be just fine.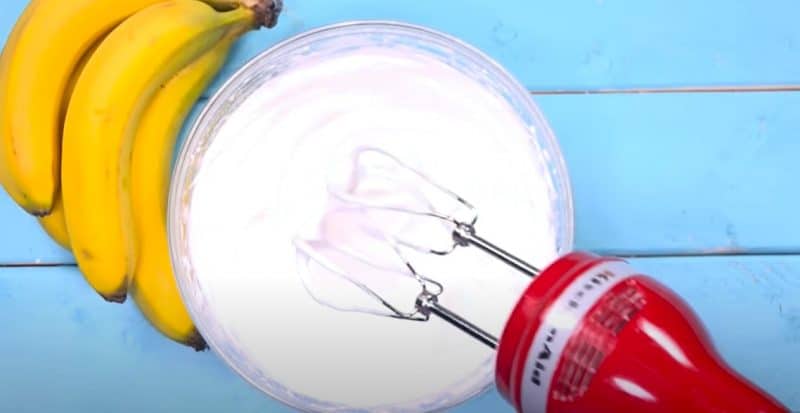 Place your egg whites in the bottom of a clean mixing bowl. Beat egg whites with an electric mixer until foamy. Add in sugar and continue beating until stiff peaks form.
You know you are there when you pull your beaters up out of the meringue and it creates a point that remains standing up, this is why we refer to it as a stiff peak. See the video in the recipe card below for a bit more detail if you like.
Add the meringue topping to the banana pudding and spread it to the edges to seal it well. Then bake at 325 for 10 mins until the top is golden brown.
And there you have it, a gorgeous meringue to top a delectable homemade banana pudding.
There is nothing in this world like real, old fashioned banana pudding. I hope you get to wrap your hands around a bowl soon!
Storage
Store leftovers, covered, in the fridge for up to two days.
Recipe Notes
While you can serve this warm straight out of the oven, I've also been known to enjoy this Southern banana pudding recipe cold.
If you want to serve your banana pudding without the meringue topping, that's okay too! You could substitute the meringue for whipped cream if you like.
Instead of baking the banana pudding, you could also just simply torch the meringue topping, if you have a culinary torch hiding in your kitchen.
You may also like these other banana recipes:
Cream Cheese-Filled Banana Bread
Caramel Banana Pie AKA Easy Banoffee Pie
Grilled Bananas – Best Kept Secret
Ingredients
½

cup

sugar

or Splenda

⅓

cup

all-purpose flour

3

egg yolks

2

cups

milk

1

box

Nilla vanilla wafers

5

bananas

½

teaspoon

vanilla extract

dash salt
Instructions
Place a layer of Nilla Wafers in the bottom of a medium-sized mixing bowl. Slice a banana over the top. Repeat two more times with another layer of wafers and the remaining bananas.

1 box Nilla vanilla wafers,

5 bananas

In a medium saucepan (or double boiler) on medium-low heat, add all ingredients except for the vanilla extract. Stir well with a wire whisk. Allow to cook, stirring constantly to prevent scorching, until thickened - about 15 minutes.

½ cup sugar,

⅓ cup all-purpose flour,

3 egg yolks,

2 cups milk,

dash salt

Add in vanilla and stir. Immediately pour over wafers and bananas.

½ teaspoon vanilla extract

Beat egg whites until foamy. Add sugar. Continue beating at high speed until soft peaks form. Pour onto the top of the pudding and spread to the edges to seal well. Bake at 325 for 10 minutes or until the top is golden.

3 egg whites,

¼ cup sugar
Video
Nutrition
This recipe is from Heaven to a Southerner!
I am an optimist. It does not seem too much use being anything else.
~Winston Churchill