Alright folks, it's confession time here at Southern Plate, you see that King Cake up there? Well that was the first time in my entire life that I've ever made a King Cake recipe or had a bite of one. After tasting this recipe though, it will NOT be the last time! I'm already craving more and plan on making it for breakfast without all sprinkles though.
This King Cake Recipe Is SO Easy To Make!
Now for those of you who have never made a King Cake, let me tell you this was INCREDIBLY EASY to make! Taste wise it is kind of like a coffee cake or a cinnamon roll, only without the ohmygosh sweetness, which is why I liked it so much. If you like desserts (or coffee treats) with just a touch of sweetness that are a little filling, this one is perfect.
A Mardi Gras Tradition
Some of you are probably surprised that I've never had a King Cake before. I've never in all my born days celebrated Mardi Gras, even though the original Mardi Gras celebration took place in my beloved Alabama. Mobile still has a Mardi Gras celebration each year and I've read that it is actually very family friendly.
P.S. Did I mention this recipe is good?
If the sprinkles and such turn you off. Ignore the glitter and make it for breakfast. It is truly life changin' y'all. You'll thrill your family and have a new favorite!
The Traditional Colors of The King Cake For Mardi Gras
Now purists (because I'm sure there are Mardi Gras purists out there in Southern Plate land) will notice that the colors on my King Cake are a little varied from the traditional. Each color on the cake symbolizes something and since I made the cake in my kitchen, I used different colors to symbolize different things. Hey, your kitchen, your rules!
Traditional King Cake colors are:
Purple– to symbolize Justice
Green – to symbolize Faith
Gold – to symbolize Power
Here is what the colors I chose stand for:
Green – to symbolize Faith
Gold – to symbolize Power
Pink – to symbolize that the grocery store didn't have purple and I didn't want to go all over tarnation looking for it.
Where Did the King Cake Tradition Come From?
It looks like it came over from France and was brought to New Orleans in 1870.
A small baby, symbolizing the baby Jesus, is traditionally hidden inside each King Cake.
If you are interested in learning more about King Cake history check out this article.
Why Is The King Cake Oval?
King Cakes are oval-shaped to symbolize the unity of faiths.
For more on the tradition around King Cakes you might find this article interesting.
Now let's get to baking…
Ingredients you will need for the King Cake recipe are:
Frozen White Bread Dough
Cream Cheese
Confectioner's Sugar
Lemon Extract*
Sprinkles
You're also going to need an obscene amount of sprinkles if you want to make this into a King Cake but like I said, I'll be making it again and again without the sprinkles so if you want to leave them off go for it. If you want to add festive sprinkles and have some on hand but they are the wrong color, just invent your own festival and say those are what your colors stand for. No sense in spending extra money here if we don't have to.
*I really do recommend buying the lemon extract though because that little hint of lemon just makes this.
How to Make A King Cake Recipe Step by Step
Let your bread dough thaw completely.
Tip: If Loaf Is Frozen and You Don't Have Time to Thaw…
I seldom think to do this ahead of time so I set my loaf on a plate in the microwave and microwave it for thirty seconds, then flip it over and do another thirty seconds and then let it sit a bit to finish thawing. It thaws much faster this way but if your microwave cooks a little fast you will want to do less time.
Okay, now roll that out on a floured surface, using extra flour on your rolling pin to keep it from sticking.
Rhodes Bread Loaf Recipe says roll it out to about 10×18 inches.
I say to roll it out about that or until you get close enough and are tired of fooling with it.
Now, in a mixing bowl place your cream cheese and sugar.
Now add your lemon extract.
Mix that up til it is all smooth and creamy, scraping down the sides.
Plop that cream cheese filling right on the thaw and rolled dough.
Spread the Cream Cheese mix onto the dough.
Now roll that dough up and pinch its edges closed. I also brush some water over the final edge before pinching it closed to help with the seal.
Next form a ring like this and pinch then ends together. You may need to brush with some more water to seal it.
Now some instructions will tell you to spray the plastic wrap before setting it on the ring. But I spray the ring where the wrap will be touching it to keep if from sticking to the wrap when it rises. Cover with the plastic wrap and let sit for 45-60 mins.
Here is our risen dough.
Tip to Get Dough to Rise:
What I often do is start my oven and let it preheat for just a minute or so and then I turn it off! Open the door and just make sure it is only warm in there and I put my dough in there to rise.
Bake that dough for 30-35 minutes and look at that beauty!
Let's make the icing. You'll need confectioners sugar, milk and flavoring of your choice. See recipe card for suggestions. I like to add butter flavoring but you could add vanilla or more lemon extract. Do whatever cranks your tractor! Add all the icing ingredients in a medium size mixing bowl.
Stir until smooth and creamy. If not yet good enough to drizzle, add a 1/2 tsp water at a time to get to the consistency you want.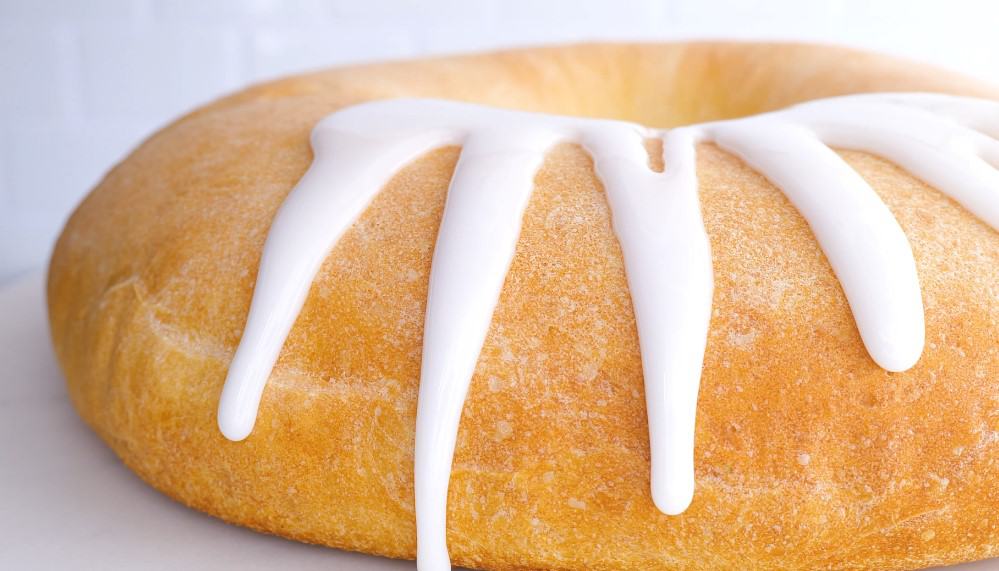 Drizzle that icing over the cake.
It will look something like this. If you wanted this to be a simple coffee cake type treat you could stop here and serve. But if you want the traditional King Cake, well then, let's get those sprinkles…
Start sprinkling!
Keep going!
Looks ready to serve to me!!
If you like, take some to family and friends or just enjoy yourself with a cup of your favorite drink.
Ingredients
For the King Cake:
1

roll frozen bread dough

thawed

8

ounces

cream cheese

softened

1

cup

powdered sugar

1

teaspoon

lemon extract
For the Icing:
1-1/2

cups

confectioner's sugar

3

tablespoons

milk

more if needed but stir this amount first, you'll be surprised how far this goes!

1

tsp

clear butter or vanilla flavoring
Instructions
On floured surface, roll out your dough to a rectangle of about 10 x 18 inches. It doesn't have to be exact, close enough works!

In a mixing bowl, combine cream cheese, powdered sugar, and extract and mix until creamy and well blended. Spread over dough to within an inch of each side. Roll up longways (to make a long log) and brush the final edge with water before pressing it into the log to seal.

Take log and form into a circle, pressing the ends into each other and brushing with water if needed to seal together. Spray top lightly with cooking spray and cover with plastic wrap. Set in warm place to rise for 45 minute to an hour.

Remove plastic wrap and bake in 350 degree oven for 30-35 minutes. Allow to cool.

Mix confectioner's glaze and drizzle over top of cake with a spoon. Immediately sprinkle colored sprinkles over glaze if desired. Allow to sit until glaze hardens.
Nutrition
This is a simplified version of a recipe from Rhode's. The original one may be found by clicking here.
*Since I first made this King Cake last week, I've made three more to give people!
You may also like these recipes:
Red Velvet Bundt Cake Recipe Sooo Good!
Chocolate Pound Cake with Fudge Glaze
"I'd rather be positive and get 50% percent good results
than stay negative and get 100% bad results."
~Joyce Meyer. Submit your quote by clicking here.
I'm so glad to have you as part of my Southern Plate Family and appreciate all of your kindness and support!
Gratefully,
Stacey Lynn