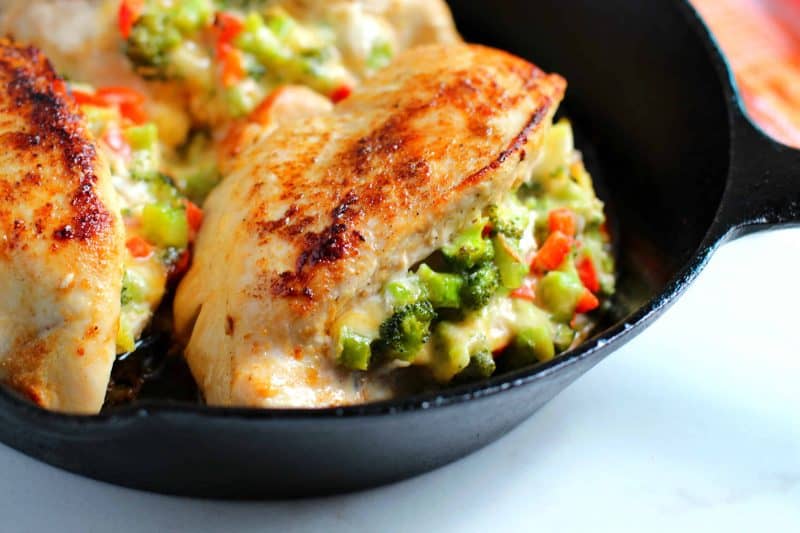 Low Carb Broccoli and Cheese Stuffed Chicken can be a delicious meal in one if you'd like. I usually serve it with mashed potatoes to keep the carb lovers happy and Ricky and I just eat the stuffed chicken alone because it is very filling. Print this one out and add it to your low carb arsenal! When you're done, be sure you check out all of my low carb recipes by clicking here. Now step into the kitchen and let me show you how easy this dish is to make.
I wouldn't say husband, Ricky, is a picky eater. He's more of a "limited selection" eater. Before we were married, he pretty much only ate whatever he knew for a fact he liked. He did not try new things. Of course, that all changed once his young bride began preparing her favorite dishes for him (that'd be me, in case I lost you). I was able to win him over to Mexican cornbread, cheesecake, and even asparagus, but other than the anomaly of discovering he liked asparagus (which he still insists on calling "those green spikey things"), he kinda put a stop to new veggies for a decade or so. I'm still working on him and pintos…His preference was always potatoes in some shape or form.
However, some years back as we were sitting having our evening coffee I said, "You're over forty now, your body would like a green bean every now and then." I followed this with something which was apparently a revelation to him "Not everything you eat has to be your favorite, you know". Well, turns out, he did not know that and the next day he tried green beans. Why am I telling you this? Because green beans led to broccoli and that is how we are here at this dish. You see, Ricky also likes to eat low carb and cheesy anything is his love language.
Okay Christy, that's enough talking, we're hungry. I hear ya. Let's go make some food.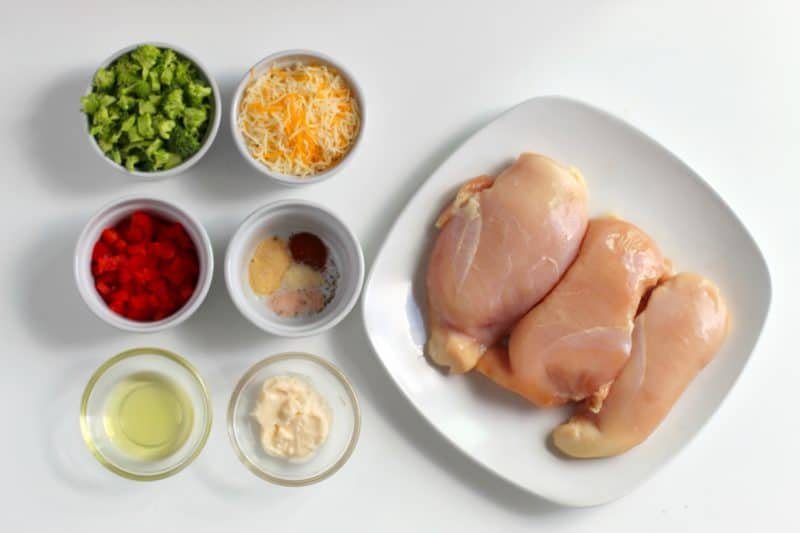 You'll need: Boneless skinless chicken breasts*, shredded cheese, chopped broccoli, chopped bell pepper, olive oil, mayo, paprika, salt, garlic powder, pepper, and onion powder.
*This recipe makes three. That is generally enough for four of us as it feeds a lot and we can't all eat a whole one. However, if you have a larger family or bigger eaters, doubling this recipe to make six usually ends up being the perfect number.
Before you start, place chopped broccoli in a medium sized bowl and add about two tablespoons of water. Cover and microwave about 3 minutes, remove cover and drain excess water.
To that bowl, add cheese, mayo, and chopped bell pepper. Stir well to combine.
Carefully cut a pocket into each chicken breast. A safe way to do this is to hold the piece of meat in place by pressing down on top with a flat spatula. Be careful to just cut a pocket, don't cut all the way through to the ends or to the other side.
Stuff each chicken breast with 1/3 of stuffing mixture. Stir together onion powder, garlic powder, pepper, salt, and paprika and sprinkle it over each side of each chicken breast.
In a large cast iron or oven proof skillet, heat olive oil over medium high heat until hot. Carefully add each chicken breast and cook these, turning once, about 4-5 minutes on each side until nicely browned. Remove from stove eye and place in 425 degree oven for 10-15 minutes, or until cooked through.
Mama says most people don't know what a stove eye is, which baffles me.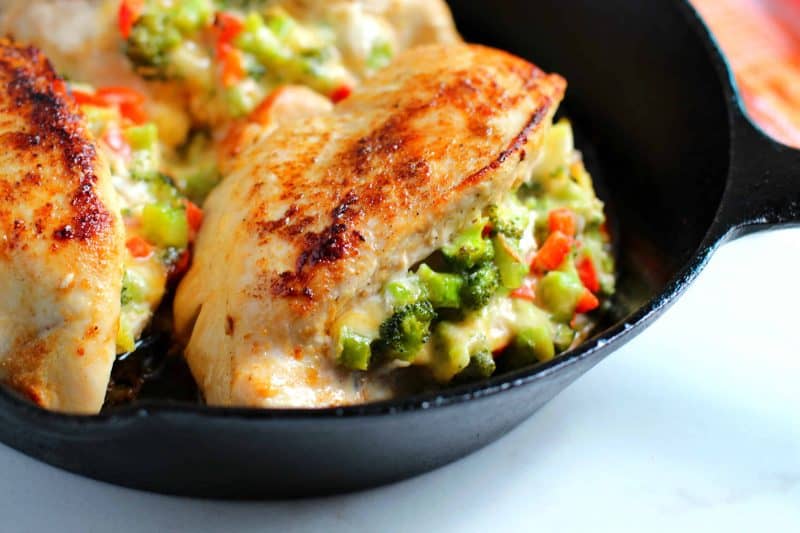 ENJOY this low carb broccoli and cheese stuffed chicken!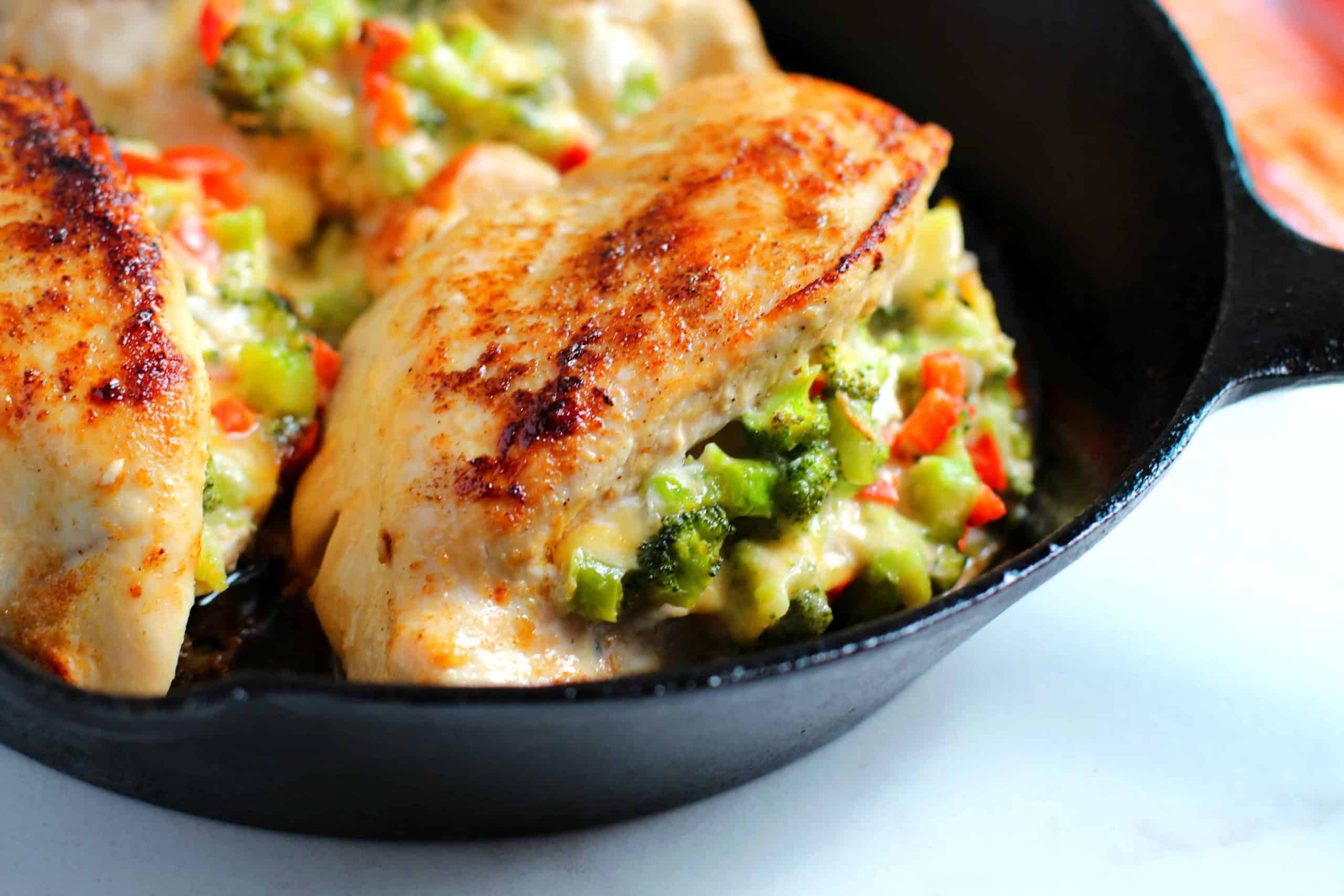 Ingredients
3

large

boneless, skinless chicken breasts

1 1/2

teaspoons

garlic powder, divided

1/2

teaspoon

onion powder

1/4

teaspoon

paprika

1/4

teaspoon

salt

1/8

teaspoon

black pepper
Stuffing Mixture
1

cup

fresh broccoli florets, diced

1/2

cup

bell pepper, chopped

1

cup

shredded colby jack or cheddar cheese

1

tablespoon

mayo

2-3

tablespoons

olive oil
Instructions
Preheat oven to 425. In a small bowl, stir together onion powder, paprika, salt, pepper, and 1/2 of the garlic powder.
Place chicken breasts onto cutting board. Press down on each chicken breast with a large flat spatula to hold it in place. Cut a pocket, being careful not to cut all the way through the other side and stopping before you get to the end of the chicken.

In a medium microwave safe bowl, place broccoli and 2 tablespoons of water. Cover and microwave on high for about 3 minutes or until just tender. Drain any excess water. Place bell pepper, cheese, mayo, and the rest of the garlic powder into the bowl and stir it all up to combine.

Stuff each chicken breast with 1/3 of stuffing mixture. Stir together onion powder, garlic powder, pepper, salt, and paprika and sprinkle it over each side of each chicken breast. 

In a cast iron or other oven proof skillet, place olive oil and heat on the stovetop over medium high heat. After oil is hot, carefully add each chicken breast. Cook this for 4-5 mimnutes on each side, until just browned. Remove from eye and place entire skillet of chicken in the preheated oven for 10-15 minutes, or until chicken is cooked through. Remove from oven and allow to rest for a few minutes before serving. Enjoy!
This recipe is featured on Meal Plan Monday and The Weekend Potluck!
Yum