Broccoli and Cheese Stuffed Chicken Breast
Perfectly seasoned and overloaded with a creamy cheesy broccoli mixture, this broccoli and cheese stuffed chicken breast recipe is a sensational low-carb and family-friendly main dish.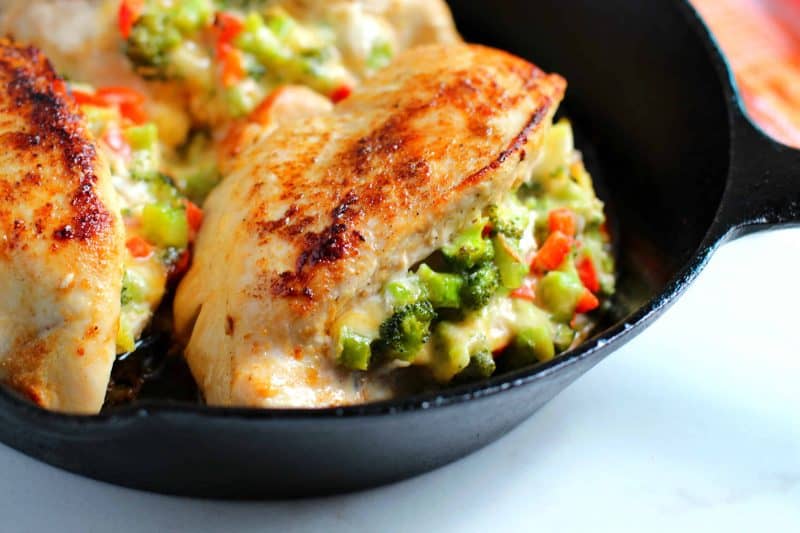 I have to tell you the funny story about how I first came to make this scrumptious low-carb broccoli and cheese stuffed chicken breast recipe. Some years back as I was sitting having an evening coffee with my husband, I said, "You're over forty now, your body would like a green bean every now and then." I followed this with something which was apparently a revelation to him: "Not everything you eat has to be your favorite, you know". Well, turns out, green beans led to broccoli and that is how we got to this recipe.
I think most picky eaters will enjoy this stuffed chicken breast recipe. It's become a family favorite in my household. Fortunately, I don't mind as it's delicious, easy to make, and ready to eat in under an hour. That's my kind of supper. All you need to do is season the chicken breast with only the yummiest flavors (we're talking garlic powder, paprika, and onion powder). Then you cut them in half and stuff them with a mixture of broccoli, bell pepper, shredded cheese, and mayonnaise. Altogether, this makes a creamy cheese stuffing, which perfectly complements the tender chicken breasts, which are pan-fried and then cooked in the oven.
Low-carb broccoli and cheese stuffed chicken breast can be a delicious meal all by itself if you'd like. I usually serve it with mashed potatoes to keep the carb lovers happy. Print this one out and add it to your low-carb arsenal! Now step into the kitchen and let me show you how easy this dish is to make.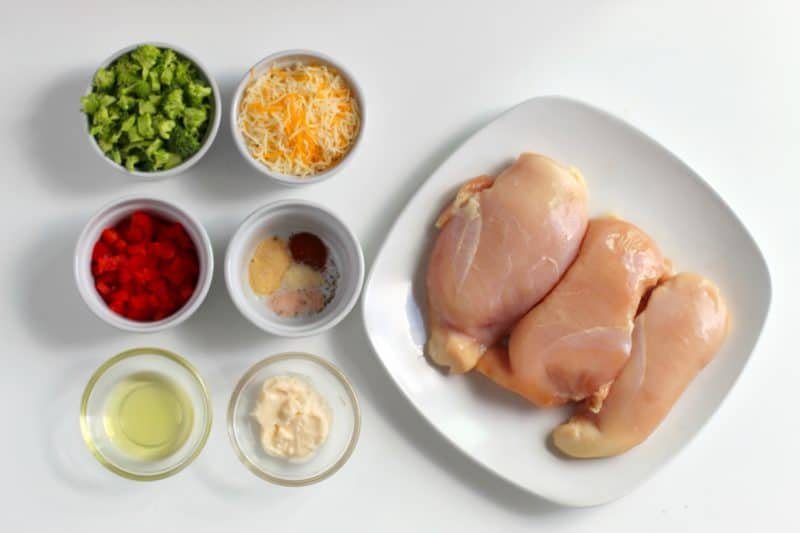 Recipe Ingredients
Boneless skinless chicken breast
Shredded cheddar cheese
Chopped broccoli
Chopped bell pepper
Olive oil
Mayo
Paprika
Salt
Garlic powder
Pepper
Onion powder
Before you start, place the chopped broccoli in a medium bowl and add about two tablespoons of water.
Cover and microwave for about 3 minutes. Then remove the cover and drain any excess water.
To that bowl, add the shredded cheese, mayo, and chopped bell pepper. Stir well to combine.
Carefully cut a pocket into each chicken breast.
A safe way to butterfly chicken breast is to hold the piece of meat in place by pressing it down on top with a flat spatula. Be careful to just cut a pocket, don't cut all the way through to the ends or to the other side.
Stuff each chicken breast with 1/3 of the stuffing mixture.
Stir together the onion powder, garlic powder, pepper, salt, and paprika and sprinkle it over each side of each chicken breast.
In a large cast-iron or oven-proof skillet, heat the olive oil over medium-high heat until hot.
Carefully add each chicken breast and cook these, turning once, about 4-5 minutes on each side until nicely brown.
Remove from the stove eye and place in a preheated 425-degree oven for 10-15 minutes, or until cooked through (a stove eye is what Southerners call the burners).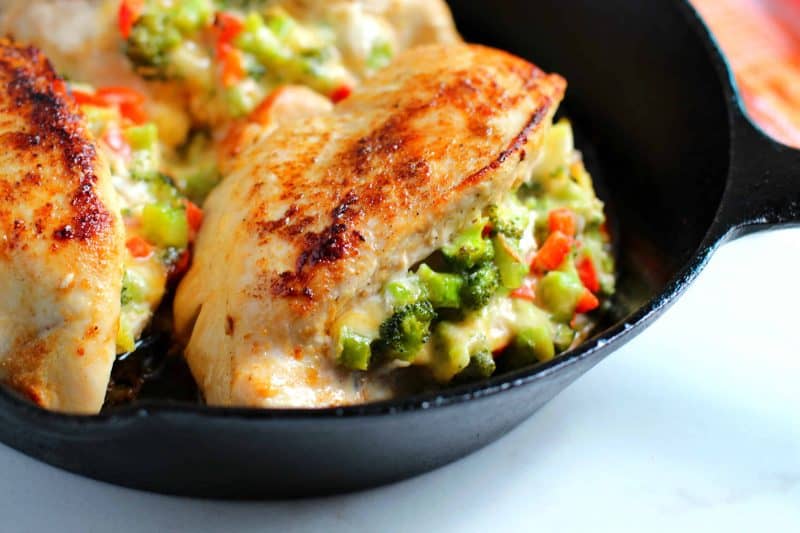 Now doesn't that broccoli and cheese stuffed chicken breast look good?
And yep feel good about it cuz it's low carb!
Storage
Store leftovers in an airtight container in the fridge for up to 4 days. Reheat in the oven or air fryer.
You can also freeze the stuffed chicken, unbaked, for up to 3 months. Thaw overnight in the fridge before baking as directed.
Recipe Notes
This recipe makes three large stuffed chicken breasts. However, if you have a larger family or bigger eaters, doubling this recipe to make six usually ends up being the perfect number.
While I prefer to use fresh broccoli in this recipe, you can definitely use frozen broccoli. Just thaw the chopped florets and pat dry with a paper towel before adding to the stuffing.
You can use any shredded cheese you like in this recipe. Another delicious option is a combination of sharp cheddar cheese and parmesan cheese.
Do you know what else tastes delicious? Wrapping your stuffed chicken breasts in bacon before baking them in the oven!
If you're nervous or cut your chicken breast too much, to hold them together simply secure the chicken with toothpicks and just take them out once baked.
Recipe FAQs
You may also like these other delicious chicken and broccoli recipes:
Chicken Broccoli Skillet with Pimento Cheese Sauce
Cheesy Chicken and Broccoli Rice Casserole
Chicken and Wild Rice Casserole
Click here to see my entire collection of low carb recipes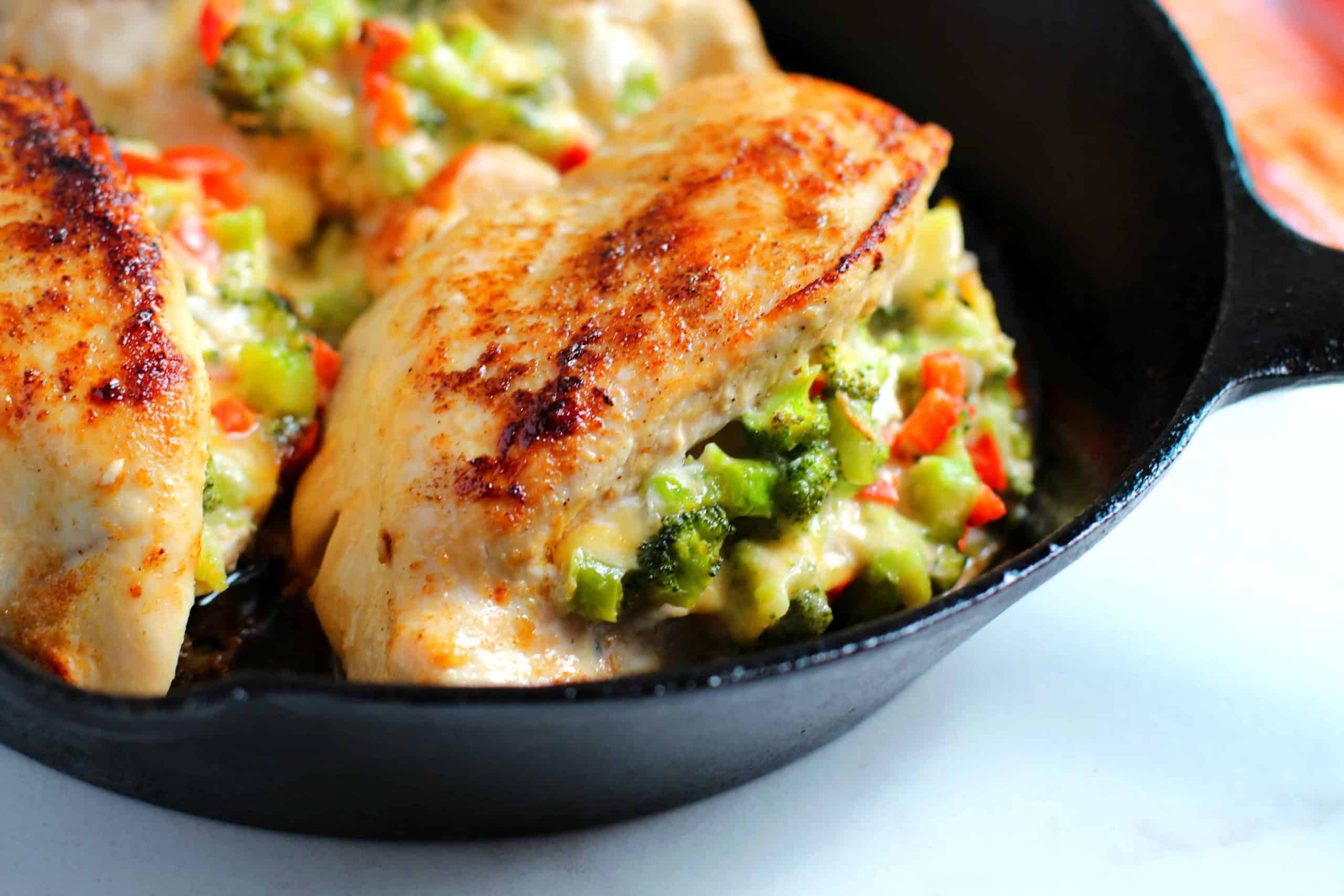 Ingredients
3

large

boneless skinless chicken breast

1 1/2

teaspoons

garlic powder, divided

1/2

teaspoon

onion powder

1/4

teaspoon

paprika

1/4

teaspoon

salt

1/8

teaspoon

black pepper
Stuffing Mixture
1

cup

fresh broccoli florets, diced

1/2

cup

bell pepper, chopped

1

cup

shredded Colby Jack or cheddar cheese

1

tablespoon

mayonnaise

2-3

tablespoons

olive oil
Instructions
Preheat oven to 425. In a small bowl, stir together the onion powder, paprika, salt, pepper, and 1/2 of the garlic powder.

1 1/2 teaspoons garlic powder, divided,

1/2 teaspoon onion powder,

1/4 teaspoon paprika,

1/4 teaspoon salt,

1/8 teaspoon black pepper

Place the chicken breasts onto a cutting board. Press down on each chicken breast with a large flat spatula to hold it in place. Cut a pocket, being careful not to cut all the way through to the other side and stopping before you get to the end of the chicken.

3 large boneless skinless chicken breast

In a medium microwave-safe bowl, place the broccoli and 2 tablespoons of water. Cover and microwave on high for about 3 minutes or until just tender. Drain any excess water. Place bell pepper, cheese, mayo, and the rest of the garlic powder into the bowl and stir it all up to combine.

1 cup fresh broccoli florets, diced,

1/2 cup bell pepper, chopped,

1 cup shredded Colby Jack or cheddar cheese,

1 tablespoon mayonnaise

Stuff each chicken breast with 1/3 of the stuffing mixture. Sprinkle the mixed-together seasonings over each side of each chicken breast. 

In a cast-iron or another ovenproof skillet, place the olive oil and heat on the stovetop over medium-high heat. After the oil is hot, carefully add each chicken breast. Cook this for 4-5 minutes on each side, until just brown. Remove from the eye and place the entire skillet of chicken in the preheated oven for 10-15 minutes or until chicken is cooked through. Remove from the oven and allow to rest for a few minutes before serving. Enjoy!

2-3 tablespoons olive oil
Nutrition