Orange Meringue Pie is a delicious spin on a Lemon Meringue Pie!
Years and years ago, I came upon an orange meringue pie in the bakery section of a grocery store. Intrigued (because Lemon Meringue is my favorite), I bought it and brought it home to taste.
Oh. My. Goodness.
Just as I expected, it was like a slice of sunshine! I immediately decided that I could make this myself and so tweaked my Lemon Meringue Pie recipe to come up with this version, which is featured in my third cookbook, Sweetness.
If you have any lemon pie lovers in your life, this orange version will be sure to win them over as well. Of course, it helps that it's easy as pie to make! Let me show you how.
To make this Orange Meringue pie you'll need:
Frozen Orange Juice Concentrate (slightly thawed)*
Sweetened Condensed Milk
Sugar
Eggs
A Graham Crust**.
*Orange Juice concentrate is a must
Regular orange juice won't do. This is what we need to give us the concentrated burst of orange flavor that won't be drowned out by the other ingredients in our pie.
**Yes, I'm using a store bought pie crust. Do I know how to make a homemade graham crust? Of course I do. However, I'm completely fulfilled and happy as can be using this one. Y'all, the world is gonna be hard on ya, so you need to go easy on yourself every chance you get. If someone looks down on you for not making it from scratch, they were just looking for a reason to look down on you anyway.
How to Make Orange Meringue Pie
Step by Step Instructions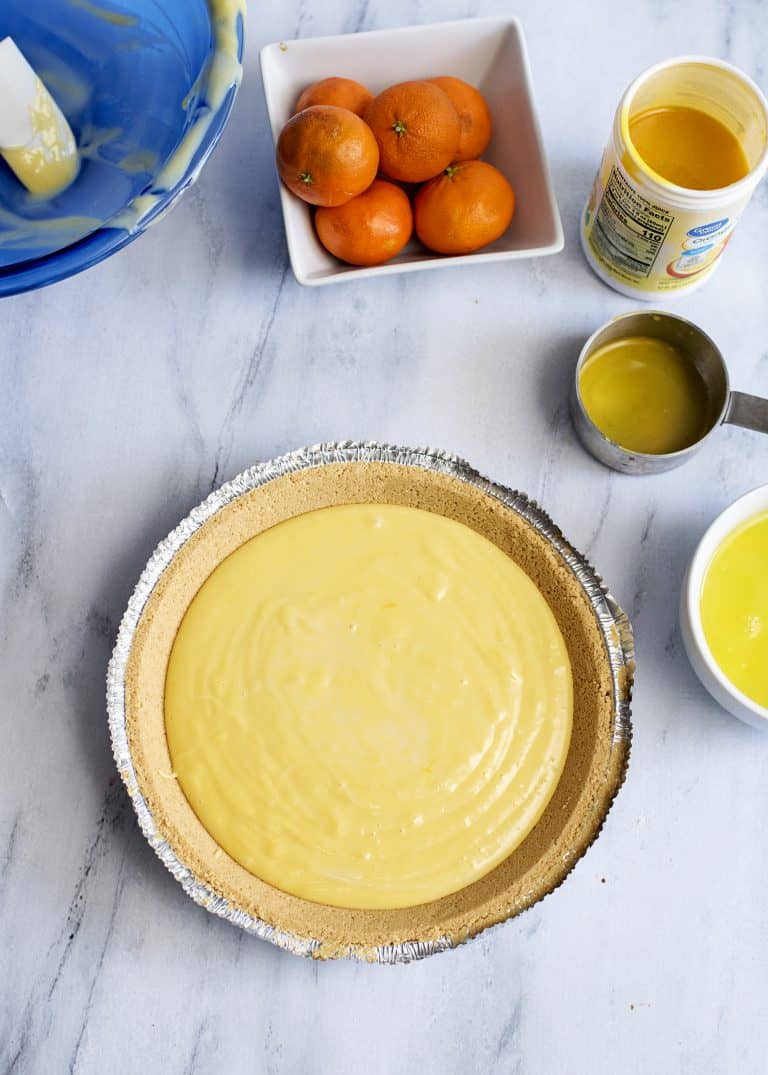 Place your sweetened condensed milk, orange juice concentrate, and egg yolks in a mixing bowl. Mix until well combined like this, and pour into the shell.
Exact amounts of all ingredients, as always, are at the bottom of the post.

Tips For Making the Meringue
Meringue is a simple thing to make, as easy as turning on a mixer, but there are a two things you need to know about.
Make sure no yellow from your egg gets in with your white. None. At. All. You want only whites so be careful when separating them.
Make sure everything that is going to come into contact with your egg whites is clean and clear of any greasy residue. Fresh from the dishwasher should be just fine.
Place your egg whites in the bottom of a clean mixing bowl. Beat with electric mixer until foamy, as in the second photo. Add in sugar and continue beating until stiff peaks form (last photo on right). You know you are there when you pull your beaters up out of the meringue and it creates a point that remains standing up, this is why we refer to it as a stiff peak.
Spread meringue over top of pie and make sure you spread it to the edges, actually touching the edge of the pie crust all around. If you don't do this, wherever it doesn't touch, the meringue will pull back a bit when baking.
Bake at 325 for 15 minutes, allow to cool completely, cover, and refrigerate several hours before serving.

DIVE IN to your new favorite pie!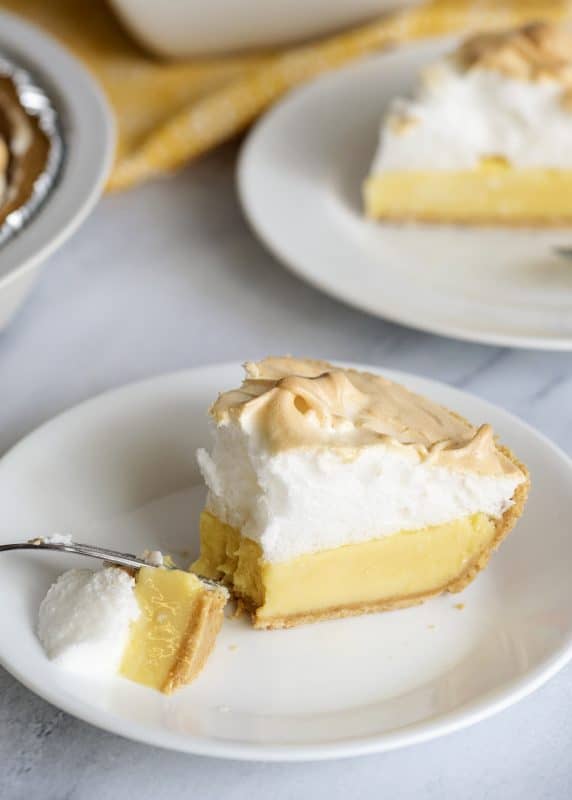 YUM!
Ingredients
For the filling
14-15

ounce* can sweetened condensed milk

filling

½

cup

frozen orange juice concentrate

thawed

2

large egg yolks

Graham cracker crust
For the meringue
3

large egg whites

¼

cup

sugar
Instructions
For filling, In a medium sized bowl, mix together sweetened condensed milk, orange juice concentrate, and egg yolks with electric mixer until well blended. Pour into crust.

For meringue, Whip egg whites with an electric mixer until foamy. Add sugar. Continue beating on high speed until soft peaks form. Pour onto top of pie and spread to edges to seal well. Bake at 325 for fifteen minutes or until top is golden. Allow to cool completely and refrigerate until chilled before serving.
Notes
*Either a 14 or 15 ounce can will be fine.
Nutrition
I originally published this recipe in Feb 2017 and updated the photos in March 2019.
Keep your face to the sunshine and you cannot see a shadow.
~Helen Keller
You may also like these meringue pies:
Old Fashioned Coconut Meringue Pie (My Favorite)
Lemon Meringue Pie With Cookie Crumb Crust
Or you may like these meringue cookie recipes:
Chocolate Chip Meringue Cookies AKA Cloud Cookies