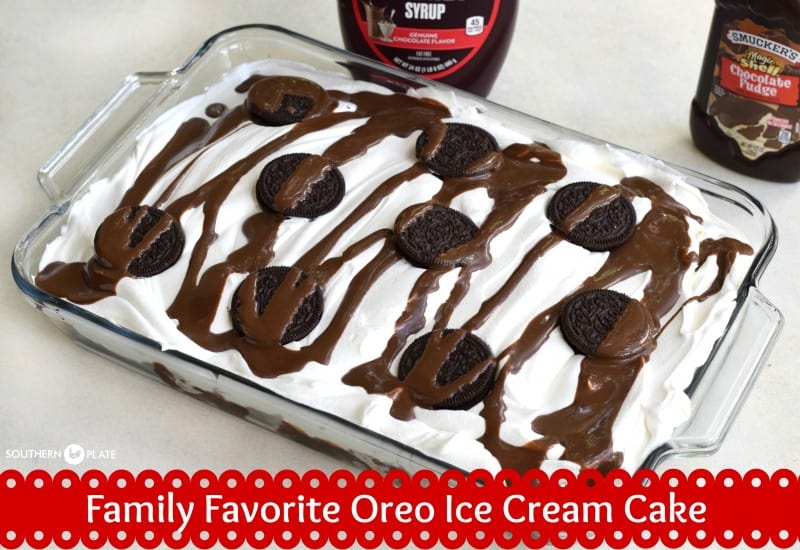 Oreo ice cream cake is just too irresistible to expect folks to leave it alone long enough to photograph. So this is the best one I got out of four. It's the perfect blend of crunchy cookies, creamy ice cream, gooey chocolate syrup, light and fluffy whipped cream, and magical magic shell.
July 8th is Southern Plate's Birthday!
So this most definitely calls for cake.
Ingredients You Will Need To make this Oreo Ice Cream Cake are:
Cookies and Cream Ice Cream
Large Frozen Whipped Topping
Hershey's Chocolate Syrup
Chocolate Fudge Magic Shell, and a Family Size Bag of Oreo Cookies.
Choosing an ice cream
I like Kroger brand deluxe ice cream. Choose your favorite but get the best quality that you can and make sure it says "ice cream" rather than "frozen dairy product"..
How To Make Oreo Ice Cream Cake
Step by Step Instructions:
Coarsely crush most of the Oreos (save about ten for the top) and sprinkle them in the bottom of a 9 x 13 baking dish.
Soften the ice cream by sitting it out for a few minutes and then spread it over the top. I do this by plopping spoonfuls all over the top and then smearing them together with a butter knife.
Generously Zig Zag some Hershey's Chocolate Syrup over this.
Now spread the entire container of whipped topping over this. Press the remaining oreos into the top and then zig zag some magic shell over the top.
To keep it looking pretty, place in the freezer for a few minutes uncovered, to allow the magic shell to harden, then cover and return to freezer until ready to serve. This is surprisingly easy to cut.
Other oreo recipes that you might like are:
Oreo Cookie Balls- 3 Ingredient Easy!
Thank you for being a blessing in my life and for the honor of allowing me to be a small part of yours.
Ingredients
1.5

quart

container cookies and cream ice cream

16

ounces

frozen whipped topping*

Hershey's Syrup

Chocolate Fudge Magic Shell

Family Size package of Original Oreo Cookies
Instructions
Sit ice cream on counter to allow to soften.

Set aside about ten cookies from the package. Coarsely crush or break the remaining cookies and spread them out in the bottom of a 9x13 pan.

Spoon entire carton of ice cream over the top and then use a butter knife to spread it so that it is even.

Drizzle a generous zig zag over top of ice cream with chocolate syrup.

Top this evenly with entire container of whipped topping.

Press reserved cookies lightly into top. Zig Zag over all of this with chocolate Magic Shell.

Place in freezer, uncovered, until Magic Shell hardens. Once hardened, cover well with foil or lid and return to freezer until ready to serve.
Nutrition