These freezer-friendly summer desserts are all sensational and include ice cream sandwiches, a fresh fruit pie, and delicious dessert salads.
This is the final post in my summer dessert series, where I've been featuring cool and refreshing summer desserts you can make ahead of time. The other posts in this series include summer cakes and summer pies, so now I'm sharing the best summer desserts in general.
Each of these summer dessert recipes is quick and easy to make and you can make them ahead of time. Just store them in the freezer for no-fuss entertaining at the top of the hat. We all need these kinds of desserts during a busy summer season, right?
Of course, if it is on SouthernPlate.com, you know it's a favorite of mine so I hope you'll enjoy all of these.
Freezer-Friendly Summer Desserts
These ice cream graham cracker sandwiches are a low-sugar alternative to an ordinary ice cream sandwich. The ice cream is a combination of milk, whipped cream (Cool Whip), and sugar-free pudding mix. This creamy mixture is then squished between graham crackers, for a low sugar alternative to normal cookies.
I dearly love these little wonders and they can be made at a fraction of the cost and calories of what you'd buy in the store. What's even better is that they are as delicious as an ice cream sandwich and super easy! If you prefer, you can just use whatever ice cream you have on hand (such as vanilla ice cream).
This was one of Granny Jordan's signature recipes and I've never met a person who didn't fall in instant love with them. They're a creamy, light-tasting, and fruity dessert recipe. The ingredients include sour cream and whipped topping and lots of canned and fresh fruit. We're talking crushed pineapple, cranberry sauce, and bananas. A classic Southern dessert and sweet treat, I hope you'll give them a try!
We can't talk about summer desserts without featuring at least one pie, right? Ashley Mac's is a treasure located in Birmingham, Alabama. The owner shared her signature recipe for this delicious pie in a guest post on SouthernPlate.com! So, what's in a coconut caramel pie? Lots of good stuff, let me tell you! Butter, coconut, chopped pecans, cream cheese, sweetened condensed milk, whipped topping (Cool Whip), and caramel topping, all in a pie crust (either a store-bought or homemade pie crust).
While I'm on the topic of caramel pies, I also recommend checking out my easy-peasy caramel banana pie, which is a Southern spin on the classic banoffee pie.
This is another Granny Jordan summer dessert recipe! On those days where I'm really hot and need a special fruity treat, these really hit the mark. My mother loves them, too! They include a combination of canned and fresh fruit, including canned apricots, crushed pineapple, orange juice concentrate, frozen strawberries, and ripe fresh bananas. Combine all of this spectacular summer fruit with Greek yogurt and sugar and you have fabulous Front Porch Salads.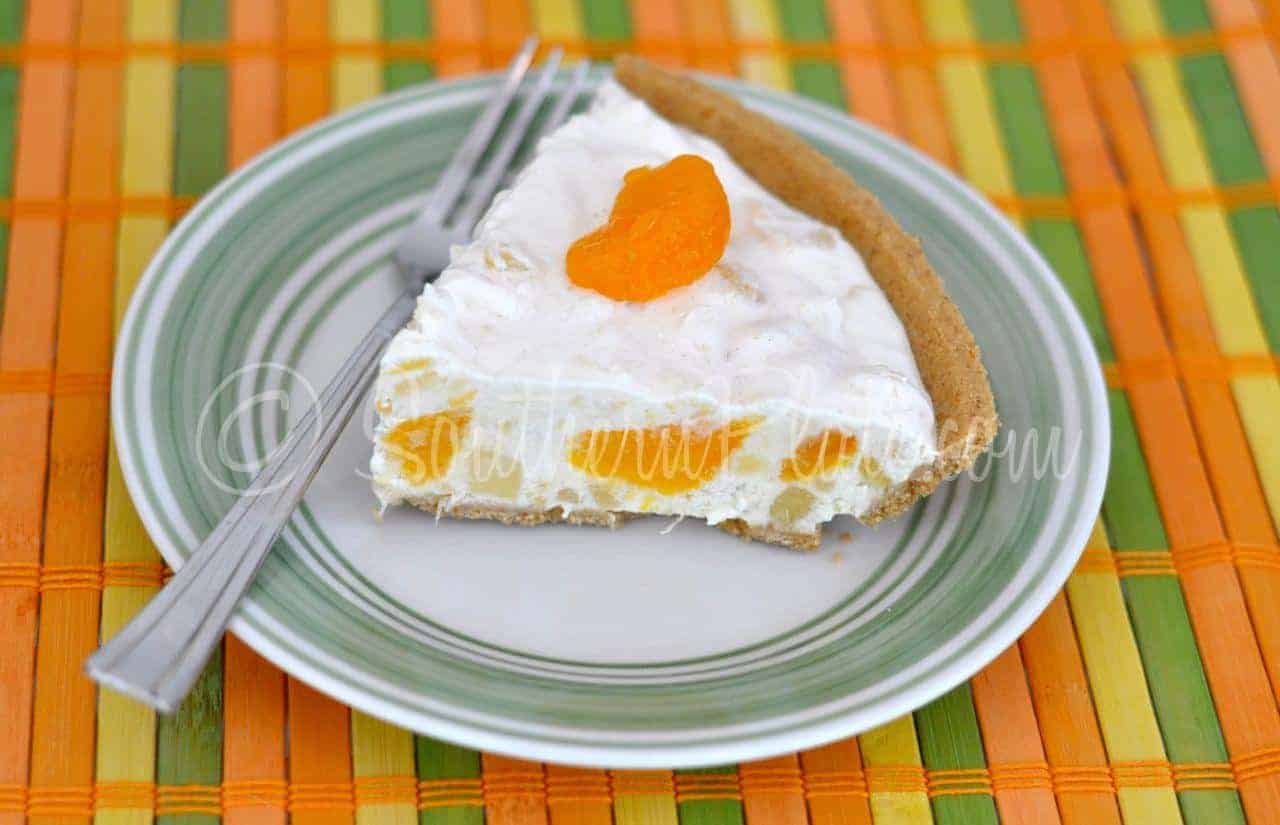 If you love the icing on my Mama's mandarin orange cake, you're really gonna love this cool fruit pie! To me, it tastes like sunshine and includes a delicious combination of mandarin oranges, crushed pineapple, sweetened condensed milk, lemon juice, and whipped topping in a graham cracker crust. It's fresh, creamy, and one of my favorite summer desserts.
Here are a few more
:
To go directly to the dessert index, click here (scroll down a bit until you see Category: Dessert).
"If you can't see the bright side of life, polish the dull side."