Potato Candy Recipe Made The Ole Fashioned Way
Here's an ole-fashioned holiday sweet treat all kids (and adults) will love, it's our peanut butter potato candy. Instead of tasting like potatoes, it tastes like soft fudgy goodness!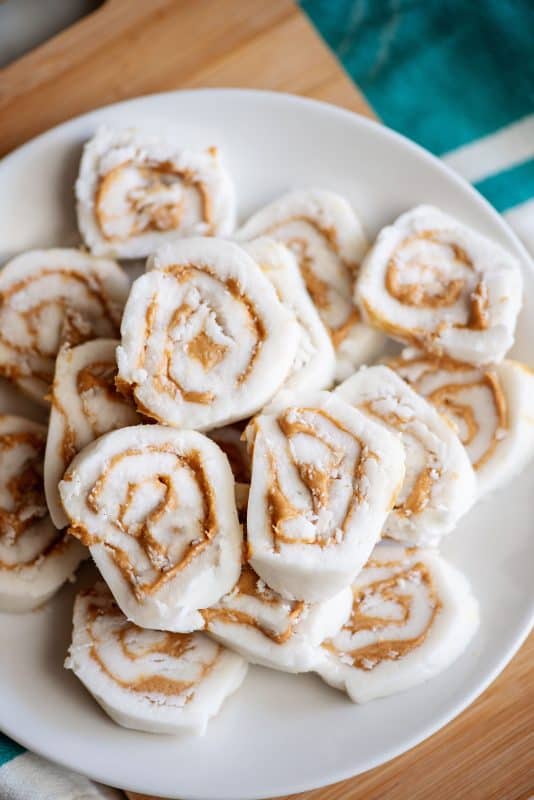 This recipe for potato candy is an ole-fashioned candy recipe that I've received a lot of requests for. A traditional holiday treat, in the past, my grandmother would divide her dough into two batches, tinting one pink with red food coloring and leaving one white. She'd then pinch off bits of dough and roll it into balls, storing the balls in the refrigerator until ready to serve. Another option is rolling out little balls of potato candy and dipping them into melted chocolate to serve as a sort of poor man's bonbon. However you make your potato candy, they're guaranteed to be delicious!
What does Potato Candy taste like?
Now, if you're thinking potato candy sounds weird, I totally see where you're coming from. However, I'm gonna let you know what to expect instead: old-fashioned candy heaven. For me, this peanut butter potato candy is in the same taste category as fudge or divinity. Yes, it is just that good! I promise that once you give this recipe a go, you won't be disappointed. Plus, you won't even be able to taste the potato. It just acts as a binder, binding the other ingredients.
Recipe Ingredients
There are many things to like about this simple no-bake peanut butter potato candy recipe, including the fact it's gluten-free and you only need three ingredients!
Creamy peanut butter
Confectioner's sugar
Russet potato
Vanilla (optional). You can add a teaspoon of vanilla extract if you like, but you don't have to. Y'all know I like to keep things as simple as possible.
Helpful Kitchen Tools
Peel and slice your potato and cover it with water.
Bring to a boil and cook until tender.
Drain your potato water and place the cooked potato in a mixing bowl.
Beat it up real good until it looks like mashed potato.
Add about half of your confectioner's sugar and mix it up well again.
Until you have a pulpy, liquidy mess.
Dump in the rest of your sugar.
Sure you can add it in gradually if you have all day, but it's just as good to dump it all in there and get on with making some candy.
After that second mixing, you'll have yourself a good stiff potato dough. It should be the consistency of cookie dough, only maybe a wee bit stiffer.
Now, because we don't have all the time in the world to clean our kitchens and because we want this to be as easy as possible (so we enjoy it more, of course!), place a big old sheet of waxed paper on your countertop.
If anyone is feeling particularly technical today, I think this is like… 18 inches longish.
Put some confectioner's sugar on the paper to keep your dough from sticking like tar and dump your blob of dough on top. You'll have to scrape down the sides a bit to get it all.
Dust the top with some more powdered sugar.
Roll that out until it is about a quarter of an inch.
Smear some peanut butter on that.
I have no idea how much peanut butter you'll need so just go with your gut here. You can do this because you are awesome!
Now roll that up log-style, like you're rolling up cinnamon rolls.
Now since we have the waxed paper already out there anyway, roll your log up in your waxed paper.
To make life easier, I cut my roll in half.
Then they will both fit in a gallon zipper bag. Place this in the fridge until thoroughly chilled.
When ready to serve, remove waxed paper and slice it into inch-thick slices.
This recipe makes about forty pieces of candy.
Recipe Notes
Now, you can leave out the peanut butter and simply roll the dough into balls, but I'm firmly on team nut butter. Alternatively, you could use Nutella, cookie butter, or soy butter as a substitute.
If your potato candy dough doesn't look like cookie dough before you roll it out, you may need to add a little bit more sugar to get a stiff consistency.
I recommend using russet potatoes

to make

.
Storage
Peanut butter candy can easily be stored in an airtight container or covered in plastic wrap in your fridge for up to 10 days.
Recipe FAQs
Where did potato candy originate?
The actual origin of potato candy is unknown, with lots of theories. Some say it hails from Ireland, others say Germany. However, it's believed to have originated in the South during the Great Depression. It would have been a tasty treat using the little number of ingredients available at the time.
Is potato candy the same as Irish potato candy?
This is a common misconception, but Irish potato candy is actually a traditional candy that's, funnily enough, not from Ireland and doesn't contain potatoes. Yep! Irish potato candy is a cinnamon candy with a coconut cream interior that simply resembles a small potato.
Ingredients
1

small potato

2

pounds

confectioner's sugar

The amount will vary, a bigger potato may require more sugar to keep the dough together.

peanut butter
Instructions
Peel and slice the potato. In a small saucepot, cover the potato slices with water and cook over medium heat until soft. Drain potato and place in mixing bowl. Beat until mashed. Add 1/2 sugar and mix well. Mix in the remaining sugar, scraping down sides as needed.

Line a countertop with a sheet of waxed paper dusted with confectioner's sugar. Scrape out dough onto waxed paper and dust top with more confectioner's sugar. Roll out to a thickness of about 1/4 of an inch (don't go getting a ruler here, just eyeball it. This isn't rocket science). Spread dough with peanut butter and roll up like you are making cinnamon rolls. Once you have rolled it up into a log, roll the log up in your waxed paper and cut it in half. Place halves in a gallon zipper seal bag and store in the fridge until ready to serve.

When ready to serve, remove waxed paper and slice it into 1/4 inch slices. Store leftovers in the refrigerator.
Please note: potatoes are different sizes. If you end up with more potato, you're gonna need more confectioner's sugar. We're gonna have to use our noodles on this one and be ready to add more confectioner's sugar if need be. You'll just end up with more candy. Work it in there until it becomes a dough. You might have to add a lot more sugar because you might end up with a lot more potato. You can do this. I have faith in you!
Video
Nutrition
You may also enjoy these fun holiday treats:
Candy Apples Easy And Fun To Make
Chocolate Peanut Butter Balls No Baking Necessary
Candy Cane Cookies (Elf Favorite!)
Something about an old-fashioned Christmas is hard to forget.

~Hugh Downs