Pumpkin Roll Cupcakes and Flannel Shirts
How to Make Pumpkin Roll Cupcakes Recipe
I just love this time of year. Fall breezes are the perfect remedy after our sweltering summers in the south. The cotton is in full bloom now and we now drive by fields that look like they're filled with suspended balls of snow.
Fall Memories and Flannels
Do you remember being a kid in the fall? I remember wearing my brother's hand me down jacket, pulling the hood up over my head to block out the wind, and me and my sister would rake up every leaf we could find into a huge pile and then spend the day jumping in it, burying ourselves in them, and raking them up again once the pile was depleted from all of our antics. You can sure bet our neighbors didn't have any stray leaves hanging around their yard when we were done!
I always looked forward to Mama getting out our fall clothes because that meant a fresh crop of my brother's flannel shirts from the year before were handed down to me. I'd rather have an old worn flannel shirt than a new one any day. The soft worn flannel and slightly too large size were like being wrapped up in a hug from sun up until we were called back into the house at supper time.
And when we came in for supper, remnants of what Mama had been making through the day was still lingering in the air.
Pumpkin Roll Cupcakes were one of our favorites.
All the flavor and goodness of a pumpkin roll but with a lot less fuss.
Ingredients for the Pumpkin Roll Cupcakes are:
All purpose flour
Baking soda
Baking powder
Salt
Eggs
Sugar
Pumpkin
Pumpkin pie spice
In a mixing bowl, place your flour, baking soda, baking powder, pumpkin pie spice, salt, and sugar.
Okay, so basically just measure out all of your dry ingredients and toss them in a bowl.
Stir that up with a spoon just to mix it up a bit.
Now add in your eggs and pumpkin.
And mix it up until well combined and smooth.
Yes, it will be this horribly putrid orange color. This always looks like bad baby food to me, but I promise it will taste amazing. In fact, it tastes pretty dern good when all done.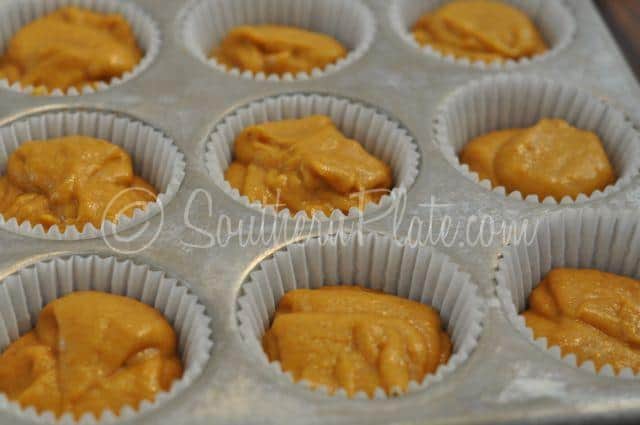 Divide batter evenly among the cups of a twelve cup muffin tin, that has been lined with cupcake papers.
I was trying to decide if I wanted to make mini cupcakes or regular cupcakes for this tutorial so as I was getting ready to photograph it I texted my friend Jyl:
Me : "Full cupcakes or minis?"
Jyl : "I say full because I don't just want a mini. I want more. And it sounds better to say I ate one cupcake than it does to say I ate five mini ones."
Her wisdom made sense so we have full size cupcakes in this tutorial 🙂
Bake those at 350 for 20 minutes, or until the center springs back when lightly pressed.
Allow to cool completely.
I stick mine in the refrigerator so I don't have to wait as long. Patience is a virtue but I'm afraid it isn't one I often possess.
Now we're gonna make our icing for our Pumpkin Roll Cupcakes.
This icing is the traditional filling for a pumpkin roll and you'll notice that it doesn't use near as much sugar as traditional cream cheese icing does, and I actually like that better. It still tastes plenty sweet though.
You'll need:
Confectioner's sugar
Butter
A brick of cream cheese
Vanilla
Toss all of your icing ingredients into a mixing bowl.
Beat this up until smooth and creamy and then imagine a photo of it being all smooth and creamy.
Alrighty, now we've got our icing mixed up and we're ready to fill come cooled cupcakes.
What I do is get a gallon freezer bag and then I place a big piece of tape over one corner of it before snipping off the point. Insert whatever icing tip you can find, preferably one with a point on it, and you're ready to go.

Okie Dokie, now fill you bag with icing and seal it shut really well. Take the pointed tip and stick it down as far as it will go into the pumpkin roll cupcake like the picture above. Give it a good squeeze.
Or just skip ahead to the part where we put a big old gob of icing on these things
Some will end up with more icing in them than others but it is the thought that counts.
Top each cupcake with a big dollop of icing and spread slightly.
I think these are prettier if you leave a bit of the edges showing. Enjoy!
I store these in the refrigerator. They'd be beautiful topped with a pecan half.
Enjoy with a cup of coffee or as a special after dinner treat 🙂
[amd-zlrecipe-recipe:338]
You may also like these recipes:
"If you treat every situation as a life and death matter, you will die a lot of times."

~Dean Smith