These Quick & Easy Oatmeal Caramelitas are a caramel lovers dream!
I'm a caramel gal. I cast caramel the same longing looks that most folks reserve for chocolate. Creamy, gooey, caramel has always called my name louder than any other form of candy. Even when I was a little girl, I'd hunt for pennies around the house so I could go to the store around the corner and trade them for penny caramels. I'd clutch that little brown paper sack and ride my bicycle home, racing the wind as if someone knew what treasure I held, and go straight to my room to hide them underneath the blue jeans my brother had handed down to me. Once safely in my pants drawer, I'd slip away a few times a week and have a single caramel, sitting down in my bedroom floor with a book while I enjoyed it. I rationed those puppies out as if they might be the last caramels ever made :).
So as a caramel lover, when I tell you that today's recipe is something special, you need to know that I am sharing one of my treasures with you.
~takes a deep breath~ But listen, I need something in return for this. If I'm going to open up my treasure chest and let you have this one, you gotta promise to at least eat an extra one in my honor when you make them. And say a prayer, too, because I'm pretty sure every time someone eats an Oatmeal Caramelita, an angel earns it's wings, or God smiles, or maybe a baby is born, or something like that. Either way, I'm pretty sure it's a big deal in Heaven but I don't have all the details on just how yet 😉
The ingredients in this are pretty easy and you probably have most everything you need except for the caramel: Brown Sugar (I prefer dark), Old Fashioned Oats (quick will work), Self Rising Flour, Butter, and two cans of caramel*.
*I used to could only find this caramel on the Mexican foods aisle but it is getting pretty mainstream now and you can often find it on the baking aisle, too. It is pretty much heaven in canned form.
Place everything but the caramel in a large mixing bowl.
Stir that together real good until it's all blendy 🙂
Now get a pinch of it to taste because it is WONDERFUL!
Pat half of this mixture into the bottom of a greased 9×13 pan.
Take your two cans of caramel and BLOP caramel all over the top.
Then spread it out to cover.
Sprinkle the rest of your mixture over the top.
Bake this at 350 for 30 minutes or until lightly browned. Allow to cool pretty good before cutting it so the caramel has time to set up again. I know, this just sounds so wrong and normally I would quietly encourage you to eat one warm but trust me, that caramel is hot as tar straight out of the oven and although it is worth a tongue burn, that would inhibit your ability to enjoy then later so I'm thinking of your safety here. 
Did you see how easy that was? Seriously! It is amazing that a bar with this much deliciousness can be done with so little effort.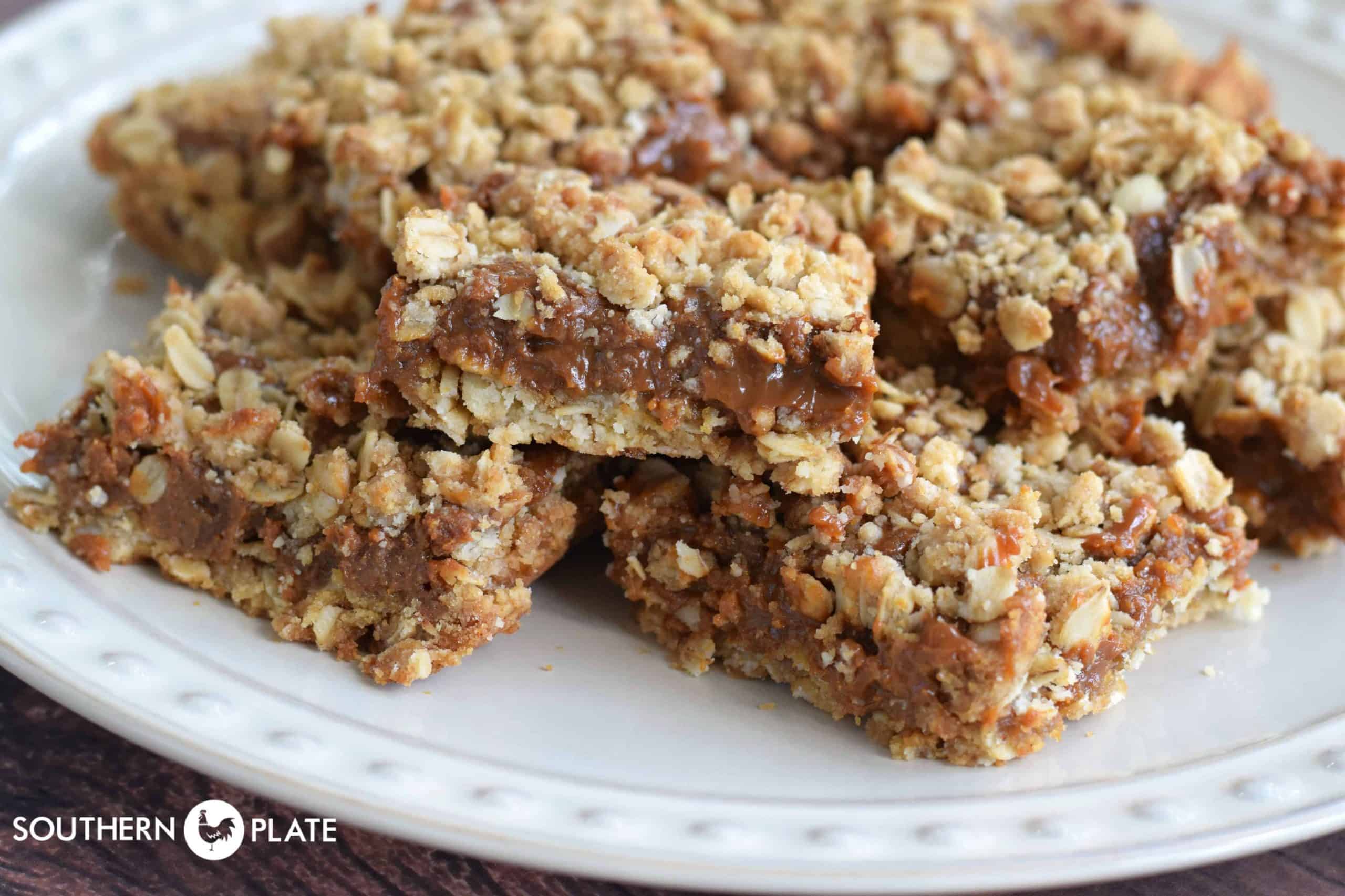 Ingredients
2

cups

self rising flour

2

cups

old fashioned oats

1

+1/2 cups packed dark brown sugar

1

cup

butter

melted

2

cans

14 ounce each Dulce De Leche, or caramel, found next to sweetened condensed milk
Instructions
In large bowl, stir together first four ingredients until well blended.

Pat half of mixture into bottom of greased 9x13 pan.

Dollop all of caramel over top of the mixture and then spread until evenly covered. Sprinkle this with remaining crumb mixture.

Bake at 350 for 30 minutes, or until lightly browned. Allow to cool at least slightly before serving so caramel will be set again.
Peace I leave with you; my peace I give you. I do not give to you as the world gives. Do not let your hearts be troubled and do not be afraid. ~John 14:27
You might also enjoy this recipe! Awesome Oatmeal Cookies
Yum