Recipe for Peanut Butter Granola Bars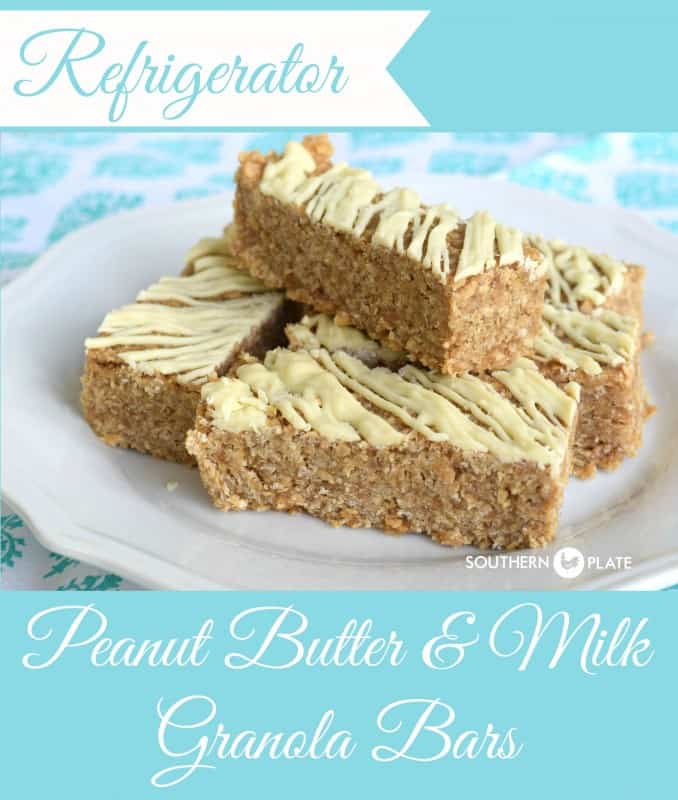 These bars are no bake, stored in the refrigerator, filling, and tender. What's more, they're actually on the healthier side of things. Well, for now. I mean, give it a week or so and someone is going to decide oats are unhealthy, it's only a matter of time :). The ingredients are as simple as they can be and the bulk of the "cooking" process involves stirring and patting into a pan. They make an excellent breakfast or a quick energy snack in between meals and since they aren't "too sweet" they are perfect for school mornings when you want your kid to be well fed but not bouncing off the walls :).
In short, I love them and I made a huge batch at a fraction of what I used to pay for the store bought Milk Bite version. The options with this are limitless, really. If you have any peanut butter allergies, use sun butter. Add in dried fruit, nuts, coconut, whatever you like to personalize them. You can follow my recipe to the letter or use it as a springboard for something entirely different.
Let's get to it so I can get me another bite of one of these bars!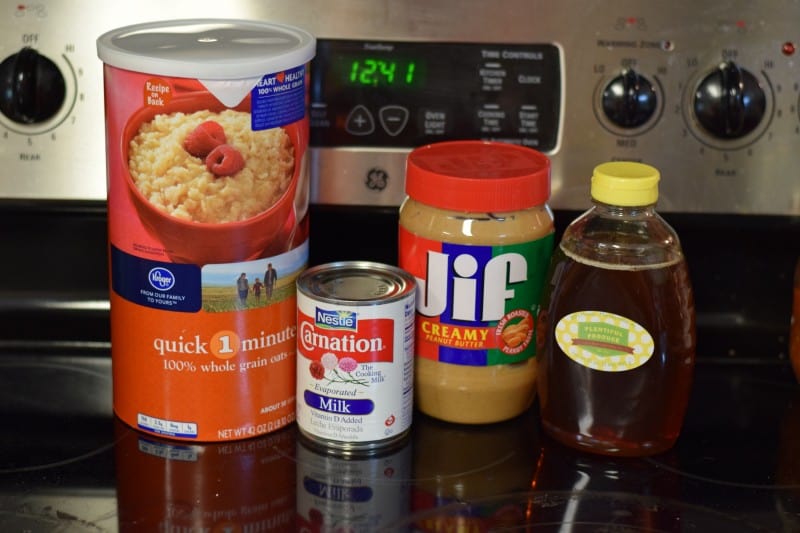 Recipe Ingredients:
Oats
Evaporated Milk (can use regular)
Peanut Butter
Honey
Vanilla My Vanilla was not in the mood for photographs today and we mustn't pressure our ingredients when they wake up on the wrong side of the pantry.
On my finished product, I melted some white chocolate chips and drizzled that over in addition to sprinkling a little bit of coarse sea salt on top of the chocolate before it set. It was a wonderful touch.
Place all of your ingredients (except oats) in a large bowl and microwave for a minute or two until the peanut butter is good and melty and can be easily stirred together with all the other ingredients. You can do this in a pot on top of the stove if that makes things more right in your world.
Stir that together until smooth. Add oats. Stir until very well coated.
Press into an 8×8 pan. Cover and refrigerate until chilled.
If you want to make a pretty topping like I did, melt chocolate chips (flavor of your choice) in the microwave at 30 second intervals, stirring after each, until melted and smooth. Allow to cool for a few minutes and then spoon into a zipper seal bag. Snip a corner off and squeeze in a zig zag (or zag zig, depending on your level of rebelliousness) pattern on top of the bars. Sprinkle lightly with coarse sea or kosher salt.
Cut into bars and store in an airtight container or bag in the refrigerator for up to two weeks or freeze for up to three months (or until you remember they are there and decide to eat them).
I LOVE HAVING THESE IN MY FRIDGE and you will, too!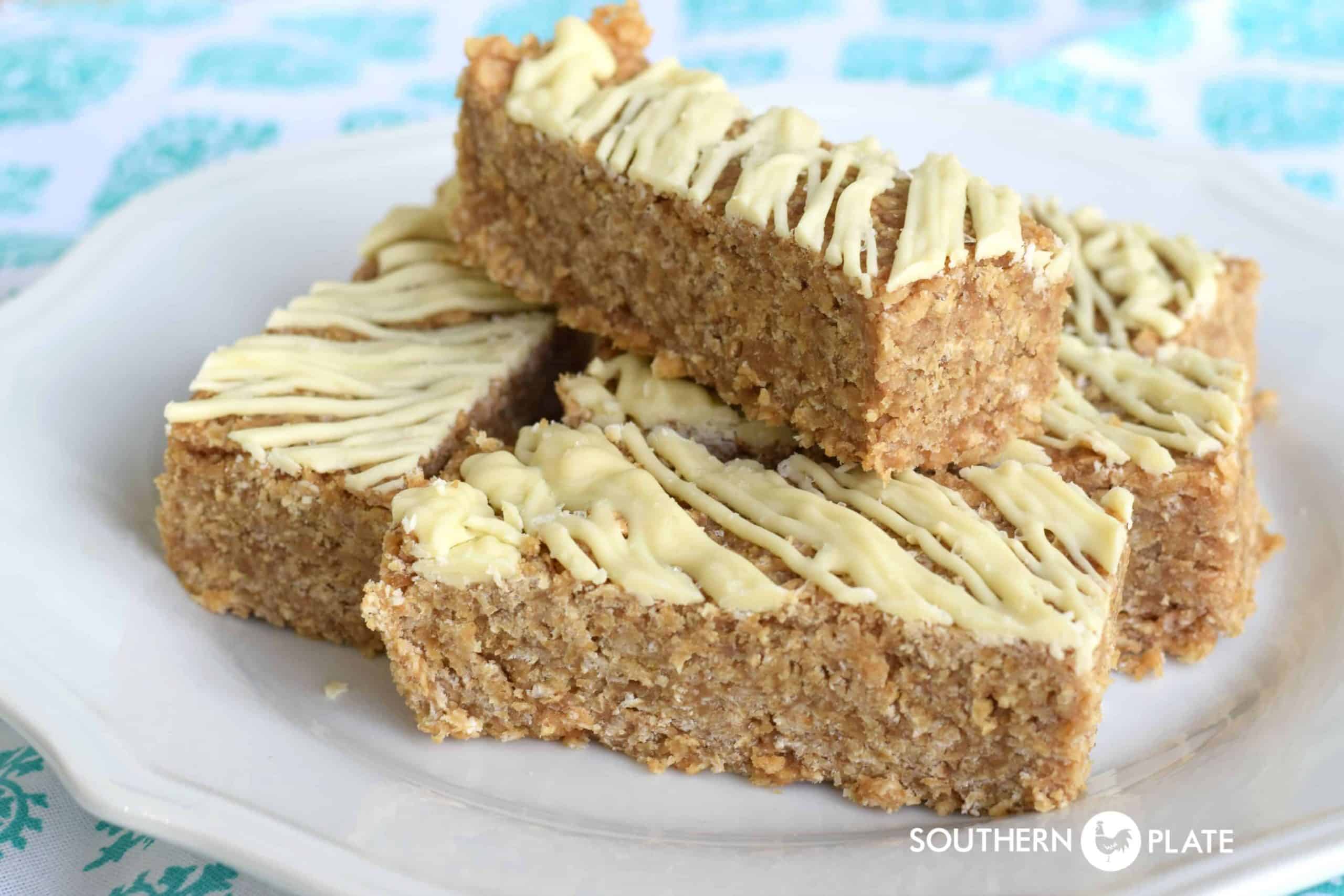 Servings:
8
large bars or 16 snack size
Ingredients
6

cups

quick oats

12

ounce

can milk

or 1 1/2 cups whole milk

1/4

cup

honey

1 1/2

cup

creamy peanut butter

1

teaspoon

vanilla
Instructions
Place all ingredients except for oats in a large microwave safe bowl. Heat for about a minute or two, just until peanut butter is a little melty. Stir with a large spoon until mixture is creamy and well blended.

Stir in oats until fully incorporated.

Press mixture into an 8x8 pan. Cover and refrigerate until chilled before serving.
Notes
To make the topping as pictured: Melt 1 cup white chocolate chips in the microwave. Allow to cool for a few minutes and then spoon into a quart size zipper seal bag. Snip off just one corner and squeeze in a zig zag design over top of bars. Sprinkle lightly with a teaspoon of coarse sea or kosher salt. These bars keep very well in the refrigerator for up to two weeks or in the freezer for several months.
Nutrition
You may enjoy these peanut butter no bake recipes:
Chocolate Peanut Butter Balls No Baking Necessary
Peanut Butter No Bake Cookie Bites
"Live your happiest life by knowing that often Plan B is even better than Plan A. Ditto on Plan C."
~Unknown 🙂