This Dulce de Leche recipe is a creamy caramel dream. Made so simply with condensed milk the possibilities for what you can use this with are endless. It is found canned in many grocery stores but in this post you will learn how to make it from scratch.
What is Dulce De Leche?
Popular in Latin America but increasing in popularity state-side, Dulce de Leche tastes like creamy caramel and comes from sweetened milk, like the condensed milk we are using in this recipe. When heated, the sugar in the milk becomes caramelized and transforms into that sweet golden-brown color with a deeply decadent flavor.
You can use it with cakes, cookies or cupcakes or my favorite is drizzling this on some vanilla ice cream.
Can't I Just Boil It In The Can?
Yes, you could. That is a traditional way of making it but boiling a metal can could cause metals to leach into the caramel. So to avoid that we like to make it easily from scratch.
What Can You Make With Dulce De Leche?
Te possibilities are truly endless but if you want some starting points these are some of our favorite recipes that use Dulce De Leche for a decadent dessert
Quick & Easy Oatmeal Caramelitas
Caramel Banana Pie AKA Easy Banoffee Pie
Now let's get to making this creamy caramel treat!
Recipe Ingredients
Sweetened Condensed Milk
Water
It doesn't get any simpler than that! Have some aluminum foil at the ready along with a baking pan, and a 9 inch deep dish pie plate.
How to Make Dulce De Leche Recipe
Move oven rack to middle. Preheat oven to 425 degrees. Pour 14 oz can of sweetened condensed milk into the pie plate.
The sweetened condensed milk takes up about 1/4 inch or so of the pie dish.
Set in the 9 x 13 pan and cover with aluminum foil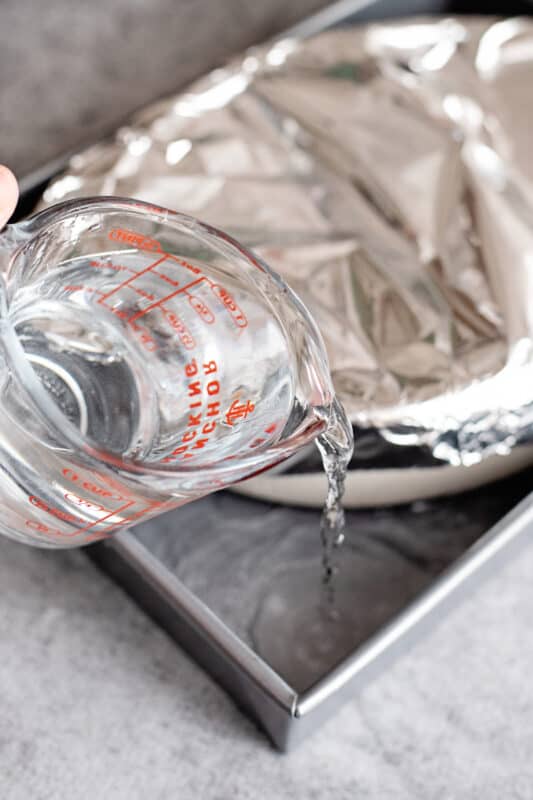 Fill the pan 1/2 way with water.
Place on middle rack of oven
Check after baking 45 mins and add more water to pan if needed. Let cook another 45 mins if necessary.
Choose Your Caramel Flavor
In above photo I let the topping get a little brown to add a slight smoky flavor to the caramel. If you want it creamy then keep an eye on it and remove before it gets a bit brown on top.
Give her a stir
Optional: Add to a food processor and whip to your desired texture
Transfer to your favorite storage container. I used my favorite mason jars
Oh, that is sooo good. I might add this to ice cream with some cashews!
How Long Does Dulce De Leche last?
If you purchase from the store in a can it can be stored at room temperature for 1 to 3 months. Once opened or after made from scratch
it can be stored in airtight container in the fridge for 2 weeks.
Can you Freeze It?
I usually don't have any left to freeze but if you wanted to after it cools you can put it in an airtight container and general consensus is it will be good frozen for up to a month.
Now go on and enjoy this lovely treat!
Ingredients
14

oz

can of sweetened condensed milk

water
Instructions
Heat oven to 425°F and adjust rack to middle. Pour the can of 1 (14-ounce) sweetened condensed milk into a 9-inch deep pie dish and cover tightly with foil. Set plate in a pan that it fits in and add enough hot water to pan to reach halfway up pie dish. Bake milk in middle of oven 45 minutes. Check water level and add additional, if its low, then continue to bake 45 minutes more, or until milk is thick and brown. Remove and stir. Allow to cool or cool slightly and add to food processor (optional) to get to desired texture. Makes about 1 1/2 to 2 cups.
Notes
If you want a smoky caramel taste then like I did in our post (keep an eye on it so it doesn't burn) til it has some darker brown spots.  But if you want a milky caramel then check it after the first 45 mins and then every 15-20 mins or so to make sure its getting to the color and consistency you want.