Quick Italian Meatball Soup
This quick and easy Italian meatball soup recipe includes tender meatballs and veggies slow-cooked in a flavorful broth and served with bowtie pasta.
Good day, everyone! Today I'm so excited to be sharing my Italian meatball soup recipe with y'all. When I say it's quick and easy, you know I mean it. You'll be enjoying a big bowl of deliciously hearty soup in under 30 minutes. This is the perfect comfort food dish to dig into on a cold winter day. It'll warm you up from the inside out and keep you feeling full all afternoon or night long. I typically make it as a quick lunch when I'm feeling fancy and want more than a sandwich.
The secret to this recipe's quickness is the fact we use pantry and freezer essentials. We're talking frozen meatballs, frozen mixed vegetables, chicken broth, Italian seasoning, diced tomatoes, and bowtie pasta. Do you have most of these ingredients at home already?
All we're going to do is place all of the ingredients in a pot (minus the pasta) and bring them to a boil. Then we reduce the heat, add the pasta, and let those flavors mingle and cook until the pasta is al dente. This will probably take less than 15 minutes. Then it's time to serve! Grab a big bowl of Italian meatball soup and save the leftovers for later on in the week. Meal prep at its finest.
This is one of my favorite soup recipes. It's quick, it's easy, it's simple, but it's also bursting with flavor. I just know y'all with love it too. Keep scrolling for serving suggestions and tips to make this recipe work for you.
Recipe Ingredients
Chicken broth
Diced tomatoes
Bowtie pasta
Frozen fully cooked meatballs (either turkey or beef meatballs).
Frozen mixed vegetables
Italian seasoning
Farfalle or bowtie pasta
How to Make My Easy Italian Meatball Soup
Combine broth, tomatoes, meatballs, vegetables, and Italian seasoning in a large pot or dutch oven.
Bring to a boil over medium-high heat.
Turn the heat down to medium and add pasta.
I promise I took a picture of me adding the pasta but it must have been bashful because it immediately went under.
Oh well, sometimes pasta is like that.
Continue to cook for 12 minutes or until the pasta is al dente and the meatballs are heated through.
Enjoy!
Storage
Store leftover soup in an airtight container in the fridge for up to 4 days. You can simply reheat it in the microwave or on the stovetop on low heat until heated through.
Freeze leftover soup for up to 3 months. Thaw it overnight in the fridge before reheating it as above.
Recipe Variations
Here are some suggestions and swaps to make this recipe work for you:
Add 2 cups of baby spinach leaves or kale to the soup during the last few minutes of cooking time.
Garnish with shredded parmesan cheese and chopped fresh parsley or basil leaves.
Use crushed tomatoes or fire-roasted tomatoes instead of diced tomatoes.
Use the veggies of your choice. They can be frozen or fresh vegetables. Some other great soup veggies include diced celery, carrots, red bell pepper, fresh minced garlic cloves, mushrooms, potatoes, green beans, or onion.
Add a can of cannellini beans.
Use the short pasta variety of your choice, like pasta shells, ditalini, orzo pasta, orecchiette, or elbow macaroni noodles.
Add 1/2 teaspoon of crushed red pepper flakes for some heat.
Swap the chicken broth for beef broth or vegetable broth.
Use any type of frozen meatballs, including beef, turkey, plant-based, or Italian meatballs. Or you might like to use homemade meatballs (made with ground beef, eggs, oats, and tomato sauce).
Recipe FAQs
What do you serve with Italian meatball soup?
This is the perfect main dish as is. But if you like, you can serve the soup with a bread-based side dish to soak up the broth. Some homemade suggestions include cornbread, buttermilk biscuits, garlic bread, or dinner rolls.
Can you make Italian meatball soup in the slow cooker?
Yes, you can! Add the ingredients to the crock pot and cook them on low for 3 to 4 hours.
Can you make vegan Italian meatball soup?
Yes, it's actually super easy to make vegan Italian meatball soup. First, swap the meatballs for the plant-based or "meatless" frozen meatballs of your choice. Then use vegetable broth and ensure the pasta is vegan-friendly and doesn't contain eggs. That's it, you have a vegan meatball soup now!
Can we tempt you with these recipes too?
Olive Garden Chicken Gnocchi Soup (Copycat Recipe)
Salisbury Steak Meatballs in the Crockpot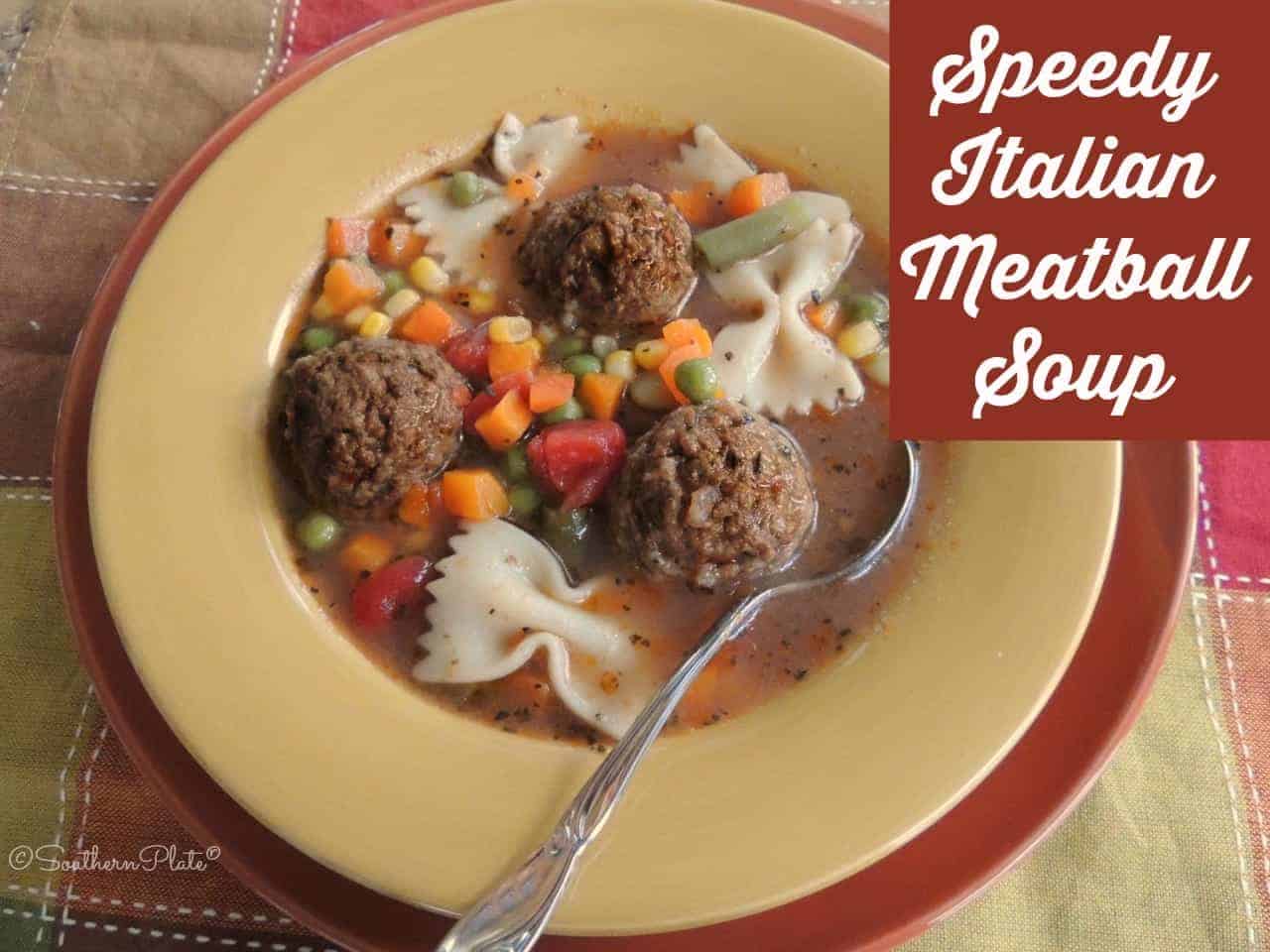 Ingredients
2

32-ounce cartons

chicken broth

1

14.5-ounce can

diced tomatoes

1

teaspoon

Italian seasoning

2

cups

uncooked bowtie pasta

16

ounces

small beef or turkey frozen meatballs

1

16-ounce bag

frozen mixed vegetables
Instructions
Combine chicken broth, tomatoes, vegetables, Italian seasoning, and meatballs in a large pot. Bring just to a boil over medium-high heat.

2 32-ounce cartons chicken broth,

1 14.5-ounce can diced tomatoes,

1 teaspoon Italian seasoning,

16 ounces small beef or turkey frozen meatballs,

1 16-ounce bag frozen mixed vegetables

Turn the heat down to medium and add pasta. Continue cooking for approximately 12 minutes or until the pasta is al dente and the meatballs are heated through.

2 cups uncooked bowtie pasta
Nutrition
The best time to plant a tree was 20 years ago. The second best time is now.
~Chinese Proverb