Similar to Italian chili, this quick and easy spaghetti soup recipe includes beans, tender vegetables, and spaghetti cooked in a flavorful tomato spaghetti sauce. It's hearty and filling comfort food perfect for the spaghetti lover in your life.
It seems like whenever I make spaghetti, I always end up with a cup or two of sauce left. As spaghetti is one of my favorite meals, it's only fitting that leftover spaghetti sauce is recycled into another one of my favorite meals: spaghetti soup. This dish is quick and easy to throw together, hearty, aromatic, and absolutely delicious from start to finish. Reminiscent of an Italian chili recipe, I've never met a soul who didn't love it.
So, what do you need to make my spaghetti soup recipe? It's simple, really. Leftover spaghetti sauce, diced tomatoes, kidney beans, carrots, celery, and spaghetti. That's all there is to it. Using leftover spaghetti sauce really stretches the dollars here.
Plus, there is no need to add additional meat but if you want to, see my meatball recipe at the bottom of this post. But if you prefer your spaghetti soup meatless make sure you use regular spaghetti sauce and that will please the vegetarians in your life. This spaghetti soup recipe really does please everyone!
Now, the instructions for my easy spaghetti soup recipe include just bringing all of the ingredients to a boil and simmering until the vegetables are tender. I told ya, quick, easy, and delicious. Serve your spaghetti soup with some bread or cornbread to soak up that spaghetti sauce flavor.
In case you need another reason to love this recipe, let me just say it's great for meal prepping and freezes really well. Have I convinced you? Let's get cookin'!
Recipe Ingredients
Kidney beans (or your favorite bean)
Diced

or

Carrot
Celery
Leftover spaghetti sauce (or jarred spaghetti sauce/marinara sauce)
Dry spaghetti
How to Make Spaghetti Soup
Begin by peeling and chopping your carrots and dicing your celery.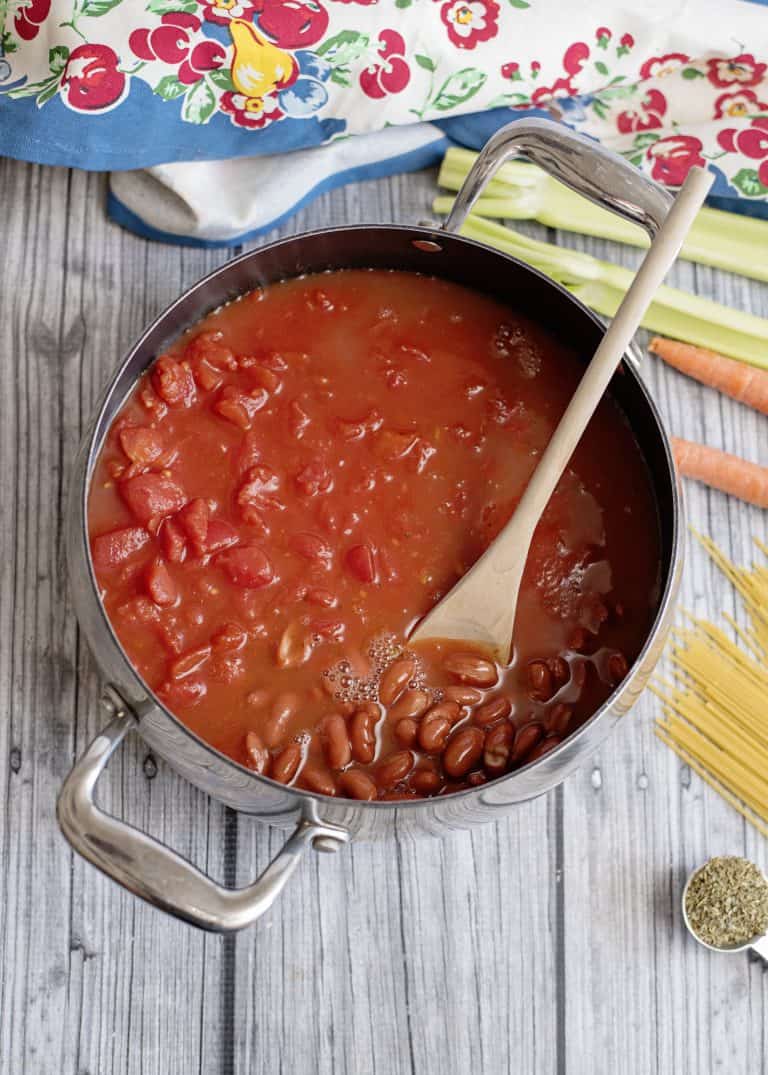 Dump tomatoes, beans, and spaghetti sauce in a large pot.
It's best not to wear a brand-new white shirt when doing this if you have the same amount of grace that I do when "dumping".
Note: Whenever a recipe calls for two cans of kidney beans, I always get one can of light and one can of dark just to give it a bit more color variety.
Add water.
Add in chopped veggies and give it a good stir.
I LOVE how the carrots taste in this. If you are a carrot person, feel free to double this amount. Spaghetti soup is a great recipe to veggie up!
I love me some Italian seasoning! I like to add a bit more Italian seasoning but you don't have to.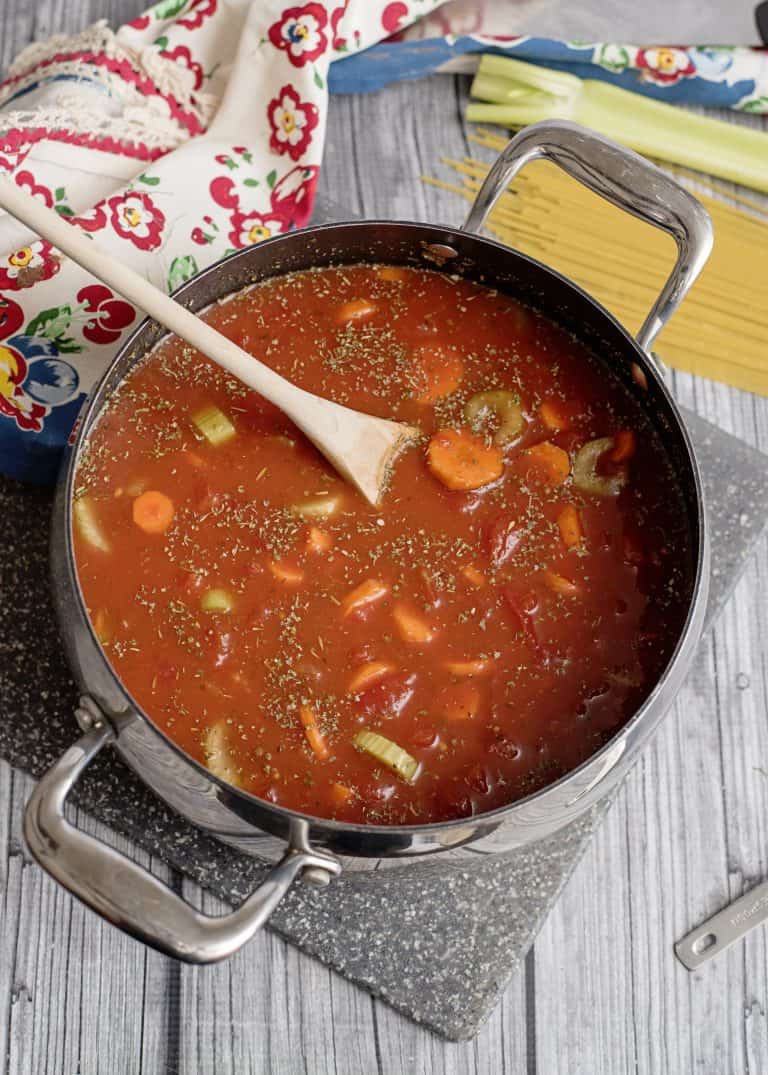 Bring that to a boil and then reduce heat and simmer until carrots and celery are tender.
While that is cooking, break up your spaghetti noodles into about one or two-inch pieces.
Of course, you can substitute any old pasta for this. Whatever cranks your tractor.
Once your veggies are tender, add in your spaghetti and continue cooking until the noodles are done.
At this point, the smell might have you eating the entire pot of spaghetti soup yourself!
But if you can resist for just a little while your family will love ya for it.
I hope you get to try this one soon. It's sure to be a home run with the spaghetti lovers in your life!
Storage
Store leftover soup in an airtight container in the fridge for up to 4 days. Reheat leftovers in the microwave or on the stovetop.
You can also freeze leftovers for up to 3 months. Thaw overnight in the fridge before reheating as above.
Recipe Notes
If you don't have celery on hand just leave it out. Your sauce is seasoned enough anyway. This is really a great recipe to just use what is on hand. Last time I made it I had a large can of baked beans. I rinsed them in a strainer and put them in and it was delicious. Use whatever veggies you like (onion, sweet pepper, zucchini, and mushrooms are all good options), whatever beans you like, etc.
If you have meat sauce left over instead of regular spaghetti sauce you can use that in this recipe for a little extra flavor and protein.
If you want more protein in this recipe or just love the idea of spaghetti and meatball soup please see my good old-fashioned homemade meatballs recipe here. This will make a lot of meatballs so be sure to decrease the recipe unless you have a whole brood to feed.
Instead of adding cooked ground beef, you can add ground turkey, meatballs as mentioned above, cooked and crumbled sausage, or cooked and shredded chicken to make chicken soup.
If you can't resist a touch of heat, add a pinch of cayenne pepper or crushed red pepper flakes when you add the Italian seasoning.
For more flavor, substitute the plain old water for beef, vegetable, or chicken broth.
Other great pasta varieties that work in this soup include elbow pasta, angel hair pasta, penne, and rotini.
Recipe FAQs
How do you serve spaghetti soup?
Now, it tastes delicious as is. But I love to add some freshly grated parmesan cheese on top as well as some chopped fresh parsley or fresh basil. It also wouldn't be soup without some bread on the side to soak up that spaghetti sauce, right?
Can you cook spaghetti in soup?
Yes, you can! Add the dry spaghetti to the soup and continue to simmer until the pasta is al dente.
Can I cook spaghetti soup in the slow cooker?
Yes, you can make slow cooker spaghetti soup. What you're going to do is add all of the ingredients to your crockpot and cook them on low for 8 hours or on high for 4 hours. Then if you're cooking on low, turn it to high, stir in the spaghetti, and cook for 15 to 20 minutes longer until the pasta is tender.
Can I tempt you with more sensational soup recipes?
Easy Vegetable Soup (A Dieter's Best Friend)
Senate Bean Soup (With a Shortcut)
How To Make Chicken Noodle Soup
Taco Soup (The World's Easiest Supper)
Ingredients
2

cups

spaghetti sauce

1

cup

cooked ground beef, optional

2

15-oz cans

diced tomatoes, undrained

2

15-oz cans

kidney beans, undrained

2

large carrots

1

stalk

celery, optional

dry spaghetti noodles

about a half a package

2

cups

water

1

tablespoon

Italian seasoning, optional
Instructions
In a large pot, place sauce, beef (if using), tomatoes, kidney beans, and water.

2 cups spaghetti sauce,

1 cup cooked ground beef, optional,

2 15-oz cans diced tomatoes, undrained,

2 15-oz cans kidney beans, undrained,

2 cups water

Peel and chop carrots and dice celery, and add to pot. Add seasoning if desired.

2 large carrots,

1 stalk celery, optional,

1 tablespoon Italian seasoning, optional

Bring to a boil and then reduce heat, simmering until vegetables are tender.

Break spaghetti noodles into one or two-inch segments and add these as well. Continue cooking until pasta is tender.
Nutrition