Olive Garden Chicken Gnocchi Soup (Copycat Recipe)
Make the Olive Garden chicken gnocchi soup at home with this quick and easy copycat recipe. The rich and creamy soup is overloaded with soft gnocchi, tender roast chicken, and fresh vegetables.
Are you a fan of the Olive Garden chicken gnocchi soup? It's one of their most popular recipes and for good reason. It combines tender roast chicken, soft pillowy gnocchi, and tender fresh vegetables in a rich, creamy, and flavorful broth. Well, today I'm bringing Olive Garden directly to you with this copycat recipe.
So, what do you need to make chicken gnocchi soup? Oh, just a few things: butter, carrot, celery, onion, garlic, flour, chicken broth, milk, dried thyme, mustard powder, chicken, gnocchi, fresh spinach, crushed red pepper flakes, and salt and pepper. Now, don't let that long list of ingredients scare you. I promise that this is one of the quickest and easiest soup recipes in all the land! In fact, you'll be serving it in about 30 minutes. Sound good?
The first step is to melt the butter and then cook the vegetables, garlic, and then the flour. Then slowly add the chicken stock and milk to the saucepan. The next step is to cook the chicken in the broth for about 10 minutes. However, you can skip this step if using leftover cooked chicken or rotisserie chicken (I regularly use the latter when making this recipe). Add the gnocchi next and let that simmer for a few minutes before finishing off with the fresh spinach and seasonings.
That doesn't sound too bad, right? Head to the bottom of the post for some serving suggestions and recommendations to make this Olive Garden chicken gnocchi soup recipe work for you and your family. Now, are you ready to give it a go?
Recipe Ingredients
Butter
Diced yellow onion or white onion
Diced celery
Sliced or shredded carrot
Minced garlic
All-purpose flour
Whole milk or half-and-half (half heavy cream/half milk)
Chicken broth
Thyme
Mustard powder
Boneless skinless chicken breasts (or diced cooked chicken like rotisserie chicken).
Potato or low-carb cauliflower gnocchi
Fresh spinach
Red pepper flakes
Salt and pepper
How to Make Olive Garden Chicken Gnocchi Soup
Melt the butter in a large saucepan over medium heat. I love using an enamel dutch oven.
Add the diced onions, diced celery, and shredded carrot and heat until softened (about 5 minutes).
A little look at the softened vegetables.
Add the garlic and keep cooking for another minute.
Add the flour and stir. Cook for 2 more minutes.
The flour will start turning a golden color.
Add the chicken broth a little at a time.
Like so.
Then add the milk or half in half a little at a time, while stirring to mix it all together.
Remember to have patience here. You don't want to add it all at once.
It should look like this.
Add the dried thyme and mustard powder. and if using uncooked chicken, add it to the broth.
Bring it to a iiiiiiitty bitty boil so the chicken stays nice and soft.
Simmer until the chicken is cooked through (about 10 minutes, but this depends on the thickness of the chicken).
Remove the chicken and let it rest for 5 minutes.
Dice the cooked chicken and add it back to the soup.
Let the soup simmer until desired consistency is obtained (it will continue to thicken).
If using rotisserie chicken skip steps 5 and 6 and just simply add the cooked chicken to the broth.
Add the gnocchi and simmer for about 5-7 minutes.
It will tell you how long on the package of gnocchi.
How good does this look?
Reduce heat to low and add the fresh spinach.
Then add the crushed red pepper flakes (optional) and salt and pepper to taste.
Simmer for about 1 minute.
Time to serve!
Enjoy!
Storage
Store leftover soup in an airtight container in the fridge for up to 4 days. Reheat it on low heat on the stovetop.
You can also freeze leftovers for up to 3 months. Thaw in the fridge overnight before reheating as above.
Recipe Notes
The longer the soup simmers, the thicker it will be.
Mustard powder enhances the flavor but doesn't have a strong mustard taste. So it's good even if you don't like mustard. Another option is ground nutmeg.
Here are some recipe variations:

Instead of chicken, you can use sliced Italian sausage or ground sausage. Add it in with the veggies to cook while the veggies soften.
Use kale instead of fresh spinach.
Add 1/2 teaspoon of dried parsley flakes when you add the thyme or garnish the soup with chopped fresh parsley.
For an extra creamy and rich broth, use only heavy cream.
Use small shells, orzo, or even rice instead of gnocchi.
Add extra vegetables like frozen peas, zucchini, or asparagus.
Recipe FAQs
The Olive Garden chicken gnocchi soup is a rich and creamy soup made with roasted chicken, potato gnocchi, shredded carrot, celery, and fresh spinach.
Can I use frozen spinach?
I don't recommend frozen spinach as it's quite mushy. Definitely use fresh spinach instead.
What do you serve with Olive Garden chicken gnocchi soup?
This soup is the perfect main dish, as it's hearty and filling, filled with protein and vegetables. So if you want to add a side dish, opt for some bread to soak up that delicious broth. Homemade options include cornbread, biscuits, or dinner rolls.
Can I make chicken gnocchi soup in the slow cooker?
Here's the method I'd use to make chicken gnocchi soup in the crockpot:
Saute the veggies, garlic, and flour as above.
Then add this mixture, the cooked chicken, thyme, mustard powder, and the chicken broth to the slow cooker and cook on low for 3 to 4 hours.
Add the gnocchi in the last hour.
Just before serving, stir in the milk, fresh spinach, crushed red pepper flakes, salt, and pepper.
Check out these other sensational soup recipes:
Creamy Vegetable Soup (Low-Carb Version)
How To Make Chicken Noodle Soup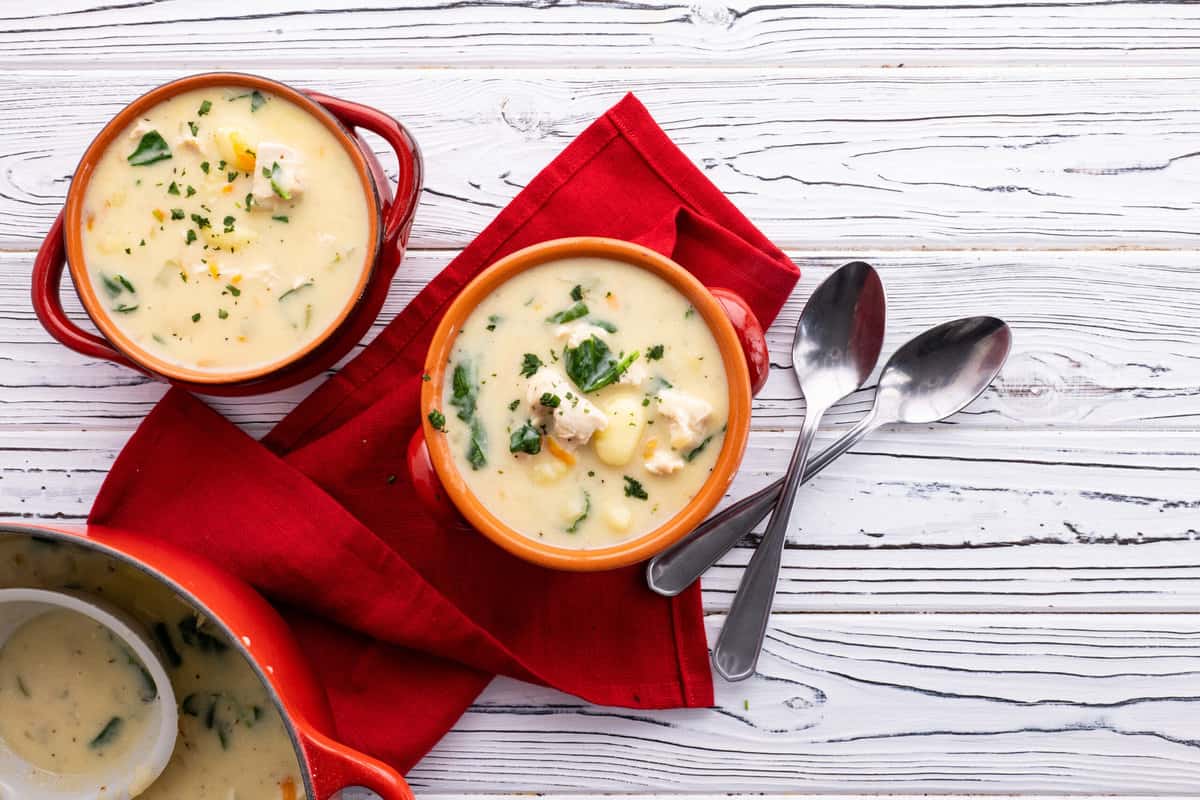 Ingredients
4

tbsp

butter

1

small yellow onion, diced

1

stick

celery, diced

1/2

cup

shredded carrot (or sliced)

2

tsp

minced garlic

1/4

cup

all-purpose flour

2

cups

whole milk  or half-and-half (half heavy cream/half milk)

4

cups

chicken broth

1/2

tsp

thyme

1/2

tsp

mustard powder

1

lb

boneless skinless chicken breast

(or 2 cups of diced cooked chicken)

16

oz

potato or low-carb cauliflower gnocchi

1

cup

fresh spinach, roughly chopped

1

dash

red pepper flakes (optional)

salt and pepper, to taste
Instructions
Melt the butter in a large saucepan over medium heat. Add the diced onions, celery, and carrots and heat until softened (about 5 minutes). Add the garlic and keep cookin' for another minute.

4 tbsp butter,

1 small yellow onion, diced,

1 stick celery, diced,

1/2 cup shredded carrot (or sliced),

2 tsp minced garlic

Add the flour and stir. Cook for 2 more minutes. The flour will start turning a golden color.

1/4 cup all-purpose flour

Add the chicken broth and the milk (or half-and-half) a little at a time, while stirring to mix it all together. Have patience here - you don't want to add it all at once.

2 cups whole milk  or half-and-half (half heavy cream/half milk),

4 cups chicken broth

Add the thyme and mustard powder.

1/2 tsp thyme,

1/2 tsp mustard powder

If using uncooked chicken, add it to the broth. Bring it to a little bitty boil so the chicken stays nice and soft. Simmer until the chicken is cooked through (about 10 minutes). This depends on the thickness of the chicken.

1 lb boneless skinless chicken breast

Remove the chicken and let it rest for 5 minutes, then dice it and add it back to the soup. Let the soup simmer until desired consistency is obtained - it will continue to thicken. If using rotisserie chicken skip steps 5 and 6 and simply add the chicken to the broth.

Add the gnocchi and simmer for about 5-7 minutes. It will tell you how long on the package of gnocchi.

16 oz potato or low-carb cauliflower gnocchi

Reduce heat to low and add the spinach, red pepper flakes, and salt and pepper to taste. Simmer for about 1 minute then serve immediately.

1 cup fresh spinach, roughly chopped,

1 dash red pepper flakes (optional),

salt and pepper, to taste
Video