This glorious strawberry cream pie recipe is what happens when cheesecake and strawberries combine a.k.a it's a match made in heaven!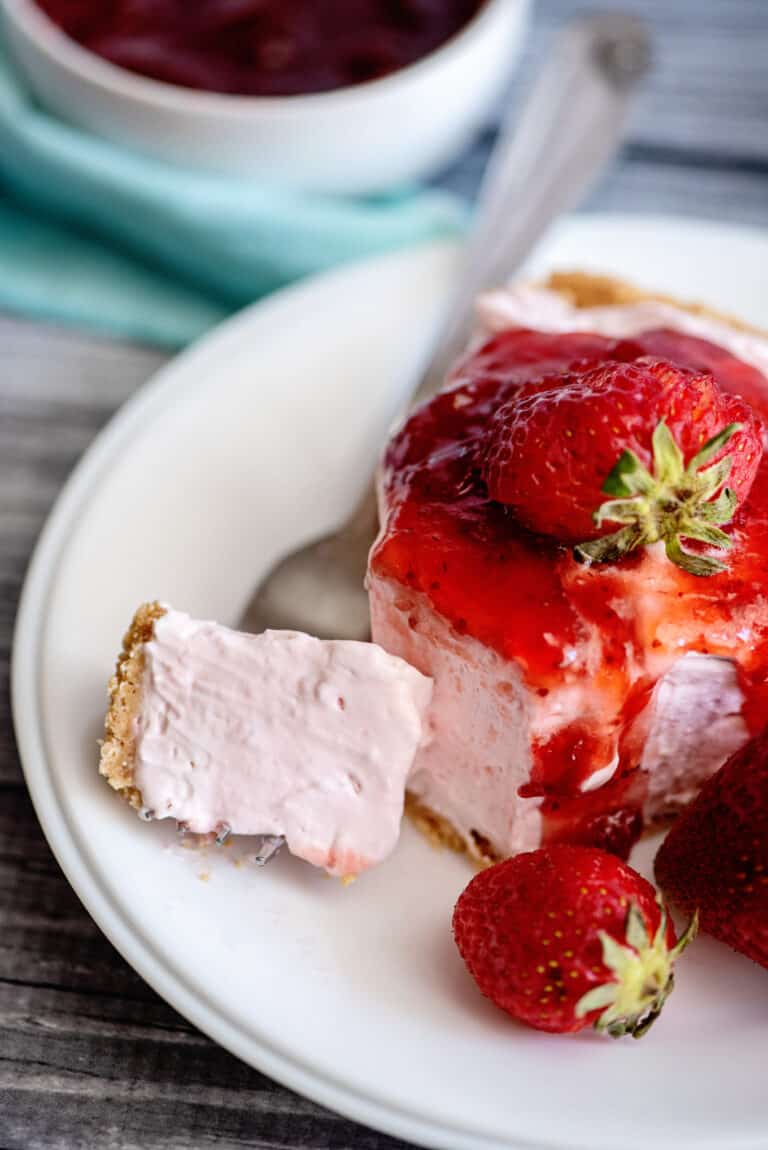 This strawberry cream pie recipe is for my husband, who used to think he hated cheesecake – because he had never tried it – and has always loved strawberries. This is a wonderful blend of them both. The whipped topping and cream cheese are whipped up into a creamy, fruity, and delicious summer concoction and served up in a graham cracker crust!
To make it even more fun, you can substitute Splenda for the sugar if you like and make this practically sugar-free, save for the scant amount in the pie crust.
One of my favorite things about this strawberry cream pie recipe is that it's so easy to make (because we don't use a homemade pie crust and stick to a store-bought graham cracker crust) and it's no-bake. Yep, once you mix all the ingredients together, pour the strawberry filling into the pie shell, and then refrigerate. Your pie will be set in a few hours.
If you're not feeling the cream but still want to make a strawberry pie recipe, check out my fresh strawberry pie (another family favorite). I also have recipes for fresh strawberry cake and muffins if that's more your style. For more summer pie inspiration, I definitely recommend checking out my guide to 12 summer pie recipes! Now, enough talk about strawberries – let's make us some strawberry cream cheese pie!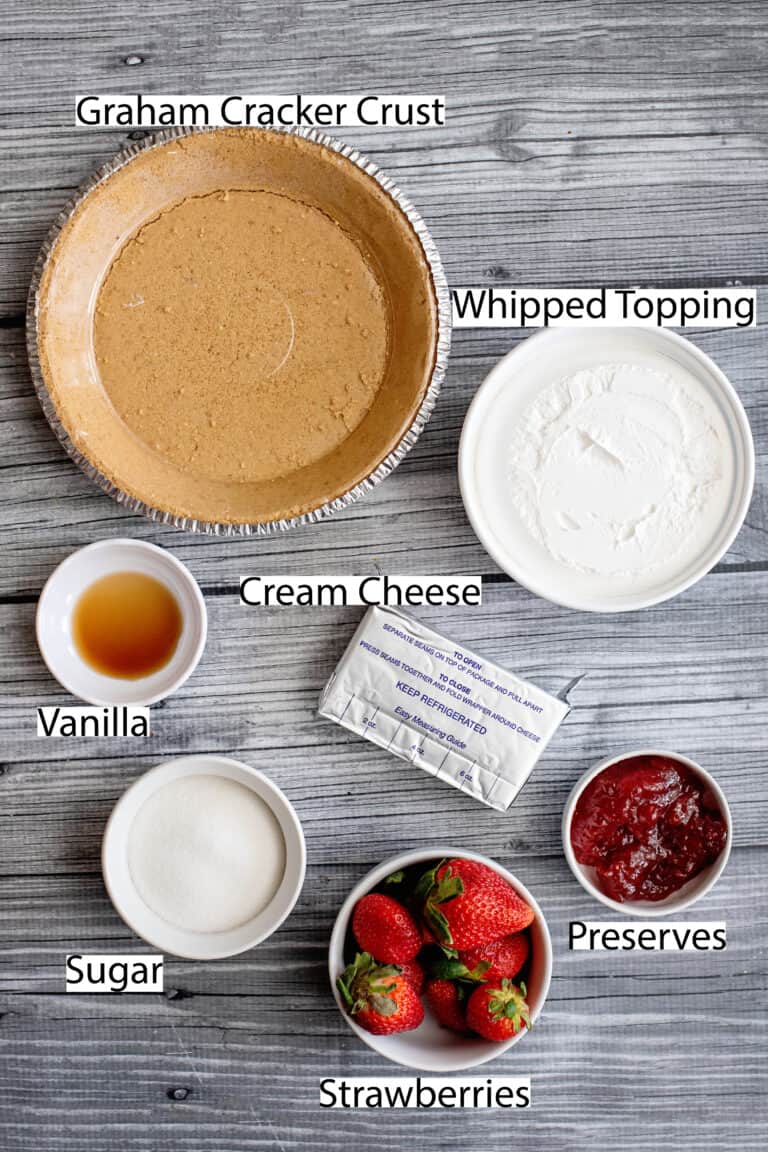 Recipe Ingredients
Cream cheese (here's our easy-peasy recipe for homemade cream cheese).
Whipped topping (You can get any whipped topping you want, light is fine, or you can make your own from our whipped cream recipe).
Vanilla extract
Sugar (You can also substitute Swerve for the sugar if you like. If you have another artificial sweetener that cranks your tractor, go for it).
Fresh strawberries
A regular size (not deep dish) graham cracker crust
How to Make Strawberry Cream Pie
Place your softened cream cheese, sugar, and vanilla in a large bowl.
Beat until light and fluffy, or until you get tired of messing with it, whichever comes first.
Wash your strawberries and cut the tops off. Chop them up a bit.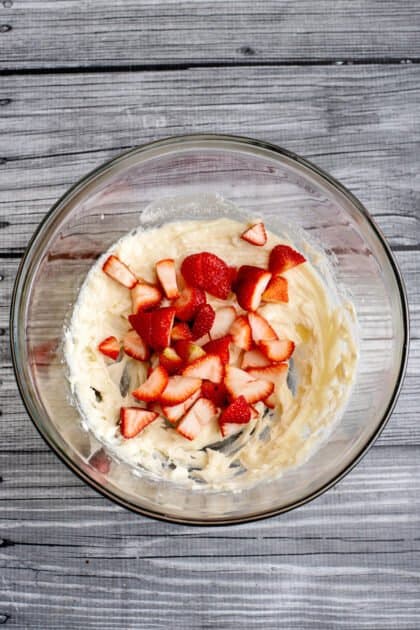 Throw the sliced strawberries into your mixing bowl.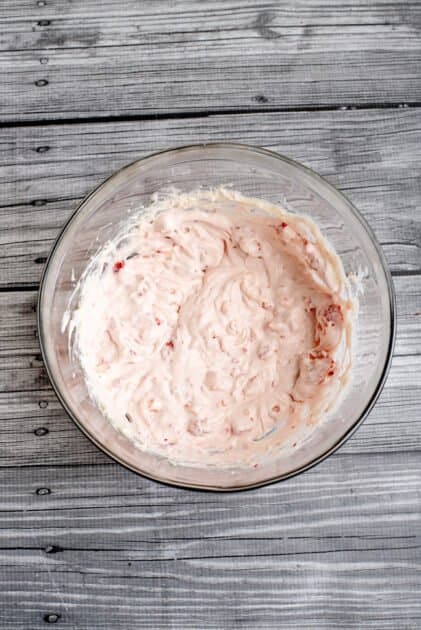 Beat up this cream cheese mixture like it just called your Mama ugly.
Dump in the whipped topping.
Beat up the pie filling again.
NOW, if you want your pie to be a little bit pinker, add a few drops of red food coloring like I'm doing here.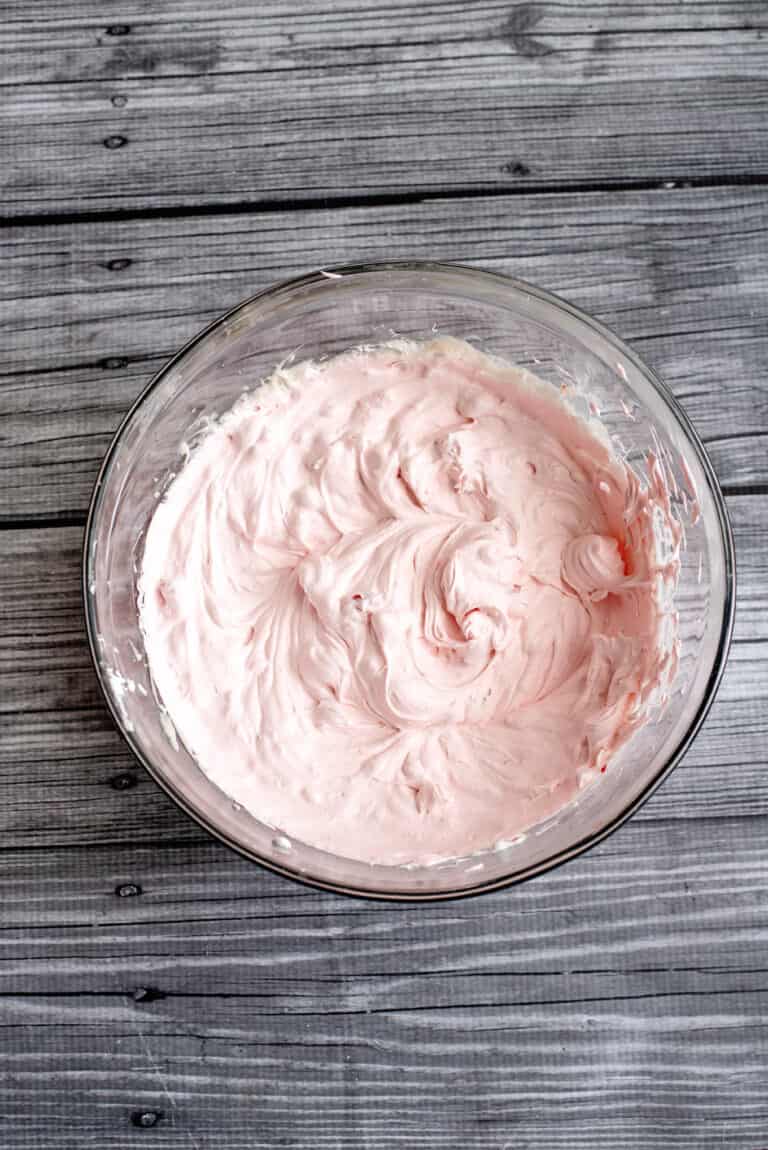 Mix until well combined.
Note: If you find food coloring highly offensive and feel certain it is responsible for the decline of mankind, feel free to avoid this step.
We don't want anybody to go declining any further than they have to in the natural cycle of things…
You stay away from red food coloring, I'll stay away from reality tv.
Spoon the strawberry filling into your graham cracker crust and cover.
Refrigerate for several hours if you are going to eat it within the next day or two.
If not, cover it well and freeze it. It will keep for up to a month in the freezer if sealed really well.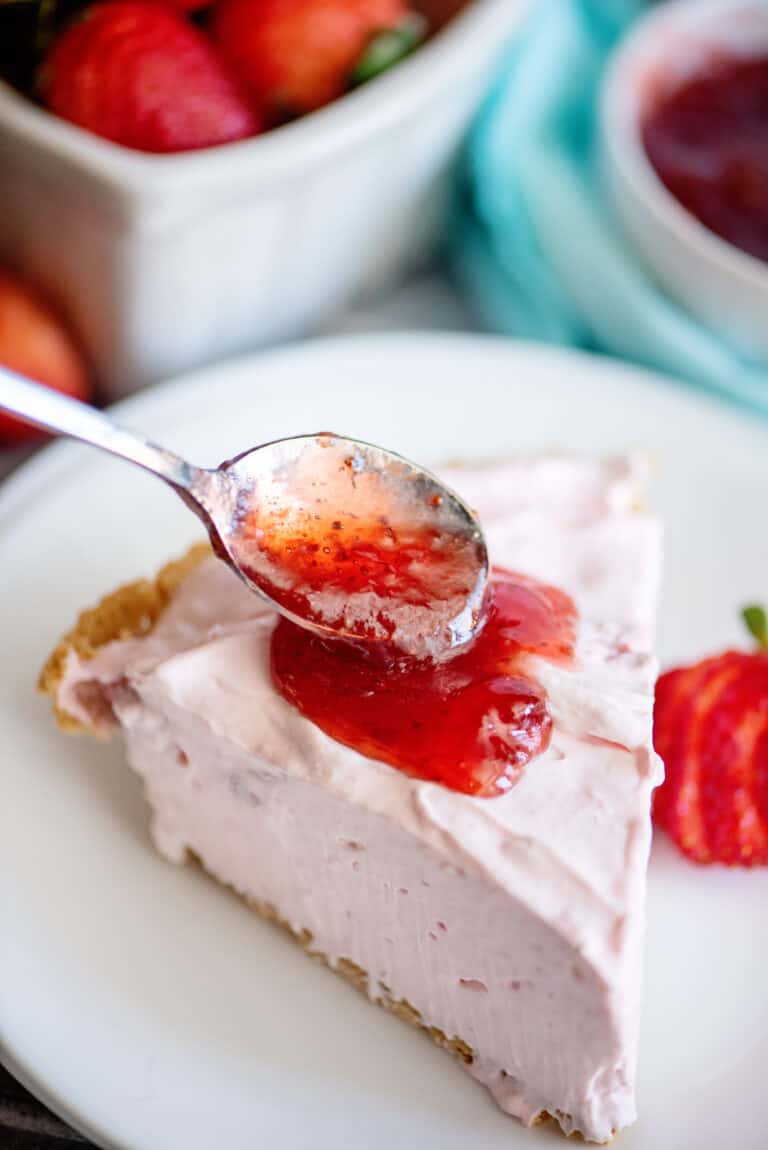 When you get ready to serve your strawberry cream pie and want a lovely strawberry sauce like I have, just take some strawberry preserves and put them in a microwave-safe cup.
Heat for about 45 seconds and give a good stir, then allow to cool slightly and spoon over the top.
I love this pie but in my opinion, the strawberry preserves topping just MAKES it!
Like so!
Enjoy!
Storage
Store the strawberry cream cheese pie, loosely covered in plastic wrap, in the refrigerator for up to two days, or freeze (wrapped really well) for up to a month.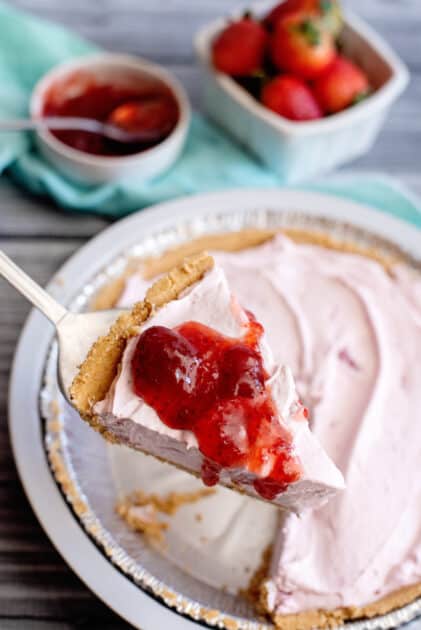 Recipe Notes
Along with the strawberry preserves, another nice topping is fresh strawberries with fresh mint. Or you could drizzle on some melted chocolate.
While I recommend using fresh strawberries, you could use frozen strawberries in this pie recipe, they'll just be softer. Make sure they're completely thawed before adding to your pie mixture.
You could adapt this recipe to make a cream pie that's filled with an assortment of berries, like raspberries, strawberries, and blueberries.
Here are more of my favorite pie recipes:
Easy Pumpkin Pie Recipe From Scratch
Peanut Butter Pie Made the Old-Fashioned Way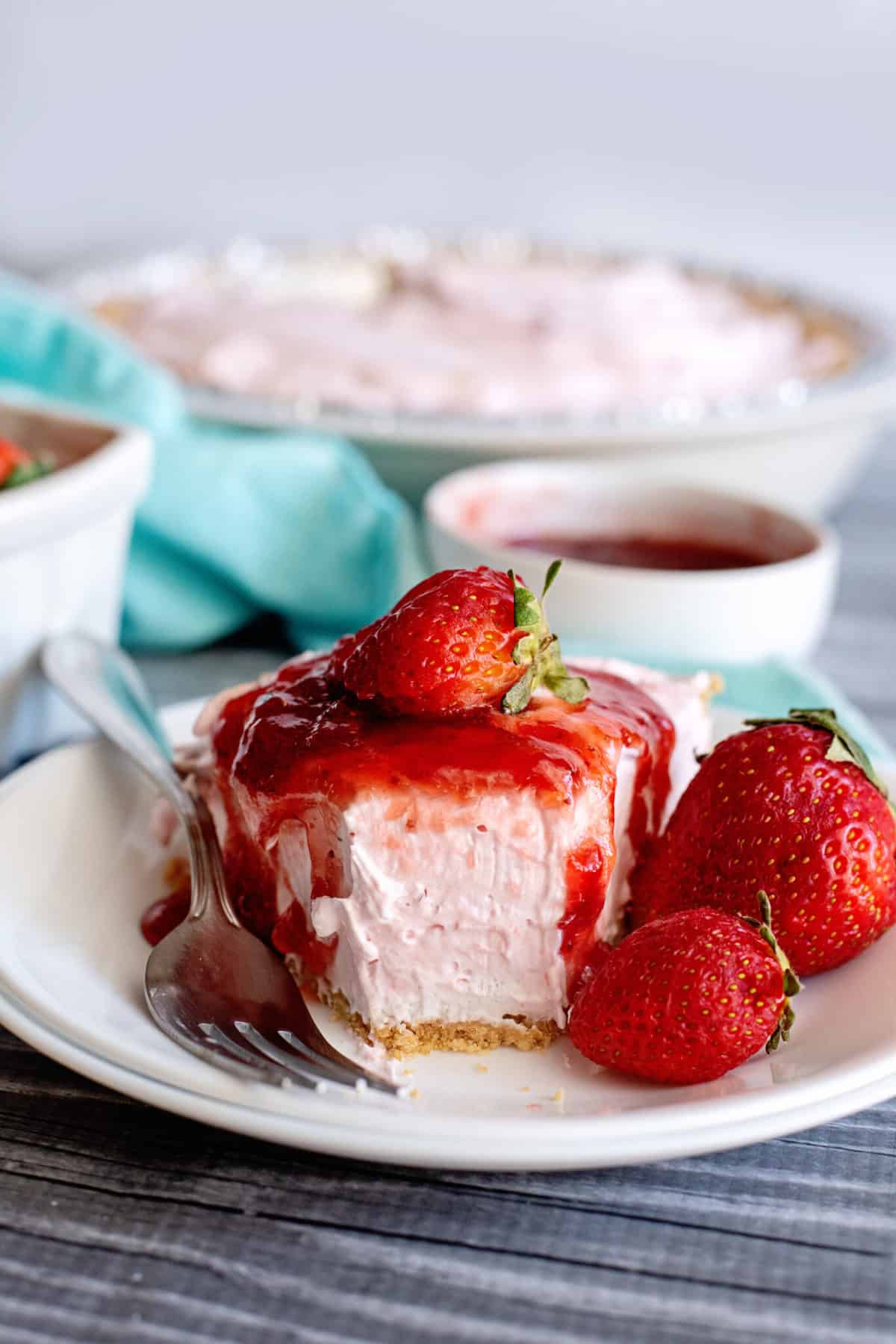 Ingredients
8

ounces

cream cheese

at room temp

8

ounces

whipped topping

light is fine

1/2

cup

sugar or Splenda

1

cup

chopped fresh strawberries

1-2

teaspoons

vanilla extract

1

6-ounce graham pie crust

strawberry preserves for garnishing

if desired
Instructions
Place the cream cheese, vanilla, and sugar in a large bowl and beat with an electric mixer until light and fluffy.

8 ounces cream cheese,

1/2 cup sugar or Splenda,

1-2 teaspoons vanilla extract

Wash the strawberries and remove the tops. Coarsely chop with a knife before adding the sliced strawberries to the mixing bowl. Beat again until well combined. Dump in the whipped topping and beat your pie filling until smooth and creamy, scraping down sides as needed. Note: There will be lumps from the strawberries and that is fine.

1 cup chopped fresh strawberries,

8 ounces whipped topping

Spoon the strawberry cream filling into the pie crust. Cover and refrigerate for several hours before serving or wrap well in foil and freeze for up to one month.

1 6-ounce graham pie crust

To garnish (if desired): spoon some strawberry preserves into a microwave-safe cup and heat for about 45 seconds until just warm. Stir vigorously until it is syrup consistency and spoon a little over each slice.

strawberry preserves for garnishing
Nutrition
"Our greatest glory consists not in never falling,

but in rising every time we fall."
~Confucius. Submitted by Dianne, thanks Dianne!
Click here to read more or to add your encouraging quote to our collection!