Traditional Beef Stew Recipe (Without Tomatoes)
Reminiscent of an Irish beef stew, this traditional beef stew recipe makes a hearty comfort food dish that's overloaded with tender meat and vegetables… and not a tomato in sight.
If you've been around Southern Plate for a while, you might know that I've shared quite a few beef stew recipes over the years. There's the slow cooker beef stew, my ground beef stew, and my smoked sausage and beef stew in the crockpot. Clearly, me and my family can't get enough of this comfort food main dish in the cooler months.
But today I'm sharing my traditional beef stew recipe, which I also cook in the crock pot. I worked up this recipe especially for my Aunt Sue, who makes the world's best pound cake but can't eat tomatoes. It may not include tomatoes or tomato paste, but this stew is still packed full of flavor. There's tender beef, carrot, potato, onion, Dale's sauce, thyme, salt and pepper, and beef stock. These ingredients combine to make one hearty and filling meal.
Fortunately, this homemade beef stew recipe is super easy to follow. Just sear the stew meat and then add all of the ingredients to the slow cooker. Walk away and when you get home from work your stew will be ready to serve your family. I love easy meals like this one! Keep reading for some serving suggestions to go with this simple beef stew recipe.
Recipe Ingredients
Beef stew meat
Carrots
Potatoes
Pearl onions (you can use a regular onion instead)
Dale's Sauce* (substitution below)
Beef broth
Flour
Salt and black pepper
Dried thyme
How to Make My Traditional Beef Stew Recipe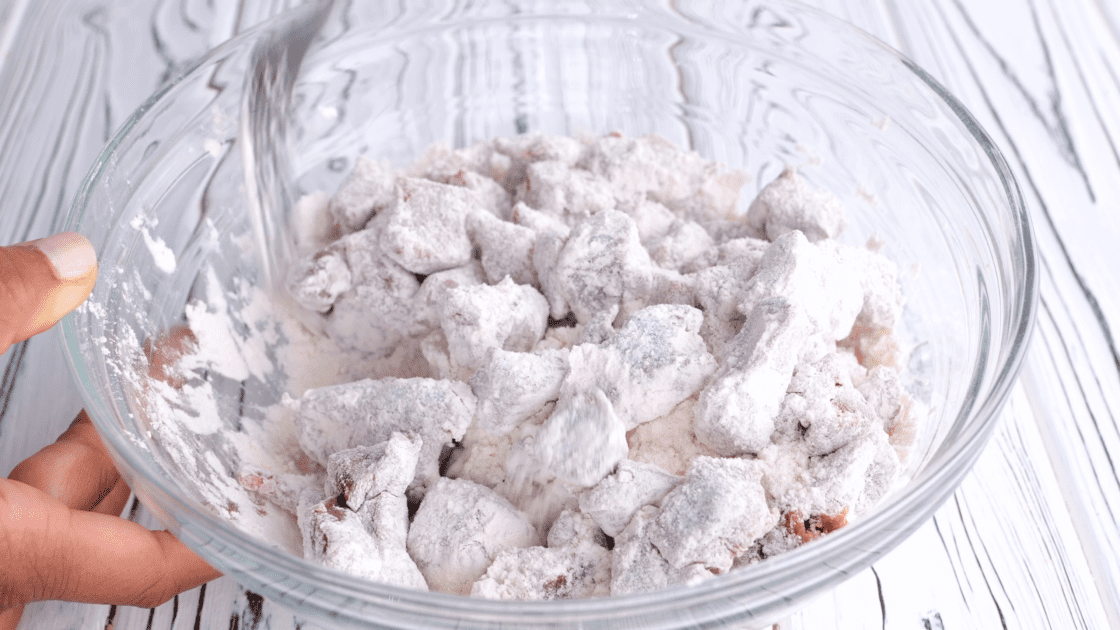 Place your stew meat in a medium bowl and pour about a cup of flour over it.
You can use any flour, including almond flour if gluten-free.
Stir it well to coat.
Now place the beef cubes in a large skillet with a tablespoon or two of olive oil and cook over medium heat until lightly brown.
We're not trying to get the meat completely cooked here, just brown. The flour will act as a thickener to our stew as well.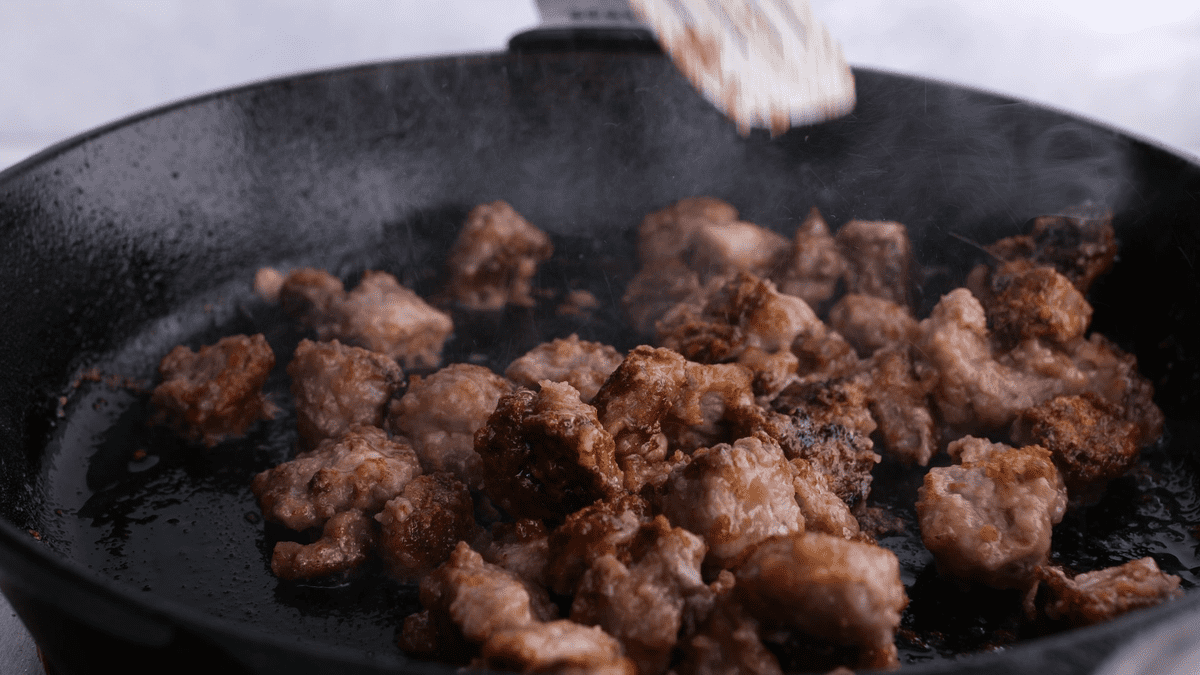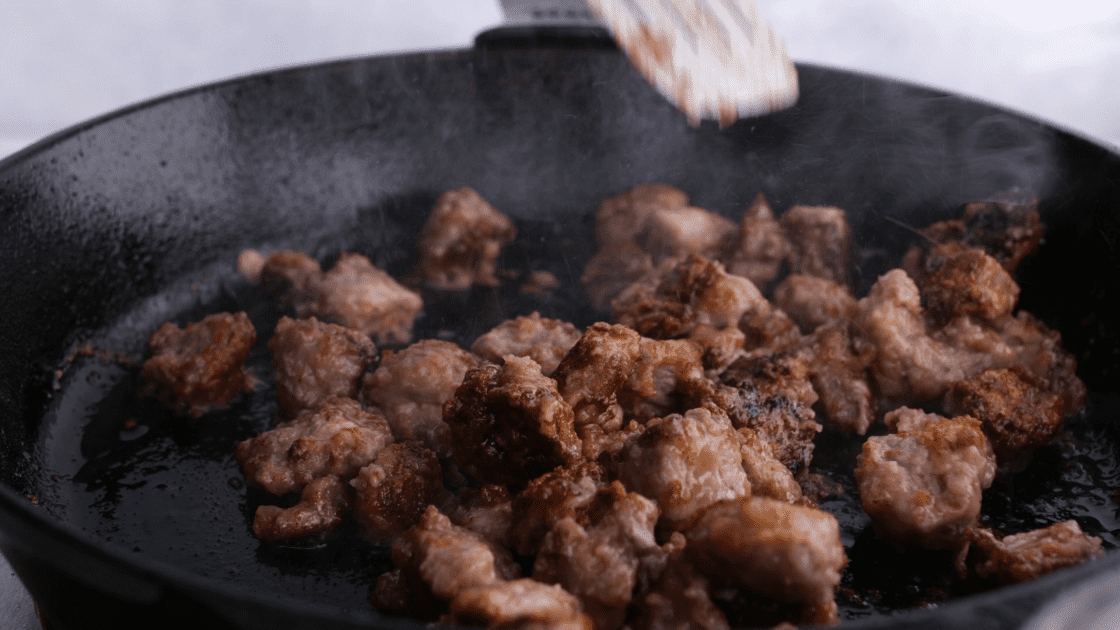 There ya go! All ready.
Now we're going to add of these ingredients to the slow cooker. Let's start with the browned meat before adding the marinade.
Both seasonings…
And the beef broth.
Next, peel and chop up your carrots a bit and add those.
Then wash your potatoes, chop them up in whatever way you want, and add them to the crockpot too.
Pour your pearl onions over that.
The bag I used had about a cup and a half of them. If you don't have pearl onions don't worry about going out and buying them. I make this a lot using just a chopped Vidalia onion. Whatever you have on hand is fine.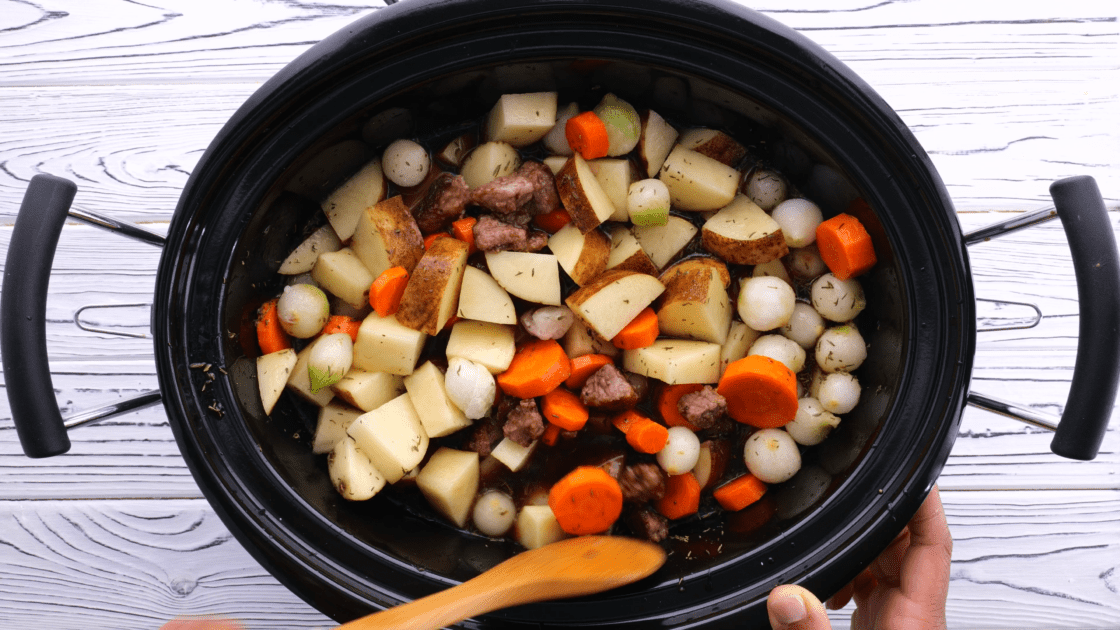 Now give those ingredients a good stir to ensure the marinade and seasonings are evenly spread throughout.
Then cover the crock pot and cook your classic beef stew on low for 7 to 8 hours or on high for 3 to 4 hours.
Every time I see the end shot of a good meal I go all Doctor Seuss: Yum diddy dum dum yum yum YUM!
Grab your ladle and load up your bowls!
Enjoy this slow cooker beef stew with a garnish of parsley.
Storage
Store leftovers in an airtight container in the fridge for up to 4 days. Reheat in the microwave or on the stovetop.
You can also freeze the stew for up to 3 months. Thaw in the fridge before reheating as above.
Recipe Notes
If you don't have thyme, don't sweat it. Just use Italian seasoning in its place and your stew will have a bit different flavor but still be wonderful. If you are new here you may not realize that I pretty much think you could save the world with a $1 bottle of dry Italian seasoning. I love that stuff.
Dale's Sauce is a marinade available in my neck of the woods but a lot of y'all may not have it near you. If you can get Moore's Marinade, that'll work too. I use the two interchangeably depending on which one is cheapest and I've never been able to tell the difference (although I'm sure the Dale's and Moore's folks will disagree with that). However, if you can't get either of them, you can easily whip up my homemade all-purpose marinade recipe. If you use my recipe, you'll need to salt your stew a little to taste, because my homemade version isn't nearly as salty as Dale's and Moore's. They give new meaning to the term "salty" so most folks think that is a good thing.
You can peel your potatoes or leave them unpeeled.
If you want to add more veggies to this old-fashioned beef stew, opt for 1 chopped bell pepper, 1 celery stalk, or 1 cup of fresh or frozen peas.
Stew meat or boneless beef chuck roast is the best to use in this

old-fashioned

recipe.
Recipe FAQs
What do you serve with this traditional beef stew recipe?
I like my homemade beef stew best with Jordan rolls, my homemade dinner rolls, or a serving of cornbread. However, you may also want to serve it with crusty bread, cauliflower rice, quinoa, brown rice, homemade buttermilk biscuits, mashed potato, or mashed sweet potato.
Can you put raw beef in the slow cooker?
Yes, you absolutely can! However, searing the stew beef just adds so much depth and flavor to the stew, so I highly recommend it if you have time.
How do you make ?
If you want to cook this traditional beef stew recipe in the instant pot, first place it on saute to sear the beef and onion. Then add the remaining ingredients, seal the instant pot, and high-pressure cook the stew for 35 minutes. After, allow the pressure to release naturally for 10 minutes.
How do you thicken your beef stew?
Coating the beef in flour acts as a stew thickener. However, if you decide you want your stew to be even thicker, add a few tablespoons of instant potato flakes (one of my favorite thickeners). Another way to thicken a stew is to mix 1 tablespoon of cornstarch (or 2 tablespoons of flour) with 1/2 cup of cold water. Stir it into the stew and continue to cook it for a few more minutes until it thickens.
Check out these other scrumptious stews:
Our Family's Southern Chicken Stew Recipe
Lentil Stew (Budget Friendly & Delicious)
Ingredients
1

cup

flour

1/2

cup

Dales sauce

1

tablespoon

thyme

or Italian seasoning

1

teaspoon

black pepper

32

ounces

beef broth

1-2

pounds

stew meat

5-6

medium potatoes, unpeeled and chopped

4

large carrots

1 1/2

cups

frozen pearl onions or 1 large chopped onion
Instructions
Place stew meat and flour in a medium bowl. Stir to coat. Then place a tablespoon of oil in a large skillet and heat on medium heat. Add the coated meat and cook, stirring often, just until brown.

1-2 pounds stew meat,

1 cup flour

Place the meat and all other ingredients in the slow cooker. Cover and cook on low for 7-8 hours or high for 3-4 hours.

1/2 cup Dales sauce,

1 tablespoon thyme,

1 teaspoon black pepper,

32 ounces beef broth,

5-6 medium potatoes, unpeeled and chopped,

4 large carrots,

1 1/2 cups frozen pearl onions or 1 large chopped onion
Nutrition
"I like flaws and feel more comfortable around people who have them.
I myself am made entirely of flaws, stitched together with good intentions."
~Augusten Burroughs. Submitted by Sandy (thank you, Sandy!). Submit your quote to our page by clicking here.