Homemade Hot Chocolate Mix
Made with just 4 ingredients, I'm not kidding when I say this quick and easy homemade hot chocolate mix recipe is the creamiest, milkiest, chocolatiest hot chocolate you'll ever taste.
I brought this homemade hot chocolate mix home to my mother when I was a first grader at Lincoln Elementary School in Huntsville, AL. Our teacher, Mrs. Menotti, let us make it in class and then printed out copies for each student to keep. Every time we even mention it now Mama always stops and says, "that is the best hot chocolate I've ever had." It is the creamiest, milkiest, chocolatiest hot chocolate mix you'll ever taste!
All you need is four ingredients: instant powdered milk, powdered coffee creamer (this is the secret ingredient to make it super creamy), powdered sugar, and Nesquick chocolate milk powder. The instructions are as simple as mixing all ingredients together and storing them in an airtight container until it's time to cozy up with a cup of hot cocoa. Then all you need to do is combine the mix with hot water and enjoy! Then come back and tell me that it's the best hot chocolate recipe ever 😉.
This homemade hot chocolate mix recipe is not only ridiculously quick and easy, but it also makes a bunch and is perfect for gifts. I like to put it in little mason jars and tie ribbons around the tops of them. They're great as a teacher gift, holiday gift, or hostess gift. So, let's make some delicious hot chocolate, shall we?
Recipe Ingredients
Powdered coffee creamer
Dry milk powder (also called instant milk)
Nesquik chocolate milk powder
Powdered sugar
How to Make Homemade Hot Chocolate Mix
Dump all of your ingredients into a large dishpan.
I use my old faithful red Sterlite dishpan.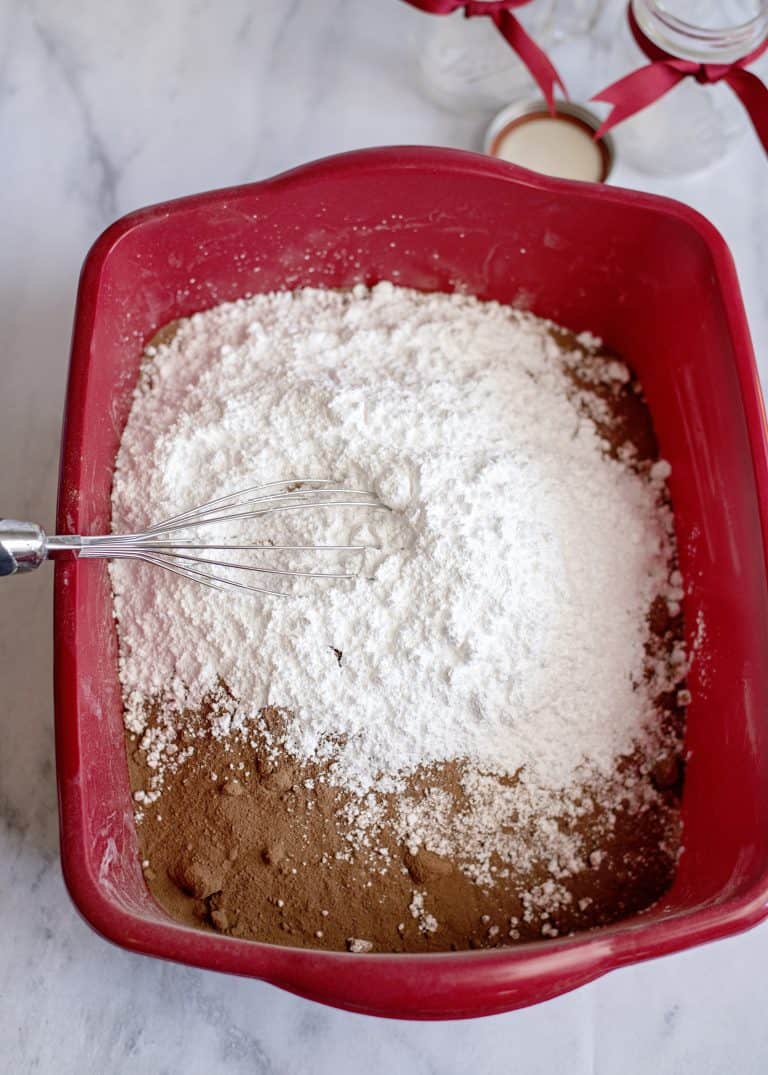 Stir that all up good.
A whisk is best because it will get out any lumps, but a large spoon will also do.
Just get it all incorporated and you're good to go!
I divide mine up among mason jars and put lids on them for gifting.
Whatever I'm keeping for our use just goes in a sealed container to keep it dry and fresh.
These are so pretty! It would be a lovely hostess gift for Thanksgiving, too!
To make a cup, fill a coffee cup about 1/3 full with the mix, add hot water, and stir.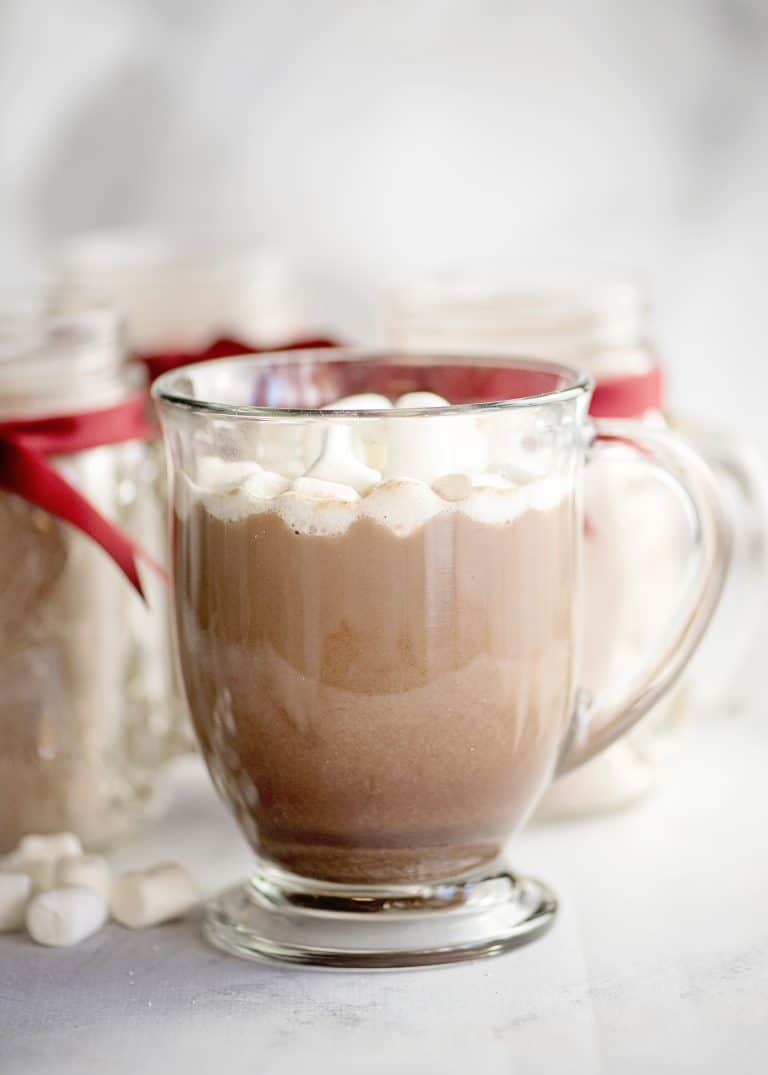 Enjoy this beloved recipe from my childhood ❤️.
Storage
When stored in an airtight container in a cool dry place like your kitchen pantry, this hot chocolate mix will last indefinitely (a.k.a up to at least a year), as all of the ingredients have long shelf lives.
Recipe Notes
I don't recommend using another brand of chocolate milk powder but I do use generic in everything else. That Nesquik is also good to get because it comes in a standard size that the recipe calls for. Keep in mind this recipe is over forty years old just with us. No telling how long it had been in my teacher's files.
If you don't have powdered sugar on hand, granulated sugar also works.
Recipe FAQs
Can I replace my hot chocolate mix with cocoa powder?
No. The hot chocolate mix is very different from cocoa powder as it includes multiple ingredients and they can't be substituted for one another. However, what you can do instead is substitute the Nesquik for 1/2 cup of unsweetened cocoa powder if you prefer.
How do you serve homemade hot chocolate?
Top your homemade hot chocolate with mini marshmallows, whipped cream and chocolate syrup, chocolate shavings, or your favorite flavor of chocolate chips (I like a combination of white and milk chocolate chips). Around the holidays, use a candy cane as a stir stick.
How do you thicken a homemade hot chocolate mix?
Add 2 teaspoons of cornstarch to the mix and this will make your hot cocoa thicker.
How do you make peppermint hot chocolate?
Stir in a dash of peppermint extract to make peppermint hot chocolate.
How do you make Mexican hot chocolate?
Add a dash of cayenne pepper to your cup of hot chocolate.
How do you make spiced hot chocolate?
Add 1 to 2 teaspoons of your favorite dried spices to your hot chocolate mix. I'd recommend 1 teaspoon of pumpkin spice or apple spice or 1/2 teaspoon of ground cinnamon and 1/2 teaspoon of ground nutmeg.
Can I add alcohol to my homemade hot cocoa mix?
Absolutely! For spiked hot chocolate, add a shot of brandy, cognac, or Irish liqueur like Bailey's.
You may also enjoy these cozy drink recipes:
Old-Fashioned Stovetop Hot Chocolate
Skinny Pumpkin Spice Latte at Home
Ingredients
1

box

instant powdered milk

enough to make 8 quarts

1

15-16 ounce container

powdered coffee creamer

about a cup and a half

1

2.2-pound box

Nestle's Nesquik

1

pound

powdered sugar
Instructions
Mix all ingredients together in a large container. Store in a sealed container until ready to use.

1 box instant powdered milk,

1 15-16 ounce container powdered coffee creamer,

1 2.2-pound box Nestle's Nesquik,

1 pound powdered sugar

To make hot cocoa, fill a mug 1/3 full with the mix, add hot water, and stir.
Nutrition
I originally posted this hot chocolate mix years ago when my kids were very little. Click here to see that post and the photos of the kids making it back then.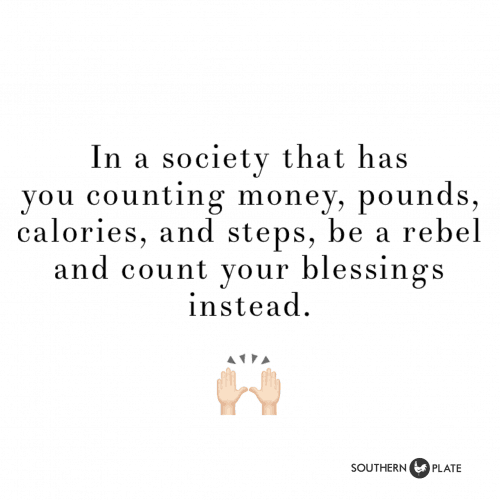 Click here to see all of my quote pictures. You are welcome to download and use them.