Vanilla Wafer Pudding Recipe With Pineapple
A close cousin to our vanilla wafer homemade banana pudding recipe, our vanilla wafer pudding with pineapple is just as delicious with a light sunshiney sweetness that perfectly complements the custard pudding texture.
Banana pudding is a popular dessert in the South, but today I'm sharing a great substitution for bananas with this pineapple vanilla wafer pudding recipe. Crushed pineapple is the perfect substitution for that fresh banana flavor and the lightly sweet taste perfectly complements the homemade custard. Add that toasted fluffy meringue topping and crunchy Nilla wafers and you have what I call a delectable dessert!
This is great when folks don't care for bananas or if you don't have any on hand, since canned pineapple is nice and shelf-stable. Banana pudding aficionados don't skip a beat when you place this before them either. My kids can attest to that and they usually don't like pineapple but they love this vanilla pudding!
Keep on scrolling, because this post is full of helpful tips. Today you'll also learn:
How easy it is to make a pudding custard from scratch. Now, y'all know one of my favorite baking shortcuts is using instant pudding mix. But today I'm forgoing an instant vanilla pudding mix to show you how easy it is to make a homemade custard.
How to make a perfect meringue with ingredients you have on hand.
Now let's make some vanilla wafer pudding with pineapple!
Recipe Ingredients
Vanilla wafers
Flour
Milk
Sugar
Crushed pineapple
Eggs
Salt
Vanilla extract
How to Make Vanilla Wafer Pudding
To begin making your custard, crack and separate your eggs: whites in one bowl and yolks in the other.
Don't let ANY of those yolks slip into your whites
It is important that you not get any yolks in your whites because we are going to whip those up into a meringue later and if they have yolks in them, it won't work. However, if you do get yolks in them, you can just go ahead and leave the meringue off and serve it plain or with a whipping cream topping as well.
In a medium saucepot, combine your milk, flour, sugar, and eggs.
Place this over medium heat and stir constantly until it is smooth, creamy, and thickened.
This will probably take 10-15 minutes so you can use this time to call your Mama!
Once that is all thick and creamy and delicious, pour in your vanilla extract.
Yum diddly custard pudding!
Place half of the vanilla wafer cookies in the bottom of an 8×8 baking dish.
Spread half of the crushed pineapple (undrained) over this.
Pour half of the pudding mixture over.
Add the rest of the wafers.
The rest of the crushed pineapple…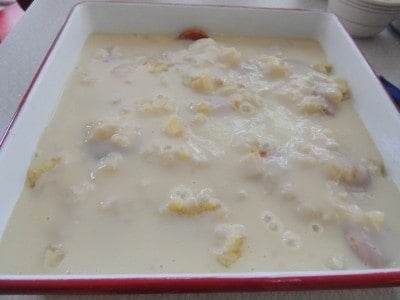 and the rest of the pudding mixture.
How to Make Your Meringue
Place egg whites in a perfectly clean mixing bowl. Beat egg whites with an electric mixer until soft peaks form.
This means that when you pull the beaters out of it, there is a peak of meringue sticking up where the beaters were and it collapses down a little after you remove the beaters.
Add sugar and beat until still peaks form.
This means that when you pull the beaters out of it, there is a peak of meringue sticking up where the beaters were and it stays sticking up.
You can see photos of making meringue on this post.
Spread the meringue over the top of your pudding, taking care to make sure it touches the sides of the pan on all sides.
This prevents it from pulling back from the sides while it bakes.
Place in a 350-degree oven for about 15 minutes or just until the meringue is lightly brown. Check it often while cooking.
I prefer to serve this immediately while it is still warm but you can wait a bit or even serve it cold later. But please try warm and fresh first!
Before you dig in, take a moment to close your eyes, bow your head, and give thanks for all of your blessings.
Enjoy 🙂
Storage
Now, custard never freezes well, so I don't recommend freezing leftovers. But you can store them in an airtight container in the fridge instead for up to 4 days.
Recipe Notes
Remember these two important meringue tips. First, your mixing bowl has to be totally clean because if there is any greasy residue it will keep the meringue from setting up. Second, remember NO egg yolks or the meringue won't work.
If you want to forgo the meringue, simply serve the vanilla wafer pudding with homemade whipped cream or Cool Whip instead.
Substitute the vanilla wafer cookies for graham crackers or chessmen cookies.
Swap the pineapple for another fruit, like

if you want to make a traditional

or canned peaches.
Recipe FAQs
What vanilla wafers should I use?
My mother says you have to buy a name-brand Nabisco Nilla wafer box and I do agree with her, they really are the best. However, if my budget doesn't allow it, I have no problem with buying generic at 50% of the cost of the name brand. Once you drown them in this yummy pudding, no one will know the difference unless you tell them.
You may also like these delicious dessert recipes:
How To Make Homemade Banana Pudding From Scratch
Frozen Southern Banana Pudding Cups
Homemade Banana Pudding Recipe With Meringue Topping
Pineapple Upside Down Cake (Super Moist)
Chocolate Vanilla Wafer Pudding Recipe
Ingredients
1/2

cup

sugar

or Swerve

1/3

cup

all-purpose flour

3

egg yolks

2

cups

milk

1

teaspoon

vanilla extract

dash salt

1

box

vanilla wafers

1

can

crushed pineapple

20-ounce, undrained
Meringue
3

egg whites

1/4

cup

sugar
Instructions
Place the egg yolks, milk, 1/2 cup of sugar, flour, and salt in a medium saucepan over medium heat. Stirring constantly, cook until thickened (about 15-20 minutes). Remove from the heat and stir in the vanilla extract.

1/2 cup sugar,

1/3 cup all-purpose flour,

3 egg yolks,

2 cups milk,

1 teaspoon vanilla extract,

dash salt

Place half of the wafers in the bottom of an 8x8 baking dish. Spread 1/2 of the crushed pineapple on top, cover with 1/2 of the custard, and repeat.

1 box vanilla wafers,

1 can crushed pineapple

Place egg whites in a clean mixing bowl and beat with an electric mixer until soft peaks form (see post for more clarification on this). Add sugar and beat again until stiff peaks form. Spread over the top of the pudding and take care to make sure the meringue touches the sides all around. Place in a 350-degree oven until the top is lightly brown (about 15 minutes).

3 egg whites,

1/4 cup sugar

Best if served warm.
Notes
Notes to remember: 
No yolks in the meringue mix or it won't work.
Make sure the mixing bowl for the meringue doesn't have any grease in it or the meringue won't set.
If you don't want the meringue, the vanilla wafer pudding tastes great with whipped cream on top too.
Nutrition
"Integrity is Christlike character in work clothes."
~Unknown. Submitted by Ashanti Hoskins. Click here to read more or submit your own.