Devotees of our beloved Banana Pudding were likely raised having this Chocolate Vanilla Wafer Pudding version as well. Although the bananas are absent, the homemade chocolate custard, layered with vanilla wafers and topped with a fluffy meringue is an old fashioned dessert we all love and adore just as much as it's cousin. This recipe was included in my third cookbook, Sweetness: Southern Recipes to Celebrate The Warmth, The Love, and The Blessings Of A Full Life. If you'd like to jump to the recipe, just scroll down. But if you've been finding yourself tired from time to time and might be able to benefit from a little encouragement, keep on reading.
Our lives are so busy these days and in many cases, there isn't much we can do to avoid that. We care for children, our parents, our grandchildren. We have errands to run and appointments to go to. We have jobs and deadlines and bills. It's all part of the process of living for most of us right now.
But amid all of that busy-ness, it is vitally important that we set aside time for small things that bring us joy. Yes, time for ourselves, to do something that we want to do, preferably that isn't very productive. 🙂
My mother has gotten into cross stitching. She looks forward to her time every day where she sits and settles into the relaxing rhythm of needle and thread. I enjoy writing in my journal, sitting out in the sun and sipping iced tea, and my morning coffee time in a quiet house before everyone else is awake. My husband and I also keep a weekly Sabbath so the entire order of our week has changed to one that, at a certain time each week, we let go of all the stress and work of the world and go into a state of complete rest and respite, with no guilt whatsoever. Any work not done is left undone until our rest is over and we don't give it a single thought. We develop what I call "sabbath vision" where we can look at the couch and the pile of clean laundry is rendered invisible. 🙂 It's simply folded the following day and none the worse for wear due to the wait.
But the one thing I've discovered to be true with most people, including myself, is that we have to learn how to rest. Now, at the onset, I realize that sounds crazy, but when you think about it I think you'll find yourself agreeing. We are so used to trying to be productive, getting everything done, and once you get your list done there always seems to be more waiting. It's difficult to allow yourself to hold up your hands and just say "Stop. It's time for me to step away from this for a bit."
But I want to assure you of a few things:
There will always be more to do. The work will never get completely done.
The work will be there waiting for you to do it when you come back. And if it is not, that means that someone else did it or it wasn't as important as you thought it was.
taking a rest from the world for a half hour a day and/or one day out of seven will not result in the world crumbling. It will, however, result in better physical and mental health for you.
If you have become one of the people that others depend on, times of rest will only make you stronger both for yourself and for them.
I can promise you, with absolute conviction and clarity, that the human body was not designed to go full steam ahead seven days a week.
And so, today I would like to encourage you to take a deep breath. If you feel overwhelmed, exhausted, and frazzled and can't possibly entertain the thought of taking a day or even regular moments of rest, I'd like to suggest that this is the very reason why you are overwhelmed, exhausted, and frazzled.
It takes work to get used to. It will take some training of yourself, even. But you know what? You're worth the work. It's a process. Commit to the process.
One year from now, you could be that person who is calm in the middle of the storm. That person who is able to be still, and know.
And now for our recipe, from scratch, and worthy of a potluck at Grandma's.
Ingredients are simple and not much different from Homemade Banana Pudding: Vanilla wafers, milk, eggs, sugar, flour, cocoa powder, and vanilla.
Begin by separating your eggs, yolks from whites. Be careful not to let any yolk get into the whites because if you decide you want a meringue on this, they won't beat up as you'd like if they have any yolk in them. No pressure or anything. I mean, it's not like your life would be a failure, just your meringue. Let's keep it in perspective here...
Place your sugar, flour, and cocoa powder in a medium saucepan. You're not going to use all of the sugar here, some is reserved for the meringue, so make sure you follow the recipe card at the bottom.
I stir my dry ingredients up a bit to combine them some.
Add in milk and egg yolks and stir some more.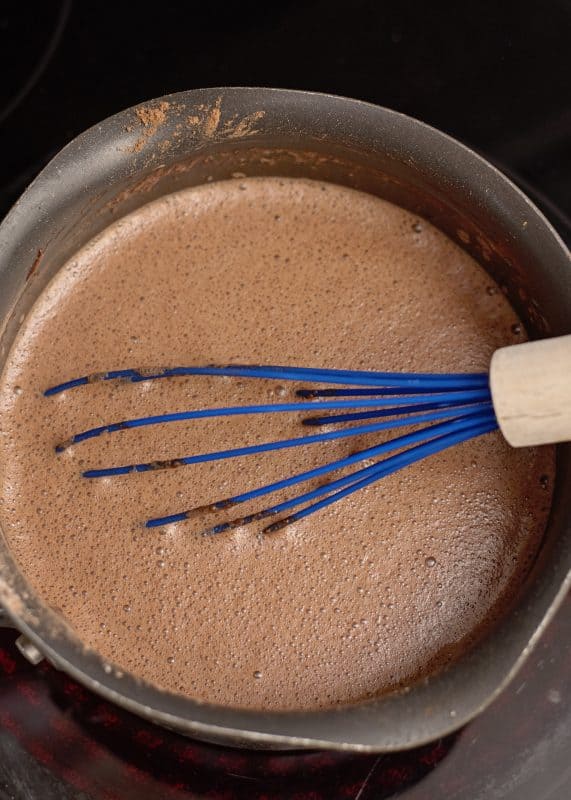 Place this over medium heat and stir constantly until thickened, about 10-15 minutes. Now y'all, when I say you need to stir constantly, I'm not kidding. The pudding can easily scorch but if you stir you'll be fine.
Folks used to always use double broilers for this but as long as you have a nice thick saucepan, this works perfectly. I haven't used a double boiler since my college culinary classes and even then we only used it once and then we learned how to live happily without it.
Here is our thickened pudding. As soon as it thickens stir in the vanilla flavoring and remove from the heat.
Layer your vanilla wafers in an oven safe bowl or dish. I tend to use a bowl but I've seen lots of people use a 9×13 baking dish. This isn't a salvation issue folks, just go with whatever cranks your tractor and encourage your neighbor to do the same. I do about one layer of wafers, one of pudding, one of wafers, one of pudding. But you can get fancy and add more layers if you like. Apparently I was having a fancy day when this picture was taken. It happens.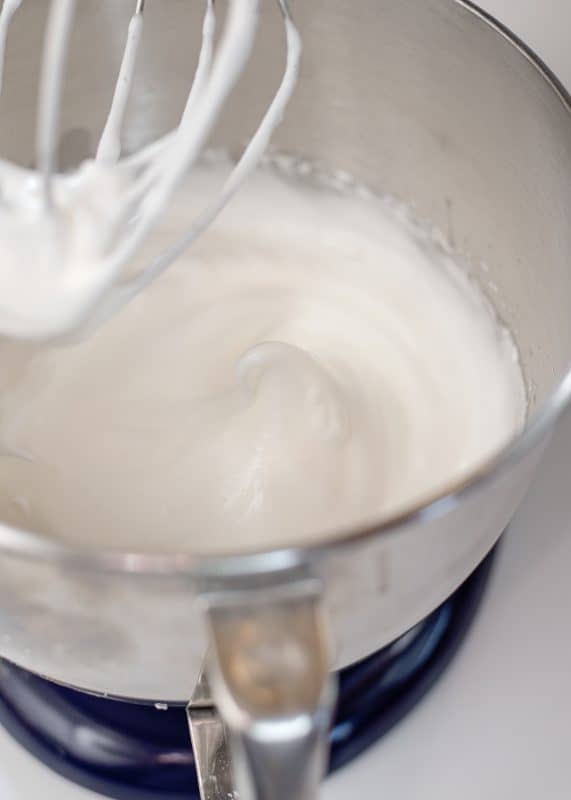 If you want to top it with meringue, put your egg whites in a clean mixing bowl and beat 'em until they get foamy. Then add your sugar and beat again until stiff peaks form.
Top with meringue and place this in a 325 oven for about 10-15 minutes, or until the meringue is lightly browned on top.
I love a meringue on top of pudding or pies but my mother hates it. She calls it calf slobber. It's all good though. We honor each other's weirdness.
Oh, Hey, Enjoy your pudding!
Do you have something you do each day or each week just for yourself? How have you learned to rest? Please share with us in the comments below and thank you, in advance, for encouraging us!
Ingredients
1 box

(11 ounces)

Vanilla wafers

3/4

cup

sugar

1/4

cup

all purpose flour

1/2

cup

cocoa powder

3

large

eggs

2

cups

milk

(I like to use whole milk but you can use your favorite)

1/2

teaspoon

vanilla
Instructions
Place 1/2 of the vanilla wafers in a large oven safe bowl or casserole dish.

Separate eggs, yolk from white, and place in separate bowls, being careful not to get any yolk into the whites.

In medium sized sauce pot, combine 1/2 cup sugar, flour, and cocoa powder. Stir to combine. Add in egg yolks and milk and cook over medium heat, stirring constnatly (very important), with a wire whisk to prevent scorching, until thickened. This will take 10-15 minutes. Stir in vanilla.

Once the pudding is done, pour half over the wafers. Top with remaining wafers and remaining pudding.
If you want to top with a meringue
Preheat oven to 325. In large, clean mixing bowl, beat egg whites with an electric mixer on high speed until foamy. Gradually add 1/4 cup sugar and continue beating on high speed until stiff peaks form.

Spread meringue onto top of pudding and spread to touch the edges of the dish on all sides. Bake until meringue is golden on top, about 15 minutes.

I like this pudding served warm. It will keep for up to three days if stored in the fridge.
Nutrition
I want to hear from you! Tell me how you carve out time for yourself and what you enjoy doing for the pure joy of it in the comments below!
I'll choose two comments at random next Monday to win a Southern Plate Prize pack with a signed copy of my book, Sweetness, and a Southern Plate collapsible fan! Winner will be contacted via email and announced on this post.
UPDATE: Congratulations to Daphne Stone and Phyllis McKee!
See all of my quote pictures by clicking here
This post is featured on Meal Plan Monday and Weekend Potluck.