Mama (Janice) and I baked this Watergate Cake at my house the other day so we could photograph it here. She is writing today's post. Take it away, Mama! ~Christy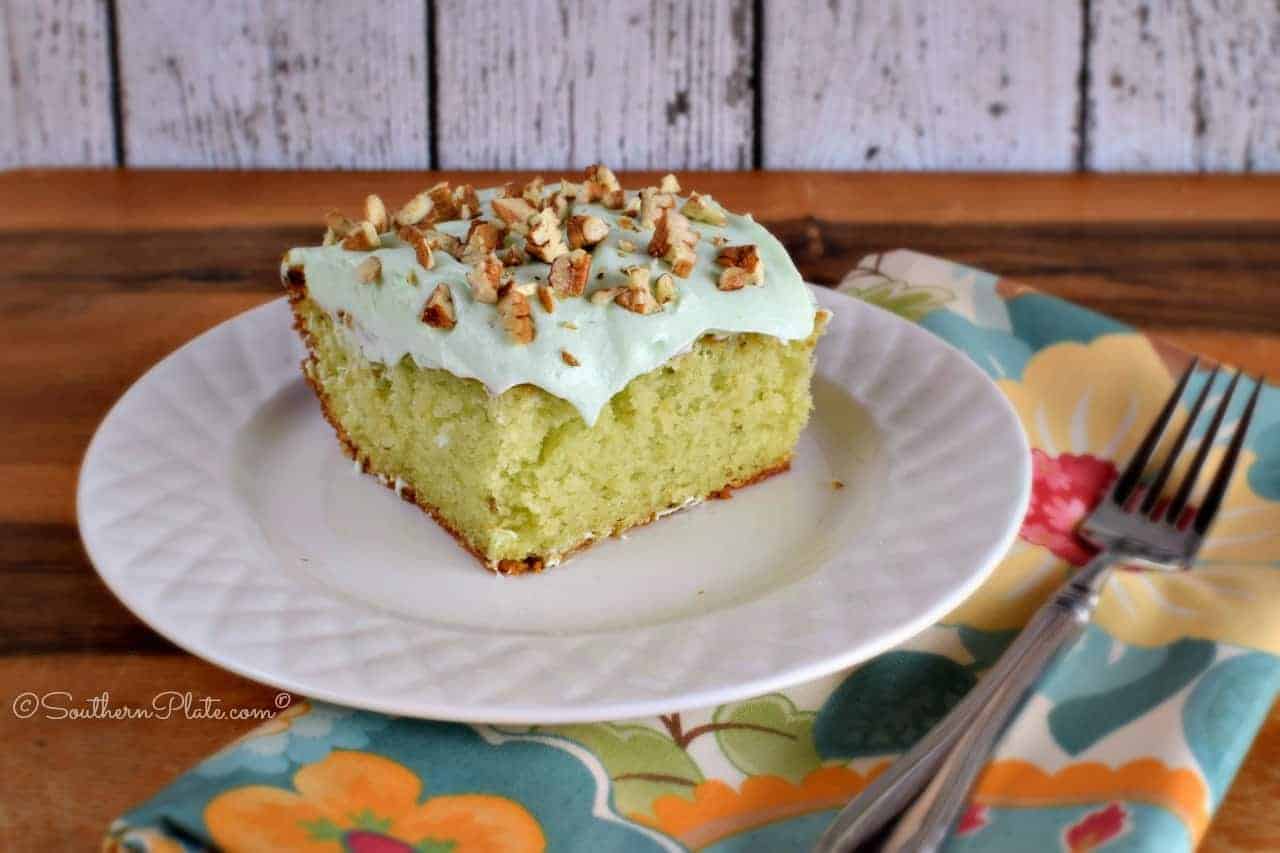 Watergate Cake is one of our favorite cakes. The cake is moist and the icing is so light and fluffy. Not at all overly sweet like some cakes, but just the right balance of sweet and fluff! The entire cake was gone the first day. The grandkids kept coming back for more until there was none left. It warmed my heart to make a dessert that everyone loved. Since this cake is green it is the perfect cake to make for St. Patrick's Day.
St. Patrick's Day Favorite Cake
I am so excited that St. Patrick's Day is almost here. That means that spring isn't far behind. Our buttercups (or daffodils as most call them) are up and already have their buds showing. That has always been the first sign of spring for me. I remember a row of buttercups down each side of my grandmother's sidewalk when I was a child. She always picked a huge bouquet and brought them into the house. She said it was God's way of letting us know sunny days are ahead.
I have always made a big deal out of every holiday. Kids, even the older ones, love it. My kids still remember the things we made and did for St. Patrick's Day. I always tried to make as much green food as I could. Believe me, I have had a few disasters too. It is almost imperative that the food is very light or white in order for it to turn green with a few drops of food coloring. The mistakes are usually more memorable that the successes though. We just go with however it turns out and have a good laugh. That's what the holidays are for, good times with our family and making memories.
Fun Ideas for St. Patrick's Day
Try to think outside the box for green ideas. If you need help, just look on the internet for thousands of ideas. I think this year I will put shamrock stickers on all the mirrors and tell the grandkids that leprechauns kissed them. They may think that their grandmother is crazy, but I bet they will remember it long after I am gone. Christy always puts a few drops of green food coloring in every toilet in her house! The kids get up each morning and run to see if the leprechauns visited because, well, they had to use the bathroom before they left you know! You still have a few days to plan for St. Patrick's Day so let's dig into our wonderfully green Watergate Cake.
Cake Mix Recipe Hints
You may have noticed that cake mix now has a smaller amount in each box. Christy and I have tried a number of recipes and found no difference in the end result. Our advice is to not worry about it when using a recipe that calls for a box of cake mix. Just proceed with the recipe the same as always. There is no need to make any adjustments.
Watergate Cake Recipe Ingredients:
White cake mix
Pistachio instant pudding mix (you only use one box of pudding in the cake batter. The other one jumped in the picture before I could stop him)
Vegetable oil
Eggs
Ginger Ale (see note)
Can I Use Other Sodas?
We used ginger ale because that is what we had on hand. You could also use Sprite, 7UP or any other clear soft drink in this recipe.
As usual you can find the ingredients amounts and full instructions in the printable recipe card below…
How To Make Watergate Cake Step By Step
Combine the cake mix, 1 box of the pistachio pudding, oil, eggs and ginger ale. Mix well.
Pour batter into greased 9X13 pan and bake at 350 degreees for 30-35 minutes or until it tests done with a toothpick.
The frosting ingredients are: Milk, Pistachio instant pudding and Whipped topping.
Add cold milk to the pudding mix and mix with an electric mixer until well combined and it begins to thicken. Fold in whipped topping and frost cake. Garnish with nuts if you like.
This is the beautiful end result. Store it in your refrigerator and enjoy!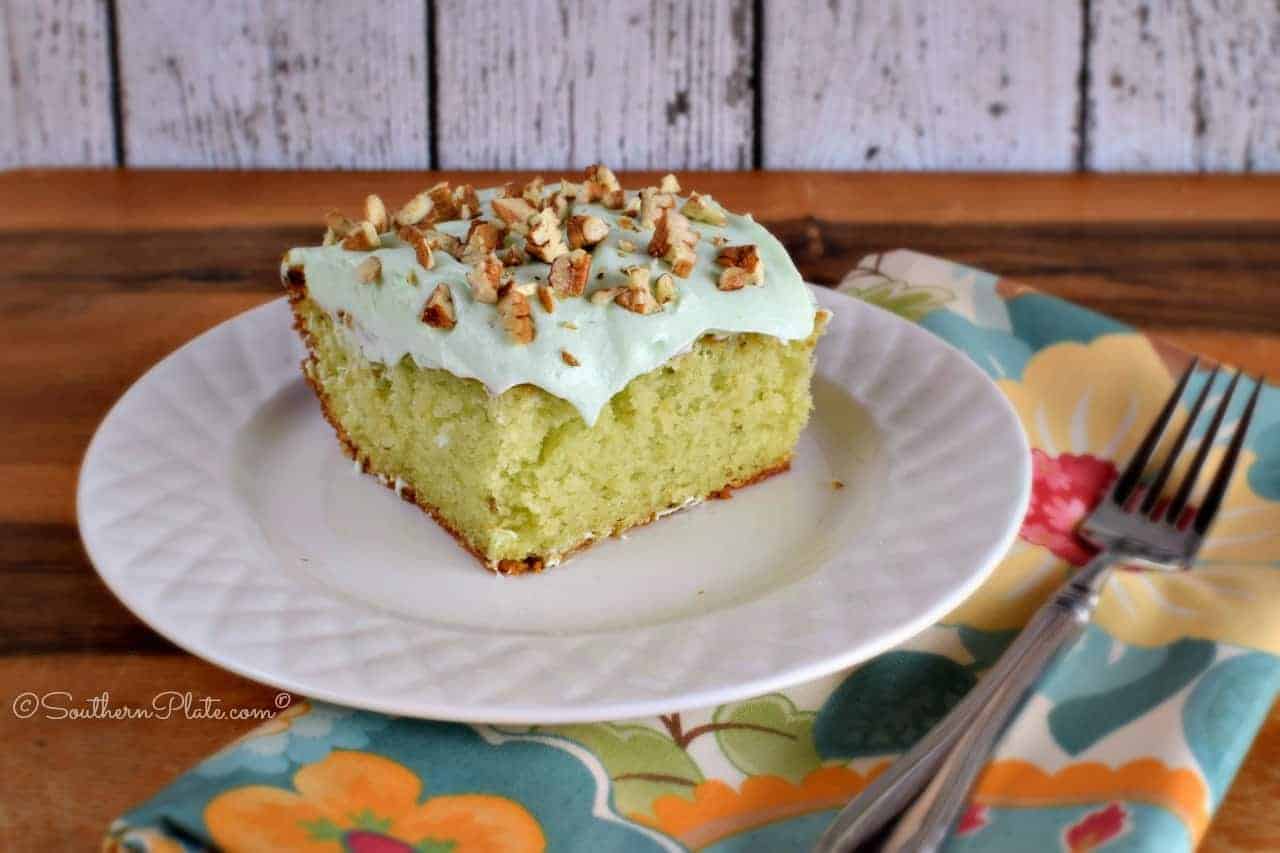 Ingredients
1

box white cake mix

2

boxes pistachio instant pudding mix

1

cup

vegetable oil

3

eggs

1

cup

ginger ale or 7 Up

1 1/4

cups

cold milk

8

oz.

whipped topping

Nuts

optional
Instructions
Combine cake mix, 1 box pistachio pudding, oil, eggs, and ginger ale.

Mix well and pour into greased 9X13 inch pan.

Bake at 350 degrees for 30 to 35 minutes or until toothpick inserted into middle of cake comes out clean. Cool completely.

Add cold milk to remaining box of pistachio pudding mix in a medium mixing bowl.

Stir until well combined and pudding begins to thicken.

Fold in whipped topping.

Frost cake and garnish with chopped nuts.

Store in refrigerator.
Nutrition
You may enjoy these other cake mix recipes:
Cookies and Cream Cake Mix Cookies- and the Quiet Things
"Where we love is home. Home that our feet may leave, but not our hearts."
~Oliver Wendell Holmes