The holidays are upon us! In addition to these Cookies and Cream Cake Mix Cookies, be sure and check out my Red Velvet Cake mix cookies. My basic recipe that can be made into countless flavors can be found at: Busy Day Cake Mix Cookies.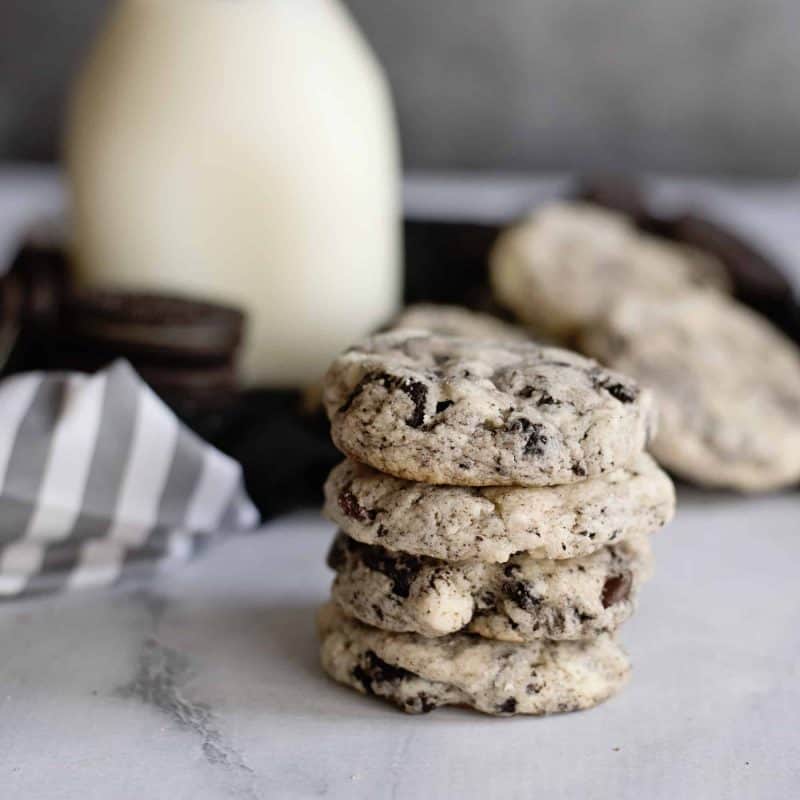 Anyone who has followed me for a length of time knows my son is an Oreo nut. As a result I feel like I've incorporated Oreos into just about every recipe imaginable. From pie to cake to truffles to brownies to fudge. So it was only a matter of time before they found their way into cookies. Yes, a cookie being baked inside a cookie – add in the shortcut of a cake mix starter and you've got a pretty awesome recipe!
If you'd like to jump right to the recipe, you can scroll down to the printable recipe card at the bottom of this post. If you've got time to visit for a bit, I have something on my heart today and I'd love to share it with you so grab a cup of something warm, settle in, and keep reading.
The blessing of lifelong friends
One of the greatest blessings in my life as a parent is knowing that my kids have good friends who encourage them, lift them up, and truly care about them. The moment I talk about my kid's friends the first person who comes to mind is Sara Jane.
Katy and Sara Jane met in first grade. Katy's class was on the playground for the first time and it was her first day at a new school. She asked several groups of girls if she could play with them and was given a sharp "no" in response – until she came upon Sara Jane. The two have been inseparable ever since. In truth, if you knew them, you'd see that they were always meant to be sisters. Like my friend, Jyl, says, "There is the family you're born into and then there is the family that God brings to you." Sometimes I forget which category Sara Jane fits into….
Their friendship strikes an even deeper personal chord with me because it reminds me of one of my own. You see, growing up I had a Sara Jane but her name was Mary Anne. Our personalities are carbon copies of Katy and SJ's. I was the cautious, quiet one who always played by the rules. Mary Anne was the bold, outspoken brave one who never hesitated to break down a wall she felt had been unjustly placed or to cross a line she felt shouldn't have been drawn in the first place.
Together, we balanced each other out. She pulled me out of my cocoon and I helped keep her out of oncoming traffic. 🙂
Four decades later…
Four decades later, a few states between us and she is the only person that I will accept a video call from. Whenever that phone rings it's just like old times. No judgement, lots of laughter, love, and admiration that spans the better part of a lifetime.
And so today I just got to thinking about distance and time and how some things have enough power to overcome all of that. Friendships whose roots run deep, family who is always there for us, and the assurance of our Father who orchestrates and holds it all together. There is a lot of craziness going on in our world today and it demands so much of our focus and attention at times. Still, it is so important to remember the quiet things in our lives, the things that are just there, supporting us, making us feel loved, and bringing us joy. I'm wishing you all the wonderful blessings of the quiet things today. Whenever we pause to take stock of our lives, may their volume drown out all the noise of the world.
You'll need: vanilla or yellow cake mix, a stick of butter (room temp), egg, vanilla, cream cheese (room temp), Oreos, white chocolate chips, and semi sweet chocolate chips. 
In a large mixing bowl, combine the vanilla cake mix, butter, egg, vanilla, and cream cheese. Beat with an electric mixer until fully combined into a dough. 
Place your oreos in a zipper seal bag and work out any aggression you're currently feeling on them. I usually just roll over them a bit with a rolling pin but I have been known to take a can of something from the pantry and give them a full on beating, depending on how the week is going. ~smiles sweetly~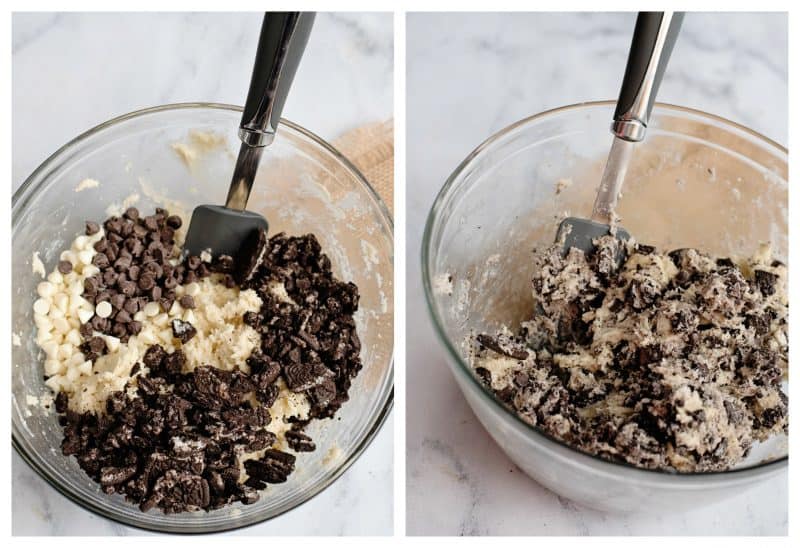 Add chocolate chips and crushed oreos and stir those in really good. I usually use my electric mixer for this, too, just go slow on it.
Form the dough into little balls a little smaller than a golfball size (or smaller if you like) and place them about two inches apart on an ungreased cookie sheet.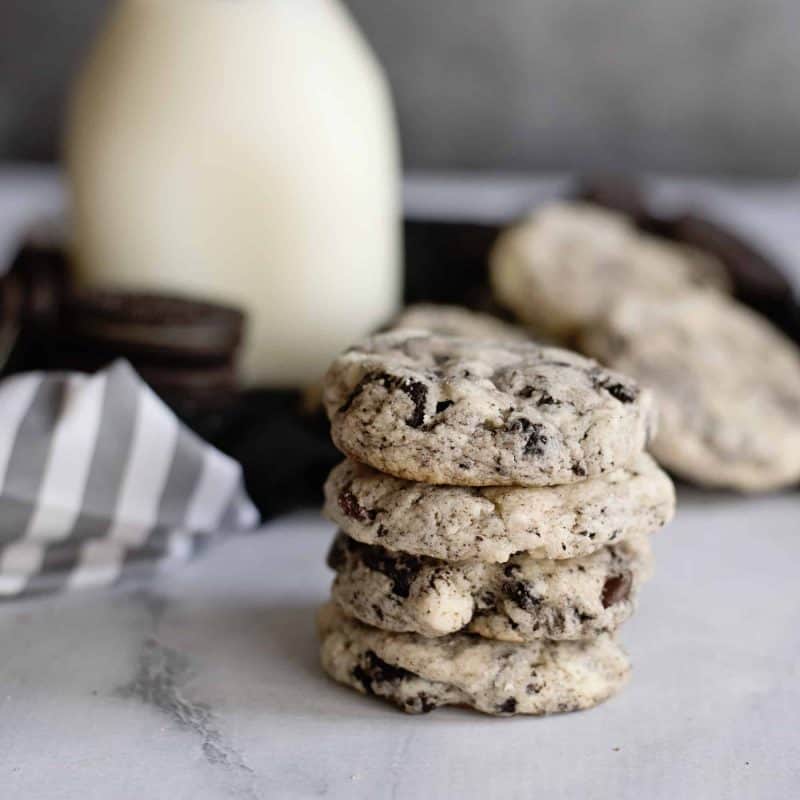 Bake for 10-12 minutes at 350 and allow to cool a few minutes before removing from baking sheets to cool completely.
Makes about 2 dozen delicious cookies for all of your cookie lovers to enjoy!.
Ingredients
1

box vanilla or yellow cake mix

1

stick butter

at room temp (salted or unsalted)

1

egg

1

teaspoon

vanilla

4

ounces

cream cheese

at room temp

2

cups

crushed oreos

they should measure two cups after they are crushed

½

cup

white chocolate chips

½

cup

semi-sweet chocolate chips
Instructions
Preheat oven to 350 degrees.

In large mixing bowl place cake mix, butter, egg, cream cheese, and vanilla. Using an electric mixer, beat until fully combined and a dough is formed.

Add in all chocolate chips and crushed oreos. Stir these in by hand or use an electric mixer on low until just incorporated.

Roll dough into balls a little smaller than a golf ball and place about two inches apart on an ungreased baking sheet. You can flatten them very slightly if you like or leave them as is, which will result in a more rounded cookie on top.

Bake for 10-12 minutes or until lightly browned at the edges. Allow cookies to cool for a few minutes on baking sheet before removing them to cool completely.
Be thankful for the difficult people in your life. They have shown you who you don't want to be. 
~Unknown
Click here to follow me on Instagram!
Yum