Apple Cobbler With Crescent Rolls
What do you get when you combine flaky buttery crescent roll dough with a creamy cinnamon-spiced apple pie filling? My deliciously easy apple cobbler with crescent rolls recipe.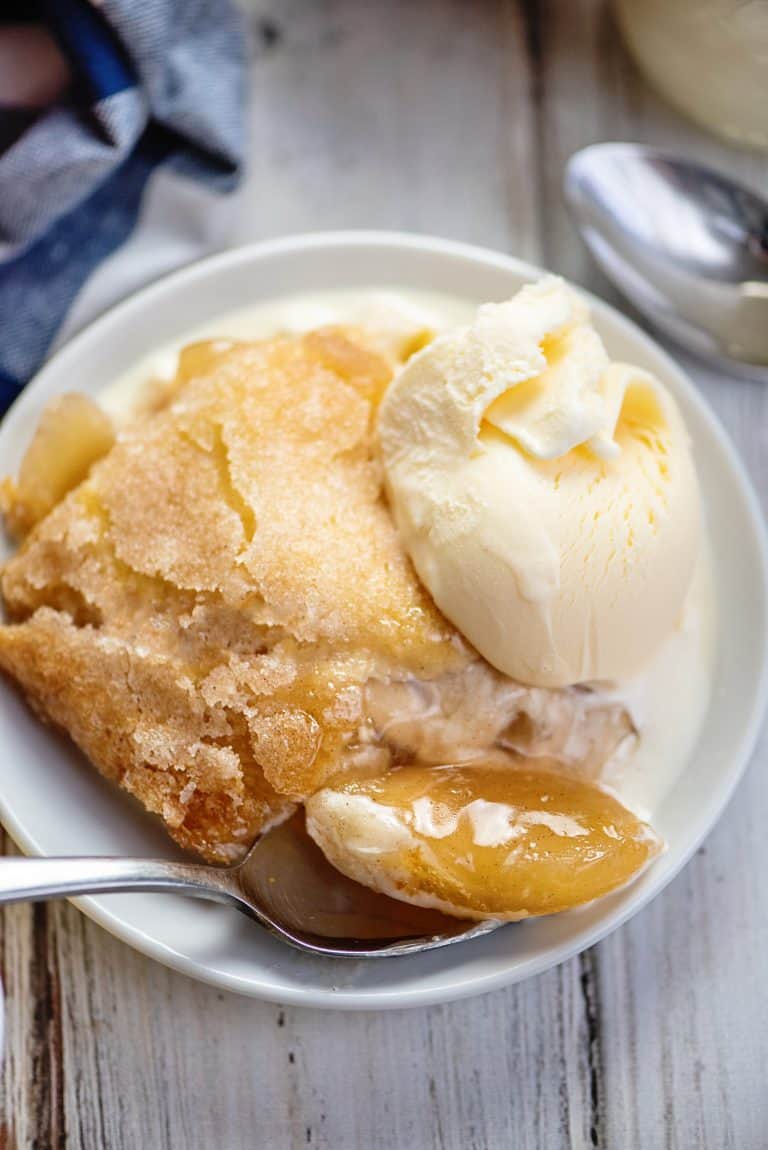 Today I am bringing you one of my favorite recipes: apple cobbler. But this apple cobbler recipe is a little different, as the dough is made with crescent rolls, not from scratch. But I tell you what, I could eat this every day of the week and never be disappointed. It includes flaky buttery crescent rolls and tender apple bites with a cream cheese filling that will rock your world.
Intrigued? To make my easy apple cobbler recipe, you're going to need crescent rolls for the dough, apple pie filling, sugar, cinnamon, vanilla, cream cheese, and butter. First, we have to beat together the cream cheese mixture. Then we start adding layers to the apple cobbler: the dough, the cream cheese mixture, the apple pie filling, the other roll of dough, cinnamon sugar, and melted butter. Then we pop our cobbler in the oven until the top is flaky and golden brown. See? So easy!
Serve your apple cobbler with ice cream, whipped cream, yogurt, or whatever have you. It is absolutely divine and the perfect comfort food dessert to indulge in this fall. Okay, who's ready to give my apple cobbler with crescent rolls a go?
Recipe Ingredients
Pillsbury crescent rolls

Apple pie filling

Granulated sugar

Cinnamon

Vanilla extract

Cream cheese (click here for our homemade cream cheese recipe)

Unsalted butter
How to Make Apple Cobbler With Crescent Rolls
Soften the cream cheese
The first thing you do is take the cream cheese out of the box and let it get to room temperature before you try to mix it up.
If you have ever tried mixing cream cheese while it was still cold… you know why it needs to warm up.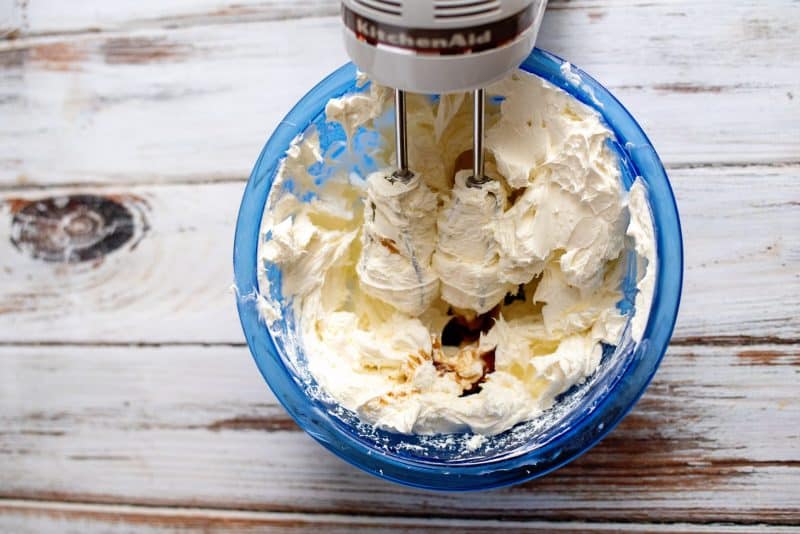 Beat the cream cheese and mix in a teaspoon of vanilla.
Next, measure out a cup and a half of sugar into a separate small bowl and mix in a teaspoon of cinnamon.
After the cinnamon and sugar are mixed, measure out half a cup and set it aside for later.
Pour the remaining cinnamon-sugar mixture into the cream cheese mixture and mix it well.
Adding the layers
Lay out one can of the crescent rolls in the bottom of a 9×11 baking dish.
The dough will be a little longer than the pan. Just leave it there and press it down or cut it off.
Pour in the cream cheese and spread it evenly.
Then pour the apple pie filling on top, also spreading it evenly.
Place the second can of crescent rolls on top.
Now here's another tip. If you want the dough on top to look pretty, roll it out on some waxed paper before putting it on top of the apples and push those seams together. If you try to press it together when it's on top of the apples, it ain't gonna happen.
Remember that ½ a cup of cinnamon sugar you set aside earlier?
Spread it evenly over the top of the dough.
Melt one stick of unsalted butter in the microwave (try 30 seconds at a time or else it can bubble over) and pour over the top.
Place the pan in a preheated oven at 350 for 30 to 40 minutes until it is golden brown.
I normally sprinkle a bit more cinnamon over the top after I pour the butter over it but it's just my preference.
Isn't that gorgeous? Can't wait to dig into the gooey goodness inside!
This can be eaten hot or cold. The best way I've found is hot with a scoop or two of ice cream.
Enjoy!
Storage
Store leftover cobbler in an airtight container in the fridge for up to 4 days. You can serve it hot or cold and you can quickly reheat it in the microwave, oven, or air fryer.
You can also freeze leftovers for up to 3 months. Thaw in the fridge overnight before reheating as above.
Recipe Notes
Swap the apple pie filling for your favorite to make a different flavor of cobbler, like a cherry cobbler or a blueberry cobbler.
For extra flavor, substitute the sugar for brown sugar.
Another option for extra flavor is to add more dried spices to the cream cheese filling, like a teaspoon of apple pie spice or 1/2 teaspoon each of ground nutmeg and ground ginger.
For extra texture, add a layer of chopped walnuts or pecans or unsweetened coconut flakes on top of the apple pie filling.
Recipe FAQs
What's the difference between an apple cobbler, crisp, and crumble?
The difference between these apple desserts is all in the topping. An apple cobbler has a dough topping, an apple crumble typically has a crumbly topping, and apple crisp has a streusel topping made with oats or nuts.
How do you serve apple cobbler?
I love to serve my apple cobbler warm with a dollop of whipped cream or a scoop of vanilla ice cream. Bonus points if you add a drizzle of caramel or salted caramel sauce. It truly elevates this dessert!
You may also like these cozy cobbler recipes:
Ingredients
2

8-oz cans

crescent rolls

2

21-oz cans

apple pie filling

1.5

cups

granulated sugar

1

tsp

ground cinnamon

1

tsp

vanilla flavoring

3

blocks

cream cheese

1

stick

unsalted butter
Instructions
Let the cream cheese come to room temperature (about 30-45 minutes).

Cream the cream cheese and pour vanilla flavoring in.

3 blocks cream cheese,

1 tsp vanilla flavoring

Combine cinnamon and sugar in a separate small bowl and set aside 1/2 cup.

1.5 cups granulated sugar,

1 tsp ground cinnamon

Pour the remaining cinnamon-sugar mixture into the cream cheese and mix well. Scrape down the sides and the bottom of the bowl, and mix some more.

Place one can of crescent rolls in the bottom of a baking dish.

2 8-oz cans crescent rolls

Spread cream cheese mixture on top.

Spread both cans of apple pie filling over the cream cheese.

2 21-oz cans apple pie filling

Place the second can of crescent rolls on top.

Pour the remaining 1/2 cup of cinnamon-sugar mixture evenly over the top.

Pour the stick of melted unsalted butter on top of the dough. Optional: sprinkle more cinnamon on top.

Bake in a 350-degree oven for 30-45 minutes until the top is golden brown and bubbly.
Nutrition
Calories:
643
kcal
|
Carbohydrates:
55
g
|
Protein:
7
g
|
Fat:
45
g
|
Sugar:
47
g
Your day goes the way the corners of your mouth point.
~Anonymous
Submitted by Lori B