We are getting up close and personal with this Easy Berry Cobbler. You can see its crispy yet crumbly topping. Now that is what dreams are made of. 🙂
I hope you pick someone you love and make them this cobbler. Because I'm a firm believer that the best dishes aren't made out of a necessity to eat, they're made out of love for the person who is going to be eating them.
This is one of those super simple recipes from the old days. Most of the recipes from the old days were simple.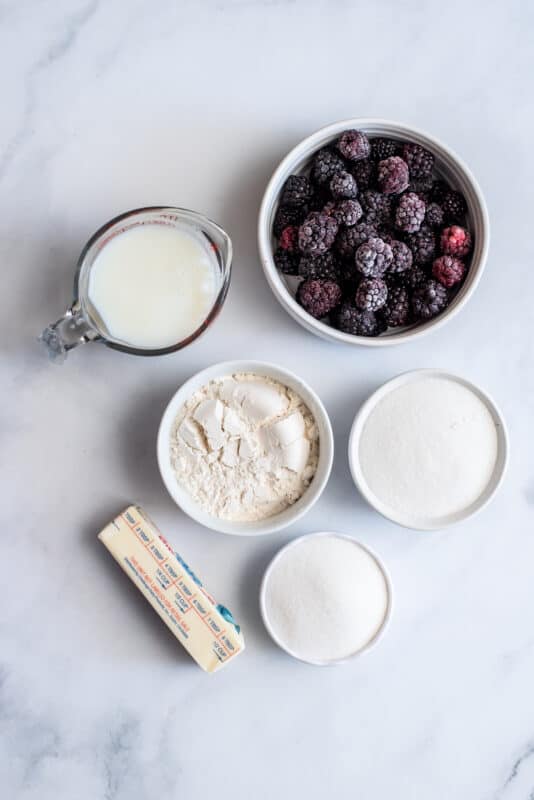 Ingredients That You'll Need for Berry Cobbler:
Self Rising Flour
Suga
Milk
Butter
Berries
What type of berries should I use for this recipe?
You can use any type of berries you like, fresh or frozen. I'm using frozen blackberries. YUM!
How to Make An Easy Berry Cobbler Recipe
Place your berries in a bowl and add about a tablespoon of butter. Sprinkle 1/2 C sugar over them.
Heat these in the microwave for about a minute or two, until the butter is melted and the berries are warm.
I'm using frozen blackberries I got from the grocery store. They came in a 16 ounce bag.
It will look like this.
Give them a taste and make sure they are sweet enough for you.
What Do I Do If Berries Are A Little Too Tart?
You may have berries that are a bit on the tart side and prefer to add a touch more sugar to your taste.
In a medium casserole dish, place 1/2 C butter.
If you don't have a dish like this, you can just use an 8×8 pan.
Place that in the microwave for a minute or so until the butter is completely melted.
In a separate bowl, place your sugar and your flour.
Stir to combine.
Add in milk.
Then stir that up a bit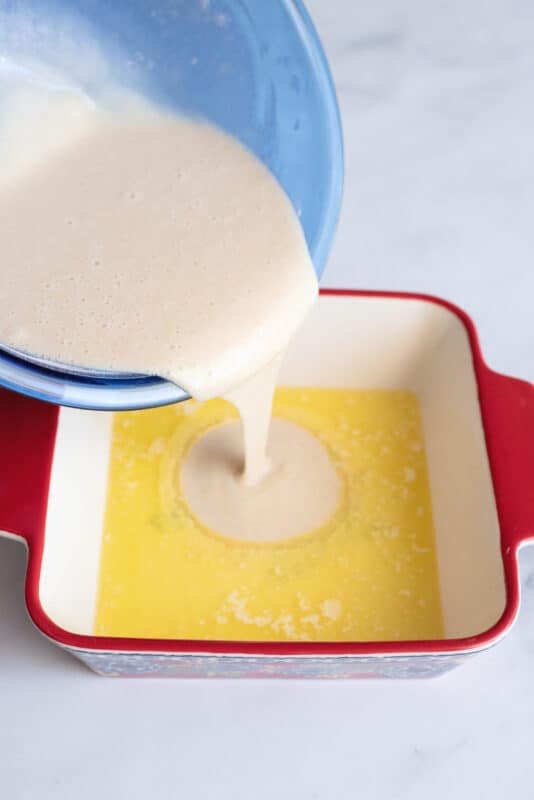 Pour batter mixture over melted butter.
DO NOT STIR
It'll look like this, with butter floating on the top.
Pour in your berries.
Again, do not stir.
Sprinkle just a little sugar over the top of it.
Bake at 350 for 50-55 minutes.
Add a scoop of ice cream if you like, and enjoy!
Ingredients
2

C

Berries

frozen or fresh

1/2

cup

sugar

1

cup

milk

1

cup

self rising flour

1

cup

sugar

1

stick butter or margarine
Instructions
Preheat oven to 350 degrees. Melt stick of butter in oven proof casserole dish in oven while mixing ingredients. Place 1 T margarine on top of berries in a small bowl. Pour 1/2 cup sugar over berries. Stir. Heat in microwave for 1 minute so that sugar begins to melt.

Mix together 1 cup flour and 1 cup sugar until blended. Pour in 1 cup milk and mix until blended.

After butter is melted, take casserole out of oven and pour batter on top of melted butter. Pour berries on top of batter. DO NOT STIR! Sprinkle a tablespoon of sugar over cobbler. Place in 350 oven and cook for 55 minutes or until golden.
Nutrition
What's the difference between a cobbler and a pie?
I have been asked this question a whole bunch. So here's the answer. A pie has a bottom crust and a cobbler doesn't. Now how's that for an easy answer? Thought you would like that 🙂
Can I Freeze Cobblers?
Yes most cobblers and pies are okay to freeze. Just make sure they are well sealed after cooled in cling wrap and then aluminum foil to keep it even more tightly secured. And for convenience its a good idea to store it in the freezer in what you baked it in so you can warm it up easily.
You may also enjoy these recipes:
Chocolate Cobbler Recipe (Possible Options for Food Allergies)
Cinnamon Cobbler Warm and Wonderful
~~~~~~~~~~~~~
"Make the most of today. Get interested in something. Shake yourself awake. Develop a hobby. Let the winds of enthusiasm sweep through you. Live today with gusto."

~Dale Carnegie

To submit your quote and read others, click here.