Today's recipe for Baked Peach Oatmeal Pudding is difficult to describe. If you love peach crisp and old fashioned baked Rice Pudding like my Mama Reed made, this is a blend of those flavors. Technically, it is a breakfast but it is so very good and just lightly sweet enough that it could also be a dessert at the end of a soothing meal. Rather than just oatmeal, it has a custardy texture and taste to it, with a hint of brown sugar and warm peaches to keep you coming back for just one more bite.
Before we dig into this delicious bowl of Baked Peach Oatmeal Pudding I wanted to talk a minute about Contentment. The ability to say that you have it is one of the greatest treasures these days, and such a rarity at the same time. Our entire culture screams at us not to be content. We need more. We need recognition, money, bigger houses, nicer clothes, fancier food, more organic groceries, nicer china, better behaved children, more upstanding parents, tighter jeans, more manicured lawns, faster cars, cheaper gas, bigger diamonds, louder voices, bigger audiences, bigger hair, more artful language, sharper retorts. Everything is "more" or "er". BiggER, bettER.
This is all good and well when it comes to some things, don't get me wrong. Of course we want our children to be constantly growing and becoming better people and we want that for ourselves as well, but not in order to impress or appear higher up in the eyes of others.
How many people, do you think, sit back and just breathe and experience contentment on a daily basis? How about even once a month or even once a year? It must be absolutely exhausting never being content.
Being content isn't about wanting more, it's about appreciating what you have.
It is one of the greatest gifts that you could ever give yourself and once you've given it to yourself, it's one to guard as closely as you can. I'll let things in my life (tv, music, magazines, advertising, etc), but when they start messing around with my contentment – it's time to go. I can count on one hand how many television shows I watch. I have only two radio stations I'll listen to. I've deleted 90% of my itunes library from my telephone because I don't want to be walking around singing songs in my head about how hard my life is or how angry I am when I'm not.
Some people might argue that me not watching reality tv is an act of sequestering myself from the outside world. That me not listening to the billboard top whatever makes me out of touch. But I've seen and heard it enough to know that I'm not missing out on much but making room for more. I have contentment.
I can spend that extra time with the tv off sitting on my back porch and watching the birds hop from branch to branch as I drink my coffee and wonder if the squirrels will ever figure me out. I can keep that radio off and hear my kids ever changing voices tell me about their day at school.
I didn't give anything up, I just traded it. For contentment.
I definitely traded up.
And now for my dish of comfort and contentment, all rolled into one. Baked Peach Oatmeal Pudding. I hope you'll get to make it soon and eat it slowly, with contentment.
To make this Baked Peach Oatmeal Pudding you'll need: Milk, Old Fashioned Oats, Cinnamon, Butter, eggs, brown sugar, peaches, baking powder, baking soda, salt, and vanilla.
In a medium sized bowl, place melted butter, milk, vanilla, and eggs and stir up with a fork or whisk until well blended.
In a large mixing bowl place oats, baking powder, baking soda, brown sugar, and cinnamon.
Stir together until well combined. Weird Confession: I love oats so much that I eat them raw whenever Im cooking with them.
Add in liquid mixture and stir again.
Add in peaches..
Pour into greased 8×8 baking dish. Bake at 350 for 40-45 minutes or until set and lightly browned on the top.
I wish you could smell this.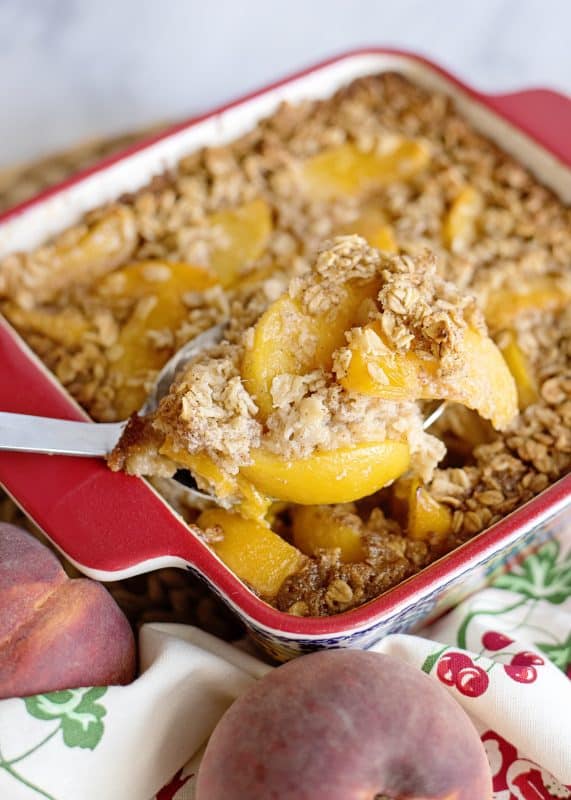 Serve it hot – but leftovers reheat like a dream. Eat it as is, because it is utterly wonderful. If you want to take it over the top though…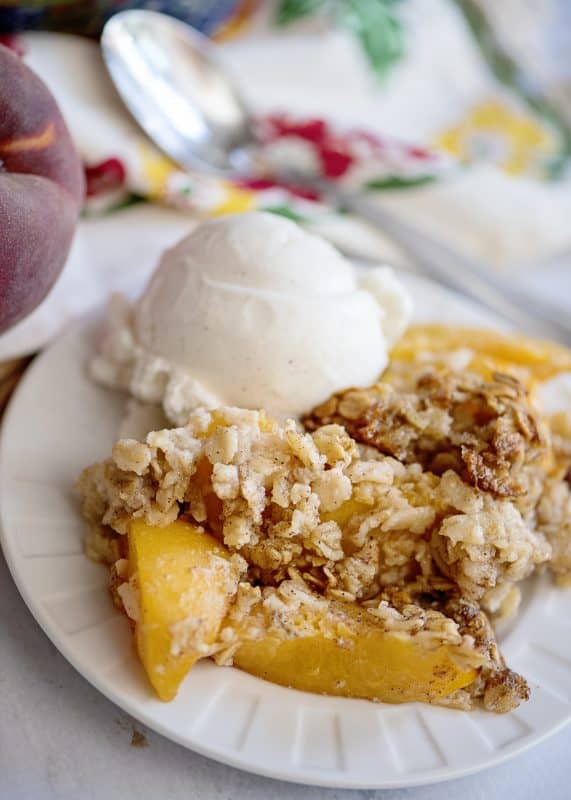 Pour a little heavy cream over it or serve with vanilla ice cream.

Enjoy!
A great idea is to eat Baked Peach Oatmeal Pudding as is for breakfast and save any leftovers to heat up and have with cream or ice cream for dessert after supper!
Ingredients
2

cups

old fashioned oats

29

ounce

can sliced peaches

drained

1/2

cup

butter

melted

1

+1/2 cups milk

1

teaspoon

vanilla

2

teaspoons

baking powder

1/2

teaspoon

salt

1/4

teaspoon

baking soda

1

teaspoon

cinnamon

1/2

cup

brown sugar

2

eggs
Instructions
In large mixing bowl, stir together oats, baking powder, baking soda, cinnamon, salt, and brown sugar.

In separate medium bowl whisk together milk, melted butter, vanilla, and eggs.

Pour liquid into dry ingredients and stir until well mixed. Stir in peaches.

Spray an 8x8 baking dish with cooking spray or grease with butter.

Pour batter into dish and bake at 350 for 45-50 minutes, or until set and lightly browned on top.
Serve warm by itself or with fresh heavy cream or ice cream. It is delicious on it's own though. Could make this for breakfast and then heat up leftovers with ice cream for dessert at supper!
This post was originally published in 2012 and updated in 2020.
"Even if something is left undone,

everyone must take time to sit still

and watch the leaves turn."

~Elizabeth Lawrence

Submitted by Diane Smith, thanks Diane!
This post featured on Weekend Potluck and Meal Plan Monday.
Yum