To see the Excalibur dehydrator I currently use, click here. For a complete collection of dehydrators offered by Amazon, click here.
Dehydrating Peaches – Dehydrating is a WONDERFUL time of year to "put up" food because so much of it is fresh and readily available. These peaches were FREE from a tree in my mother's yard. She had about twice this many and sent me these for my own preserving. Today, I'm getting another box about this big as well. With peaches, tomatoes, and sales I find on Ground Beef whenever I can, my dehydrator has been going nonstop this week. But we need to get it while we can and put it up for when we need it later!
Here is how I dehydrate peaches. It is very simple but truly, dehydrating is one of the simplest and old fashioned ways to preserve a harvest of most any kind. I especially love that once it is done, the food doesn't take up any room in my refrigerator or freezer.
Note: As soon as I got these peaches out of the dehydrator I found ground beef on sale and loaded up the dehydrator with that. After posting some photos on instagram, I had some questions from folks wondering how to dehydrate beef. Please click here if you'd like to watch my video on doing just that.
Now let's get started!
You're gonna need some peaches…
And you might need some lemon juice.
That's it.
Actually, you can even skip the lemon juice if you want.
I generally do not pretreat my fruit before dehydrating. That includes apples, bananas, and even peaches. Pretreating can help lessen browning (I haven't seen much of a difference though) but browning is a cosmetic thing and that doesn't bother me. I am doing it in this case because I don't know when I'll get around to using these peaches (hopefully in the next two years) and they are going into my "deeper" food storage. When you dehydrate peaches, you lose a little bit of the vitamin C and by giving them a little bath in this mixture first, it adds a little more vitamin C so this helps balance it out.
Don't want me crew gettin' scurvy in da middle of winter! Arr!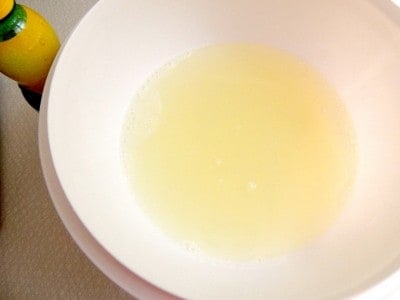 If you decide to pretreat, mix up a bowl with equal parts lemon juice and water.
This is about 2 cups of the mixture.
Peel and cut up your peaches into slices. Remove and discard any bruises or bad spots.*
You can slice them thick or thin, it is up to you. Usually, when I purchase dried peaches at the grocery store, they are just cut in half and dried. I do mine in slices.
The thicker the slice, the longer it will take to dehydrate, but I don't think they take a really long time either way.
*Bruises and "bad spots" on fruit are areas that are more susceptible to bacteria so we want to get rid of these before we do our preserving.
As you are peeling and slicing your peaches, just drop them in the lemon juice mixture.
Once you have enough to fill up a dehydrator tray, strain them out and load up the tray!
Like this.
If your'e not pretreating, just peel and slice the peaches and put them on trays.
Yes, these are white peaches. They taste amazing but the color drives my Mama crazy because when folks just look at a dish you baked 'em in, they look like apples.
Keep going until you have all of your dehydrator trays filled and then dehydrate at 135 degrees for 8-12 hours.
Make sure they are dry and then allow to cool completely. Store in mason jars or whatever jumps out at you first from the cabinet.
Now that you have these lovely dehydrated peaches, what do you do with them?
Eat them as a snack! My daughter loves having "homemade dried food" in her lunchbox at school.
Make my Great Grandmother Lela's Fried Peach Pies! (best thing ever!)
Rehydrate them by covering with water and bringing just to a boil. Reduce heat and allow to simmer until tender and then drain. Use them in any recipe you would use fresh or canned peaches (see recipes below). You'll find that dehydrated peaches, even once they are rehydrated, retain a greater flavor punch and sweetness that really amps up the peachiness in any dish far more than fresh or canned peaches do.
After rehydrating (using instructions in previous bullet point), make any of these recipes to get ya started!
These are just a few ideas. For more dehydrating posts, see below.
I have two dehydrators, both are Excalibur. I have used other dehydrators in the past and have found Excalibur to be the most efficient and absolute best for the job. They dehydrate all trays and all sides of every tray faster and more evenly than other ones I have used.
Click on the name or image to get more information about either one. I do feel a dehydrator is a wonderful investment for a family because it will allow you to easily preserve fresh fruits and veggies that you grow yourself, are gifted, or that would have otherwise gone bad before being consumed by ye olde family 🙂 My dehydrator is as important to me as my refrigerator. More so even, because the food I preserve in my dehydrator doesn't require electricity to remain fresh. And Ricky Campbell, if you are reading this: Yes. Your wife really DOES need a dehydrator 🙂
I love the deluxe models because they have timers on them, which just makes life easier.
Excalibur 5 Tray Deluxe Dehydrator
You can get by with one dehydrator, of course! I added a second this year to help me get things dehydrated during peak harvest season when it sometimes goes bad faster than I can get my trays emptied. We also pass the extra one back and forth among the family as needed.
Ingredients
Fresh Peaches

Lemon Juice

optional
Instructions
If you'd like to pre-treat your fruit to lessen browning and increase vitamin C, pour equal parts lemon juice and water into a bowl and stir together.

Peel and slice peaches, cutting off and discarding any bruises or bad spots.

If pretreating, place peach slices in lemon mixture after cutting up while you continue to prepare fruit.

Strain peaches out of lemon juice mixture and load dehydrator trays.

Dehydrate at 135 for 8-12 hours or until dried. Allow to cool and then store in mason jars or plastic bags until ready to use. Best if kept in a cool, dark place, such as a pantry.
Nutrition
To see the Excalibur dehydrator I currently use, click here. For a complete collection of dehydrators offered by Amazon, click here.
"When you encounter a rock in the stream of life, flow around it and keep on moving."
~Unknown. Submitted by Virginia LaBore. Click here to submit your favorite quotes!