Today's recipe for Baked Peach Oatmeal is difficult to describe. If you love peach crisp and old fashioned baked Rice Pudding like my Mama Reed made, this is a blend of those flavors.
Have For Breakfast or a Treat Anytime
Technically, this baked peach oatmeal is a breakfast. But it is so very good and just lightly sweet enough that it could also be a dessert at the end of a soothing meal. Rather than just oatmeal, it has a custardy texture and taste to it, with a hint of brown sugar and warm peaches to keep you coming back for just one more bite.
And now for my dish of comfort and contentment, all rolled into one; Baked Peach Oatmeal. I hope you'll get to make it soon and eat it slowly savoring every bit.
To make this Baked Peach Oatmeal you'll need:
Milk
Old Fashioned Oats
Cinnamon
Butter
Eggs
Brown sugar
Peaches
Baking powder
Baking soda
Salt
Vanilla
How to Make Baked Peach Oatmeal
Step By Step
In a medium sized bowl, place melted butter, milk, vanilla, and eggs and stir up with a fork or whisk until well blended.
In a large mixing bowl place oats, baking powder, baking soda, brown sugar, and cinnamon.
Stir together until well combined.
Add in liquid mixture and stir again.
Pour into greased 8×8 baking dish. Bake at 350 for 40-45 minutes or until set and lightly browned on the top.
I wish you could smell this.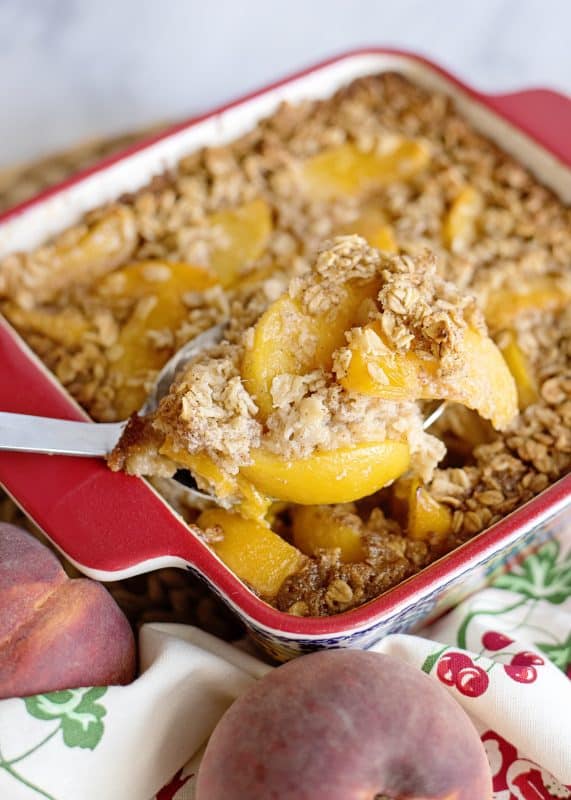 Serve it hot – but leftovers reheat like a dream. Eat it as is, because it is utterly wonderful. If you want to take it over the top though…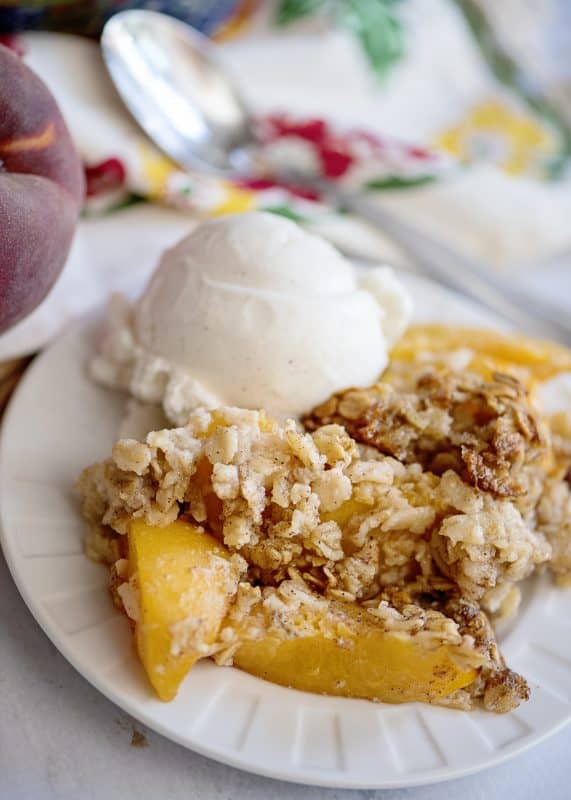 Pour a little heavy cream over it or serve with vanilla ice cream.

Ingredients
2

cups

old fashioned oats

29

ounce

can sliced peaches

drained

1/2

cup

butter

melted

1

+1/2 cups milk

1

teaspoon

vanilla

2

teaspoons

baking powder

1/2

teaspoon

salt

1/4

teaspoon

baking soda

1

teaspoon

cinnamon

1/2

cup

brown sugar

2

eggs
Instructions
In large mixing bowl, stir together oats, baking powder, baking soda, cinnamon, salt, and brown sugar.

In separate medium bowl whisk together milk, melted butter, vanilla, and eggs.

Pour liquid into dry ingredients and stir until well mixed. Stir in peaches.

Spray an 8x8 baking dish with cooking spray or grease with butter.

Pour batter into dish and bake at 350 for 45-50 minutes, or until set and lightly browned on top.
Serve warm by itself or with fresh heavy cream or ice cream. It is delicious on it's own though. Could make this for breakfast and then heat up leftovers with ice cream for dessert at supper!
Nutrition
You may also like these recipes:
Apple Pie Oatmeal- And the time I paid $25 for a bowl of oats
Dehydrating Peaches (and recipes!)
"Even if something is left undone,

everyone must take time to sit still

and watch the leaves turn."

~Elizabeth Lawrence

Submitted by Diane Smith, thanks Diane!
This post featured on Meal Plan Monday.