This is Mama Reed's famous baked rice pudding recipe. It creates a rich comforting dessert that anyone who likes rice pudding will love!
Of course, Mama Reed was an amazing cook. Like the other matriarchs in my family, she was adept at making do with what ingredients were on hand and affordable, which made rice a regular ingredient for her cooking (even now, we all love a bowl of hot rice served with butter and sugar for breakfast). Most rice puddings are cooked in a pot on top of the stove, but our family has always baked rice pudding.
What is Rice Pudding?
Rice pudding is rice cooked in sweetened milk. As the rice cooks with the ingredients the starch in it creates a rich and creamy dish. You can start with uncooked rice or cooked rice. See information below for using both.
Why Bake Rice Pudding?
Baking this dish only requires stirring once or twice (depending on if you are using cooked or uncooked rice) versus frequent stirring if made on the stovetop. But what I love most of all about rice pudding when it is baked, is it develops a wonderful custard and transforms into a rich and comforting dessert. This pudding would be served at dinner for dessert and any leftovers could be re-served for breakfast. True comfort food. I'm sure Mama Reed would be proud to know we're still loving it today.
Ingredients you'll need:
White Rice
Eggs
Milk
Sugar
Salt
Raisins
Cinnamon
Vanilla
Actual recipe is at the bottom of this page.
How to Make Baked Rice Pudding
First off… cook up your rice. It will be added later in the recipe.
Crack eggs into a bowl and beat well with whisk.
Stir in sugar
Add milk into the eggs and sugar. Stir.
Add Vanilla and Cinnamon
Add Raisins. And stir in cooked rice.
Stir it up til it looks like this.
Pour into casserole dish or 9 x 13 in pan which has been lightly sprayed with nonstick cooking spray.
Place dish in a 9×13 inch pan and pour an inch or so of water into pan.
Bake at 300 degrees for 90 minutes.
After the first thirty minutes of baking, stir from the bottom.
Scoop and serve in fancy schmancy crystal glass wear or even better…regular cups or bowls will do!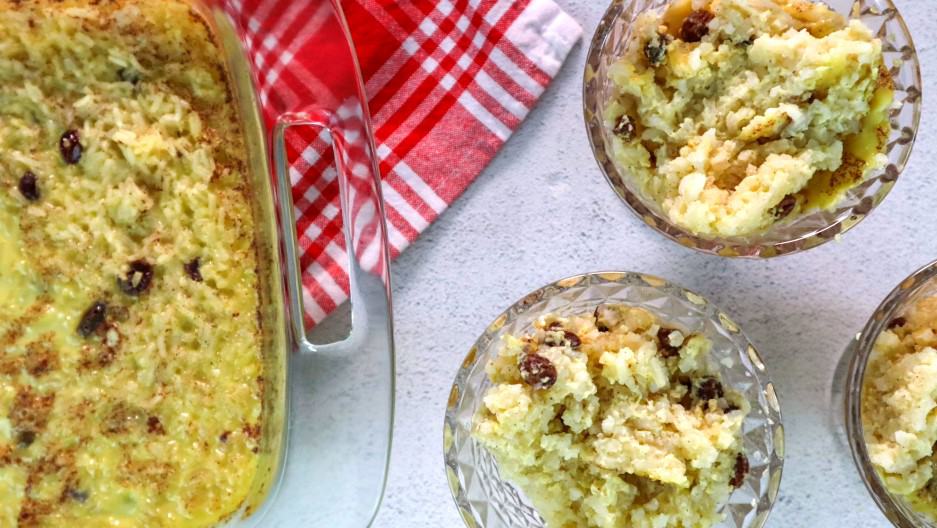 Devour.
Do I Have to Cook The Rice?
You don't. I do so the dish doesn't take as long to bake. You can add in uncooked rice but it will just take longer to make, potentially another 30 minutes to an hour or so. Make sure you stir more often too.
Ingredients
4

eggs

beaten

3

cups

milk

1

cup

sugar

1/2

teaspoon

salt

2

teaspoons

vanilla

2

cups

cooked rice

1/2

teaspoon

cinnamon

1/2

cup

raisins
Instructions
Cook up your rice. Beat eggs. Stir in sugar. Add other ingredients. Stir.

Spray oven proof casserole dish with Pam. Pour mixture into dish.

Set dish in pan of hot water and bake at 300 degrees for 90 minutes.

After 30 minutes of cooking insert spoon at edge of pudding and stir from the bottom to distribute rice and raisins.
Video
Nutrition