Here are some of the best sweet potato recipes I've featured on Southern Plate. Whether you're looking for a dessert, Thanksgiving side dish, or weeknight meal, I've got you covered.
I just love sweet potato recipes in the fall. It's such a versatile food that can be either sweet or savory. Plus, it's the perfect alternative to regular potatoes if you are trying to keep the sugars down. If you love sweet potato as much as I do, welcome to the club! I just know you're going to enjoy these delicious recipes.
And if you aren't the biggest sweet potato lover, I still recommend giving them a try because the flavors in these dishes really can't be beaten.
This selection of the 10 best sweet potato recipes features both sweet and savory dishes. Choose from favorites like Mama's sweet potato dumplings and my decadent vegan sweet potato cake with maple cashew icing.
The 10 Best Sweet Potato Recipes
This take on traditional creme brûlée is so decadent and delicious. Featuring sweet potato, custard, and brown sugar on top, I promise this dish isn't as difficult to make as you'd expect. I actually love to make it for Thanksgiving, as you can make it the day before and just broil the topping right before serving.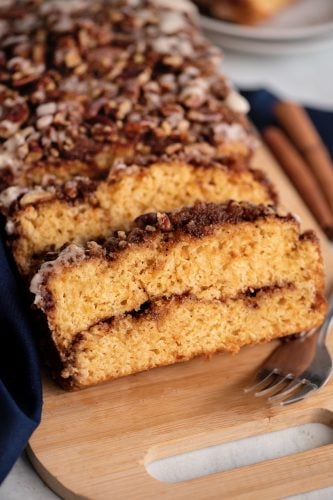 Move aside banana bread, sweet potato bread with cinnamon swirl is in town! The sweet potato, combined with the cinnamon swirl cake and pecans, is a match made in fall heaven.
Mama's sweet potato dumplings combine a cinnamon-spiced sweet potato filling with a crumbly flaky biscuit coating. The end result is a treat that is guaranteed to melt in your mouth. This is so good it's on my list of top 10 things I've ever eaten. Yep, I said it! It's not just one of the best sweet potato recipes, it's one of the best recipes period.
I love these sweet potato skins because they hit all the flavor groups. Loaded with candied bacon, sharp cheddar cheese, and creamy basil sauce, they're sweet, savory, salty, and spicy all at once. I call them a flavor explosion! You can serve them as an appetizer or a main meal. Whichever option you choose, just make sure you give them a go soon.
This vegetarian taco recipe is the perfect option for your next Taco Tuesday. Overflowing with spicy roasted sweet potato and black beans, to take these tacos to the next level you must make my deliciously creamy avocado and ranch sauce. Did I mention this meal is ready to eat in under 30 minutes? Yep, it's a good one!
Packed with fall flavors like cinnamon and ginger, as well as raisins and walnuts, you must try this vegan sweet potato cake with its decadent maple cashew icing. It's so rich and moist, thanks to the addition of applesauce. When I make it, I can't resist having a slice for breakfast, dessert, and even as an afternoon snack. It's irresistible!
A Southern specialty, all you need is four ingredients to make this easy candied sweet potatoes recipe. Every piece of sweet and buttery candied yam is guaranteed to melt in your mouth. I love serving my candied sweet potatoes alongside a main meal like fried chicken and other Southern side dishes.
Speaking of Southern side dishes, these loaded sweet potatoes with marshmallows are the perfect side to enjoy this Thanksgiving. Each sweet potato is overflowing with goodness, which includes butter, caramelized brown sugar, and a toasted gooey marshmallow topping. If you'd prefer one dish instead of individual sweet potatoes, I recommend checking out my sweet potato casserole with marshmallows.
This is what I call sweet potato pie, Southern Plate-style. It's a traditionally spiced sweet potato pie topped with a delectable streusel topping. Because it's a known fact that all desserts taste better when topped with a crumbly and sweet combination of brown sugar, butter, and pecans. Right?
Coated in brown sugar and cinnamon, these roasted sweet potato wedges are another great side dish to accompany any main meal. I love that they aren't over-the-top sweet, so I can totally go back for seconds!