How To Make Chicken Noodle Soup
Warm up with this simple but tasty homemade chicken noodle soup recipe. It couldn't be easier to make and the seasoning makes the flavors POP!
Two days ago, I received a call from a friend who had requested my homemade chicken noodle soup. Honestly, I didn't think it was that special when I came up with it. I just wanted to make a simple chicken soup that my kids would like. Thus no visible onions or bits of celery because we hide those in the broth!
I hit on something though because every time I mention making it I get an enthusiastic "YES!" from my son and that raised eyebrow grin from my husband. Even Katy, who is currently vying for the record of the world's pickiest eater, loves this soup. I try to always make plenty because it seems the family lines up at my door with soup bowls in hand so I just send it around to all of the houses! It's really very simple by design because y'all know how I like to keep things good and easy!
So, what can you expect to find in my homestyle chicken noodle soup recipe? Besides the mandatory chicken and noodles, it's also filled with carrots, celery, onion, and poultry seasoning. It may be simple, but it's truly flavorful and fortunately, easy to make.
Recipe Ingredients
Chicken
Carrots
Celery
Onion
Poultry seasoning
Noodles
A fryer
How To Make My Easy Chicken Noodle Soup Step By Step
Now, cut all of the tops and ends off of your carrots and SAVE THEM, we're going to use them to make our chicken broth. Then take one carrot and cut it into sections to add to the tops.
Cut up your celery just a bit, this is going in the chicken broth as well.
My celery was actually partially frozen and about ready to be thrown out due to that, so it was perfect for recycling into soup!
Quarter your onion. There is just no need to put a lot of attention into these because they are only for the broth.
Toss your carrot tops and ends, celery, and onion into a large pot with your chicken.
Cover with water and bring to a boil. Once it's brought to a boil, lower the heat a bit and cook until it cries "uncle!". Seriously, cook this for SEVERAL hours. This is going to make a good, rich broth. I cooked mine for four hours.
See? That chicken and those veggies have given up the ghost!
Now, take that chicken out and set it aside. I just put mine in a 9×13 pan and let it cool a bit so I can get the chicken off and shred it to add back.
Discard all vegetables and reserve the chicken stock.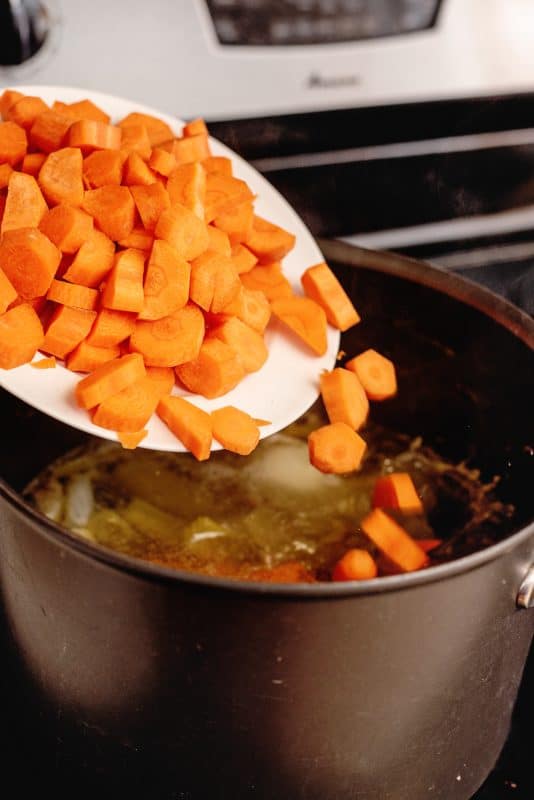 Peel and chop up carrots and add to the chicken stock. Cook until tender, but not mushy.
Add two tablespoons of poultry seasoning.
Add salt and pepper to taste.
Stir.
Shred the cooked chicken and place the shredded chicken meat back in the broth/chicken stock. If you want a great way to shred the chicken check out my video tutorial here about shredding meat.
Add pasta. Cook until pasta is tender.
Then serve a big bowl of chicken noodle soup to your happy family!
So good y'all, so good!
This is EXCELLENT The next day!
Storage
You can store chicken soup leftovers in an airtight container in the fridge for up to 5 days. Reheat in the microwave or on low heat. Alternatively, freeze portions for up to 3 months and thaw overnight in the fridge before reheating as instructed.
Recipe Notes
I like to get the whole carrots and whole celery stalks if I can because they just taste better in my broth!
For the noodles, you can get whatever you like. While most people and most homemade chicken noodle soup recipes opt for egg noodles

(some even go one step further and make

), I generally buy the

brand at Walmart that has teeny tiny shapes and I usually get the alphabet ones because the kids really like those. But today just used these small noodles called Ditalini. The great thing about them, too, is that they don't get all mushy in your soup. they just kind of get cooked and then stay wonderful.
Poultry seasoning is a lovely combination of thyme, sage, marjoram, nutmeg, pepper, and rosemary. So if you don't have any poultry seasoning on hand, feel free to use a combination of these herbs and spices instead (whatever you have on hand).
Serve your soup with garlic bread, fresh bread rolls, or even cornbread.
Here are some fun variations

to add more

to this

:

For a creamy chicken noodle soup, stir in 3 tablespoons of heavy cream or half-and-half before serving.
When you add the chopped carrots to the broth, add in up to four lemon slices to make a lemon chicken soup recipe.
If you want to add more vegetables, stir in some spinach or kale before serving. You could also add green beans, corn kernels, chopped zucchini, cabbage, pumpkin, sweet potatoes, or peas when you add the chopped carrots. The options are endless!
Instead of noodles, you can add potatoes, rice, or quinoa instead for something different.
Stir in half a cup of chopped

like parsley or

at the end.
Add three cloves of garlic to the chicken broth.
Want to add

more

with

a little heat? Add a sprinkle of red pepper flakes when you add the poultry seasoning.
Ingredients
1

whole chicken

5-6

carrots with tops

5-6

stalks celery

1

onion

1

bag

small pasta shapes

2

tablespoons

poultry seasoning

salt and pepper to taste

I use about two tsp salt, no pepper
Instructions
Cut the tops and ends off of the carrots and toss them in the stock pot. Coarsely cut up celery and add to the stock pot as well. Cut onion in fourths and add as well. Top with chicken and cover in water. Bring to a boil and lower heat, simmering for several hours.

1 whole chicken,

5-6 carrots with tops,

5-6 stalks celery,

1 onion

Remove the chicken and discard the vegetables, reserving the broth in the pot. Peel and chop up the remaining carrots and add to the broth, simmering until tender. Add seasonings.

5-6 carrots with tops,

2 tablespoons poultry seasoning,

salt and pepper to taste

Shred the cooked chicken and add the shredded chicken meat back into the broth once the carrots are tender. Add pasta and cook until done. Serve!
You may also enjoy these soup recipes:
Tomato Basil Soup Recipe Quick, Easy and Delicious
Cauliflower Soup Recipe With Cheese YUM!
Italian Sausage Soup With Gluten-Free Sausage
French Onion Soup Restaurant Style Made Easy