Chocolate Chip Cheesecake
With a creamy chocolate chip filling and decadent chocolate ganache on top, this chocolate chip cheesecake is easy to make and absolutely delicious.
I swiped this easy chocolate chip cheesecake recipe from my Mama's book of recipe clippings and I gotta tell y'all, this is now one of my favorite cheesecake recipes ever.
Now, you only need five simple ingredients you probably already have on hand: vanilla extract, cream cheese, sweetened condensed milk, an egg, and chocolate chips. Most cheesecake fillings involve simple ingredients. Of course, any cheesecake I make is gonna involve simple ingredients or I'm not making it. I save my "complicated stuff" brain cells for raising teenagers, navigating life, and juggling schedules. I don't have the time or inclination for complicated cooking.
Place that "simple" cheesecake filling in a graham cracker crust and after baking and cooling, we're going to top it with a creamy chocolate ganache. Yep, chocolate lovers are going to fall head over heels for this homemade chocolate chip cheesecake.
If you love this as much as me, you're going to need to immediately make a batch of these chocolate chip cheesecake bars. You can thank me later!
Recipe Ingredients
Graham cracker pie crust
Vanilla
Cream cheese at room temperature (here's our easy-peasy recipe for homemade cream cheese).
Sweetened condensed milk
Egg
Semi-sweet chocolate chips (or whatever kind of chocolate chips you have on hand).
How to Make Chocolate Chip Cheesecake
In a large bowl, place the softened cream cheese, condensed milk, egg, and vanilla extract.
Beat cream cheese mixture like a rug after a dust storm (or, you know, on medium speed).
Sprinkle your flour over the chocolate chips and toss them a little bit to coat.
Dump the chocolate chips into the cheesecake batter.
Stir 'em up a little bit with a spoon.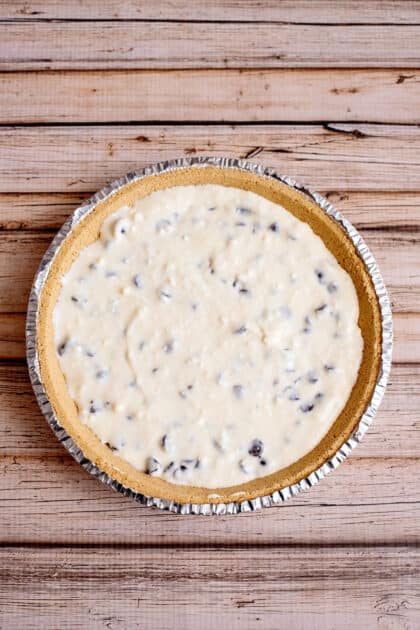 Pour the cheesecake batter into the graham cracker crust.
Bake at 350 for 25 minutes or so until set.
Note: the chocolate chip cheesecake will be a little bit puffy when you take it out of the oven but it will settle down and look like this after a few minutes.
Let this cool completely before adding the ganache topping.
How to Make Chocolate Ganache Topping
In a small bowl or small saucepot, place the heavy cream and chocolate chips for the ganache.
Now, traditionally folks make this on the stovetop and you can certainly do that.
To make it on the stovetop
Place ingredients in a small saucepot over low heat and stir constantly until chocolate is completely melted and the mixture is smooth and creamy. Immediately remove from the heat.
To make it in the microwave
Note: I have stopped sharing microwave recipes and such on SouthernPlate because I find that so many folks have vastly varying wattages in their microwaves and it really requires personal judgment and a careful eye to watch things cooked that way. Having said that, if you feel like doing it the easy way, join me in the next step.
Heat this in the microwave for about 30 seconds and stir, stir, stir.
Please do this on the stovetop if you have an older microwave or don't feel comfortable using your personal judgment to know when to stop heating.
Heat it another 30 seconds. Stir, stir, stir.
Repeat one more time. Stir, stir, stir.
By this time, our bowl is already very warm and if there are little bits of chips that have not yet melted, just keep stirring because between that and the warm bowl, they will melt soon.
Once the chocolate ganache is all smooth and creamy, do this…
Pour ganache over the pie and spread it around a bit to cover the top.
Now cover this and put it in the fridge for several hours.
When ready to serve, remove your chocolate chip cheesecake from the fridge, slice, and dig in!
If you want to go that extra step, add some whipped cream and extra chocolate chips on top.
Look at those chocolate chips!
You simply must make this soon! It is SO GOOD!
Storage
Store cake leftovers in an airtight container in the fridge for up to 5 days. You can also freeze leftovers for up to 2 months. Thaw overnight in the fridge before serving.
Recipe Notes
Sprinkling the chocolate chips with flour and tossing them about gives them a coating that can cling to the cake batter a bit and keep them from sinking to the bottom of the pie. Mini chocolate chips also won't sink as quickly as regular chocolate chips. This also works well for berries and such when making a berry pie.
Adapt this cake recipe to suit you. You can use miniature chocolate chips, dark chocolate chips, white chocolate chips, caramel bits, or peanut butter chips.
Instead of the chocolate ganache, you can simply top your chocolate chip cheesecake with whipped cream (here's my homemade whipped cream recipe) and some decorative chocolate chips. Another option is serving a slice with a scoop of vanilla ice cream and some chocolate sauce as I did above. YUM.
Ingredients
1

graham cracker crust

1

package

cream cheese

at room temp

1/3

cup

sweetened condensed milk

1

tsp

vanilla extract

1

egg

1

cup

semi-sweet chocolate chips

or whatever chocolate chips you have
Chocolate Ganache
1/2

cup

chocolate chips

1/4

cup

heavy cream
Instructions
Place the softened cream cheese, egg, vanilla extract, and condensed milk in a large bowl. Beat with an electric mixer until smooth and creamy. Stir in the chocolate chips and pour this cream cheese mixture into the pie crust.

1 graham cracker crust,

1 package cream cheese,

1/3 cup sweetened condensed milk,

1 tsp vanilla extract,

1 egg,

1 cup semi-sweet chocolate chips

Bake at 350 for 25-28 minutes, or until set in the center. Allow to cool completely.

To make the ganache, combine the chocolate chips and heavy cream in a small saucepot over low heat. Stir constantly until melted and well blended. Pour over the top of the cheesecake and allow it to cool.

1/2 cup chocolate chips,

1/4 cup heavy cream

Cover and refrigerate for several hours before serving.
Nutrition
You might like these other dessert recipes:
"It takes as much energy to wish as it does to plan."
~Eleanor Roosevelt
Submitted by Pat Payne. Thanks, Pat! Click here to submit your own.