This summer pie recipes post has a sweet summer pie treat for everyone. Whether you're searching for a no-bake pie, a frozen ice cream pie, or a fresh fruit pie.
I've previously shared 6 cool summer pies, but today I'm going one step further with 12 summer pie recipes. This post truly has a pie for everyone (and not an apple pie in sight). There's a decadent chocolate pie, old-fashioned lemon meringue pie, lots of fruit pie recipes, and even an Oreo pie.
Life IS sweet, but if we don't get out there and taste it, we'll never get to appreciate how much. Now, how 'bout some pie?
The Best Summer Pie Recipes
This triple chocolate brownie pie recipe is so easy and so good. In our pie crust, we're going to bake a deliciously decadent brownie mix, which is loaded with chocolate chips. Then we're going to serve it with a large scoop of vanilla ice cream and chocolate sauce for the ultimate dessert. Is anyone else's mouth watering right now?
Another decadent summer pie recipe to try is my frozen turtle pie. Folks, this one is SO good. It starts with a chocolate pie crust, then we add caramel sauce, chopped pecans, and creamy chocolate pudding. All you have to do is pop it in the fridge to chill and then serve it with whipped cream and a drizzle of Magic Shell.
This old-fashioned pie recipe includes some interesting ingredients. But when they combine, magic happens! Those ingredients are chopped pecans, a fruit cocktail can, and saltine crackers. But you can substitute the fruit cocktail for any canned fruit or fresh fruit you like, including pineapple or fresh berries.
Another day, another summer pie recipe for chocolate lovers. While I call this a chocolate chip cheesecake, it actually uses a graham cracker crust. On top, you'll find a creamy chocolate chip and cream cheese pie filling with chocolate ganache.
Buttermilk pie is a classic Southern dessert and one of my personal favorite summer pie recipes. It's so easy to make and the custard-like buttermilk filling is creamy, sweet, and rich all at once. I bake it in my homemade pie crust, which I promise is so easy to make. There's no pie dough, you just mix the ingredients in one pan and bake! I love to serve a slice of buttermilk pie cold with whatever fresh berries or fresh fruit I have on hand, and a dusting of powdered sugar.
If you're looking for a kid-friendly summer pie, you've found it. Frozen Oreo pie is another easy one to make with only 4 ingredients (plus a chocolate pie crust). All you need is Oreos, whipped topping, milk, and white chocolate pudding mix. You can either refrigerate or freeze it, but when it's hot I can never resist a slice of frozen Oreo pie. You may also like my mint Oreo ice cream pie recipe.
You can't have a post on summer pie recipes without a strawberry pie, right? Now, there are a few berry pie recipes on my blog, like my fresh strawberry pie, strawberry ice cream pie, and strawberry jello pie. But today I'm highlighting my strawberry cream pie, which is basically a strawberry cheesecake pie.
Made with fresh strawberries, whipped topping, and cream cheese in a graham cracker crust, this strawberry cream pie is another no-bake pie option. Refrigerate for several hours and then top with strawberry preserves for a heavenly dessert.
Banana cream pie (and coconut cream pie) are popular summertime desserts. But this caramel banana pie is a Southern twist on the classic banoffee pie. We pair fresh bananas with dulce de leche for a decadent, creamy, and caramel-flavored pie filling.
Now, there are a few meringue summer pie recipes on Southern Plate, including orange meringue pie, old-fashioned peanut butter pie, and coconut meringue pie. But this Southern lemon meringue pie is perfection in every bite! It includes soft vanilla wafers as the cookie crumb crust, with a sweet and zesty lemon filling made with condensed milk. Add fluffy meringue on top and you have a delicious dessert.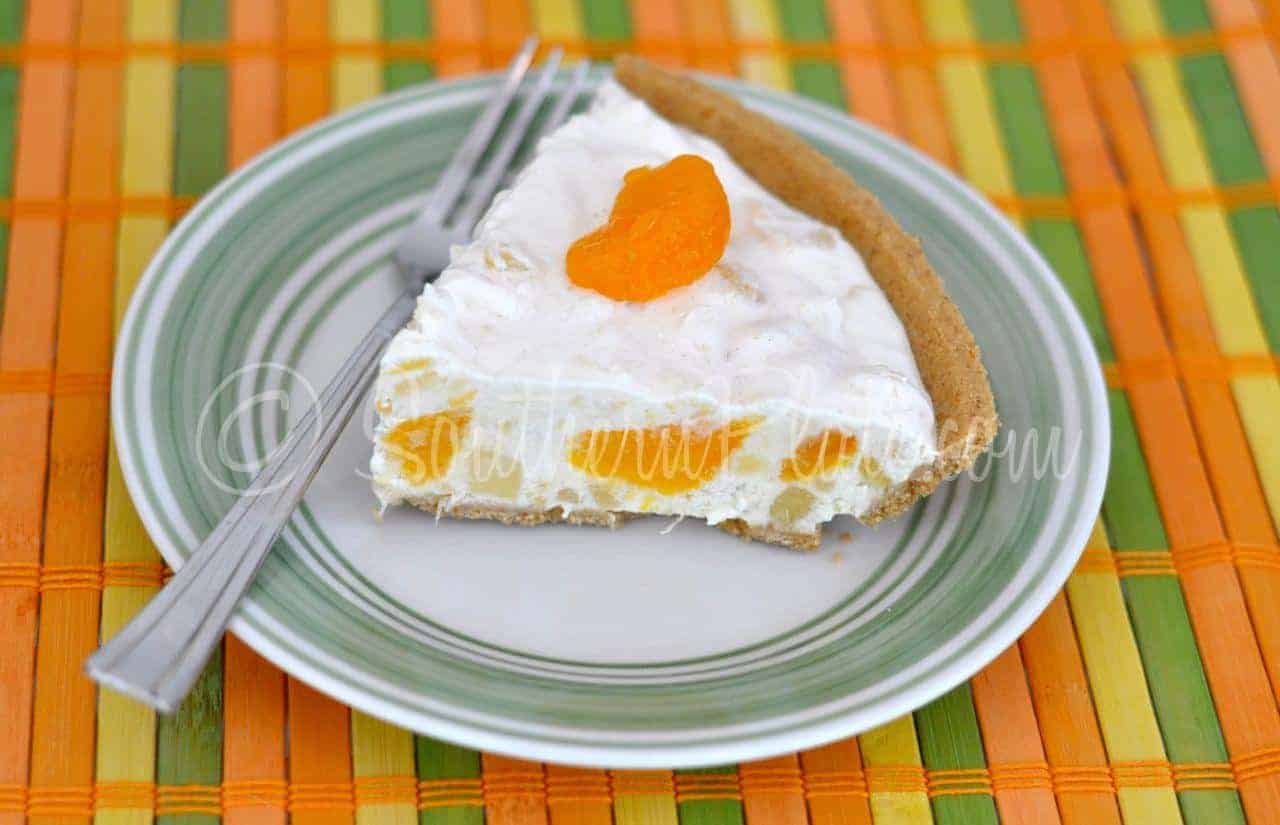 I like to think this mandarin orange pie tastes like sunshine, which is why it's the perfect summer pie. The filling includes sweetened condensed milk, whipped topping, lemon juice, crushed pineapple, and mandarin oranges. In a graham cracker crust, this fruit pie is so creamy and so refreshing on a hot summer's day.
You won't believe that one of the main ingredients in this deliciously creamy and buttery pie is water! A classic Southern pie from the Great Depression when food was scarce, this is one of those recipes that needs to be seen to be believed. So give it a go this summer!

Peaches and summer go hand in hand, so I just had to include a peach pie recipe. My buttermilk peach pie is overloaded with peach slices in a scrumptious buttermilk filling. Enjoy this with a scoop of vanilla ice cream or whipped cream. You may also want to try my peaches and cream pie if you have lots of fresh peaches this summer.
"When you wake up to find you've been given an entire day, the world and all its possibilities, complete with sunshine, love, and hope – The best first response would be 'Thank you.'"
~Christy Jordan