Oh how I love this Corn Chowder Recipe!
Tina's Corn Chowder is my only chowder recipe. Tina is family and I wanted to thank her for sharing it with me years ago. I put my own spin on it and it is still as good as ever.
Chowder has never seemed a southern dish to me, but I sure to enjoy this one. It's the name that makes it seem non-southern I guess. I picture folks coming in from lobster fishing (or catching…or whatever it is you do to get lobsters) wearing thick sweaters and speaking like the Kennedy's. That's what watching too many commercials will do to ya!
Tina's Corn Chowder is a great meal for vegetarians too.
Simply substitute the chicken broth with vegetable broth and you're off to the races! It is hearty, filling, oh so warm, and has just the right blend of flavors. I adore it.
Ingredients To Make this Corn Chowder Recipe are:
Onion
Red potatoes
Jalapeno peppers (optional but would recommend, adds a nice bit of flavor)
Paprika,
Frozen corn
Milk
Green pepper
Chicken broth
Flour
Salt
Butter
Crushed pepper flakes
Green onions
Dijon mustard*
*The original recipe also calls for a bit of Dijon mustard. I do recommend using this but I didn't have any and y'all know how I hate to go all the way to the store just for one little ingredient when I can very well do without it.
Printed recipe with instructions and amounts of ingredients are below in the printable recipe card.
How To Make Corn Chowder Step by Step
Chop bell pepper, onion, green onion, jalapeno, and potatoes.
You can also use a jalapeno from a jar if you like, or leave it out entirely – but the little bit heat it lends adds great body and flavor to this.
Melt your butter in a stock pot over medium heat so you can saute all of this goodness in it. Saute white onion and bell pepper until tender.
For those of y'all just now joining the Southern Plate Family, I wanna say two things. First of all, WELCOME! We're so glad you're here. Secondly, Yes, you can use either real butter or margarine if you like. I fully understand that budget is a necessary component in ingredient choice. No judgement here.
Saute onions and peppers until they are tender. This will just take a few minutes on medium high heat.
Add potatoes to stock pot. Pour in Chicken Broth.
Bring to a boil. Reduce heat and cover, cooking for about fifteen minutes.
Add chopped jalapeno, salt, crushed red pepper, and paprika.
Add in frozen corn.
You can use canned corn if you like, I just prefer frozen.
Here is a little grocery tip: If you are ever out and about and need to pick up something cold but don't have a cold bag with you for your car, just pick up a bag or two of frozen corn. This acts as a wonderful ice pack, usually costs about a dollar per bag, and is always handy to have in your freezer.
Add 1.5 cups of milk. Bring this just to a boil and cook for about fifteen minutes, stirring from time to time.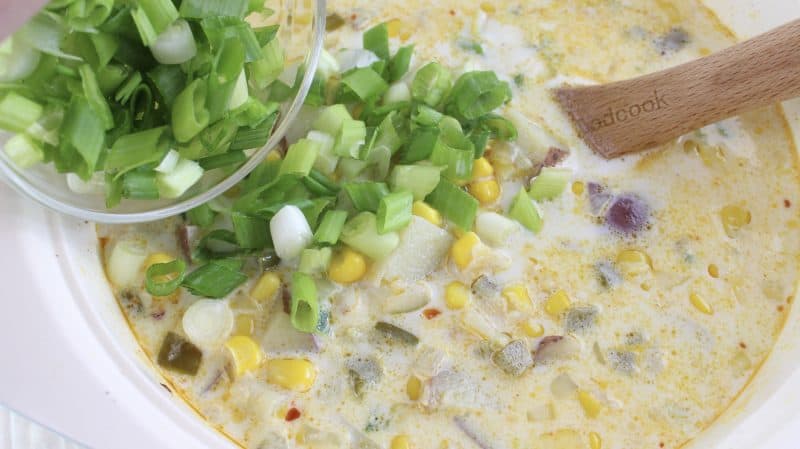 Add in the chopped green onions.
Green onions and the sweet juicy corn are my favorite parts of this chowder. Just in case that question was burning in your mind. "Christy, what are your favorite ingredients in this chowder?"
Meanwhile, back at the ranch…
Add flour and remaining milk together and give this a good stir to blend until it's smooth.
Stirry, Stirry, Stirry!
After the fifteen minutes of gently boiling your chowder, pour milk/flour mixture in and stir again. Cook this for about two minutes, or until thick and bubbly.
And you're done! Doesn't this Corn Chowder look YUMMY?
Feel free to add bacon and cheese as well
Printable recipe below!
Ingredients
2

Tablespoons

butter

1

Med onion

Chopped

1

med green bell pepper

chopped

14.5

oz

can chicken broth

2

large red potatoes

cubed (I had smaller ones so I used four)

1

jalapeno pepper

seeded and chopped

1/2

teaspoon

paprika

1

teaspoon

salt

1/4-1/2

teaspoon

crushed red pepper flakes

3

cups

frozen corn

3

cups

milk

divided

4

green onions

chopped

1/2

cup

all purpose flour
Instructions
In medium sized stock pot over medium high heat, melt butter and then saute' onion and bell pepper until tender. Add broth and cubed potatoes.

Bring to a boil, reduce heat, cover and simmer for fifteen minutes.

Stir in jalapeno, salt, paprika, and red pepper flakes. Add corn 1.5 cups milk. Bring just to a boil, stirring from time to time. Add green onions.

Combine flour and remaining milk and mix well. Gradually add this to the chowder. Boil while stirring constantly, for two minutes or until thick and bubbly. Serve hot. Top with bacon and cheese, if desired.
Notes
I originally published this recipe in 2008 and have recently updated it with new photos and better written instructions. I hope you enjoy this long time family favorite!
Nutrition
WHEW isn't that ingredient list long? Y'all know I wouldn't have a recipe with THAT many ingredients if it wasn't good!! Still, no weird stuff that you wouldn't be able to use again in another recipe!!
Today is a GREAT day waiting to happen! Get out there and enjoy it!!
Gratefully,
Christy
You may also enjoy these hearty cold weather recipes:
Tomato Basil Soup Recipe Quick, Easy and Delicious
Italian Sausage Soup With Gluten Free Sausage
Cauliflower Soup Recipe With Cheese YUM!
French Onion Soup Restaurant Style Made Easy
It's better to aim for the Stars and miss,
than to aim for the ditch and hit it.
Submitted by Donna. Submit your quote or read more by clicking here.