Hearty, creamy, and loaded with the perfect blend of flavors, this potato corn chowder recipe is a comfort food dish to enjoy when the temperature drops.
Oh, how I love this potato corn chowder recipe from my dear friend, Tina. This is my only chowder recipe. Tina is family and I wanted to thank her for sharing it with me years ago. I put my own spin on it and it is still as good as ever. In fact, it's a long-time family favorite. I enjoy making my corn chowder when we have company or on cooler days. It's the ideal comfort food to warm you up when it's cold.
Chowder has never seemed a Southern dish to me, but I sure do enjoy this one. It's the name that makes it seem non-Southern I guess. I picture folks coming in from lobster fishing (or catching… or whatever it is you do to get lobsters) wearing thick sweaters and speaking like the Kennedys. That's what watching too many commercials will do to ya!
Anyway, don't be overwhelmed by the slightly long list of ingredients to make this potato corn chowder recipe. Y'all know I wouldn't have a recipe with THAT many ingredients if it wasn't good! We just need lots of delicious vegetables to make it hearty and filling. In fact, the green onions and the sweet juicy corn are my favorite parts of this chowder. Just in case that question was burning in your mind: "Christy, what are your favorite ingredients in this chowder?"
Then there are shelf-stable ingredients that combine for just the right blend of flavors. Yep, I promise there is no weird stuff that you wouldn't be able to use again in another recipe! Most importantly, it's a super easy recipe to follow and you'll be enjoying a delicious bowl of chowder in no time. By the way, this is vegetarian-friendly too. Simply substitute the chicken broth with vegetable broth and you're off to the races!
Now, let's make some potato corn chowder. Gosh, I just adore this recipe.
Recipe Ingredients
Onion
Red potatoes
Jalapeno peppers (optional but would recommend, adds a nice bit of flavor)
Paprika
Frozen
Milk
Green pepper
Chicken broth
Flour
Salt
Butter
Crushed pepper flakes
Green onions
Dijon mustard
How To Make Potato Corn Chowder
First, chop the bell pepper, onion, green onion, jalapeno, and potatoes.
You can also use a jalapeno from a jar if you like, or leave it out entirely. But the little bit of heat adds great body and flavor to this.
Melt your butter in a stockpot over medium heat so you can saute all of this goodness in it. Saute white onion and bell pepper on medium-high heat until tender.
For those of y'all just now joining the Southern Plate Family, I wanna say two things. First of all, WELCOME! We're so glad you're here. Secondly, yes, you can use either real butter or margarine if you like. I fully understand that budget is a necessary component in ingredient choice. No judgment here.
Add potatoes and chicken broth (or vegetable broth) to the stockpot.
Bring to a boil. Reduce heat and cover, cooking for about 15 minutes.
Add chopped jalapeno, salt, crushed red pepper flakes, and paprika.
Then add in the frozen corn.
Add 1.5 cups of milk. Bring this just to a boil and cook for about 15 minutes, stirring from time to time.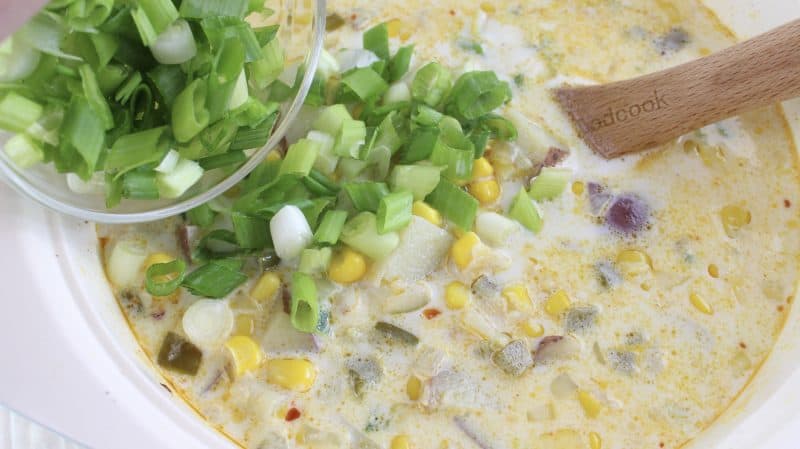 Add in the chopped green onion.
Add flour and the remaining milk together and give this a good stir to blend until it's smooth.
After gently boiling your potato corn chowder for 15 minutes, pour in the milk/flour mixture and stir again. Cook this for about two minutes, or until thick and bubbly.
And you're done! Doesn't this quick potato corn chowder look YUMMY?
Feel free to add crumbly bits of crispy bacon and cheese to the top as well and serve with some crusty bread.
Storage
Store leftover potato chowder in an airtight container in the fridge for up to 4 days. Reheat on the stove or in the microwave.
While you can also freeze leftovers for up to 3 months, the consistency won't be the same once thawed.
Recipe Notes
You can use canned corn or fresh corn if you like, I just prefer frozen. Speaking of, here is a little grocery tip. If you are ever out and about and need to pick up something cold but don't have a cold bag with you for your car, just pick up a bag or two of frozen corn. This acts as a wonderful ice pack, usually costs about a dollar per bag, and is always handy to have in your freezer.
While potato and corn are the hero vegetables, you can really add whatever you like. For example, many corn chowder recipes include diced carrot and celery instead of bell pepper.
To make this vegan corn chowder, you can easily use vegetable stock, coconut milk or almond milk, and the oil of your choice instead of butter.
If you want to make this corn chowder heartier, add the protein of your choice when you add the potatoes:

cooked and crumbled sausage
leftover diced chicken pieces or rotisserie chicken
salmon or garlic shrimp
Recipe FAQs
How do you make potato corn chowder in a crockpot?
If you'd prefer to use a slow cooker, I'd still saute the bell pepper and onion initially and then add all other ingredients to your crockpot. Cook on low for 6 to 8 hours or high for 3 to 4 hours. About 15 minutes before it's done, add the flour/milk mixture to thicken the chowder.
What do you serve with corn chowder?
Serve your potato corn chowder with a grilled cheese sandwich, homemade dinner rolls, garlic bread, homemade cornbread, or a simple tangy salad like my tomato, onion, and cucumber salad. You can also add different toppings. I mentioned cooked bacon and shredded cheddar cheese above, but other options include chopped fresh parsley or chives, chopped jalapeno, or croutons.
You may also enjoy these hearty cold-weather recipes:
Our Family's Southern Chicken Stew Recipe
Italian Sausage Soup With Gluten-Free Sausage
Cauliflower Soup Recipe With Cheese
Ingredients
2

tablespoons

butter

1

chopped onion

1

chopped green bell pepper

1

can

chicken broth

14.5 ounces

2

large red potatoes, cubed

1

jalapeno pepper, seeded and chopped

1/2

teaspoon

paprika

1

teaspoon

salt

1/4-1/2

teaspoon

crushed red pepper flakes

3

cups

frozen corn

3

cups

milk

divided

4

green onion, chopped

1/2

cup

all-purpose flour
Instructions
In a medium-sized stockpot over medium-high heat, melt the butter and then saute the onion and bell pepper until tender. Then add the broth and cubed potatoes.

2 tablespoons butter,

1 chopped onion,

1 chopped green bell pepper,

1 can chicken broth,

2 large red potatoes, cubed

Bring to a boil, reduce heat, cover, and simmer for 15 minutes.

Stir in the jalapeno, salt, paprika, and crushed red pepper flakes. Add the corn and 1.5 cups of milk. Bring just to a boil and then simmer for 15 minutes, stirring from time to time. Add the green onion.

1 jalapeno pepper, seeded and chopped,

1/2 teaspoon paprika,

1 teaspoon salt,

1/4-1/2 teaspoon crushed red pepper flakes,

3 cups frozen corn,

3 cups milk,

4 green onion, chopped

Combine the flour and remaining milk and mix well. Gradually add this to the chowder. Boil while stirring constantly, for two minutes or until thick and bubbly. Serve hot. Top with bacon and cheese, if desired.

3 cups milk,

1/2 cup all-purpose flour
Nutrition
It's better to aim for the Stars and miss,
than to aim for the ditch and hit it.
Submitted by Donna. Submit your quote or read more by clicking here.