Some recipes just get you talking about the old days, which is why we love them so much. Cranberry Crunch is one of those recipes that gets my mother to talking about her childhood. The school lunch ladies often made this around the holidays and she loved it so much that one of them gave her the recipe for it, which has led us to enjoy it for the past couple of generations. Nothing like an heirloom recipe to bring memories back to life, especially around the holidays.
Cranberry Crunch ingredients are pretty simple. You'll need:
Whole Berry Cranberry Sauce
Old Fashioned Oats*
Flour
Brown Sugar
Butter
*I use old fashioned but quick will work just as well if that is what you have on hand. You can also use margarine instead of butter and don't waste a single moment fretting over it! As for brown sugar, I'm using dark because it is my very favorite, but if you have light or prefer light, knock yourself out!
How To Make Cranberry Crunch
Place your flour, oats, and brown sugar in a bowl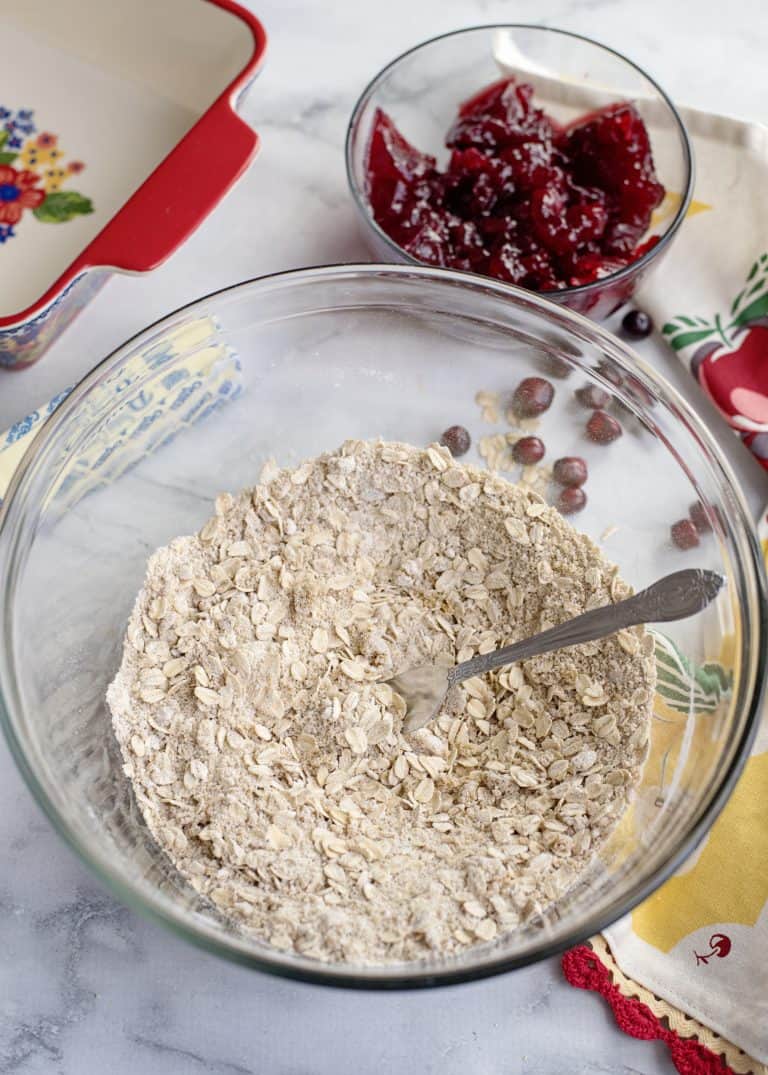 Add in your butter and cut that in with a long tined fork.
It will look like this picture above 🙂
Now spray a pie plate or 8×8 dish with cooking spray.
You can see some of these pretty dishes by fellow food blogger, Ree Drummond, here.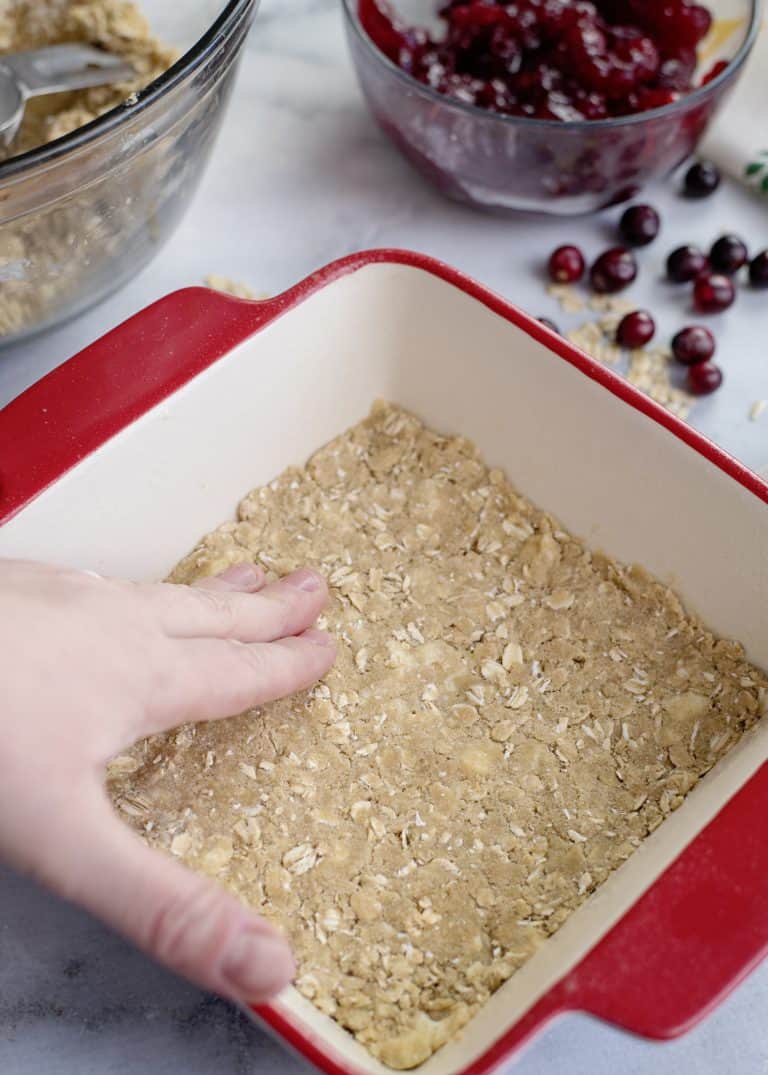 And press half of your mixture into the bottom of the pie plate to form the crust for Cranberry Crunch.
Top that with the entire can of cranberry sauce. I just glob it by spoonfuls on top of my little crust…
Then take that same spoon and spread it around a bit.
Sprinkle remaining topping over cranberry sauce.
Bake Cranberry Crunch at 350, uncovered, for 45 minutes to one hour, or until bubbly and browned.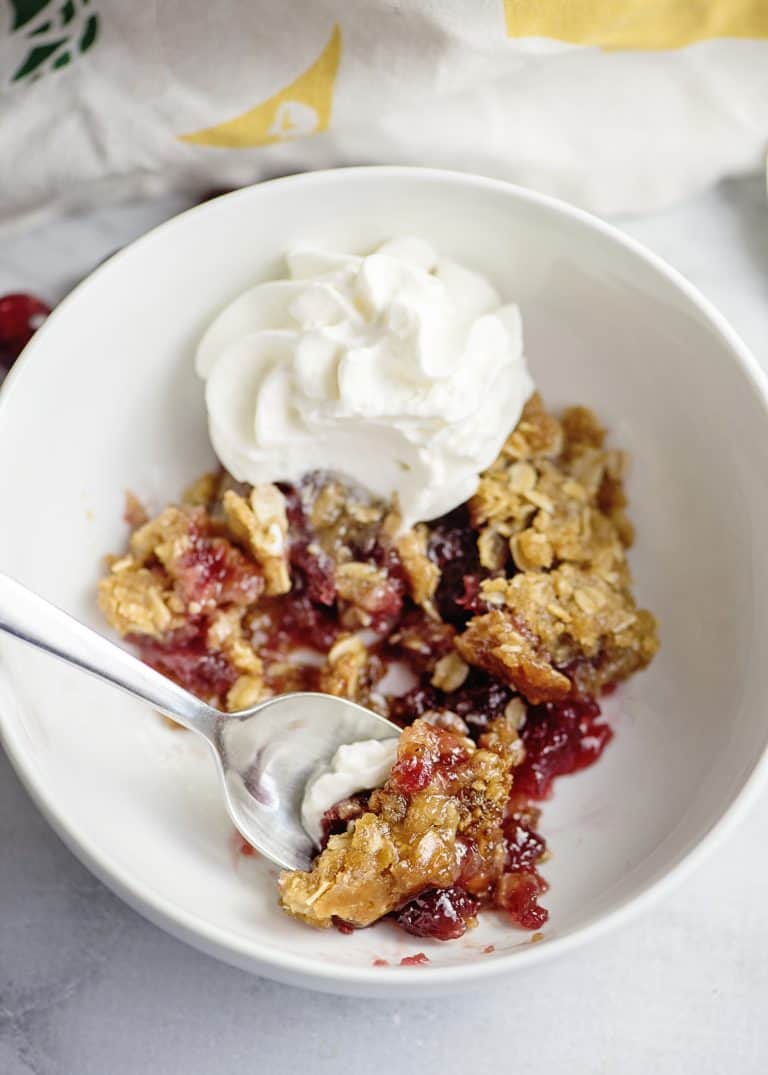 Cranberry Crunch is excellent served with whipped cream or ice cream but you can also serve it as a side dish as well. Enjoy!
Ingredients
1

Cup

oats

I use old fashioned but quick will work

1/2

Cup

all purpose flour

1- 16

ounce

can whole berry cranberry sauce

1

Cup

brown sugar

I use dark but light is fine

1/2

Cup

butter or margarine
Instructions
Mix the oats, flour, and brown sugar together. Cut in butter.

Pack 1/2 in bottom of greased pie plate or 8x8 dish.

Spread sauce over crust. Top with remaining crumbs.

Bake at 350 for 45 minutes to 1 hour, or until lightly browned. Excellent served with whipped cream or ice cream.
Nutrition
You may also like these recipes with Cranberry as well:
Cranberry Orange Meatballs Appetizer Anytime
Upside Down Cranberry Pecan Cinnamon Rolls
Don't set yourself so firmly on remembering Thanksgivings past that you forget to put your heart into this one.