Learn how to make this DELICIOUS party punch that my family enjoys on special occasions. Each time I serve it, I always get asked for the recipe!
With New Years Eve upon us, I thought this would be a great time to bring you an old fashioned, super simple punch recipe that is suitable for everyone. My kids, our families, and our friends always enjoy this delicious punch whenever we have a get together.
This is a I've been making since I was a teenager that is easily customizable. Today I'm going to show you how to make it using Splenda and Sprite Zero. This significantly cuts out the sugar and leaves the only remaining sugars to be the natural sugars in the pineapple juice. You can also use full sugar Sprite (or 7-Up, or the like) and real sugar if you like, or an artificial sweetener of your choice (I love Ideal brand sweetener when I can find it).
Now let's talk about New Year's Eve. I can tell you right now that I've got BIG plans with a capital B!
You see, my mother always said that whatever you were doing at midnight is what you'd be doing all year long. So every year, like clockwork when that ball dropped in Time's Square, I knew exactly where my hard working mother could be found: Snoozing away, dead asleep in her bed.
My Mama has always been a smart lady. I've been out at midnight a handful of times in my life and have yet to find an experience that brought me more joy than avoiding the traffic and rawkus crowds and just snoozing away in the peace and warmth of my bed.
So guess where I'll be when that clock strikes twelve? Yup. Dozing away. 🙂
OH! I forgot to tell you, the beauty of this punch is that you can change the flavor or color of it simply by changing one ingredient, and all that is required to make it is just pouring the ingredients into your punchbowl and stirring together.
Speaking of punch bowls, if you don't have one now is the time to grab one in the stores! They are sometimes difficult to find throughout the year but pretty much every department and discount store stocks them around the holidays. You can generally get a pretty glass one with a ladle and eight glasses for under twenty dollars. Of course, if you'd like a more high end punchbowl, they're certainly available. I've always wanted a pretty stainless steel one that looks like silver (without the maintenance) but I'm not ready to invest that much money in a single serving piece at this point in my life. A glass one suits me just fine 🙂
So you could head out today, buy the ingredients for this punch and a brand new punch bowl set for about $25.00.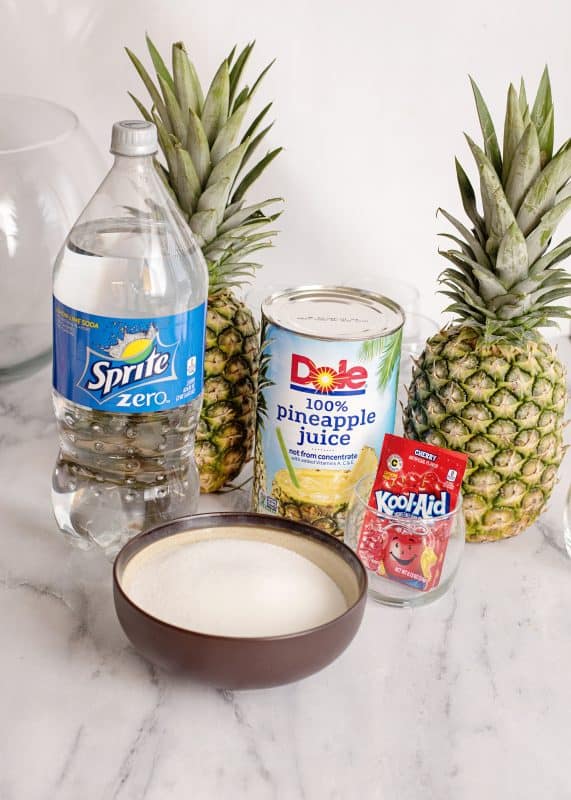 You'll need: Sprite Zero, Pineapple Juice, Splenda or sugar, and 2 packages of Kool Aid (or generic Kool Aid, like I'm using)
Nothing but the cheapest for my family! ~Grins~
You can also use 7-up or Ginger Ale if you like. I can't drink ginger ale because it doesn't like me 🙂
Pour your pineapple juice in a bowl. Add Kool Aid.
Add sugar (or Splenda)
Stir well.
Pour in Sprite. Gently stir again.
At this point, you can add an ice ring if you like. Instead of an ice ring, I just refrigerate all of my ingredients so the punch is good and cold. To make an ice ring, I'd make some kool aid ahead of time in whatever flavor you are using for the punch and put it in a jello mold or bundt pan. Freeze until firm and then dip just the bottom into warm water for five seconds before releasing it into your punch bowl.
Can serve over ice, with an ice ring in it, or just serve cold!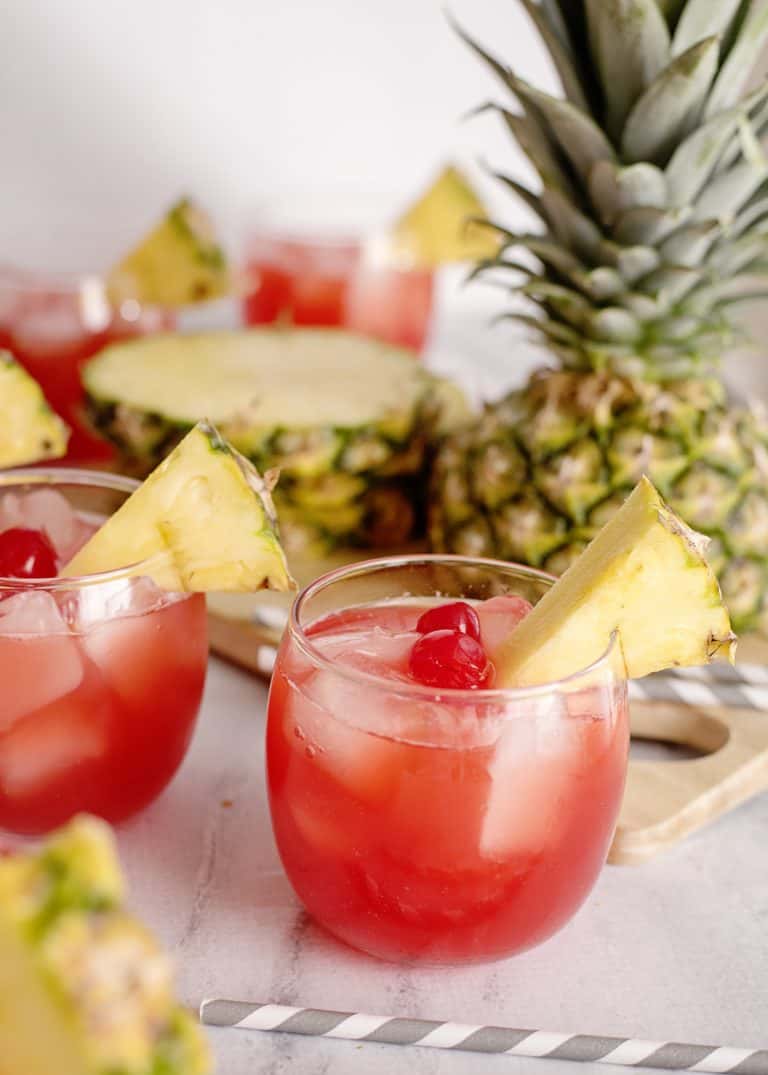 You can garnish with fresh fruit if you like or just serve it over ice or in punch cups, as I usually do. It is absolutely delicious and you just have to taste it soon!
Ingredients
46

ounce

can Pineapple Juice

2

Liter

Sprite or Sprite Zero*

2

Cups

Splenda or Sugar

2

packages flavored drink mix

such as Kool Aid
Instructions
In punchbowl, pour pineapple juice. Add drink mix and sugar/Splenda. Stir until dissolved. Pour in Sprite and serve.
*Can use 7-up, Ginger Ale, or other clear carbonated beverage of your choice.
Notes
I keep my sprite and juice in the fridge so that my punch is good and cold and I don't need an ice ring.
Nutrition
"What we do today, right now, will have an accumulated effect on all our tomorrows."

– Alexandra Stoddard

Submitted by Christy Ryan. Thanks Christy (love your name)! Submit your quote by clicking here.