Made with Sprite, sugar, Kool-Aid, and pineapple juice, this refreshingly sweet party punch will transport you to the tropics and is a must at your next event.
With New Year's Eve upon us, I thought this would be a great time to bring you an old-fashioned and super simple party punch recipe that is suitable for everyone. My kids, our families, and our friends always enjoy this delicious punch whenever we have a get-together.
I've been making this pineapple punch since I was a teenager. One of my favorite things about it is that it's so easily customizable. Our four main ingredients are Sprite, sugar, pineapple juice, and Kool-Aid. Today I'm going to show you how to make it using Splenda and Sprite Zero. This significantly cuts out the sugar and leaves the only remaining sugars to be the natural sugars in the pineapple juice.
But let this quick and easy party punch recipe work for you. Want to use granulated sugar instead? Go ahead. How about ginger ale or 7-Up instead of Sprite? I won't stop you! You can also change the flavor and color by simply changing one ingredient (spoiler: it's the Kool-Aid).
So, how do you make my party punch? Oh, it's hard, folks. You see, you have to pour the ingredients into a punchbowl, stir them together, and… yeah, that's all there is to it. So you can spend your time celebrating instead of making a punch. Sounds good to me!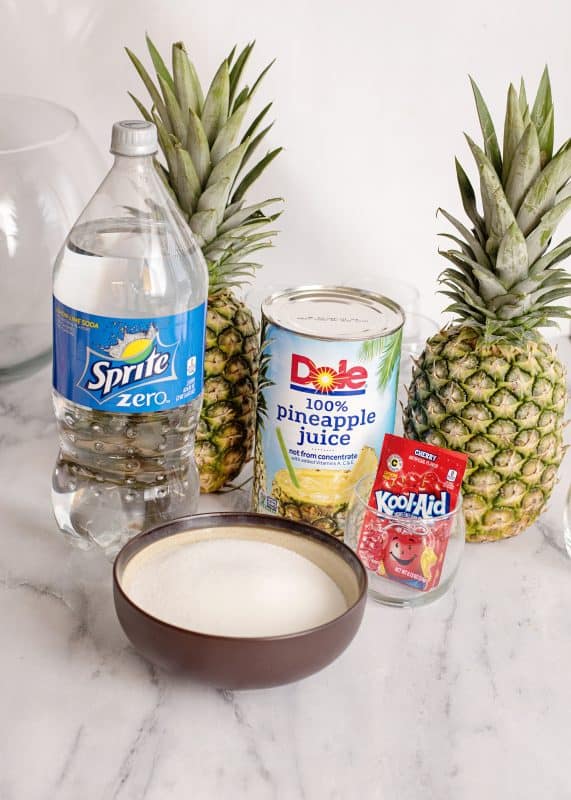 Recipe Ingredients
Sprite Zero
Pineapple juice
Splenda or sugar
Kool-Aid
How to Make Party Punch
Pour your pineapple juice into a large bowl and add the Kool-Aid, as well as the sugar (or Splenda).
Stir well.
Pour in Sprite and gently stir again.
At this point, you can add an ice ring if you like. Instead of an ice ring, I just refrigerate all of my ingredients so the punch is good and cold. To make an ice ring, I'd make some Kool-Aid ahead of time in whatever flavor you are using for the punch and put it in a jello mold or bundt pan. Freeze until firm and then dip just the bottom into warm water for five seconds before releasing it into your punch bowl.
Can serve over ice, with an ice ring in it, or just serve cold.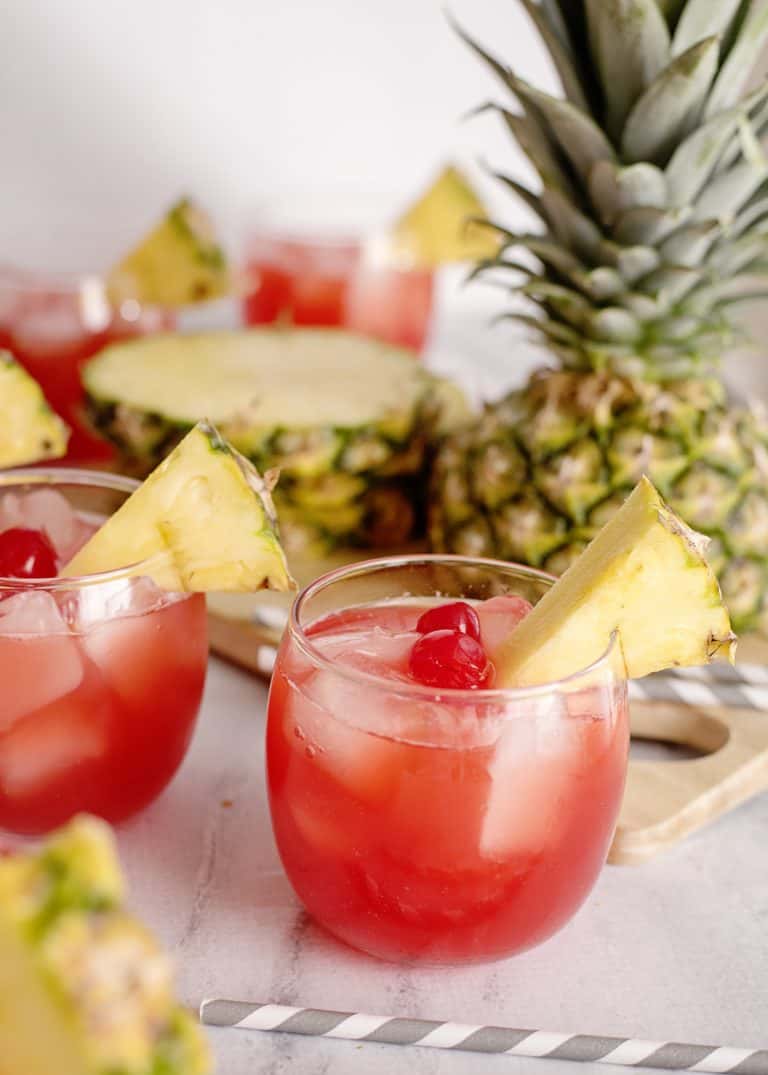 You can garnish it with fresh fruit if you like, as I've done with these pineapple wedges and maraschino cherries. Fresh berries would also work well. Otherwise, just serve it over ice or in punch cups.
It is absolutely delicious and you just have to taste it soon!
Storage
Because of the carbonated soda, you'll want to serve this immediately and not store leftovers, as it'll go flat pretty quickly.
Recipe Notes
Want to turn this into a party punch with alcohol? Opt for white rum, coconut rum, or vodka.
Lemon-lime Kool-Aid is also delicious in this pineapple punch

and is the perfect complement to

lemon-lime soda

. to take it to the next level! with a

As mentioned, use any kind of carbonated drink you like, such as 7-Up, Sprite,

, or even

.

Instead of adding fresh fruit as a garnish, chop up fresh pineapple into large chunks and freeze them. Then you can use the frozen pineapple chunks in place of ice cubes. The best part is, it's tasty and stops the punch from being watered down.
Recipe FAQs
Can you make a pineapple punch with sherbet?
Yes, if you want to make sherbet punch, all you have to do is add up to 2 quarts of pineapple sherbet to your punch bowl and mix well.
You may also like these tasty tipples:
Tropical Pink Mocktail (Fun Fruity Summer Drink)
Hawaiian Iced Tea (Non-Alcoholic Punch)
Wedding Punch (Non-Alcoholic Cranberry Punch)
Sugar-Free Peach Lemonade (2 Ingredients Only)
Ingredients
1

46-ounce can

pineapple juice

2

liters

Sprite or Sprite Zero*

2

cups

Splenda or sugar

2

packets

flavored drink mix such as Kool-Aid
Instructions
In a punchbowl, pour pineapple juice. Add drink mix and sugar/Splenda. Stir until dissolved.

1 46-ounce can pineapple juice,

2 cups Splenda or sugar,

2 packets flavored drink mix such as Kool-Aid

Pour in Sprite and gently stir again.

2 liters Sprite or Sprite Zero*

Serve with a fresh fruit garnish or simply over ice.
Nutrition
"What we do today, right now, will have an accumulated effect on all our tomorrows."
– Alexandra Stoddard
Submitted by Christy Ryan. Thanks, Christy (love your name)! Submit your quote by clicking here.