Crock Pot Black Eyed Peas With Smoked Turkey Leg
This two-ingredient meal of crock pot black eyed peas and smoked turkey leg cooks low and slow in the slow cooker for the most tender and flavorful dish.
Today I'm going to show you how to make black eyed peas, from dried beans, using your slow cooker. These beans cook perfectly and all you have to do is toss 'em in and go about your business!
With a new year upon us, Southerners start thinking about that special first big dinner, with all of its symbolic dishes that tradition tells us will bring wealth and good fortune in the coming year.
Here's a little history for you…Back in the days of the Civil War, Union troops swept through the South, confiscating crops and livestock to use as provisions for their troops. Southerners who weren't off fighting were left with precious little, save for peas and greens. These dishes became cherished and appreciated as what saved many a family from starvation during those times and the tradition of celebrating these dishes on the new year was born.
So there you have it, black eyed peas for good luck (the amount of good luck is supposed to be directly related to how many peas you eat) and collard greens or turnip greens for wealth, again with the amount eaten directly proportionate to how much wealth you will receive.
Of course, I don't believe that because I'm not a believer in luck and I know a pot of greens isn't going to bring me money, but I'll sure stick with this meal as a means of honoring tradition – and getting a plate full of my favorites, to boot!
Let's get cooking!
This crockpot black eyed peas recipe is ridiculously easy. All you have to do is add them to the slow cooker with a smoked turkey leg and some salt and then let them slow cook on low for up to 10 hours. In the end, you just know they're going to be as tender and flavorful as ever. Now, I know traditional New Year's Day meat is some type of pork. However, we don't eat pork anymore and we've found smoked turkey to be an excellent substitute.
For another favorite and vegetarian black eyed peas recipe, check out my Hoppin John post.
Recipe Ingredients
Dried black eyed peas
Salt
Smoked turkey leg
Helpful Kitchen Tools
How to Make Crockpot Black Eyed Peas
Place the turkey leg and dried peas into your slow cooker.
I am using a 6-quart slow cooker here.
It is always a good idea to "sort" your beans before adding them to the crockpot. Sometimes you'll find a small stone in the bag. Some brands have several. To sort them, just pour them into your hand a bit at a time, look at them to make sure they're all beans, and then toss them in the pot.
Add salt.
It takes a good bit of salt to make beans. I add a tablespoon for this whole crockpot.
Add enough water to cover everything.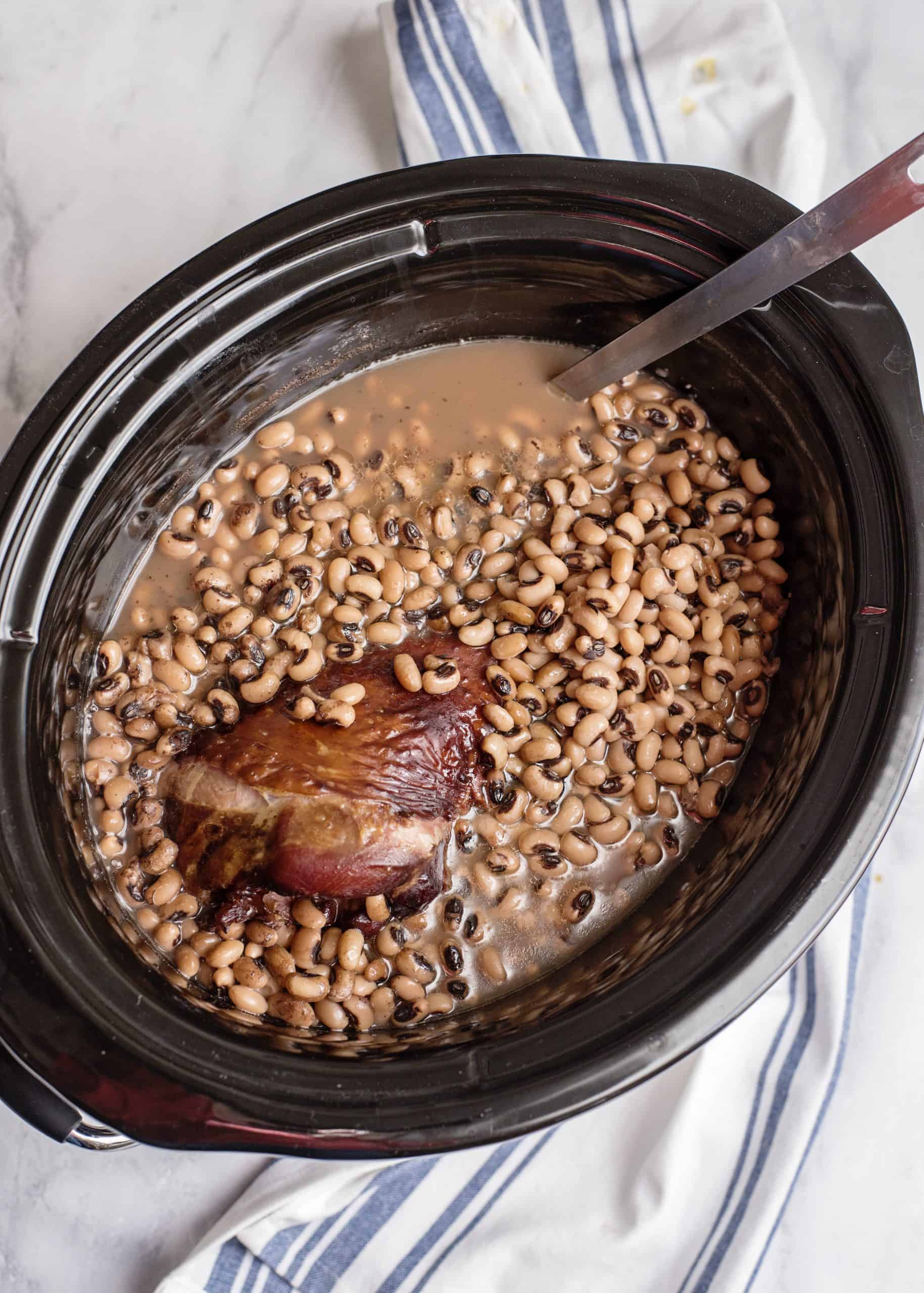 Put your lid on and turn that puppy on low for 8 to 10 hours.
Overnight is fine if you want to have them for lunch the next day.
The turkey will be very tender and easy to pull off and shred before adding it back to the crockpot.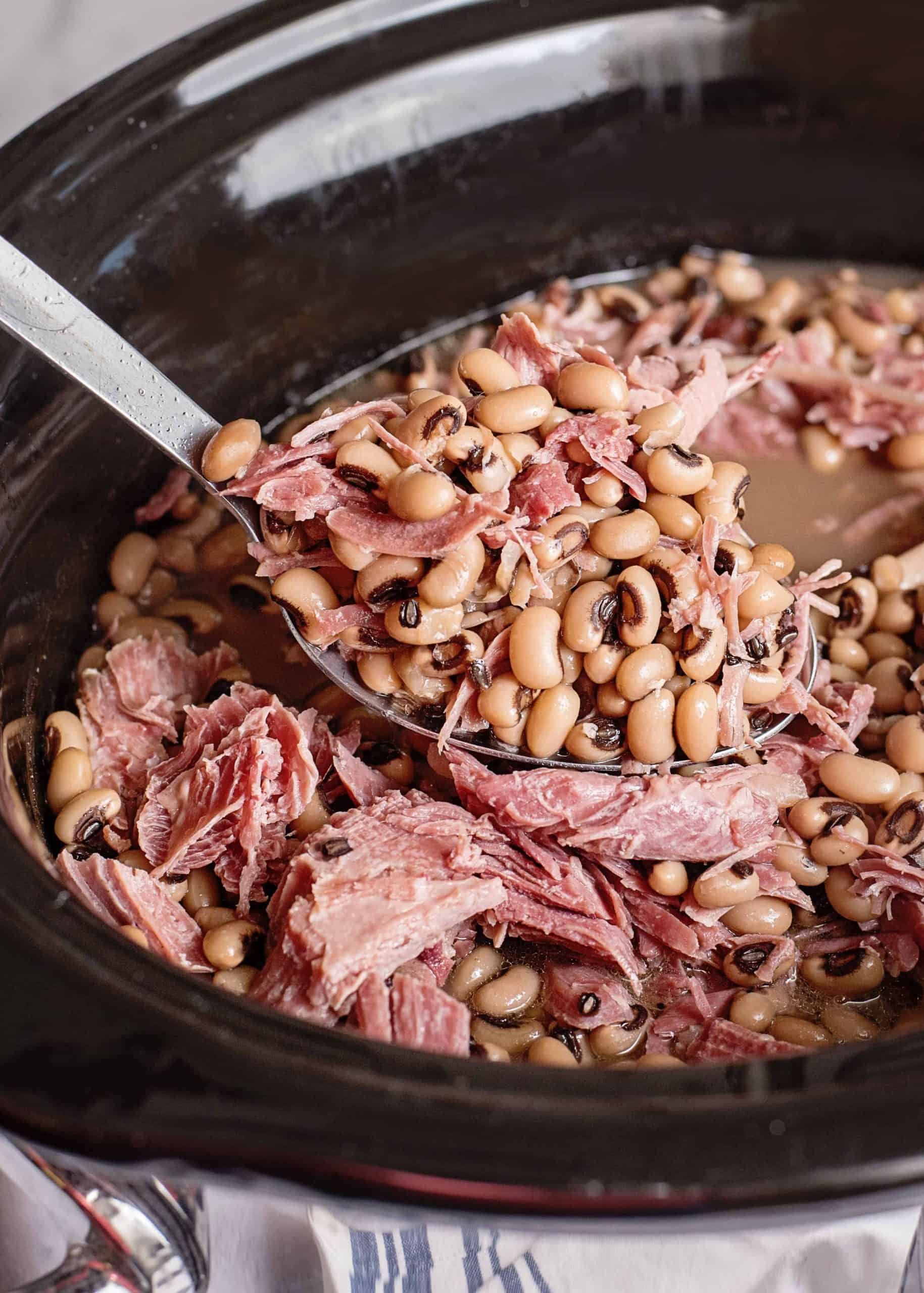 Oh goodness, that is some good stuff!
If you are making these slow cooker black eyed peas for New Year's Eve dinner (usually served around lunchtime), you can put them on before you go to bed at night and let them cook on low until you're ready to serve.
Storage
Store leftovers in an airtight container in the fridge for up to 3 days.
You can also freeze leftovers for up to 3 months. Thaw and then reheat either on the stovetop or in the microwave.
Recipe Notes
Feel free to substitute the turkey leg for 1 large ham hock.
You can also use a combination of diced ham and cooked bacon, kielbasa, or chicken thighs.
If you want to speed things up, you can place the slow cooker on high for 5 to 6 hours.
Want to add more flavor? Here are some suggestions:

Add 2 chicken bouillion cubes, which will combine with the water to make a delicious

.

Add 1/2 a chopped yellow onion and 2 minced garlic cloves.
For more heat, add 1/4 teaspoon of cayenne pepper.
Add a can of diced tomatoes.
Instead of meat, add in more veggies, like 1 cup each of chopped carrot and celery, and 1 diced bell pepper.
Add your favorite seasoning, like 1 teaspoon of cumin, 1 teaspoon of Cajun seasoning, or 1 teaspoon of oregano.
Recipe FAQs
Do black eyed peas need to be soaked before cooking?
Normally I would soak my black eyed peas. However, because they're cooking for so long in the water in the slow cooker, for this crock pot recipe there's no need to soak the dried beans beforehand.
What happens if you don't soak peas before cooking?
Usually, if you don't soak peas before cooking they take longer to cook. But seeing as we're slow-cooking them for an extended amount of time for this recipe, this isn't an issue.
Can you overcook black eyed peas?
Yes, you can overcook black eyed peas. You want to slow-cook them until they're creamy but retain their shape.
Are crockpot black eyed peas healthy?
Black eyed peas are relatively healthy. They're a great source of protein and fiber, so keep you feeling fuller for longer. When paired with meat, this is a simple filling meal.
What goes with crock pot black eyed peas for dinner?
Serve your Southern black eyed peas as a main dish with a combination of Southern favorites, like cornbread, dinner rolls, mac and cheese, steamed rice, and a serving of collard greens or turnip greens.
You may also enjoy these other bean-based dishes:
Ingredients
12-24

ounces

dried beans of your choice

1

smoked turkey leg for seasoning

1

tablespoon

salt
Instructions
Place the turkey leg in the slow cooker. Sort the beans and pour them on top of the turkey, then add the salt.

12-24 ounces dried beans of your choice,

1 smoked turkey leg for seasoning,

1 tablespoon salt

Completely cover with water and fill the slow cooker to within one inch of the top.

Cover and cook on low for 8-10 hours or overnight if having for lunch the next day.
Nutrition
Complete your meal by adding the following:
"Do not take to heart all the things that people say."
~Ecc 7:21