How To Make Samoa Brownies
I visit a little in my post today. If you'd rather go straight to the recipe just scroll down. Thanks!
My Little Experiment with Girl Scout Samoa Cookies Turned into a Tasty Treat
What's your favorite Girl Scout Cookie? My favorite, hands down, is the Samoa, which is how these Samoa Brownies came about. I just love everything about the Samoa cookie. So a few weeks ago I was playing around with the thought of coming up with a homemade version of the cookie and my mind somehow shifted into brownie mode instead, my stomach was quick to egg on the idea. A little experimentation (along with two pans of brownies going to school with my son) and here we are, Samoa Brownie Heaven!
Of course, when it comes to being a Samoa expert, I am only one from a consumer standpoint. Despite my best efforts, I never got to be a Girl Scout. I was, a Cub Scout, though! During my younger years (before I was even old enough to go to school), Mama was the den leader of my brother's cup scout group. Since Mama was in charge and we didn't have things like babysitters back in the day, my sister and I went to every single meeting. To keep us occupied, we did all of the same things the Cub Scouts did, too. So many fun crafts and adventures! We loved it.
I couldn't wait until I was old enough to be a Girl Scout. So as soon as that day came, Mama signed me up. We bought the handbook, ordered the uniform, the whole nine yards. But before the first meeting even took place, our troop leader resigned. So I put all of that away and anxiously waited until next year when we dusted it all off and signed up again. That time, there was a first meeting but we missed it because we were out of town. Still, I anxiously awaited the second one when I would get to attend. Well that year, the troop leader resigned after the first meeting. lol. I took the hint and found other interests. However, I can honestly say that my kids are the only ones we know who can say their mother was once a Cub Scout.
To make these Samoa Brownies you'll need:
Brownie Mix (the size to make a 13×9)
Evaporated milk
Dulce De Leche*
Chocolate Chips
Sweetened (or unsweetened) flaked coconut.
*Dulce De Leche is getting easier and easier to come across. Used to, I could only find it next to the Mexican foods and such. Wal Mart still has it there but my Krogers has it right next to the Sweetened Condensed Milk.
It is basically Sweetened Condensed Milk that has been caramelized. I know that you can do this with Sweetened Condensed milk in the can by boiling it but that is extremely dangerous and I don't recommend it.
If you have to use sweetened condensed milk…
The best way to caramelize it is to take it out of the can and cook it in a heavy bottomed sauce pot or bowl in the microwave, stirring often in the microwave and constantly on the stovetop, until it caramelizes.
It will take a bit longer but you won't have to deal with the potential aftermath of a can exploding in your face with molten hot liquid spraying you. Trust me, it ain't pretty and it has happened to many people. BETTER YET, save all that trouble and just go buy a can of Dulce De Leche!
See?
I save you time, third degree burns, and permanent scarring. Just another one of the services that I offer :).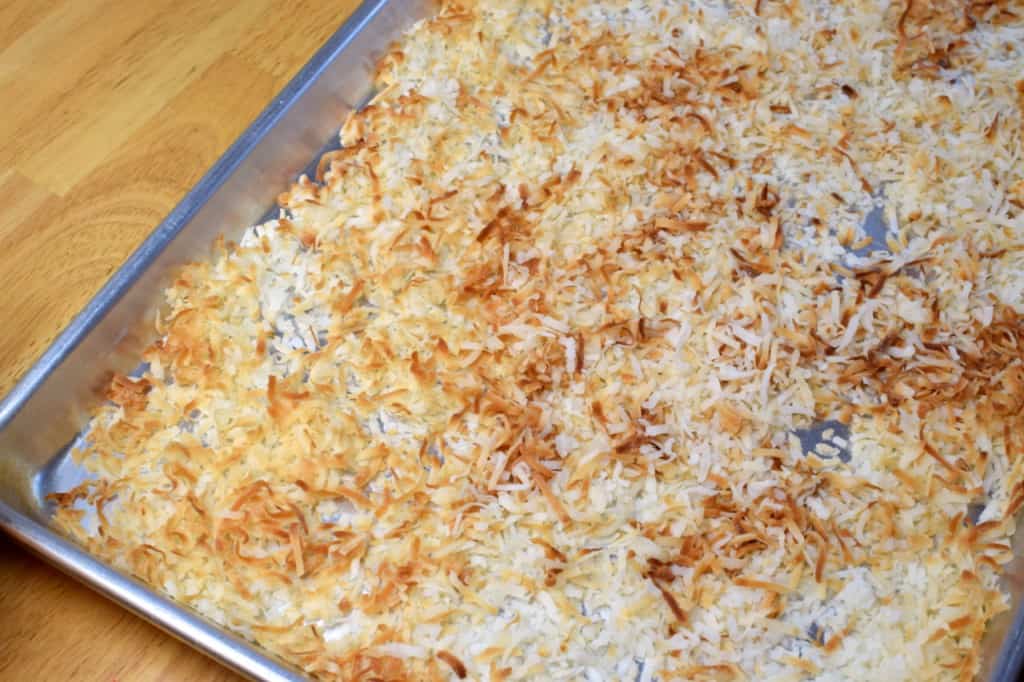 To begin with, spread your coconut out on a rimmed baking sheet and place it in a 350 oven to toast. This will take about ten minutes or so and you'll need to keep an eye on it and stir it a time or two.
If you have the patience of a caffeinated gnat, like I do, you can put it in the oven and put the oven on low broil, stirring very often, and have it done in just a few minutes. Be careful though because it burns really quickly.
While that is going on place your caramel and 1/4 cup of evaporated milk in a bowl. Heat this in the microwave at 45 second intervals, stirring in between each, until it is just warm enough to blend together really well.
You're going to have some leftover evaporated milk even if you use the small can. What do you do with this? Well, it makes excellent coffee creamer. Me though, I just drink it. From the can. Because I'm all classy like that.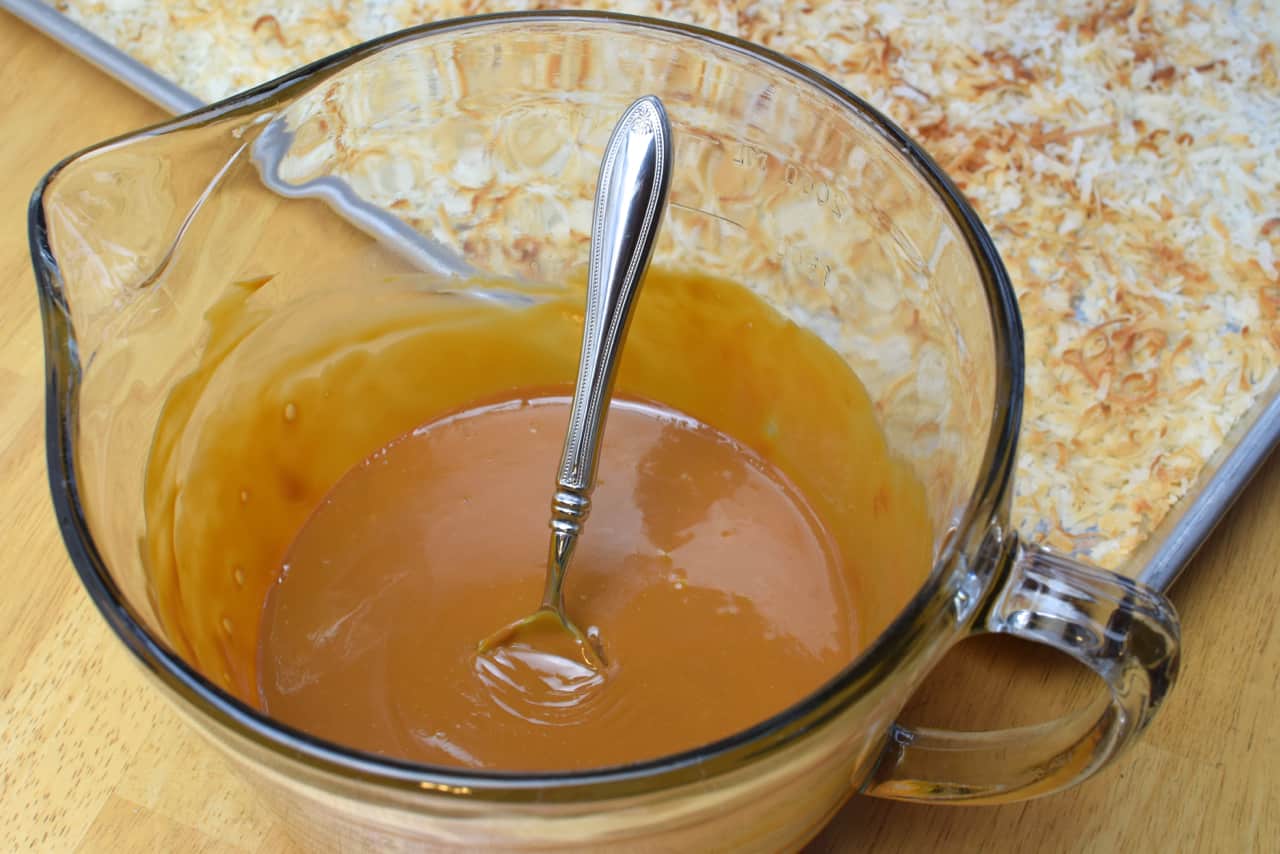 This is our smooth and creamy caramel after we have thinned it a little bit with the evaporated milk.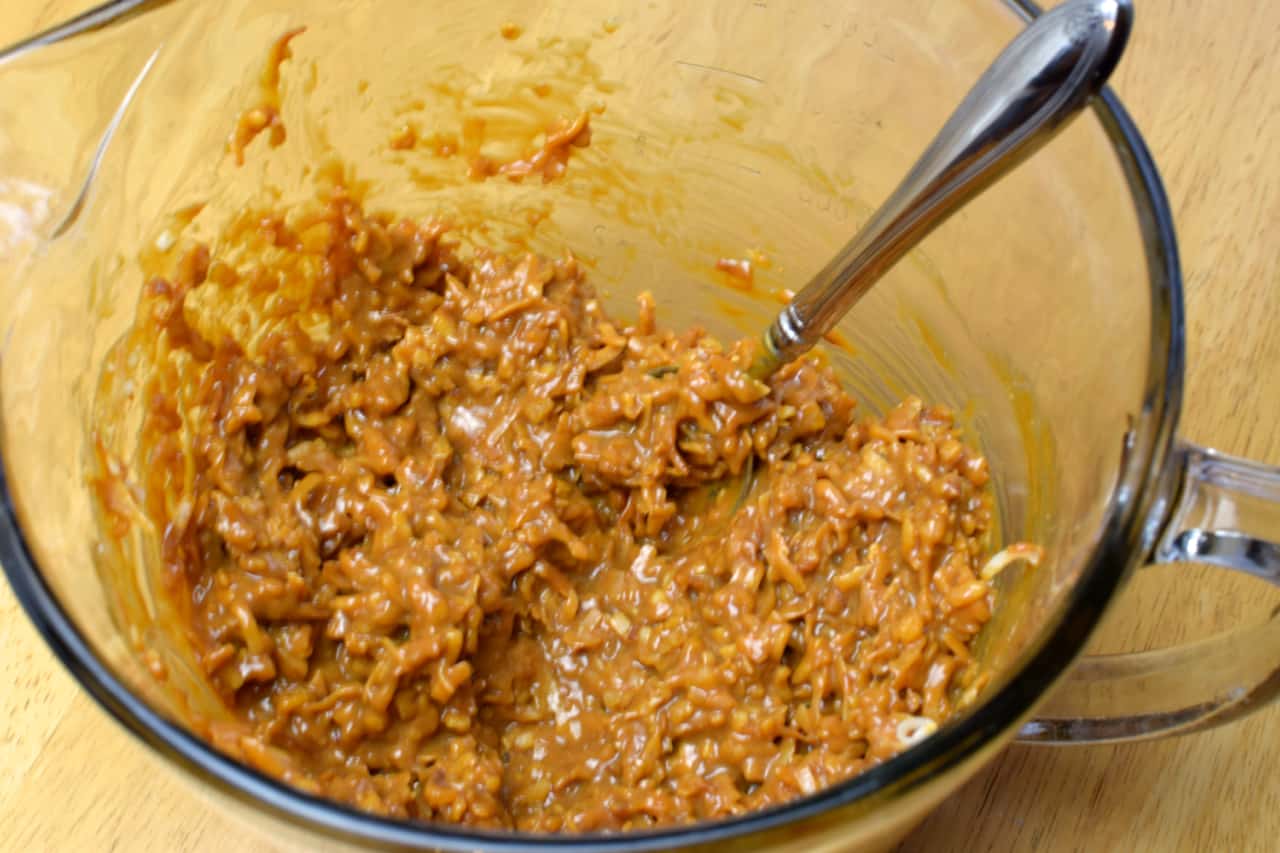 Now stir in your coconut until it is all covered in caramel. Oh mercy. My mouth is watering just typing that….
Spread that on your cooled brownies.
Melt chocolate chips in the microwave at 45 second intervals, stirring in between each, until smooth.
Allow to cool for a few minutes and then put that in a zipper seal bag.
Cut the tip off and zig zag it across the top of your iced brownies.
Allow to cool completely for chocolate to set.
Enjoy.
And believe me, it will be love at first bite of these delicious Samoa Brownies!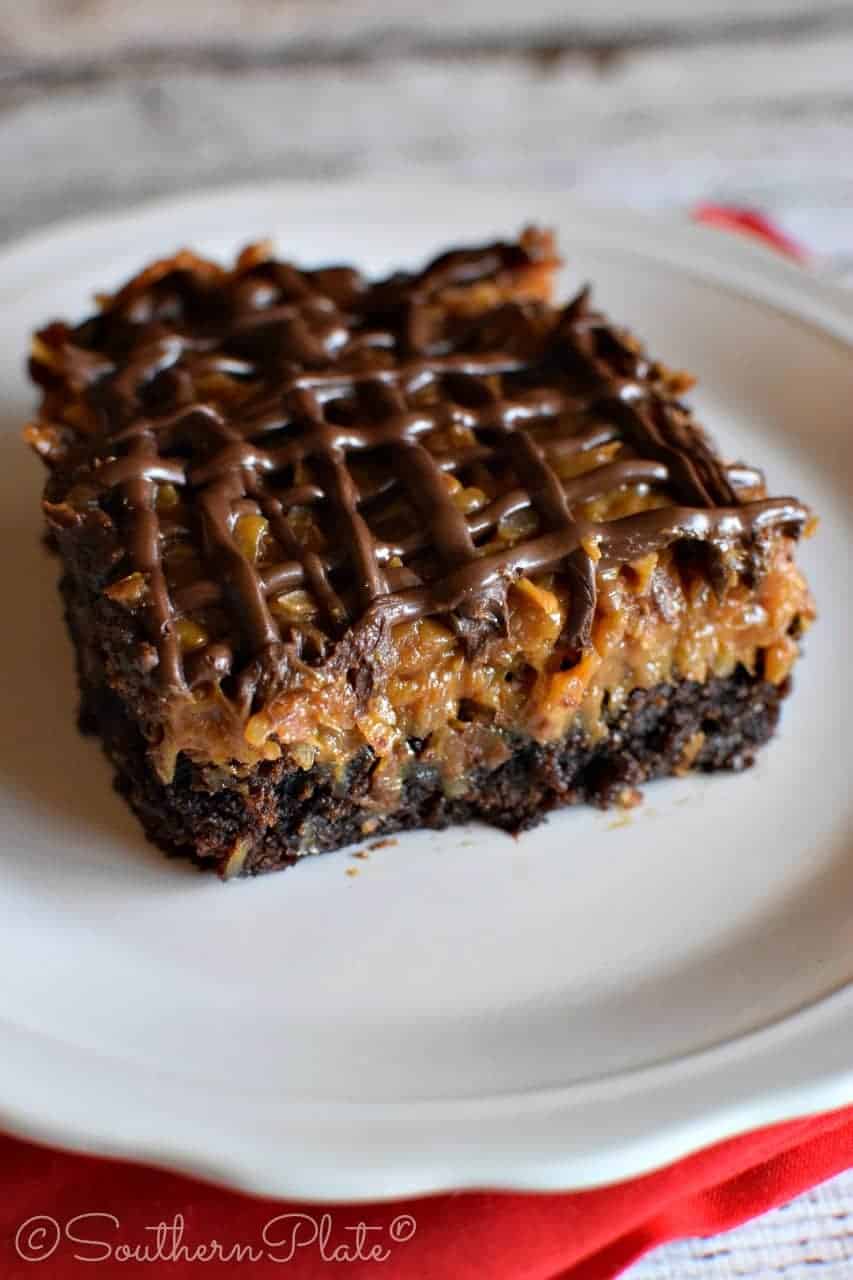 Ingredients
1

package brownie mix of your choice

the size for a 9x13 pan, with ingredients called for on box

2

cups

sweet or unsweet flaked coconut

12

ounce

can Dulce De Leche*

1/4

cup

evaporated milk


Topping: 1 cup Semi Sweet Chocolate Chips
Instructions
Prepare brownies in a 9x13 pan according to package directions. Let cool.

On large, rimmed baking sheet, spread out coconut and place in a 350 degree oven until toasted lightly golden, stirring often, about ten minutes.**

While coconut is toasting, place caramel and evaporated milk in a microwave safe bowl or small sauce pot (if melting on stovetop). Heat at 45 second intervals, stirring after each, until just soft enough to blend well.

Stir toasted coconut into caramel mixture until well combined. Place dollops of this all over top of cooled brownies and then spread to ice.

Melt Chocolate Chips in microwave the same way you did the caramel. Once fully melted, allow to cool five minutes before spooning into a large zipper seal bag. Cut just the tip off and make zig zags all over top of coconut mixture. Allow brownies to sit until chocolate is set again and they are completely cool.

Cut, serve, and enjoy!
Notes
*See post for tips on where to find this
** If you're feeling adventurous see post for faster way to do this
Nutrition
Serving:
1
g
|
Calories:
649
kcal
You might also enjoy these recipes!
One Bowl, No Egg Fudgey Brownies
"Find yourself, and be that."
~Anon