My Samoa brownies recipe is basically a wonderful and delicious brownie version of the Samoa cookie, where chocolate, caramel, and coconut combine to make this decadent dessert.
What's your favorite Girl Scout cookie? My favorite, hands down, is the Samoa, which is how these Samoa brownies came about. I just love everything about the Samoa cookie. So a few weeks ago I was playing around with the thought of coming up with a homemade version of the cookie and my mind somehow shifted into brownie mode instead (my stomach was quick to egg on the idea). A little experimentation (along with two pans of brownies going to school with my son) and here we are: Samoa brownie heaven!
Of course, when it comes to being a Samoa expert, I am only one from a consumer standpoint. Despite my best efforts, I never got to be a Girl Scout. I was, a Cub Scout, though!
Now, back to this easy brownie recipe! All we need is 5 ingredients: chocolate fudge brownie mix, evaporated milk, dulce de leche, semi-sweet chocolate chips, and sweetened coconut flakes. A little bit of baking, a little bit of mixing, and a little bit of layering, and your brownies will be ready.
The taste and texture combination of the moist brownie layer, sweet caramel sauce, toasted coconut, and dark chocolate drizzle makes these brownies so deliciously flavorful and decadent. One bite and you'll be joining me in Samoa brownie heaven!
Recipe Ingredients
Brownie mix (the size to make a 13×9)
Evaporated milk
Dulce de leche
Chocolate chips
Sweetened (or unsweetened) flaked coconut
How to Make Samoa Brownies
First, make your brownie batter according to the box directions.
Pour the batter into a 13×9 baking dish and bake for the requested time.
Let them cool in the pan while you continue with the following steps.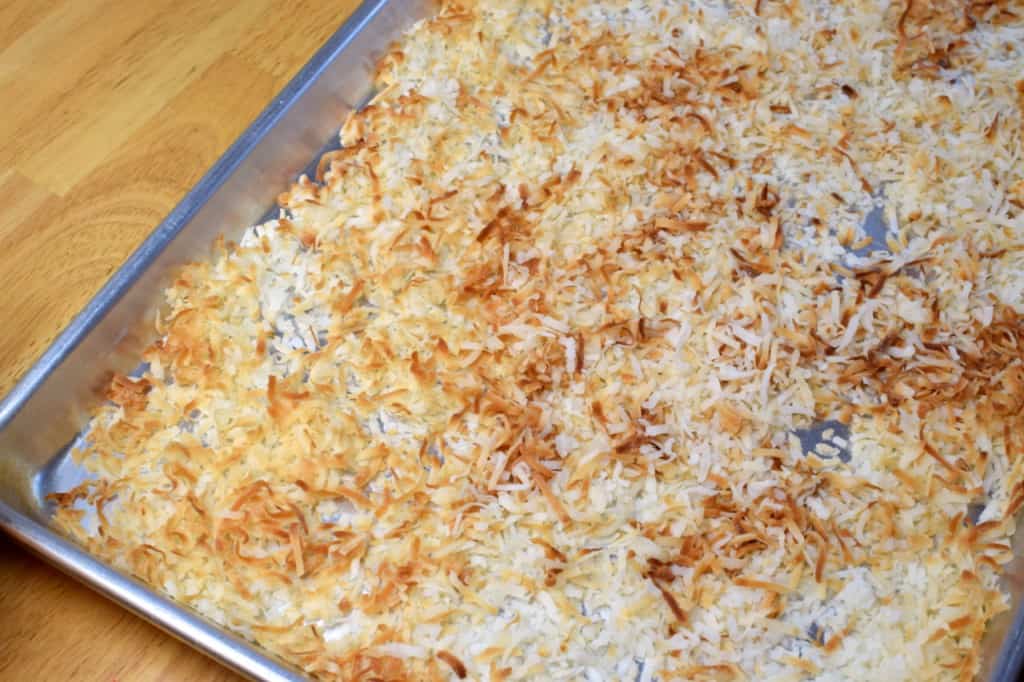 To begin with, spread your shredded coconut out on a rimmed baking sheet and place it in a 350-degree oven to toast. This will take about 10 minutes or so and you'll need to keep an eye on it and stir it a time or two.
If you have the patience of a caffeinated gnat, as I do, you can put it in the oven and put the oven on low broil, stirring very often, and have it done in just a few minutes. Be careful though because it burns really quickly.
While that is going on, place your caramel and 1/4 cup of evaporated milk in a bowl.
Heat this in the microwave at 45-second intervals, stirring in between each, until it is just warm enough to blend together really well.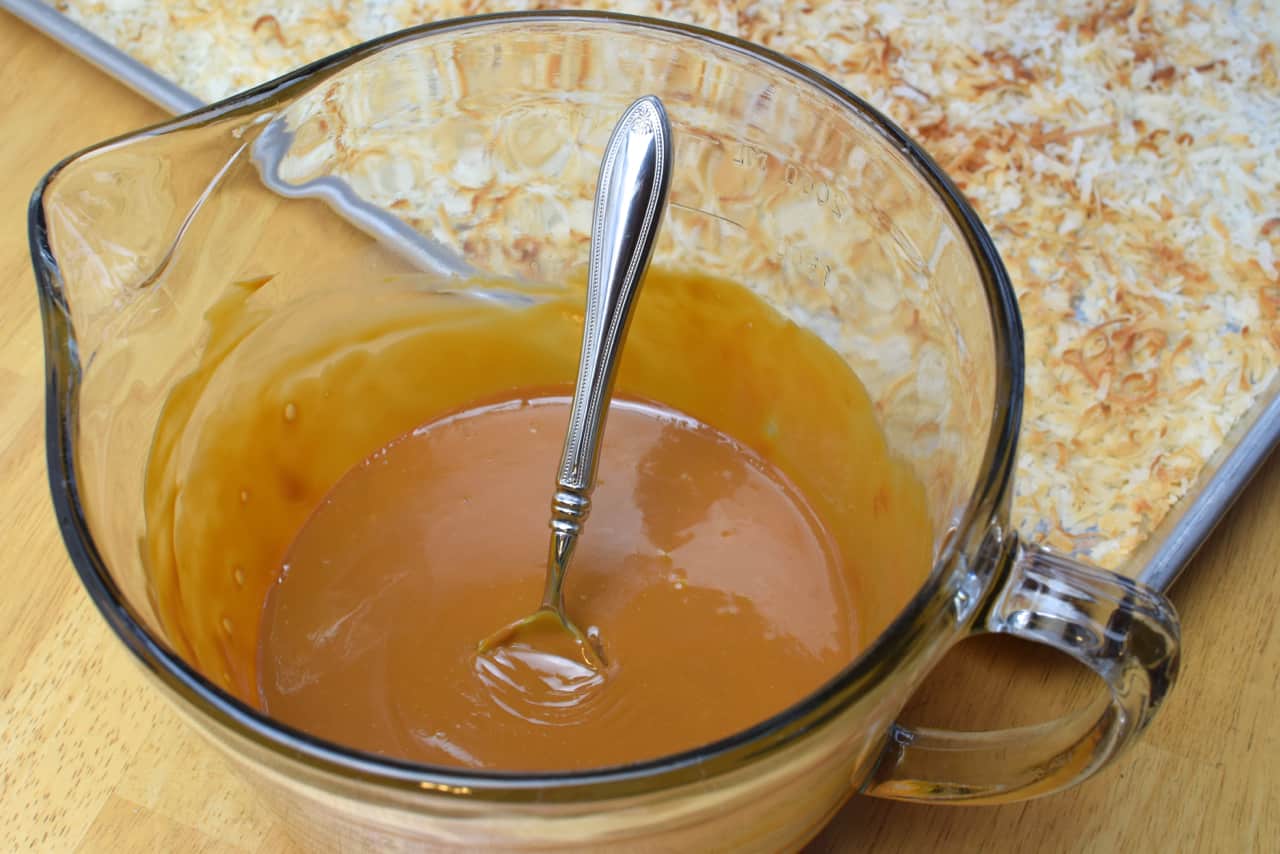 This is our smooth and creamy caramel after we have thinned it a little bit with the evaporated milk.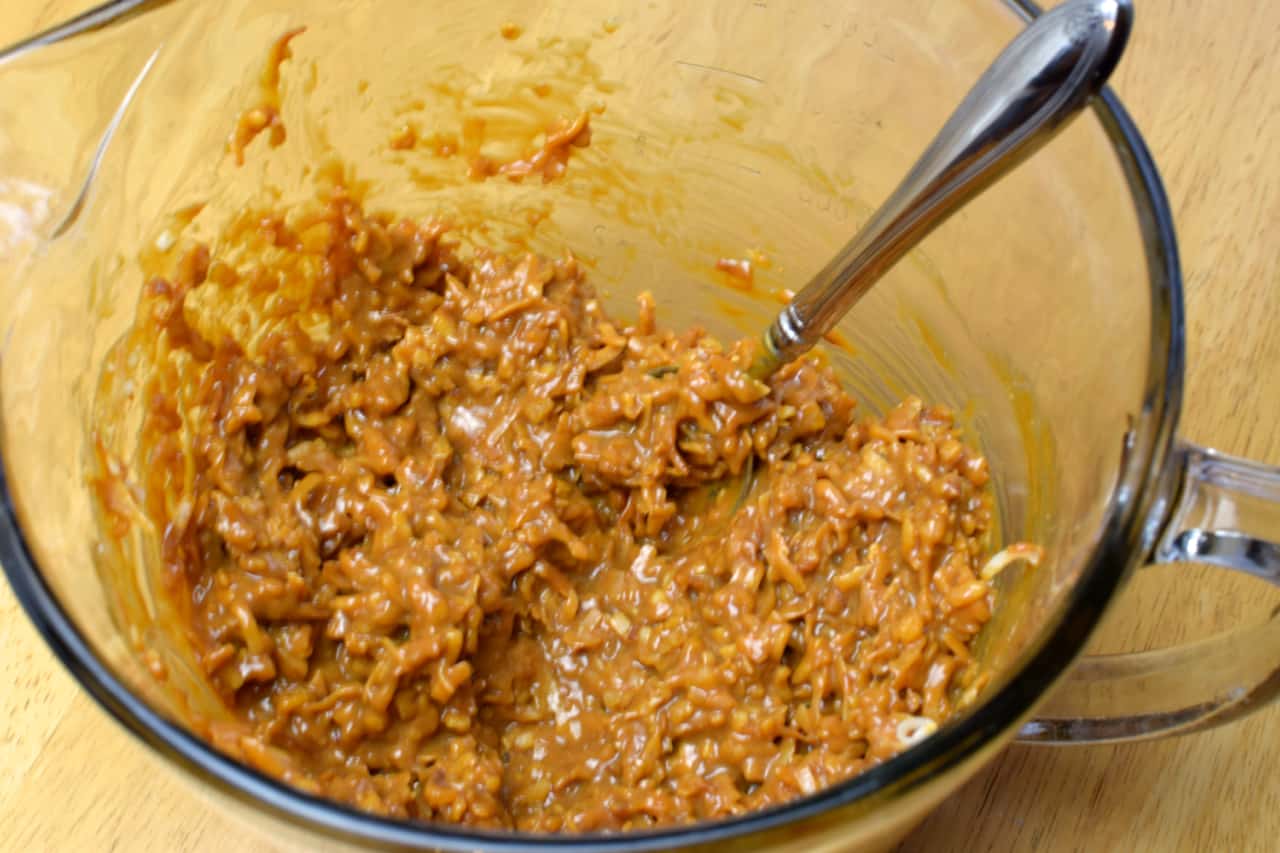 Now stir in your coconut until it is all covered in caramel.
Oh, mercy. My mouth is watering just typing that!
Spread this coconut caramel mixture on your cooled brownies.
Melt chocolate chips in the microwave at 45-second intervals, stirring in between each, until smooth.
Allow to cool for a few minutes and then put that in a zipper seal bag.
Cut the tip off and zig zag the melted chocolate across the top of your iced brownies.
Allow the chocolate to set before serving.
Enjoy.
And believe me, it will be love at the first bite of these delicious Samoa brownies!
Storage
Store brownies in an airtight container in the fridge or at room temperature for up to 4 days. The fridge is preferable to ensure the chocolate topping doesn't melt.
You can also freeze the brownies for up to 3 months. Thaw at room temperature or in the fridge before serving.
Recipe Notes
Dulce de leche is getting easier and easier to come across. Walmart has it but my Krogers has it right next to the sweetened condensed milk. It is basically sweetened condensed milk that's been caramelized. If you want to make homemade dulce de leche using condensed milk, here's my recipe.
If you'd prefer to use a homemade brownies recipe instead, check out this recipe for the best brownies ever!
If you want a salted caramel coconut layer, stir a pinch of sea salt into the melted caramel.
Recipe FAQs
How do you serve Samoa brownies?
They taste deliciously decadent and fudgy as is, but for dessert, I can never resist serving them with a scoop of vanilla ice cream.
Can I use something other than coconut?
Yes, you can either omit the coconut completely or substitute it for different chopped or ground nuts, like slivered almonds, macadamia nuts, pecans, or walnuts.
You might also enjoy these brownie recipes:
One Bowl, No Egg Fudgey Brownies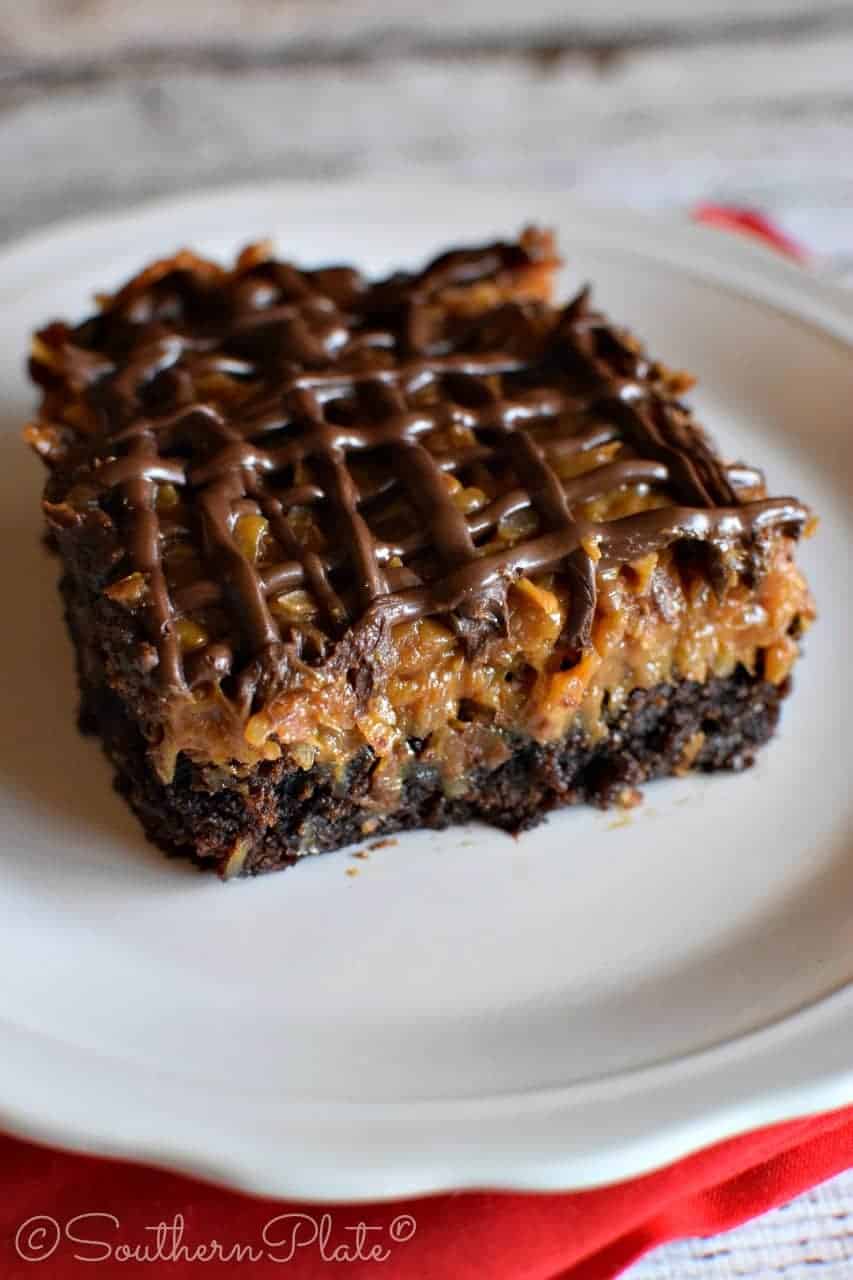 Ingredients
1

box

brownie mix of your choice

for a 9x13 pan, with ingredients called for on the box

2

cups

sweet or unsweetened flaked coconut

1

12-ounce can

dulce de leche

1/4

cup

evaporated milk

1

cup

semi-sweet chocolate chips
Instructions
Prepare brownies in a 9x13 pan according to package directions. Let cool.

1 box brownie mix of your choice

On a large rimmed baking sheet, spread out coconut and place in a 350-degree oven until toasted lightly golden, stirring often (about 10 minutes).

2 cups sweet or unsweetened flaked coconut

While the coconut is toasting, place caramel and evaporated milk in a microwave-safe bowl or small saucepot (if melting on the stovetop). Heat at 45-second intervals, stirring after each, until just soft enough to blend well.

1 12-ounce can dulce de leche,

1/4 cup evaporated milk

Stir toasted coconut into the caramel mixture until well combined. Place dollops of this all over the top of the cooled brownies and then spread to ice.

Melt the chocolate chips in the microwave the same way you did the caramel. Once fully melted, allow to cool for five minutes before spooning into a large zipper seal bag. Cut just the tip off and make zig zags all over top of coconut mixture. Allow brownies to sit until chocolate is set again and they are completely cool.

1 cup semi-sweet chocolate chips

Cut, serve, and enjoy!
Nutrition
Serving:
1
g
|
Calories:
649
kcal
"Find yourself, and be that."
~Anon