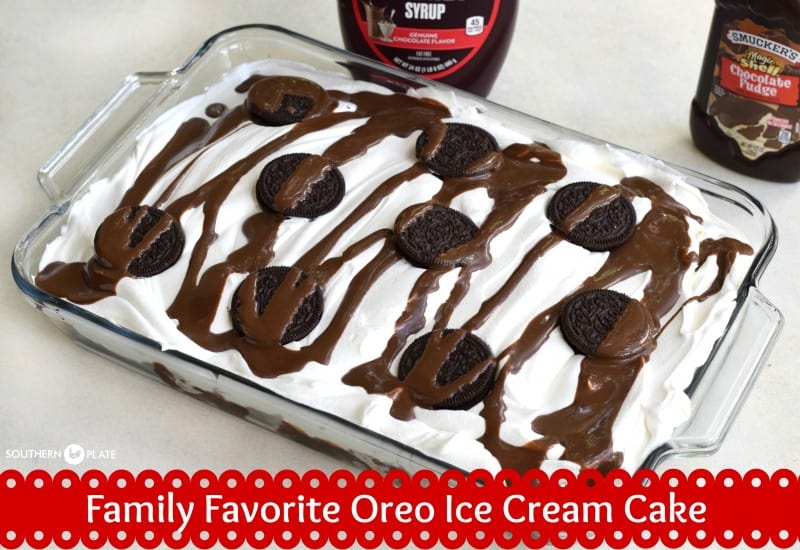 I have made four of these ice cream cakes in the past week and this is the best picture I have managed to get before the cake was cut into and devoured. They are just too irresistible to expect folks to leave it alone long enough to photograph – especially to Jordans…and teenagers….and boys….and girls…..and adults….and you get the point. It's the perfect blend of crunchy cookies, creamy ice cream, gooey chocolate syrup, light and fluffy whipped cream, and magical magic shell.
The one above was supposed to be the ice cream cake that I got to take time with, setting up the perfect photo, etc. But then my son decided to meet some friends on his birthday for pizza and a movie and I found out at the last minute that he thought I had made this cake to bring for their dessert so I had to switch horses and go with that. 🙂 My son and I have similar personalities and often our communication with one another is a series of thoughts that we forget to say out loud. 
Oh, and guess what else is happening this week, besides my Brady turning 17?
Today is Southern Plate's 8th Birthday!
So this most definitely calls for cake. 
To make this you'll need: Cookies and Cream Ice Cream, Large Frozen Whipped Topping, Hershey's Chocolate Syrup, Chocolate Fudge Magic Shell, and a Family Size Bag of Oreo Cookies.
Choosing an ice cream – I like Kroger brand deluxe ice cream. Choose your favorite but get the best quality that you can and make sure it says "ice cream" rather than "frozen dairy product".
**Y'all, clutch the pearls because this has hydrogenated oils in it. Yup. I know. Yes, you can make your own homemade whipped cream if you want. Did I? Nope. I used good old cool whip, generic at that. Now exhale.
Coarsely crush most of the Oreos (save about ten for the top) and sprinkle them in the bottom of a 9 x 13 baking dish. 
Soften the ice cream by sitting it out for a few minutes and then spread it over the top. I do this by plopping spoonfuls all over the top and then smearing them together with a butter knife.
Generously Zig Zag some Hershey's Chocolate Syrup over this.
Now spread the entire container of whipped topping over this. Press the remaining oreos into the top and then zig zag some magic shell over the top. To keep it looking pretty, place in the freezer for a few minutes uncovered, to allow the magic shell to harden, then cover and return to freezer until ready to serve. This is surprisingly easy to cut.
Ingredients
1.5

quart

container cookies and cream ice cream

16

ounces

frozen whipped topping*

Hershey's Syrup

Chocolate Fudge Magic Shell

Family Size package of Original Oreo Cookies
Instructions
Sit ice cream on counter to allow to soften.

Set aside about ten cookies from the package. Coarsely crush or break the remaining cookies and spread them out in the bottom of a 9x13 pan.

Spoon entire carton of ice cream over the top and then use a butter knife to spread it so that it is even.

Drizzle a generous zig zag over top of ice cream with chocolate syrup.

Top this evenly with entire container of whipped topping.

Press reserved cookies lightly into top. Zig Zag over all of this with chocolate Magic Shell.

Place in freezer, uncovered, until Magic Shell hardens. Once hardened, cover well with foil or lid and return to freezer until ready to serve.
Happy Birthday to my son, Brady (17 years on July 6)
and to
Southern Plate (8 years on July 8)!
Thank you for being a blessing in my life and for the honor of allowing me to be a small part of yours.
Yum