Chocolate Chip Biscuits, Southern-Style
Overloaded with sweet chocolate chips, these Southern chocolate chip biscuits are fluffy, featherlight, and topped with a vanilla glaze to make a tasty Southern-style treat.
Today, I'm showing you my extra special way to make featherlight chocolate chip biscuits, with a lovely little glaze on top. This Southern-style chocolate chip biscuits recipe comes to you courtesy of my sweet little girl, Katy. Chocolate biscuits are one of her favorite treats and I actually have three different ways that I make them.
As far back as I can remember and as far back as our family "stories" go (the ones that are handed down from generation to generation), biscuits have been a staple on our tables. There are as many ways to make them as there are cotton plants in a field, and all of them are wonderful in my mind. This fluffy biscuit recipe just sprang up out of Katy's love for chocolate and my desire to do something creative with it, so it isn't a generation's old recipe, but it will become one as soon as Katy Rose starts making them herself.
You only need 5 ingredients to make my chocolate chip biscuits and I bet you have most of them in your kitchen right now: flour, milk, butter, sugar, and chocolate chips, of course. It doesn't take too long to make our biscuit dough and then we have to wait patiently for them to bake before we can enjoy them. These chocolate chip biscuits are so light, fluffy, and sweet, they truly make the tastiest treat! For extra sweetness, add a drizzle of vanilla glaze on top (directions below).
Now y'all come with me while we make us some Southern biscuits…
Recipe Ingredients
Chocolate Chip Biscuits
Self-rising flour
Whole milk
COLD butter
Semi-sweet chocolate chips
Sugar
Glaze
Confectioner's sugar
Milk
Vanilla extract
How to Make Southern Chocolate Chip Biscuits
Cut your cold unsalted butter up into pats to make it easier to cut into the flour.
Cut it in with a pastry cutter, pastry blender, or long-tined fork.
IMPORTANT: After you get the butter all cut into the flour it will look like a slightly lumpy flour mixture. Place this whole bowl in the fridge for 10 minutes.
After 10 minutes have passed, stir in the chocolate chips and sugar until well mixed.
Pour in milk and stir until all of the flour has been moistened.
This will be globby dough when you are done. After you've stirred in the milk, if you still have dry spots, you can add a little more milk, maybe 1/4 of a cup. Don't stir too much, just what you have to do, because while we want everything nice and moist, we don't want to overwork our dough.
Place some waxed paper or parchment paper on a counter and sprinkle liberally with more flour (self-rising is fine).
Dump your biscuit dough onto the floured surface.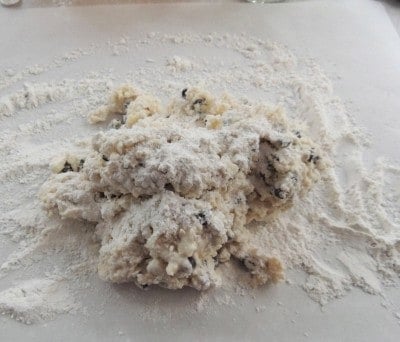 Sprinkle the top with more flour.
Pat the sticky dough out into a rectangular-esque type shape with your hands.
I pat the palms of my hands into the flour before patting to keep it from sticking too badly but you really should have a little taste of this sticky dough anyway, it is delicious!
Okay, now I want you to take one side of that dough and fold it over to the center…
Now fold the other side up over the first side. You end up with a log-ish-looking thing but it really is folded together :).
This is a way of kneading your dough without overworking it, which can cause lead to tough biscuit dough. By using this method for the chocolate chip biscuits, you get a tender and fluffy biscuit rather than a tough biscuit.
Pat that out again and repeat the folding process one more time.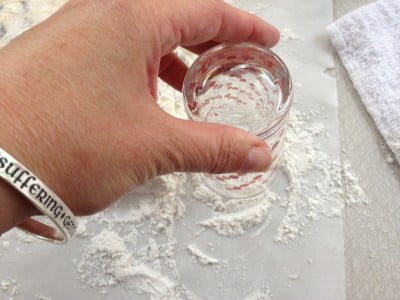 Now take a biscuit cutter or juice glass and tap the rim of it around a bit in some flour.
Then cut out your biscuits.
Place them in a pan that has been sprayed with cooking spray.
What pan do you use to bake biscuits?
I'm using a round cake pan. This recipe makes about a dozen and you may or may not be able to get them all in this round pan so feel free to use something else. I like to cook them in a pan like this because it helps their sides to touch, which helps them to rise more and be fluffier. Biscuits are friendly little morsels of bread and they like to be together so that they can support one another and help them to rise up from humble beginnings! Kinda like good, old-fashioned friends.
If I have leftover biscuits that won't fit, I just cook them off to the side in another small pan.
Bake these at 450 for 14-16 minutes or until they are lightly golden brown on top.
To make the glaze
Mix up a little sweet vanilla glaze by stirring together 1 cup of confectioner's sugar, 1 teaspoon of vanilla extract, and 1 tablespoon of milk. Stir until all the lumps are gone.
Brush this across your chocolate chip biscuits.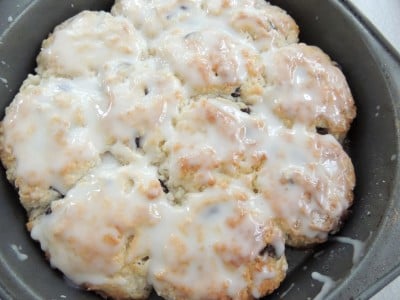 Allow them to sit for just a few minutes until the glaze sets.
Then take a bite of angel soft heaven :).
Storage
When stored in an airtight container, your Southern biscuits will last up to 2 days at room temperature and up to 1 week in the fridge. Without the glaze, you can quickly reheat them if you like in the microwave, oven, or air fryer.
Recipe FAQs
How do you make self-rising flour?
To make your own self-rising flour, simply add 1.5 teaspoons of baking powder and 1/2 teaspoon of salt for each cup of all-purpose flour.
Can I use buttermilk instead of whole milk to make my homemade biscuits?
You can use buttermilk in place of whole milk in this Southern biscuit recipe if you like. You can also add one tablespoon of vinegar or lemon juice to the amount of milk called for and stir, then let it sit for five minutes before using it to make your own buttermilk. Or you can just add whole milk and leave it be. It will be good either way.
How else can I serve my chocolate chip biscuits?
Instead of the glaze, serve your chocolate chip biscuits with whipped cream (here's my homemade recipe). Alternatively, go extra indulgent and add chocolate gravy to your homemade biscuit.
You may also like these biscuit recipes:
Ingredients
2.25

cups

self-rising flour

1

cup

whole milk

can add 1/4 cup more if it needs it

1/2

cup

unsalted butter

cold, cut into slices

1

cup

semi-sweet chocolate chips

1/2

cup

sugar
Glaze
1

cup

confectioner's sugar

1

teaspoon

vanilla extract or butter flavoring

1

tablespoon

whole milk
Instructions
In a large bowl, place the flour and cold butter slices. Cut the butter into the flour with a fork, pastry blender, or pastry cutter until fully incorporated and it resembles lumpy flour. Place this bowl in the refrigerator for 10 minutes.

2.25 cups self-rising flour,

1/2 cup unsalted butter

After 10 minutes have passed, stir the sugar and chocolate chips into the flour mixture until well blended. Add milk and stir just until moistened (can add 1/4 cup more milk if need be).

1 cup whole milk,

1 cup semi-sweet chocolate chips,

1/2 cup sugar

Turn dough out onto a lightly floured surface. Dip your palms in flour and pat the dough out into a rectangular shape. Gently fold the right side over onto the middle of the rectangle. Fold the left side over on top of the folded right side, like you are folding a piece of paper to put into an envelope.

Pat this out again into a rectangle and repeat folding process once more.

Dip a juice glass or biscuit cutter into flour and cut out the biscuits. Place biscuits in a lightly greased cake pan with their sides touching. Bake at 450 for 14-16 minutes or until lightly golden brown on top.
To make glaze
Stir together the confectioner's sugar, vanilla, and milk until smooth. Brush over top of biscuits. Allow them to sit for a few minutes before serving.

1 cup confectioner's sugar,

1 teaspoon vanilla extract or butter flavoring,

1 tablespoon whole milk
Nutrition
Calories:
139
kcal
|
Carbohydrates:
28
g
|
Protein:
2
g
|
Fat:
7
g
|
Saturated Fat:
4
g
|
Trans Fat:
1
g
|
Cholesterol:
4
mg
|
Fiber:
1
g
|
Sugar:
15
g
"Blowing out someone else's candle doesn't make yours burn any brighter".
~ Unknown