Learn to make a DELICIOUS Old Fashioned Bread Pudding using leftover Hot Dog Buns or Hamburger Buns!
I want to preface this recipe by saying that I've found bread pudding tends to be rather polarizing – folks either love it or hate it. That having been said, if you are not a bread pudding fan, you will not be thrilled with this recipe. If you are a bread pudding fan, I am your new best friend.
'Make Do' Recipes
This is one of those classic "make do" recipes. At some point, there was this lady who was trying to make ends meet and needed to use up some leftover bread buns in addition to feeding her family. She whipped this up and a classic was born. I also call this "depression food" as it was just the type of dish which was born out of the necessity of hard times.
There are tons of bread pudding recipes out there. Some use fancy breads with names I can't pronounce, some use leftover buttermilk biscuits. Regardless of the ingredients, I always love the outcome of any bread pudding.
I particularly like this recipe because I find myself with leftover buns from time to time and hate for them to go to waste. I have a rule, food never goes to waste if I can help it. This is well known throughout my family and sometimes has comical results.
A Cart Full of Buns
My brother used to be a caterer and not too long ago he had purchased hamburger buns for a BBQ for three hundred. When he arrived, someone had actually donated the buns so all he had purchased were not used. "Do you want some hamburger buns?" Sure! I was greeted with four Wal mart sacks full of hamburger buns. We had some hamburgers, of course, and bread pudding as well, but there were still so many left and I was determined not to let them waste. I think it has something to do with the fact that I am actually among the first generation in the history of my family to have never gone hungry – making use of the food we have is in our blood.
So I decided to make French toast for the freezer and a nice dessert of this delicious bread pudding.
I should also note that this easy bread pudding recipe originally came from an old church cookbook. Now if you aren't from the south, let me interpret that for you. "Came from a church cookbook" automatically gives a recipe at the very least a four star rating on account of no one would serve bad food in a church – that would surely be an unforgivable sin in the Bible belt.
Alrighty so here we go! This easy bread pudding recipe requires:
Eggs
Melted butter
wo hamburger buns – split
Cinnamon
Sugar
Milk
Exact recipe is at the bottom of this page.
How To Make Bread Pudding: An Easy Recipe With Step By Step Instructions

Open buns and place each half brown side up in a 9×13 baking dish. In a medium bowl, whisk together all other ingredients.
Pour over hamburger buns, pressing down to make sure they get saturated.

Place in 350 degree oven and cook, about twenty to thirty minutes, until browned and puffed up a bit.
Oh. My. Goodness. This is the part where I put down my camera and dig in.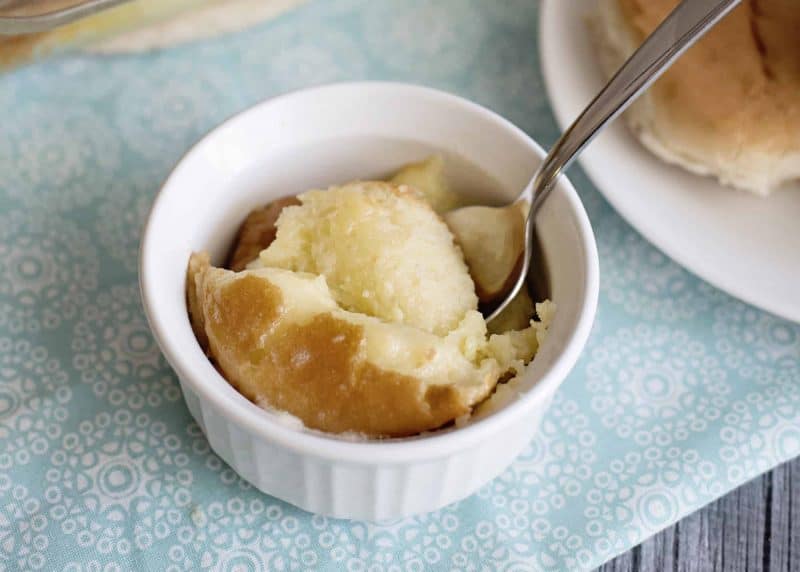 A bowl of warm comfort from yesteryear!
Ingredients
4

complete hot dog or hamburger buns

8 pieces total counting top and bottom

1.5 to 2

cups

sugar

4

eggs

2

cups

sweet milk

this is what old folks in the south call "Whole Milk"

2

teaspoon

vanilla

1/2

stick butter

cinnamon to taste

optional
Instructions
Open buns and place each half, brown side up, in a 9x13 baking dish.

Mix all other ingredients in mixer and pour over buns.

Bake in 350 degree oven until buns puff up and are heated through, about 20-30 minutes.

Enjoy!
Nutrition
Here are some other bread recipes you may enjoy:
Sweet Potato Bread With Cinnamon Swirl