Learn to make a delicious old-fashioned easy bread pudding recipe using leftover bread that's soaked in a sweet and creamy vanilla sauce to make a decadent dessert.
I want to preface this recipe by saying that I've found old-fashioned bread pudding tends to be rather polarizing – folks either love it or hate it. That having been said, if you are not a bread pudding fan, you will not be thrilled with this recipe. If you are a bread pudding fan, I am your new best friend.
A popular Depression-era dessert
This is one of those classic "make do" recipes. At some point, there was this lady who was trying to make ends meet and needed to use up some leftover bread buns in addition to feeding her family. She whipped this up with kitchen essentials (we're talking eggs, milk, sugar, and butter) and a classic was born. I also call this "depression food" as it was just the type of dish which was born out of the necessity of hard times.
There are tons of bread pudding recipes out there. Some use fancy loaves of stale bread with names I can't pronounce (hello, challah bread and brioche), and some use leftover buttermilk biscuits. Regardless of the ingredients, I always love the outcome of any bread pudding.
I particularly like this easy bread pudding recipe because I find myself with leftover buns from time to time and hate for them to go to waste. I have a rule, food never goes to waste if I can help it. This is well known throughout my family and sometimes has comical results. With a stack of hamburger buns leftover from my brother's catering job, I decided to make French toast for the freezer and a nice dessert of this delicious bread pudding.
I should also note that this easy bread pudding recipe originally came from an old church cookbook. Now if you aren't from the South, let me interpret that for you. "Came from a church cookbook" automatically gives a recipe at the very least a four-star rating because no one would serve bad food in a church – that would surely be an unforgivable sin in the Bible belt.
Recipe Ingredients
Eggs
Melted butter
Hamburger buns
Cinnamon
Sugar
Milk
How To Make My Easy Bread Pudding
Open your buns and place each half brown side up in a 9×13 baking dish. In a medium bowl, whisk together all the other ingredients.
Pour this egg mixture over the hamburger buns, pressing down to make sure they get saturated.
Place in a 350-degree oven and cook for about 20 to 30 minutes, until golden brown and puffy.
Oh. My. Goodness. This is the part where I put down my camera and dig in.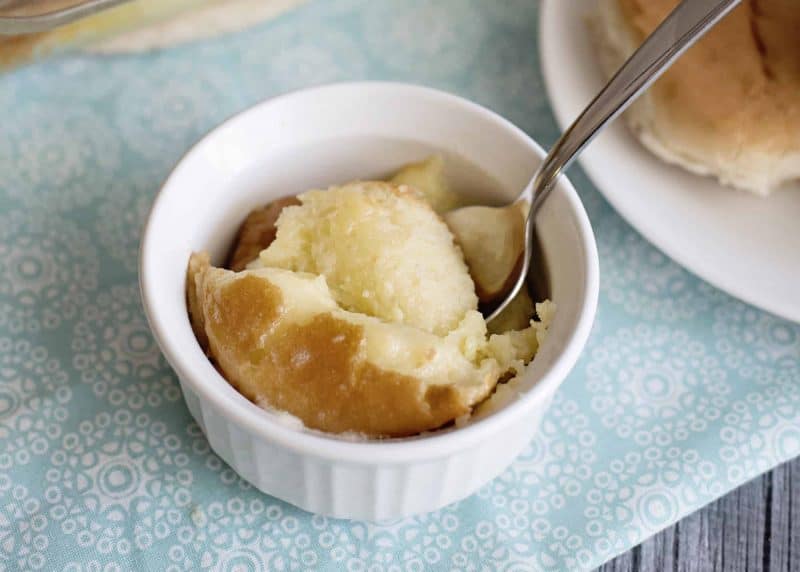 A bowl of warm comfort food from yesteryear!
Storage
Because of the creamy sauce, I don't recommend freezing the pudding. However, you can store leftover bread pudding in an airtight container in the fridge for up to 5 days. Reheat portions in the microwave for about 45 seconds.
Recipe Notes
Feel free to customize this easy bread pudding recipe to suit you:

Use a combination of spices in the milk mixture, such as ground cinnamon, ground nutmeg, allspice, and cardamon. You can also simply swap the cinnamon for apple pie spice or pumpkin pie spice.
Fold in some dried fruit like raisins, chopped nuts like walnuts or pecans, or chocolate chips to the bread pudding sauce before pouring it over the buns to make this dessert even more decadent.
Use a combination of white granulated sugar and brown sugar.

If you have time, let the bread soak up that vanilla custard sauce for 20 minutes before baking.
Recipe FAQs
What do you serve with classic bread pudding?
Serve a bowl of warm bread pudding with whipped cream (here's my homemade recipe) or a scoop of vanilla ice cream. You can also add another sweet sauce on top, like caramel sauce, chocolate syrup, or simply a drizzle of maple syrup. Another option is to pair sliced strawberries with whipped cream for a delicious strawberry and cream topping no one will be able to turn down!
Can I make this basic bread pudding recipe in advance?
Yes, prepare your pudding up to a day in advance and let the covered unbaked dish rest in the fridge. Set it on the counter while the oven preheats before baking.
Check out these other delicious old-fashioned desserts:
Chocolate Depression Cake (Egg and Dairy-Free)
Water Pie – Recipe from the Great Depression
Old-Fashioned Crispy Tea Cake Cookies
Ingredients
4

complete hot dog or hamburger buns

1.5 to 2

cups

sugar

4

eggs

2

cups

whole milk

2

teaspoon

vanilla extract

1/2

stick

butter

cinnamon to taste

optional
Instructions
Open the buns and place each half, brown side up, in a 9x13 baking dish.

4 complete hot dog or hamburger buns

Mix all the other ingredients with an electric or stand mixer and pour this sauce over the buns.

1.5 to 2 cups sugar,

4 eggs,

2 cups whole milk,

2 teaspoon vanilla extract,

1/2 stick butter,

cinnamon to taste

Bake in a 350-degree oven until the buns puff up and are heated through (about 20-30 minutes).

Enjoy!
Nutrition