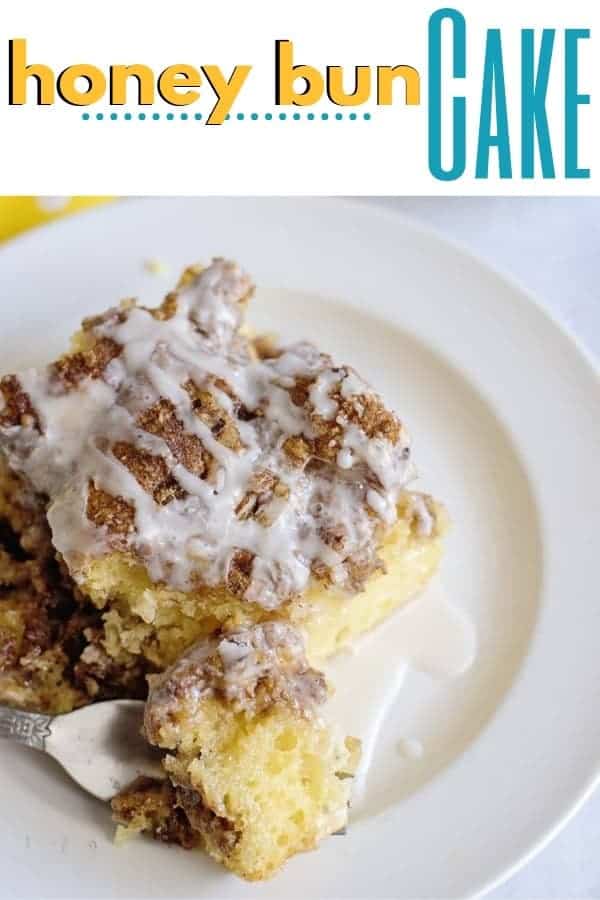 You know, I hate to be one of those people who tell you that your life has been void because you've never tried a certain food or recipe but today I'm going to be that person. Yes, folks, if you've never had honey bun cake, you really have been missing out. Not only is this cake version of that decadent snack treat possibly even better than it's namesake, but it's also easy as can be to make and will impress the socks off whoever you cook it for – so only cook it for folks you don't mind being barefoot in your house.
If you want to jump right into the recipe, scroll on down. If you want to visit with me a spell and hear whats spinning on the hamster wheel in my brain today, keep reading.
I originally posted this recipe back in 2009, a little over a year after I started SouthernPlate (click here to see that post). An awful lot has happened in the past ten years and I'm grateful for every bit of it. But here I find myself, ten years older, ten years wiser, and ten years further along in my contentment and appreciation of life. I've learned a lot about myself and I've come to enjoy challenging myself to grow in different ways – to become a better version of my former self each and every day.
With that in mind, I've decided to embark on a six month challenge.
I mean, in the grand scheme of things, six months isn't very long to challenge yourself but the effects can be truly life changing. What am I challenging myself to do in the six months? I haven't decided yet. 😄 But I want to keep the list simple and short, just a couple of things. I have four on my list right now and I'm thinking it over, prayerfully.
My challenge is going to start June 1. I wanted to put this out there to see what y'all thought about it. If you were to challenge yourself to do something for six months that would change the quality of your life, what would it be? I can tell you that one of the things that has made the biggest difference in my life is daily Bible study. Not just reading, but studying. Ricky and I committed to doing that a couple of years ago and there is not one speck of our life that hasn't been changed for the better by it. I also started getting up really early (and having a set bed time 7 days a week) several years ago and that has drastically improved my quality of life. Of course I think most of us would put "drink more water" on that list. Maybe it's cook supper at home every night, learn to drink your coffee black, etc. Okay, wait a minute, let me strike through that last one because that is just plain crazy talk. Either way, small changes over the course of time can have a big impact so I'd love to hear from you on this.
What else would you have on your list if you were to do a six month challenge?
While we're thinking this over, let's bake a cake 😄
You'll need: A box of yellow cake mix, eggs, sour cream, oil, brown sugar, honey, chopped pecans, and some confectioner's sugar. The confectioner's sugar was camera shy but we all have days like that.
Place all cake ingredients in a mixing bowl and beat with an electric mixer until well combined and no lumps remain, about two minutes. (see printable recipe card at bottom of post)
Pour batter into greased cake pan. I just spray mine with some cooking spray. Isn't this a pretty picture, though?
Now take your brown sugar, cinnamon, and pecans and stir them together really well.
Auto correct changed that to "eerily well" and I almost let it stay like that just to make y'all wonder… 😉
Sprinkle every bit of this goodness over the top of your cake.
Drizzle honey over the top of this, just kinda however it happens to go on is fine but try to drizzle it over most of the top hither and yon.
My friend, Tom, is a beekeeper and I get my honey from him. I have to keep it hidden in a cabinet so I don't eat it all at once. I turn into Winnie the Pooh around honey and I'd look like Winnie the Pooh right skippy like if I had it as often as I'd like.
Take a butter knife and swirl the honey in just a little bit. Y'all, seriously, this cake is so easy and so good!
Tada! Bake this at 350 for 35-40 minutes or until a toothpick inserted in the center comes out clean.
Look at that gorgeous Honey Bun cake! Let it cool for about ten minutes or so and then we're gonna mix up our glaze.
Stir together milk, confectioner's sugar, and vanilla until smooth and creamy. The ideal consistency here is about like Elmer's glue.
Drizzle over still warm cake and then cut you a piece! Yes, you can eat this after it has cooled but it is a crying shame not to have a slice of Honey Bun Cake while it's warm.
Best enjoyed with people you love and a good cup of coffee – preferably not black.🙃
I want to hear from you in the comments about the challenge idea. You don't have to take part, lets just talk about what you would do if you did. And hey, if you want to join me let me know that, too!
Ingredients
Honey Bun Cake

1

box

box plain yellow cake mix

1

cup

sour cream

3/4

cup

vegetable oil

4

large

eggs
Filling
1/4

cup

honey

1/3

cup

brown sugar

I prefer dark

1

tablespoon

cinnamon

1

cup

finely chopped pecans
Glaze
2

cups

confectioner's sugar

1/3

cup

milk

1

teaspoon

vanilla
Instructions
In a large bowl, place all ingredients together for cake and mix on medium speed for 2 minutes.

Spread batter into a greased 9x13 pan.

Stir together dry filling ingredients in a small bowl and sprinkle over cake batter. Drizzle honey over those. Pull a knife through batter to swirl filling into it.

Bake at 350 for 35 to 40 minutes or until tests done.

Stir together glaze ingredients until there aren't any lumps. Drizzle over warm cake.
"If you don't have the time to do it right, you don't have the time to do it over." 
Submitted by Judy Ladd. Add your favorites to our collection by clicking here.
Click HERE to follow me in Instagram and HERE to follow me on Facebook.
Yum