Honey bun cake is so easy to make, so delicious to taste, and it will knock the socks off of family and friends you make it for!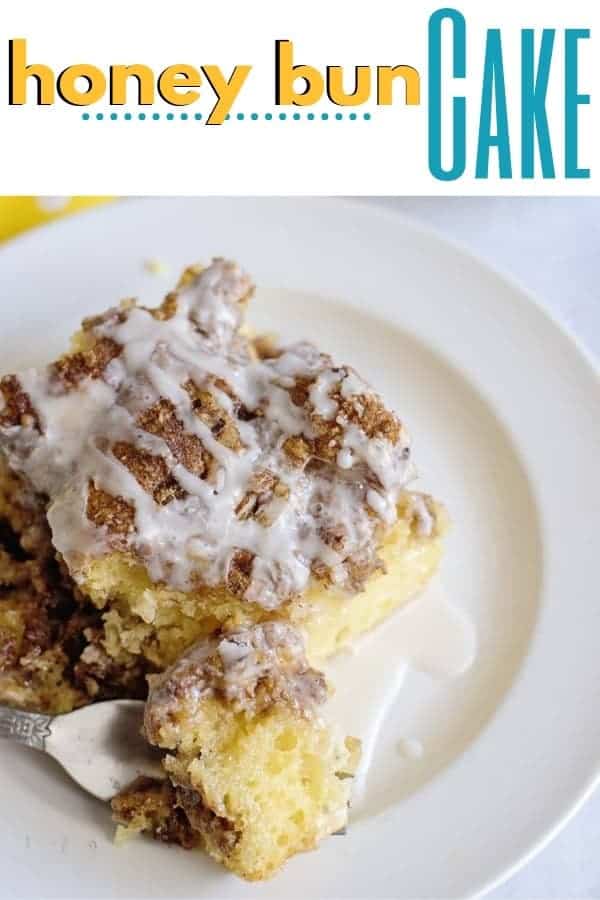 You know, I hate to be one of those people who tell you that your life has been void because you've never tried a certain food or recipe but today I'm going to be that person. Yes, folks, if you've never had honey bun cake, you really have been missing out. Not only is this cake version of that decadent snack treat possibly even better than its namesake, but it's also easy as can be to make and will impress the socks off whoever you cook it for. So only cook it for folks you don't mind being barefoot in your house.
If you're new to the honey bun cake world, let me fill you in on what it entails. First, you've got the yellow cake, which is topped with cinnamon, brown sugar, pecans, and honey. How delicious and flavorful does that sound? But wait, there's more! Once you bake the cake, you add a simple vanilla glaze on top. Yep, this cake recipe is sweet, moist, and absolutely irresistible.
If you like cinnamon rolls or coffee cake, you're going to love honey bun cake!
Ok now, let's bake! 😄
Recipe Ingredients
A box of yellow cake mix (if you want to make your yellow cake from scratch, here's my homemade yellow cake recipe).
Eggs
Sour cream
Oil
Brown sugar (I prefer dark brown sugar, but light brown sugar will totally work).
Honey
Chopped pecans
Cinnamon
Confectioner's sugar
How to Make A Honey Bun Cake
Place all of the cake ingredients in a mixing bowl and beat with an electric mixer until well combined and no lumps remain, about two minutes.
Pour the cake batter into a greased cake pan. I just spray mine with some cooking spray. Isn't this a pretty picture, though?
Now take your brown sugar, cinnamon, and pecans and stir them together really well.
Autocorrect changed that to "eerily well" and I almost let it stay like that just to make y'all wonder 😉.
Sprinkle every bit of this goodness over the top of your honey bun cake.
Drizzle honey over the top of this cinnamon mixture.
Just kinda however it happens to go on is fine, but try to drizzle it over most of the top hither and yon.
Take a butter knife and swirl the honey in just a little bit.
Y'all, seriously, this cake is so easy and so good!
Tada! Bake this at 350 for 35-40 minutes or until a toothpick inserted in the center comes out clean.
Look at that gorgeous honey bun cake! Let it cool for about ten minutes or so and then we're gonna mix up our glaze.
Stir together the milk, confectioner's sugar, and vanilla until smooth and creamy. The ideal consistency here is about like Elmer's glue.
Drizzle over still warm cake and then cut yourself a piece! Yes, you can eat this after it has cooled but it is a crying shame not to have a slice of honey bun cake while it's warm.
Best enjoyed with people you love and a good cup of your favorite hot beverage.
Storage
When stored in an airtight container, leftover cake will last at room temperature for up to 3 days and in the fridge for up to 6 days.
You can also store leftovers tightly wrapped or in an airtight container in the freezer for up to 3 months. Thaw overnight in the fridge before enjoying cold or warm (quickly reheat in the microwave).
Recipe Notes
While I prefer yellow cake, you can use any type of box cake mix for this recipe.
Don't follow the instructions on the back of the boxed cake mix! We're making our own rules today.
For a chocolate honey bun cake, substitute the yellow cake mix for chocolate cake and then top it with a creamy chocolate frosting.
If you want to try something different, substitute the pecans in the cake topping for mini chocolate chips, walnuts, or your favorite dried fruit.
Recipe FAQs
What type of honey do you use?
Now you could go all out and get yourself some Manuka honey, which is delicious. Otherwise, just get whatever you like from your grocery. My friend, Tom, is a beekeeper and I get my honey from him. I have to keep it hidden in a cabinet so I don't eat it all at once. If you are curious what type of honey pastry chefs use, and I mean who wouldn't be curious, check out this post on brands of honey.
Ingredients
1

box

plain yellow cake mix

1

cup

sour cream

3/4

cup

vegetable oil

4

large

eggs
Topping
1/4

cup

honey

1/3

cup

brown sugar

I prefer dark brown sugar

1

tablespoon

cinnamon

1

cup

finely chopped pecans
Glaze
2

cups

confectioner's sugar

1/3

cup

milk

1

teaspoon

vanilla extract
Instructions
In a large bowl, place all the cake ingredients together and mix on medium speed for 2 minutes.

1 box plain yellow cake mix,

1 cup sour cream,

3/4 cup vegetable oil,

4 large eggs

Spread the cake batter into a greased 9x13 pan.

Stir together the dry filling ingredients in a small bowl and sprinkle it over the cake batter. Drizzle honey over the pecan mixture. Pull a knife through batter to swirl filling into it.

1/4 cup honey,

1/3 cup brown sugar,

1 tablespoon cinnamon,

1 cup finely chopped pecans

Bake at 350 for 35 to 40 minutes or until it tests done.

Stir together the glaze ingredients until there aren't any lumps. Drizzle over the warm cake.

2 cups confectioner's sugar,

1/3 cup milk,

1 teaspoon vanilla extract
Nutrition
You may also like these recipes with honey:
Fresh Fruit Salad with Lemon Honey Dressing
Banana Brownies (with Quick Peanut Butter Honey Icing)
Honey Lime Chicken Crunchy Goodness
"If you don't have the time to do it right, you don't have the time to do it over."